In our jobs as CSMs, it's often the case that we're overwhelmed – either by the number of accounts we have to manage or by the tasks we juggle for those accounts.
Our research shows 48% of CSMs handle over 10 major tasks ranging from renewals to customer support, customer onboarding, and anything in between.
However, you've got to remember the level of touch your customers need. Low-touch customer success can be surprisingly effective at reducing your workload. It works best when the product is self-explanatory, or the expected customer behavior is for them to figure it out themselves.
Today, I plan to uncover some truths, best practices, and insights on low-touch customer success. We'll go about it like this:
Starting with the definition of low-touch CS
Then a comparison with other customer engagement models
Moving on, a deep dive into automation for low touch CS (with examples!)
Then ending with some best practices for this engagement model, so you can figure out your own playbooks
Along the way, you'll hear from one of my favorite customers on how he managed to automate low-touch CS for thousands of accounts. Let's dig in!
What Is Low Touch Customer Success
Low touch customer success is a customer engagement and communication model optimized for simple, easy-to-use, and largely self-service products. Users typically teach themselves how to navigate, use, and accomplish their goals with such products. Customer success managers, in turn, use customer data and segments to carefully craft playbooks for digital engagement designed to assist customers along their journey.
If the product is perfect, there is no need for customer engagement. However, no products are ever perfect for all their users. This match varies based on user understanding, knowledge gaps, and desired customer outcomes (maybe some users want to accomplish something not in the product's typical use case). As such, CSM's work is vital in ensuring the entire business model functions properly by tracking and improving product adoption, feature usage, and overall user retention.
Low Touch vs High Touch vs Tech Touch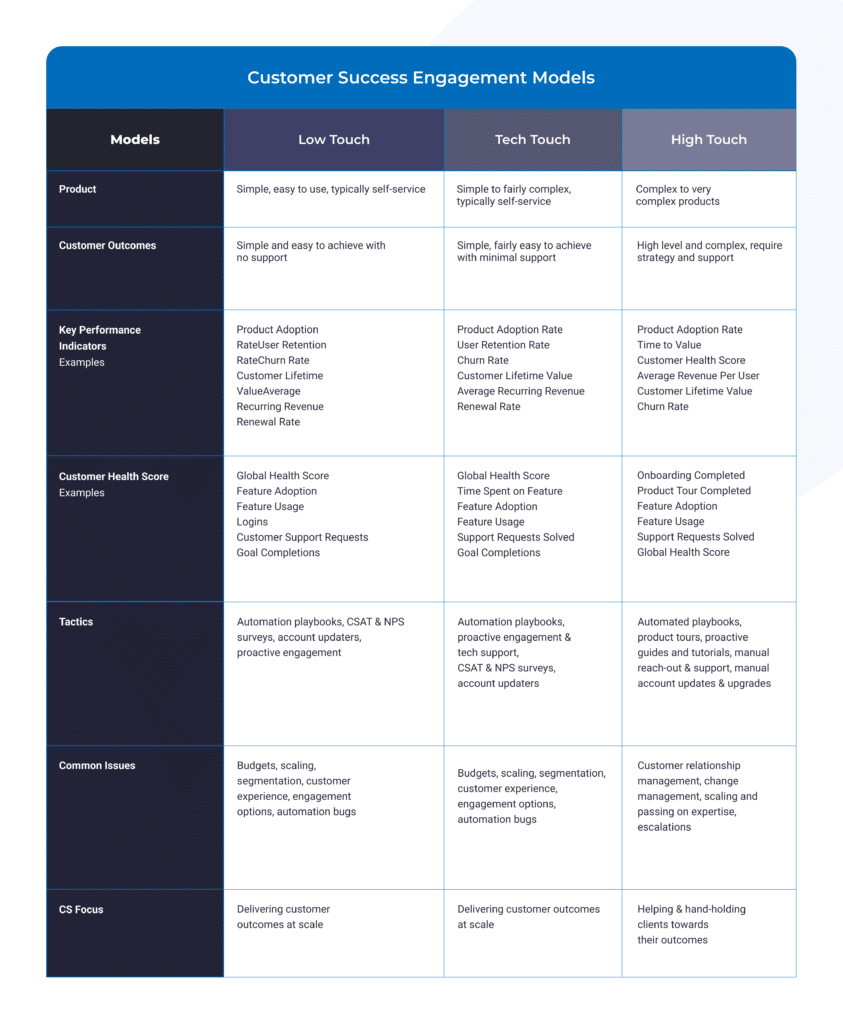 Check out our deep dive on tech touch in customer success for a more in-depth look at this increasingly popular CS engagement model.
How Automation Can Help CSMs Focus on the Real Drivers of Revenue and Growth
Benefits of automation and playbooks for low touch engagement models, bullet points. Explain how with automation, CSMs can focus on revenue and growth both for the clients and the business.
Low-touch customer success engagement models frequently rely on very complex automation flows or, as we call them in Custify, playbooks. When implemented properly, these playbooks can reduce the time CSMs spend on repetitive tasks, freeing up their workdays so they can focus on customers and tasks that require more attention.
Here's a sample of things CSMs can automate through these playbooks:
Welcome and onboarding emails
Account assignments and stakeholder management
Task creation and stakeholder visibility
Slack messages and notifications
Account updaters
Upsell and cross-sell opportunity notifications
Product guides and how-tos when customers face issues
Adding notes to accounts
Sending emails
Setting calls
Let's hear from Stijn for a more concrete example:
"60% of our customers are self-service, which means that they go to the platform and try to figure it out themselves, which is pretty easy because Whale is a pretty self-explanatory tool. But then again, we didn't know in the first place what their journey is, and second of all we didn't have any workflow or playbook in place on how we could approach them in an automated way.

I needed to look up for different sorts of information in like, let's say five different tools. I'm prepping for every meeting as well, then I'm also looking for all sorts of details of the customer. Maybe to start with just CRM data, or again, the basic details of our customer: their website, where are they located, which industry, so on. And then go on into another tool to check the contract, what's the value of it, which plan are they in. And then go even further and check on sales notes or anything else. So only that, I would say, would maybe take already 30 minutes to just gather the different tools.

And again, since we work subscription-based, sometimes we have 10 customers a day. Which means, just for only 10 customers, I would lose an entire day on prepping meetings.

We're now a team of two, I would need a team of 20. Basically, my time and work for those clients definitely decreased by like, let's say 90%."

– Stijn Smet, Team Lead Customer Success @ Whale
Examples of Automation Playbooks for Efficient Low Touch Customer Success
1. Example 1 – Health Score Drop
Here's a short and powerful playbook I use to signal the team whenever a customers' health score drops significantly over a short period of time.
Main playbook steps:
Check Global Health Score. When a customer's overall health score drops, they are added to a segment (to check, we have a separate playbook that logs their health score over 14 days).
Check If the Health Score Dropped by 10%. Next, we monitor if the drop reaches 10% in 14 days.
Send an Alert on Slack. Once we identify a potentially alarming drop, the playbook sends a message to a specific Slack channel designed for health score alerts.
The Slack alert included in this playbook features several important account details that essentially turn it into a thorough review of the account:
Company details
Number of logins over the last 30 days
Percentage of seats filled
Percentage of active users
Individual product feature usage
Overview of tasks in the product: how many open, how many overdue, how many done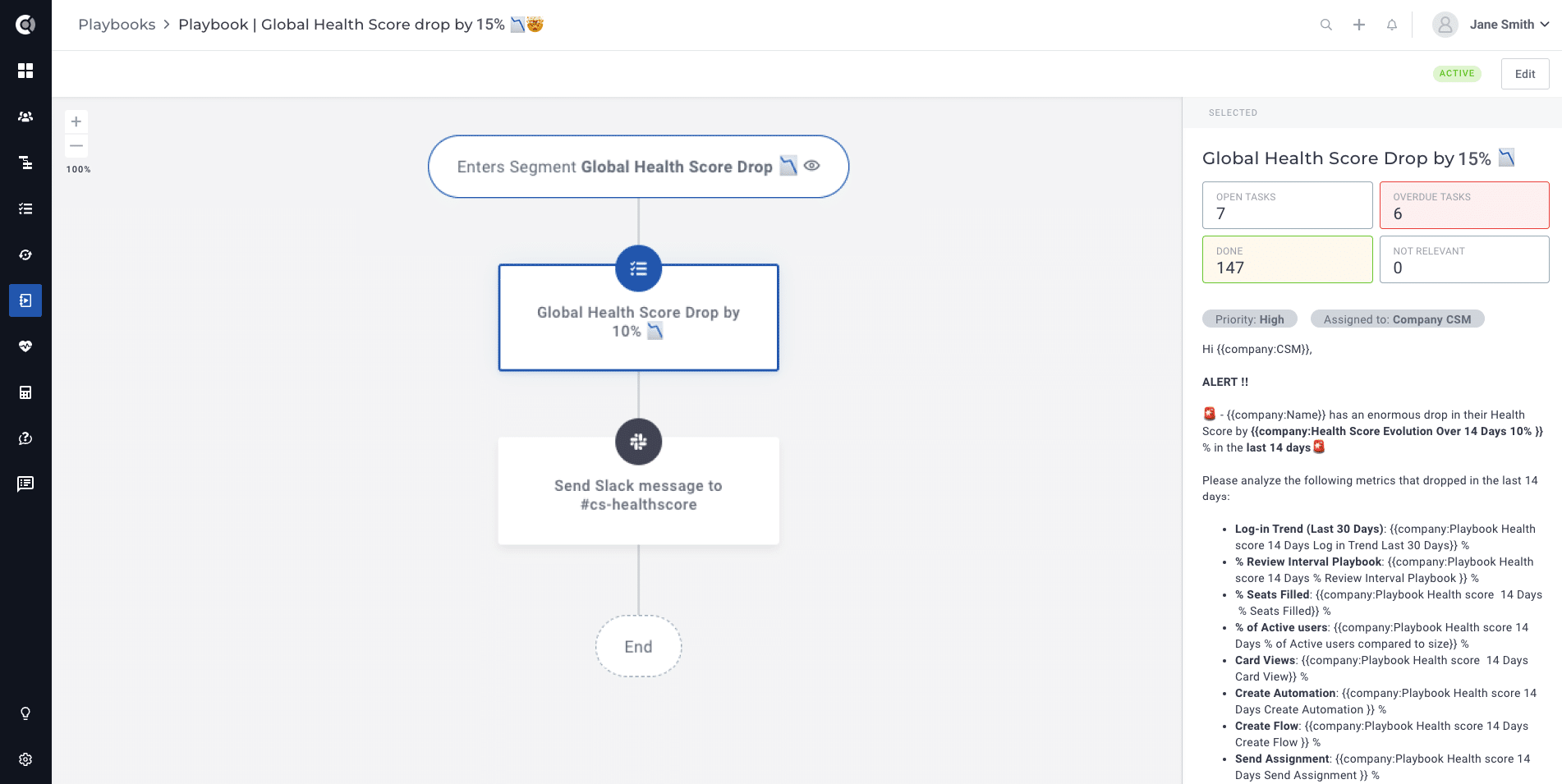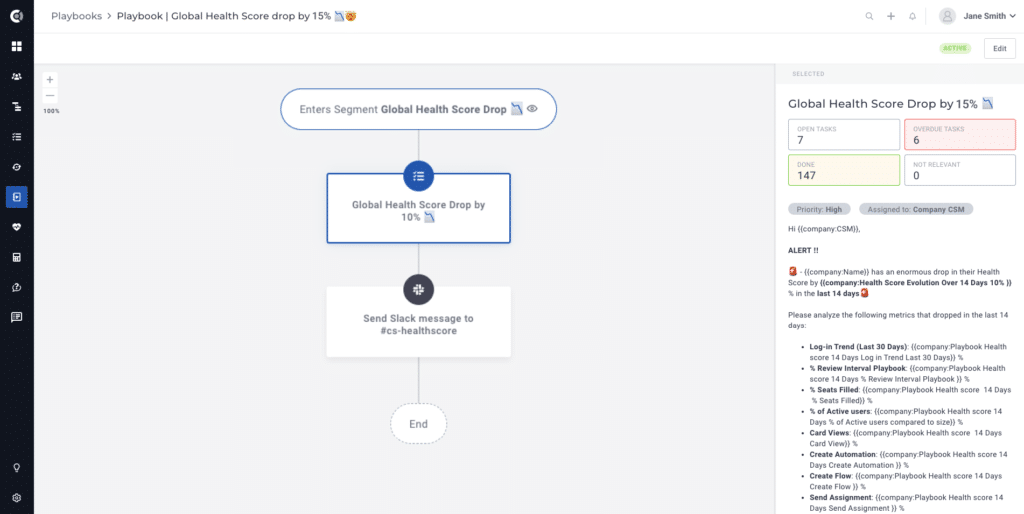 2. Example 2 – Health-Score-Based Proactive Engagement
Sure, monitoring health score drops and sending alerts is great. But what's even better, particularly from a low touch customer success perspective, is engaging with those customers automatically.
The following playbook does just that. Here's how it goes:
Check Health Score Value. After a user's trial subscription ends, the automation checks if their health score is positive.
Send Email. Then, based on the result of the check, users will receive a specific email tailored to their activity.
Wait Steps. Wait steps are essential to any playbook as they ensure your users aren't annoyed by constant communications. The last thing you want is for your email domain or IP to be blacklisted.
Check Email Status. The automation then verifies user activity in the aforementioned emails.
Add note. Then the playbook makes a note for each customer that replies if their health score is greater than 45 and each customer that doesn't reply if their score is lower than 45.
Slack Alert. If the low-health-score user doesn't reply to the email, that means they're in danger of churning. The playbook alerts a specific Slack channel for these types of users.
Proactive Email. If the high-health score user doesn't reply to the email, it means they might need some helpful tutorials or guidance. The playbook sends an email containing just that.
Exit. If the user is doing great, they are removed from the playbook.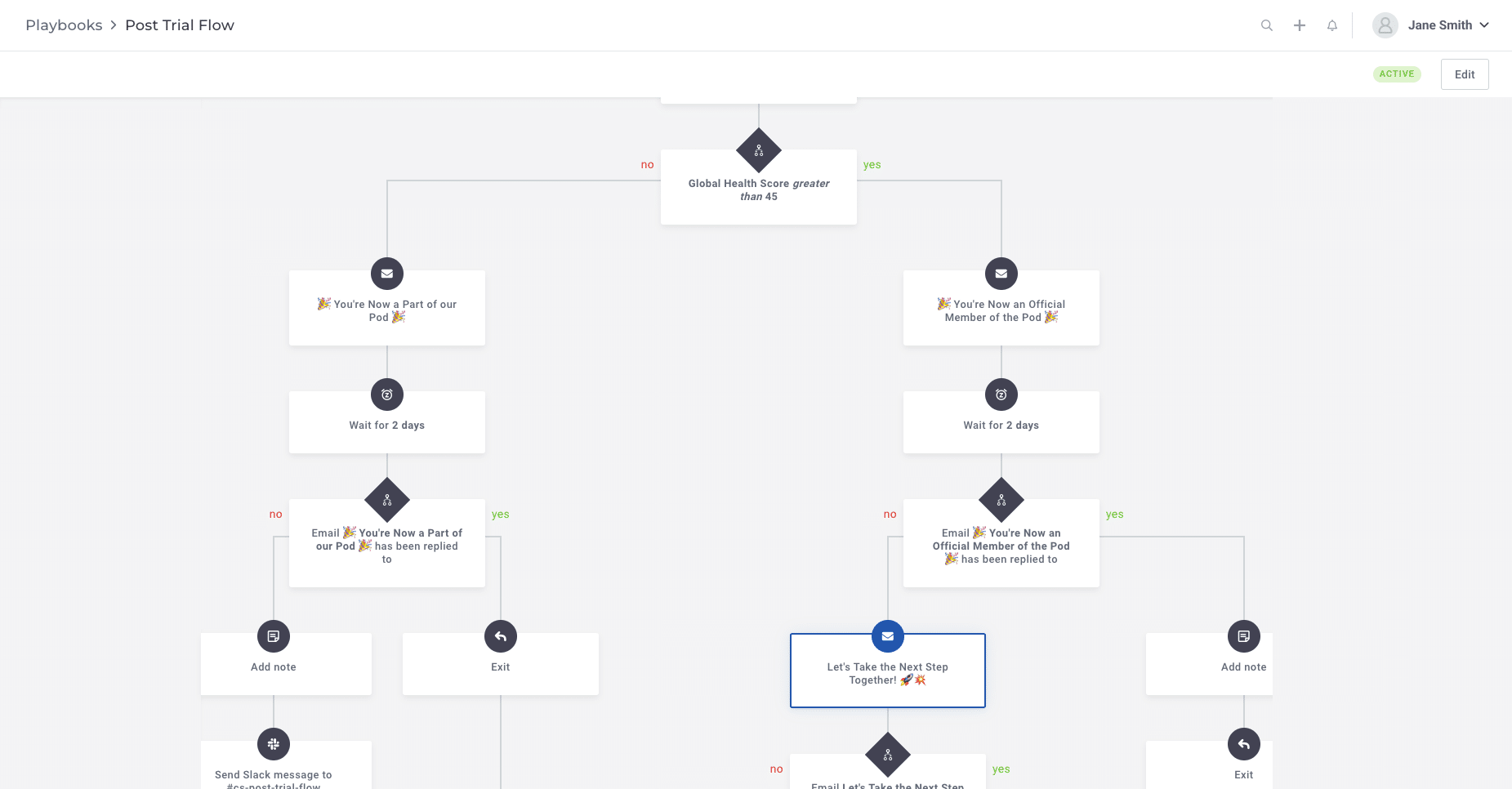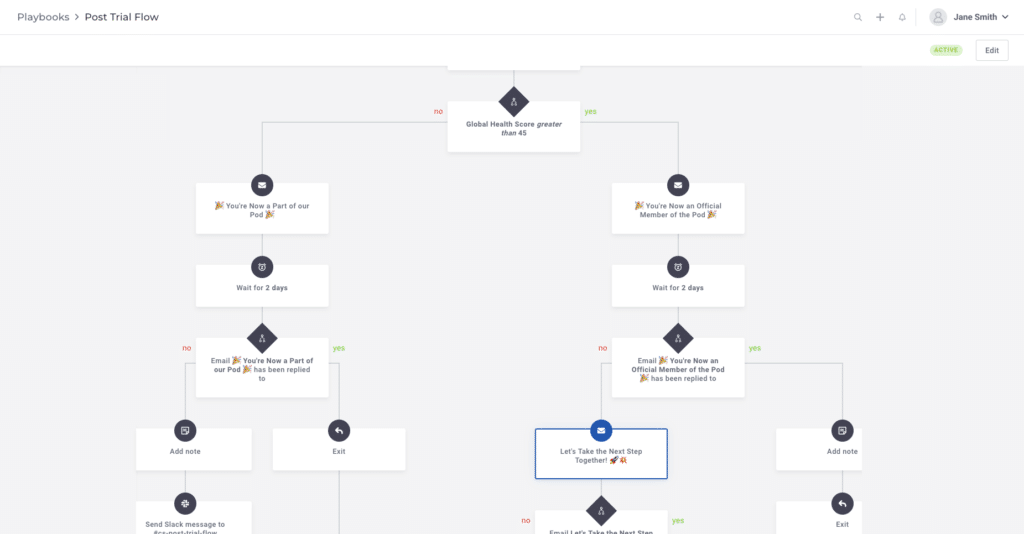 Both examples above rely heavily on accurate account overviews and health scoring. Have you set up your CS dashboard to efficiently monitor customer activity?
If not, what are you waiting for? Here is a comprehensive guide on how to set up health scores. You only need two or three to boot, and you'll immediately start to see big improvements in customer engagement.
3. Example 3 – Complex Renewal Playbook
When doing low-touch customer success, renewals are often the most important part of the customer journey. As such, they require an equally complex playbook that accounts for everything.
Here's an example:
Check Period before Renewal. For annual renewal, the playbook triggers 115 days before renewal.
Check Renewal Owner. A complex task that was easily automated in Custify. After checking the CSM renewal owner, the playbook then sends a Slack message to the specific channel for alerts.
Task Checklist. Based on a set checklist, the playbook then adds tasks for each customer to their assigned CSM.
Check Auto-Renew. Then the automation checks if a customer wants auto-renewal or not.
Email with Contrat Renewal. If auto-renewal is not enabled, the Playbook then sends an email about contract renewal and adds a note to the account.
Different Email with Contract Renewal. If auto-renewal is enabled, the Playbook sends a different email alerting the customer that their contract will automatically renew at the appropriate time.
Add Note. The previous email also asks customers if they want a 30-day renewal notice and adds a note with their answer.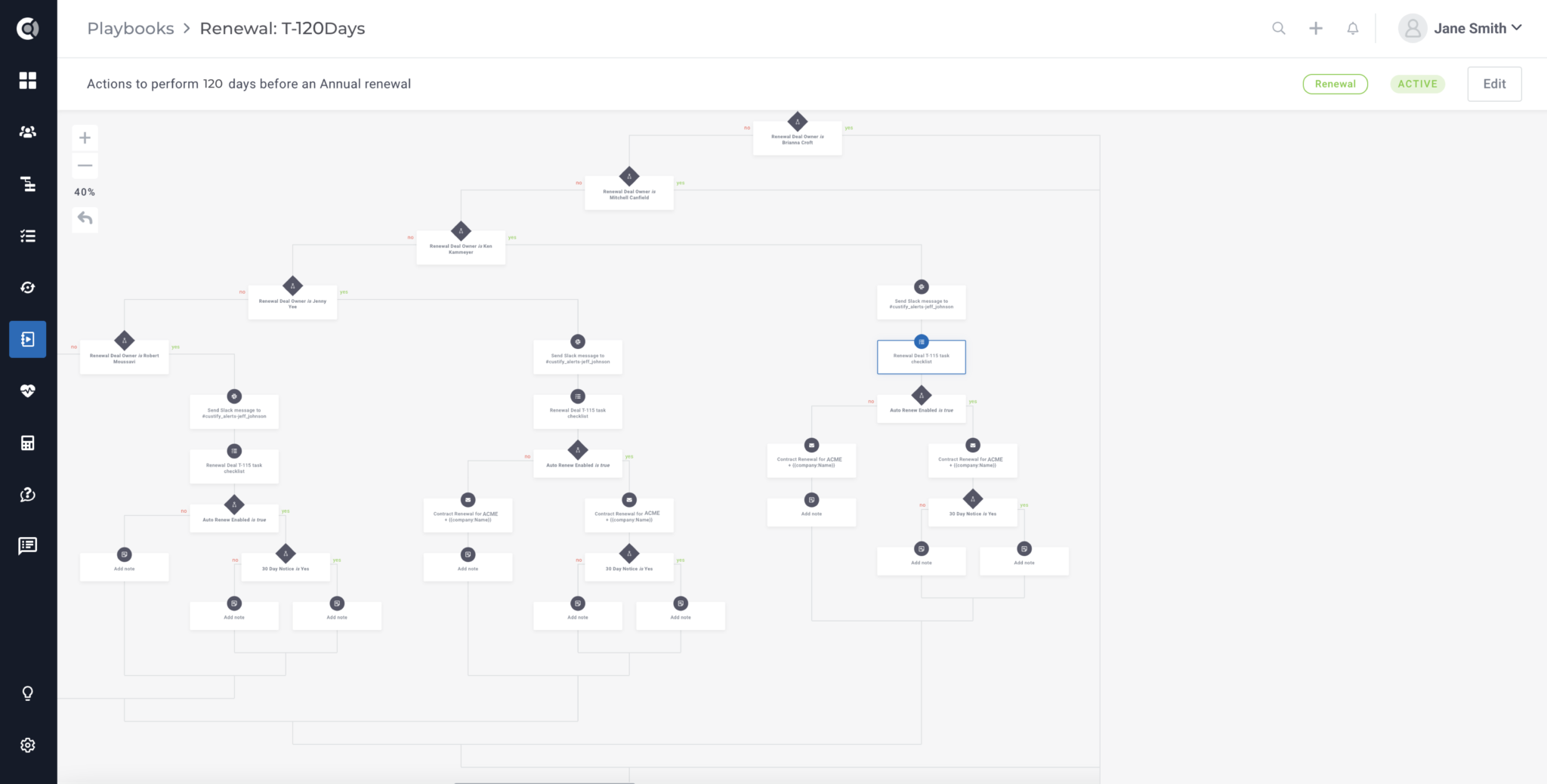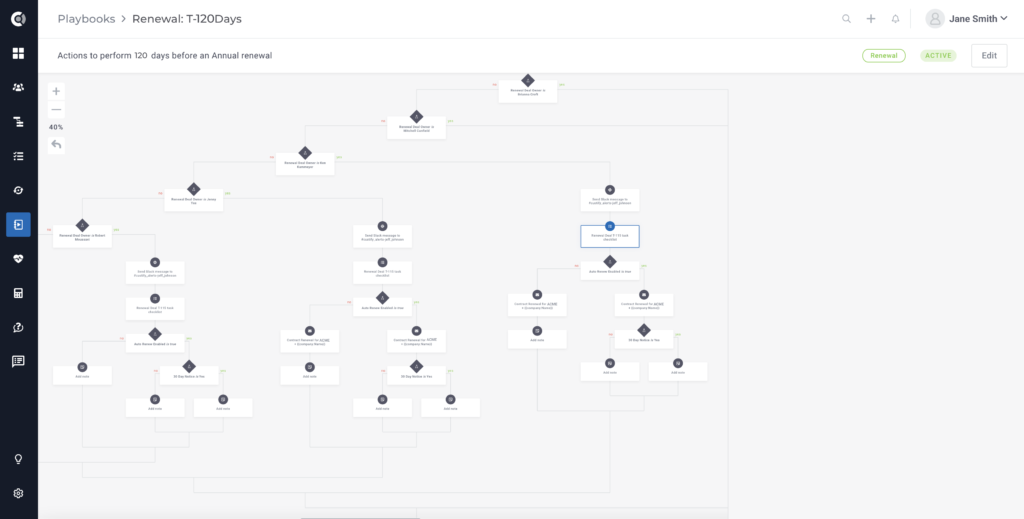 4. Example 4 – Post-Onboarding Emails Playbook
Once users are onboarded, you still need to take care of them, and that can be tricky if your engagement model is low-touch or tech touch.
I. Simple Post-Onboarding Playbook
A simple version of a playbook would be:
Check Onboarding. If users have completed the onboarding stage, they are added to a segment.
Add Note. The playbook ads a note to users about their onboarding status.
Send Email. The playbook then schedules emails with welcome tips that will go on over the foreseeable future.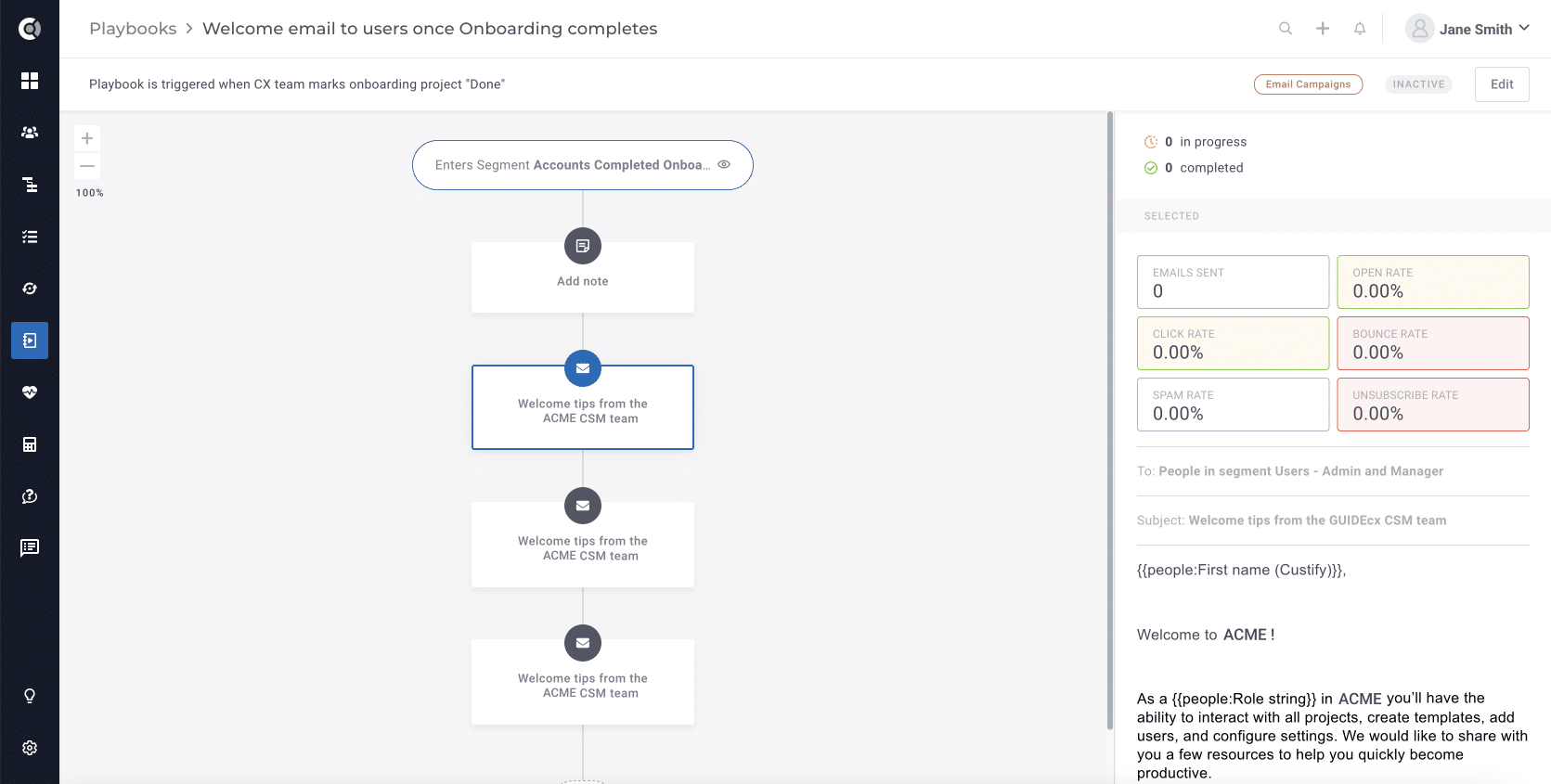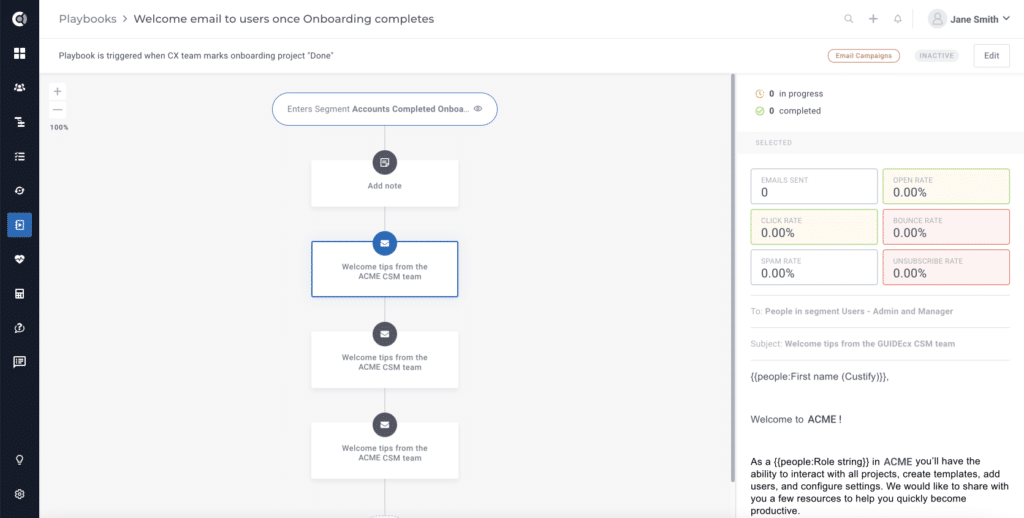 II. Advanced Post-Onboarding Playbook
A more complex playbook goes through the following steps.
Check Onboarding. When users enter the post-onboarding stage, they are added to a segment.
Wait Step. Adding a wait step will give customers time to breathe between your communications.
Start Separate Playbook. This automation triggers a separate playbook that assigns the correct tags to the customer.
Wait for Playbook. Once the other playbook is triggered, the current one waits for one day for it to complete.
Check Type of Users. The other playbook segments users based on their role in the customer's organization. This part corresponds with a step in the current playbook that checks their segment.
Send Emails. Based on their segment and user category, the playbook then sends different emails tailored to their needs.
Add Note. Once the emails roll out, the automation then adds customer notes on what emails were sent to those users.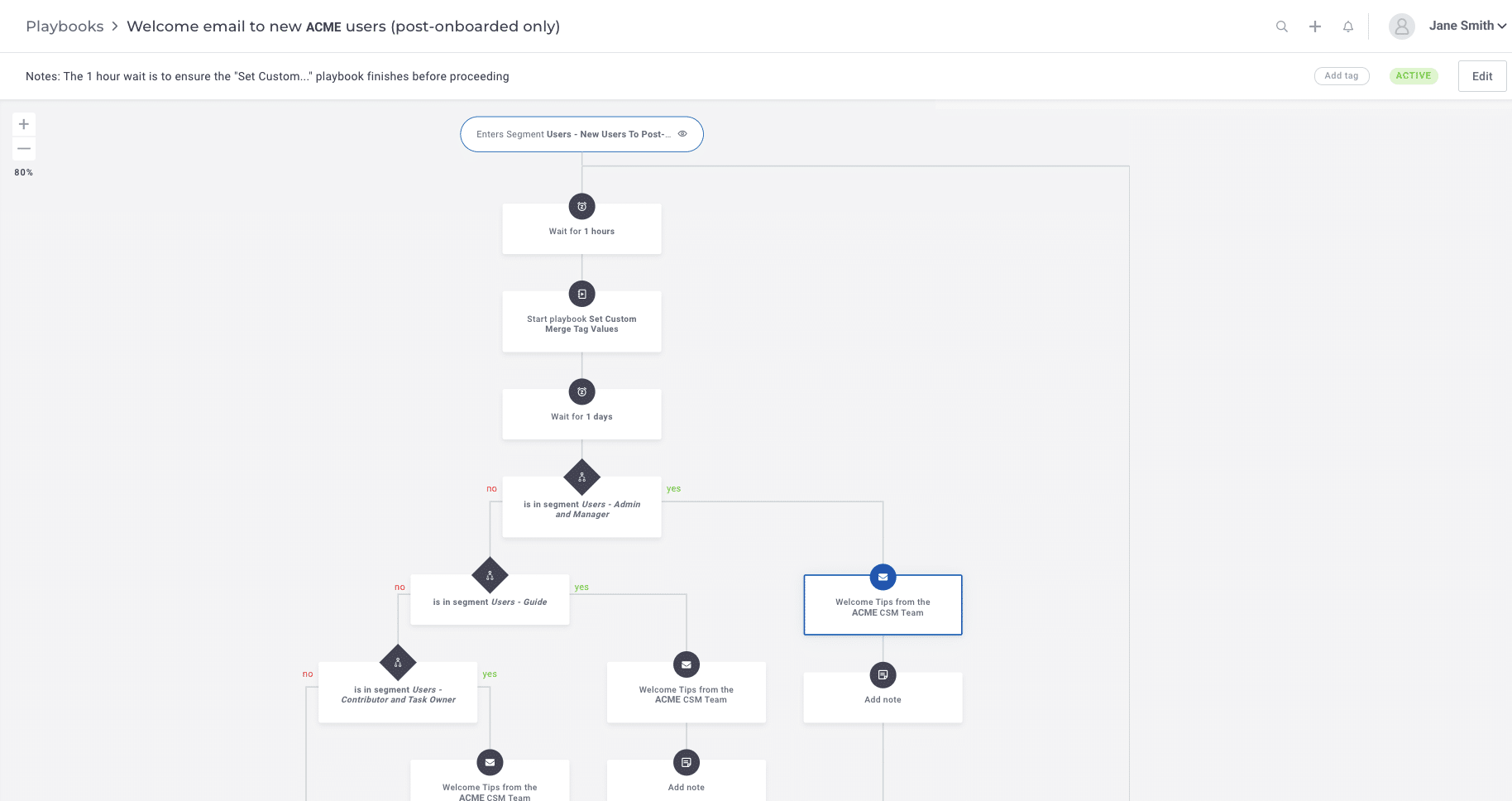 Low Touch Engagement Best Practices
What I've showcased above works well as a starting point. But in the end, templates are just that – templates. A true CS visionary will know what to cut and what to add to make the process smart, intuitive, and seamless for their customers.
Here's a recent post I find illuminating precisely on this topic:

👏 Rachel really nailed the thought process you need to get your own playbooks in place. If you're not following her already, you're missing out.
Some things I'd add to that:
Be strategic about numbers. That means being careful and deliberate about what data you collect. It means figuring out a plan for data hygiene and sticking to it. It means overall implementing a data science CS approach to really make your playbooks efficient at scale.
Plan for company-wide CS collaboration and alignment. In your CS day-to-day, you will need help from Product, Sales, Marketing, Account, Support, and many other teams. So integrate collaboration into your CS playbooks. You can thank me later.
Carefully plan out workflows. If you're leading your CS team, make sure you breakdown your list of customers, responsibilities, expectations, and desired outcomes and assign them to CSMs in clear-cut CS workflows.
Don't try to do everything at once. Implementing everything I've said above is one way to achieve success, but also a quick way to go mad. Remember the bottom line is about customers and what they want. So go day by day, task by task, and try to move the needle forward towards an ideal version of what customer success means for them.
Don't Play by the Book, Make Your Own Playbook!
To sum up, low touch customer success can be a blessing. If you're smart about it, you'll easily jot down a few playbooks to cover your customer segments, and the rest is history (and constant optimizations!). Here's to you and your continued success in this booming industry!
And remember to check back in with the Custify Blog for more exciting explorations of complex CS topics.