Steve Jobs famously said that you cannot mandate productivity, you must provide the tools to let people become their best. And we now live in an age where productivity tools that improve the way we work are readily available for businesses of all sizes. There are literally thousands of platforms, apps, and software programs specifically designed to boost productivity.
These tools come in a range of options—from simple plug-and-play platforms that have free versions for small organizations to subscription-based multi-layered, enterprise-level solutions. The good news is, there is an option for everyone.
However, amongst the abundance of high-powered productivity tools available, there are some that outperform the rest. Using the right productivity tool can mean the difference between a healthy, sustainable business system and a strained, underperforming one. Maintaining a good workflow and managing resources are never easy, but with these tools, both can become much simpler.
In this article, we're going to delve deeper into what productivity tools do, their benefits, and the 10 highest-ranking tools for the workplace.
What are Productivity Tools – And How Do They Work?
Productivity tools are digital platforms created for the purpose of task simplification, communication, progress management, and streamlining complex workflows.
These powerful tools each offer an array of features and automations that optimize collaboration and encourage your team to reach its goals in a faster, easier, and more efficient manner.
When you're working with multiple applications, platforms, and file types at once, clear communication and collaboration are key, which is exactly what these tools are designed to provide.
10 Top Productivity Tools For Enhanced Workflow And Better Resource Management
There are reams of productivity tools to explore online; some good, some bad, and some fairly average. We've rounded up ten of the best so that you can assess the cream of the crop.
Not only do these tools boost business operations, but they also contribute to a happier, more satisfied workforce, which drives employee retention, so there's even more reason to pick the right one.
1. Asana
A work management program that helps teams stay on track and remain organized, Asana is designed to provide a real-time view of project progress, track individual tasks, and plan sprints. It's a full project management tool that encourages collaboration and teamwork.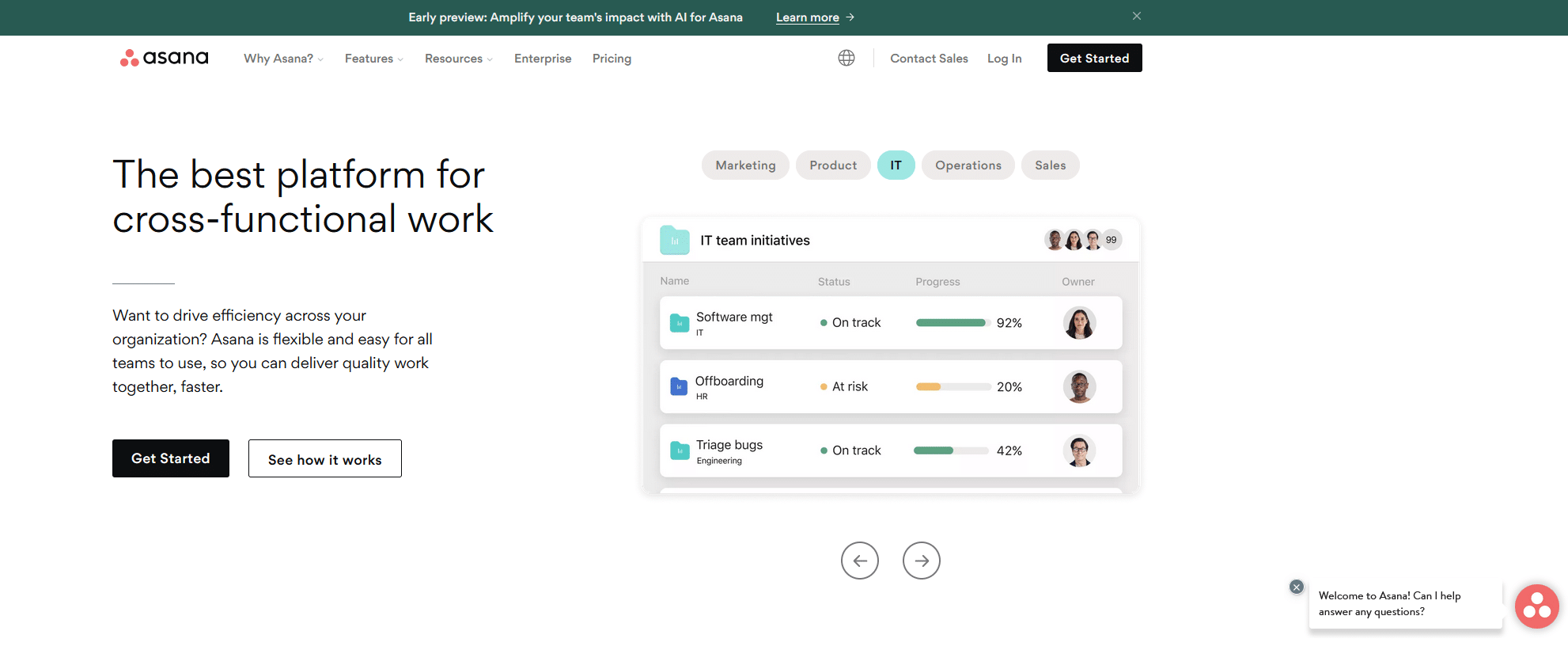 Pricing:
Asana is priced as follows: free for teams of under 15 people, $10.99 per month for premium, and $24.99 for large-scale businesses.
This program's strength lies in its expansive integration and easy usability. However, its downside comes with its lack of time-tracking features and limited assignment features.
Primary advantages:
Asana allows users to choose from a few different project views, such as a chart, calendar and Kanban board. This ensures each team member can customize their dashboard in a way that best suits their workflow.
2. Trello
Trello is a Kanban-style app that makes collaboration easy. Digital boards and notes allow contributors to work on projects simultaneously.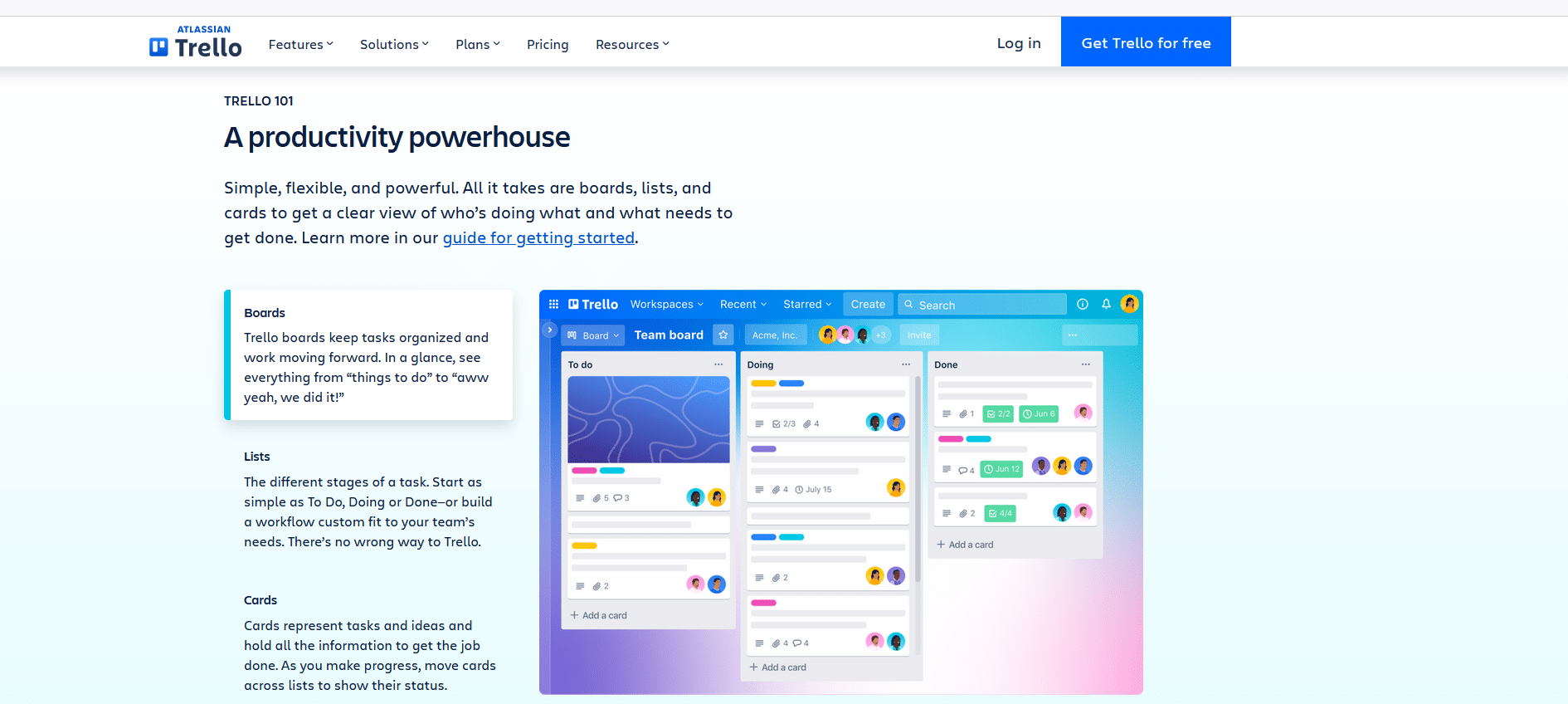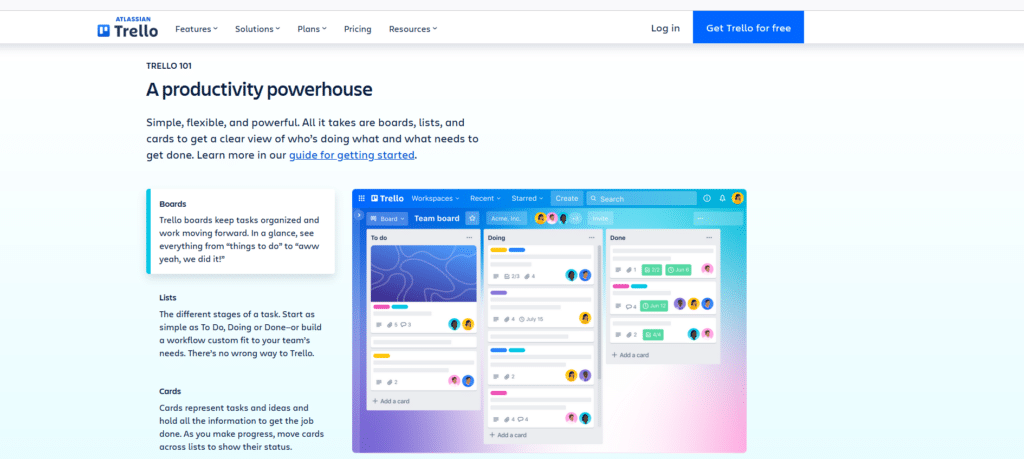 Pricing:
In addition to its surprisingly extensive free plan, Trello also provides three paid tiers at $5, $10, and $17.50 per month. These tiers unlock a variety of enhanced features and functionalities.
A big pro to Trello is its flexible, simple interface, while its only con is its limited archival capacity.
Primary advantages:
Trello uses the Kanban system so it's a familiar format for many team members. Its notification system ensures the right people get updates in real-time, ensuring deadlines are met.
3. Dropbox
Designed to make file sharing easy and accessible from anywhere, Dropbox facilitates collaboration and streamlines the sharing of information. Depending on the permissions, users can comment or edit files or upload and download documents and folders.


Pricing:
Dropbox's prices start off with a basic $9.99 tier for individual users, then graduate to $16.99 for friends or family, and also a professional team tier set at $16.58 per month.
Dropbox provides exceptional, safe storage for multiple file types. However, it is comparatively a bit more expensive than other software tools and has limited search functionality.
Primary advantages:
Dropbox makes it easy to access and share files from anywhere. Additionally, team members can access their accounts or shared accounts on mobile, making saving and sharing documents always available.
4. Slack
An instant messaging platform that allows for group and individual messaging, Slack has streamlined cross-company collaboration. Users can join group channels or send private messages and can share data and documents in real-time.
Slack has fantastic communication processes with easy channels, groups, and permissions. One minor downside is that it has minimal file storage and automatically deletes conversations every 14 days, which can be challenging for tracing back important notes.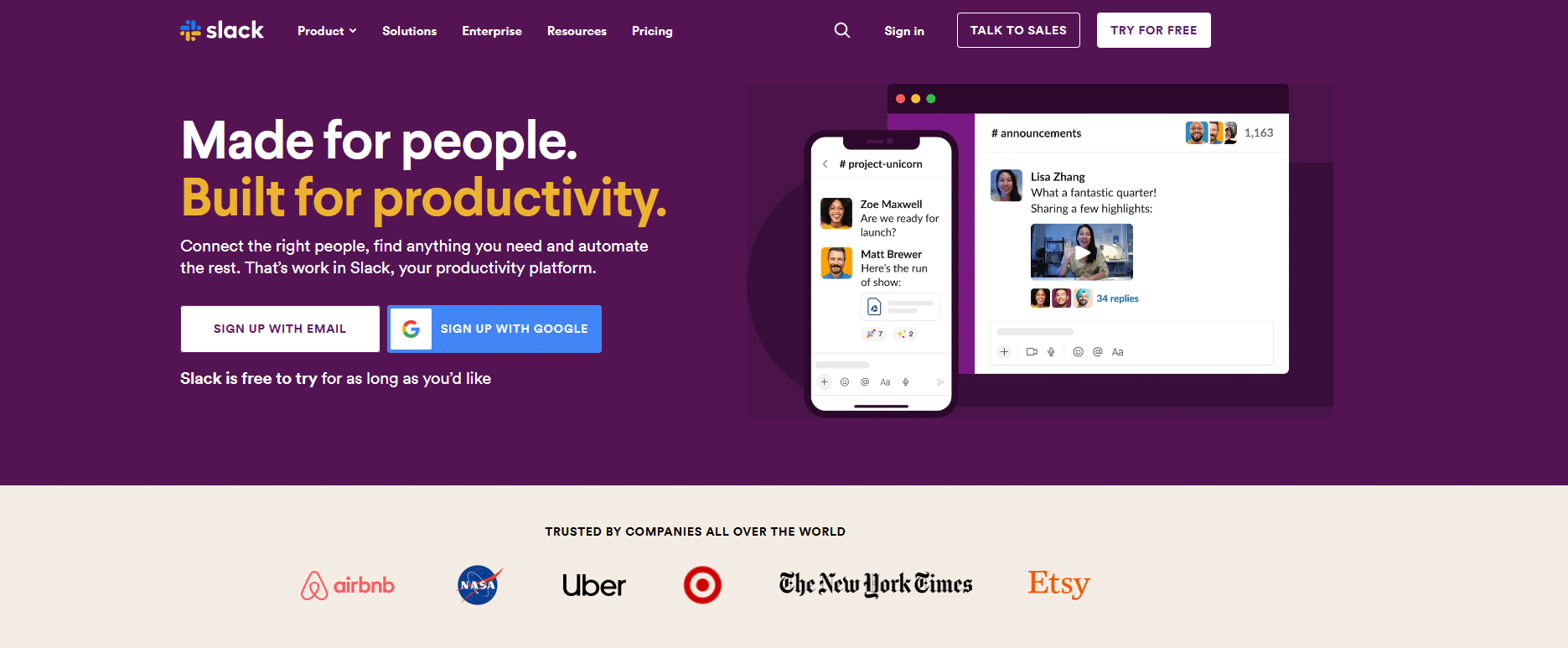 Pricing:
You can use Slack on its basic free tier, pay $7.25 per month for the pro package, or $12.50 for the business package. You can also access a custom enterprise grid tier for a custom price.
Primary advantages:
The free version of Slack is an incredible communication and collaboration platform. Small businesses that don't have huge budgets can still create channels and chat one-on-one without having to pay for the software.
5. Evernote
A digital note-taking and task management app, Evernote saves notes that can include embedded web content, audio, and links. All notes get stored in virtual notebooks, and users can tag other users, add to notes, and share, edit, and export them.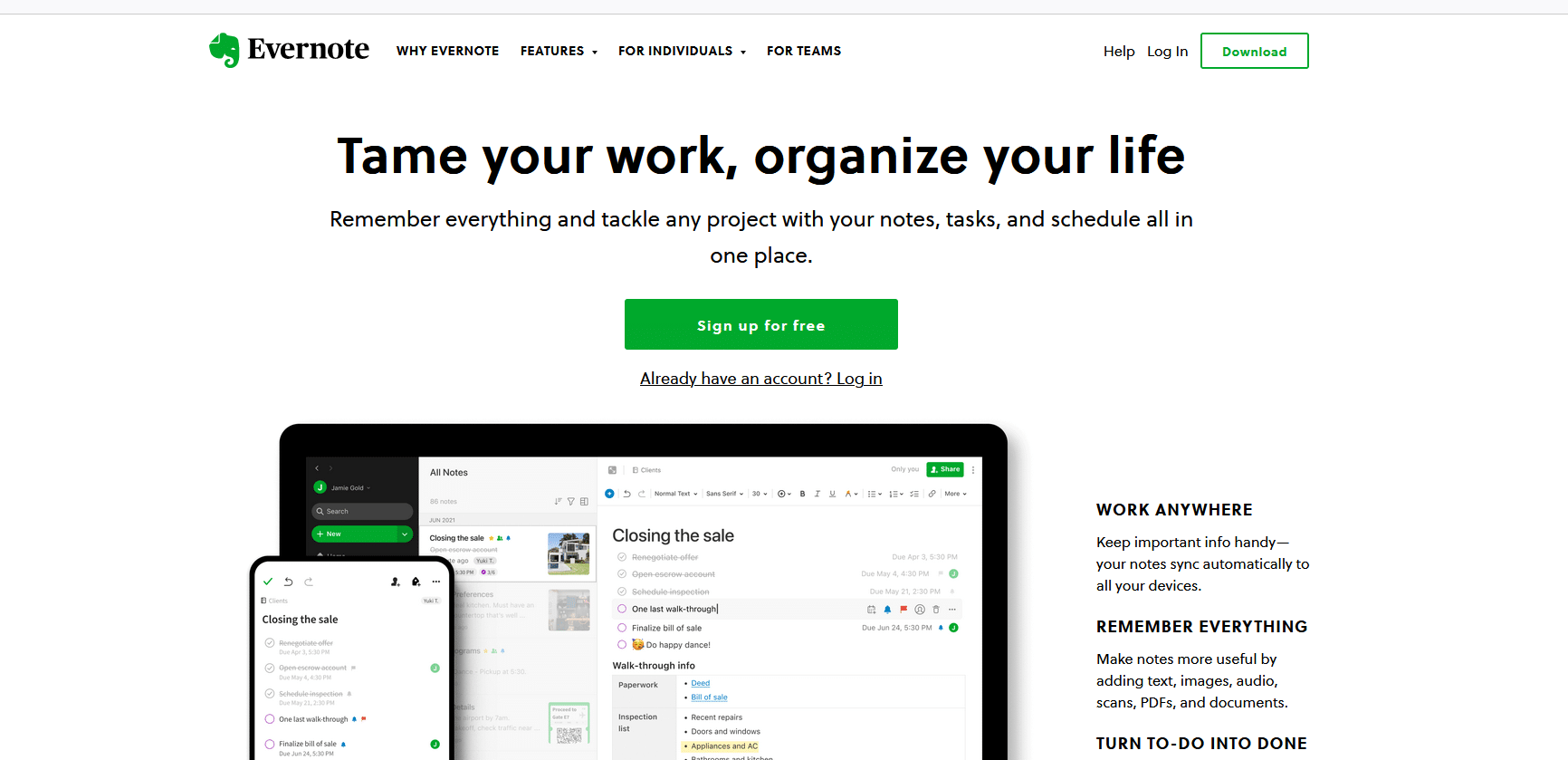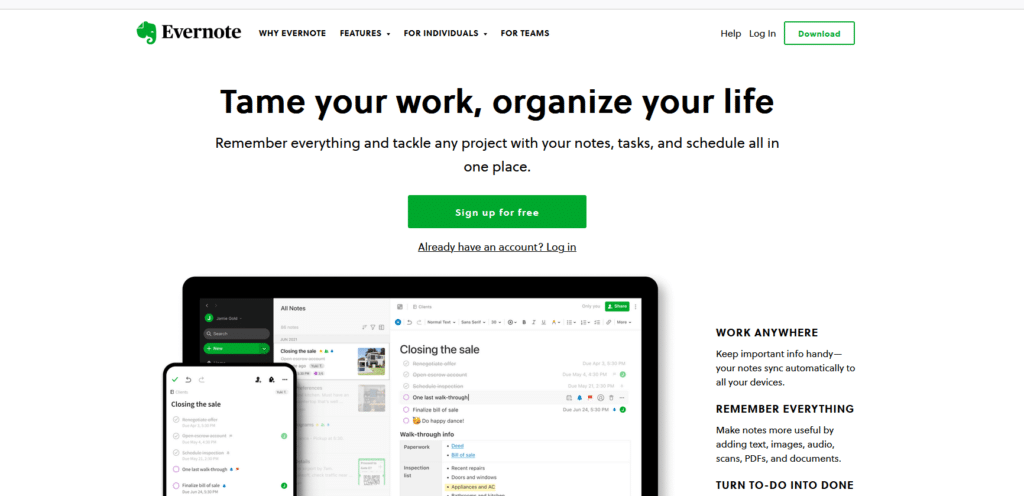 Pricing:
Evernote's payment tiers are set at $14.99, $17.99, and $29.90 per month, but they also offer reduced 12-month packages.
This productivity tool's biggest pro is its seamless information syncing, while its most notable con is that it doesn't offer any real-time collaboration tools.
Primary advantages:
Evernote makes it easy to combine notes and to-do lists and share them. The calendar feature also facilitates easy sharing of schedules and notes so no-one misses out on meetings.
6. Notion
A productivity and note-taking app that features organizational tools that can assist an entire workforce. Notion includes project tracking, to-do lists, and task management and allows users to update files and share data with ease.
This productivity tool is praised for its versatile nature and document collaboration features. However, some users say the interface can be overwhelming or difficult to navigate without experience, so it is generally better suited to seasoned software-skilled teams.


Pricing:
Notion charges $48 per user per year for personal use and $96 per user per year for professional use. It also has custom pricing options for large teams.
Primary advantages:
In addition to its project management tools, Notion has built-in WordPress integration that allows users to upload content and optimize it for WP uploading. This streamlines content creation processes and gives all stakeholders access to uploads.
7. ClickUp
One of the most comprehensive project management and collaboration tools online, ClickUp facilitates easy task assignment and management, deadline and time tracking, alerts, and messaging.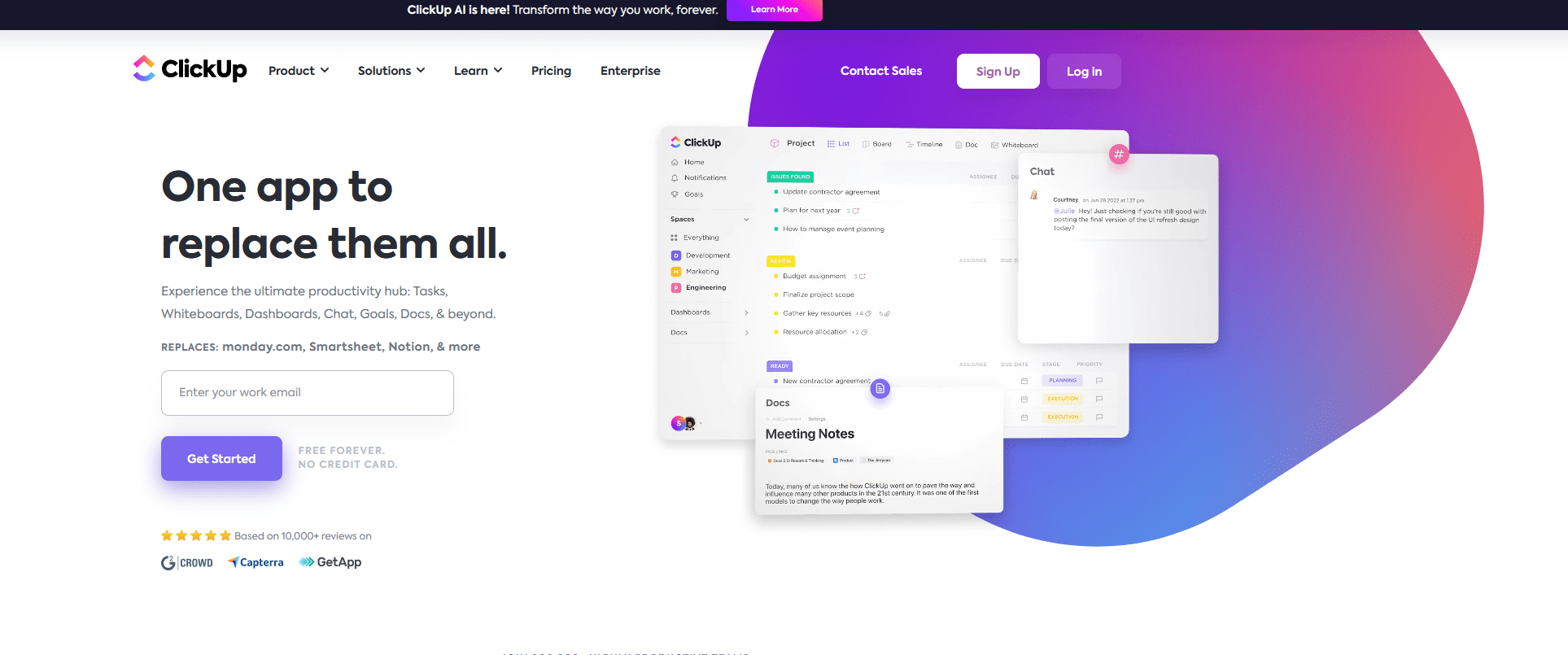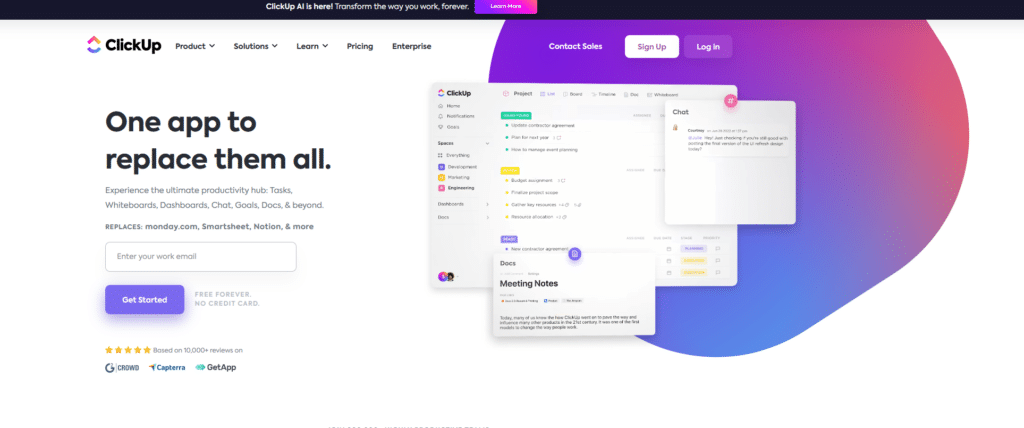 Pricing:
Clickup's pricing is as follows: free for personal use, $5 per member per month for small teams, $12 per member per month for medium-sized teams, and $19 per member per month for large-scale professional teams. It does also provide custom pricing options for enterprises.
This tool's pro is that it provides thorough custom reports and automated sharing features. But similarly to Notion, Clickup's interface could be considered complex by most people's standards. Its learning curve is a little steep.
Primary advantages:
ClickUp tracks all changes and additions to create complete transparency in projects. Every user's input and updates are recorded and displayed in real time.
8. Monday.com
This project management tool and CRM allow you to manage tasks and workflows and track sales and customer data. Monday.com ticks multiple boxes as it can be used to collaborate on projects, marketing campaigns, sales, and customer relationships, all in one.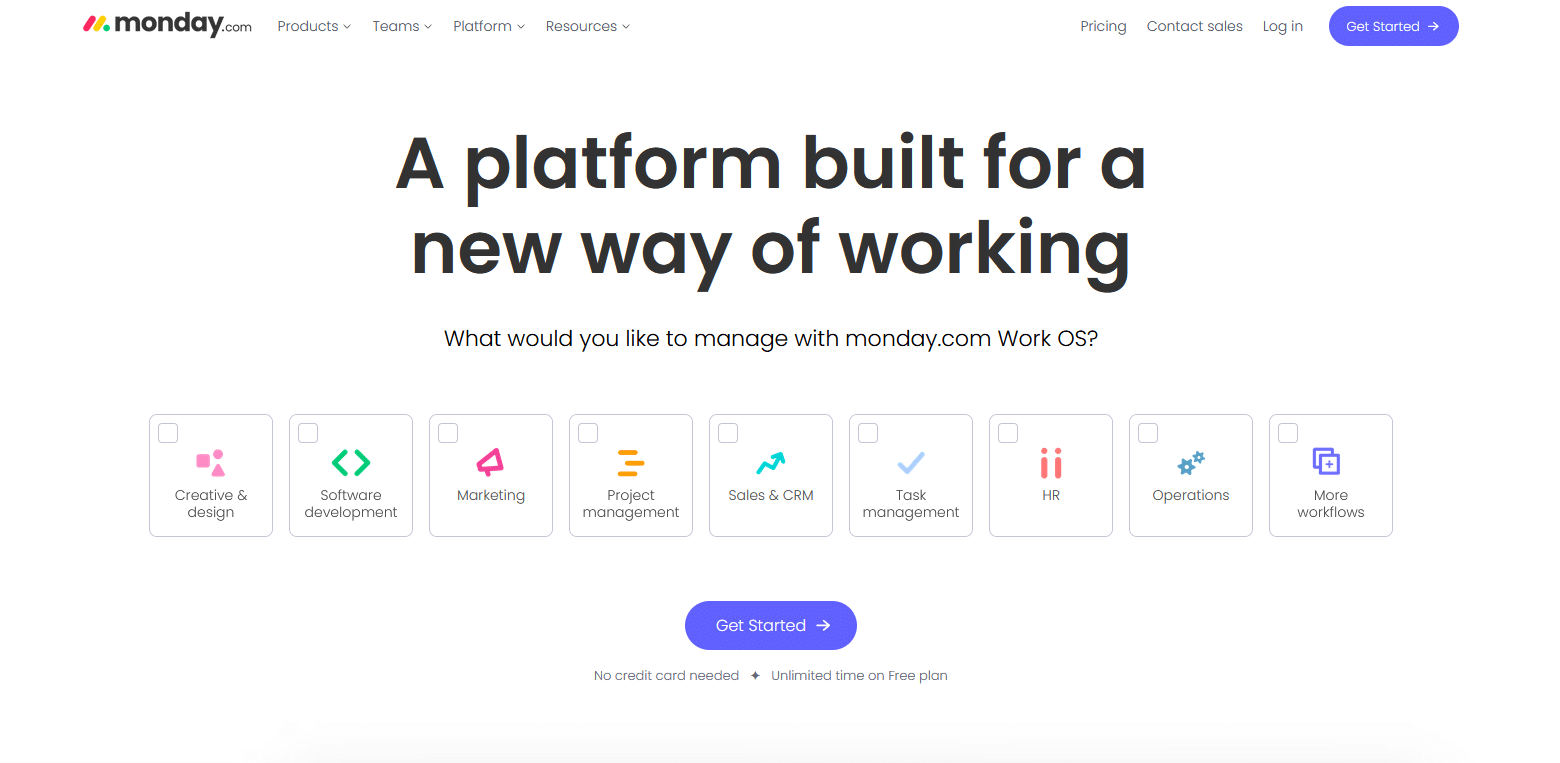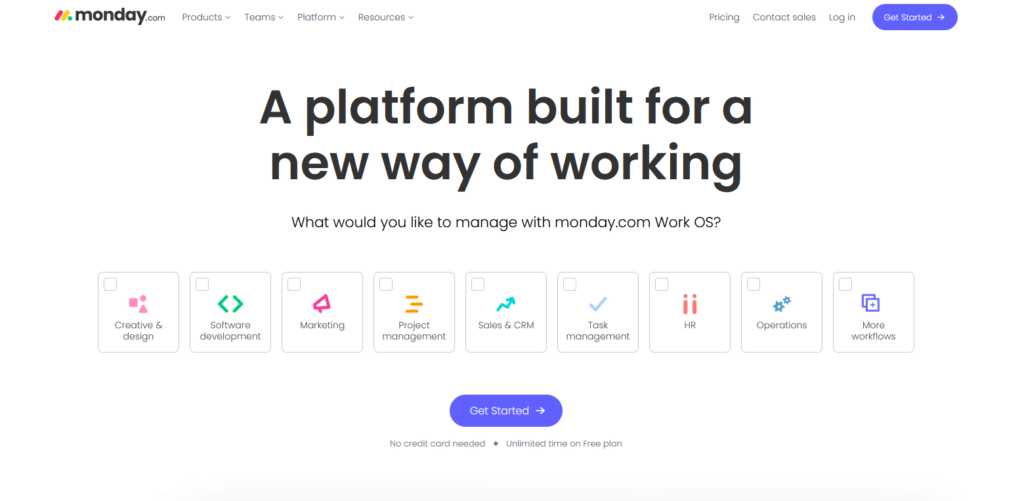 Pricing:
Monday.com's pricing plan starts with a very basic free tier, then $24 per user per month, followed by $30 per user per month, then $48 by the same standards, and finally, a custom enterprise option for large-scale teams.
The only notable downside to monday.com is its per-user pricing limits. The lower-level tiers are substantially less comprehensive than the higher up ones, which is understandable but not ideal for small business teams.
Primary advantages:
The multiple boards allow for easy tracking of multiple processes. The tool supports various styles and types of management and processes and allows users to integrate tasks into their calendars.
9. Google Workspace
Developed by Google, Google Workspace incorporates productivity and collaboration tools, software and products all hosted in the cloud.


Pricing:
Users can access the Workspace from anywhere and chat, collaborate and share data, create new documents and edit them, and host Google Meet meetings via chat or video. You can use Google Workspace from $6, $12, and $18 per month. Custom enterprise additional.
Based on reviews, this popular tool's main advantage is its familiar and broad, comprehensive feature list. Its disadvantage is that it doesn't integrate well with platforms outside of Google so it can diminish the impact of collaboration.
Primary advantages:
The ability to collaborate in real-time is a major advantage of Google Workspace. However, having the ability to work offline without needing an internet connection is also a major plus.
10. Todoist
A digital task manager and to-do list, Todoist helps to enhance productivity by allowing users to keep track of projects and make lists that others can access too. This collaboration tool enhances workflow and makes working as a virtual team easier.
One could argue that Todoists payment tiers are unnecessarily inflated (considering the features you get in return), but its highly intuitive task-prioritization tools redeem it.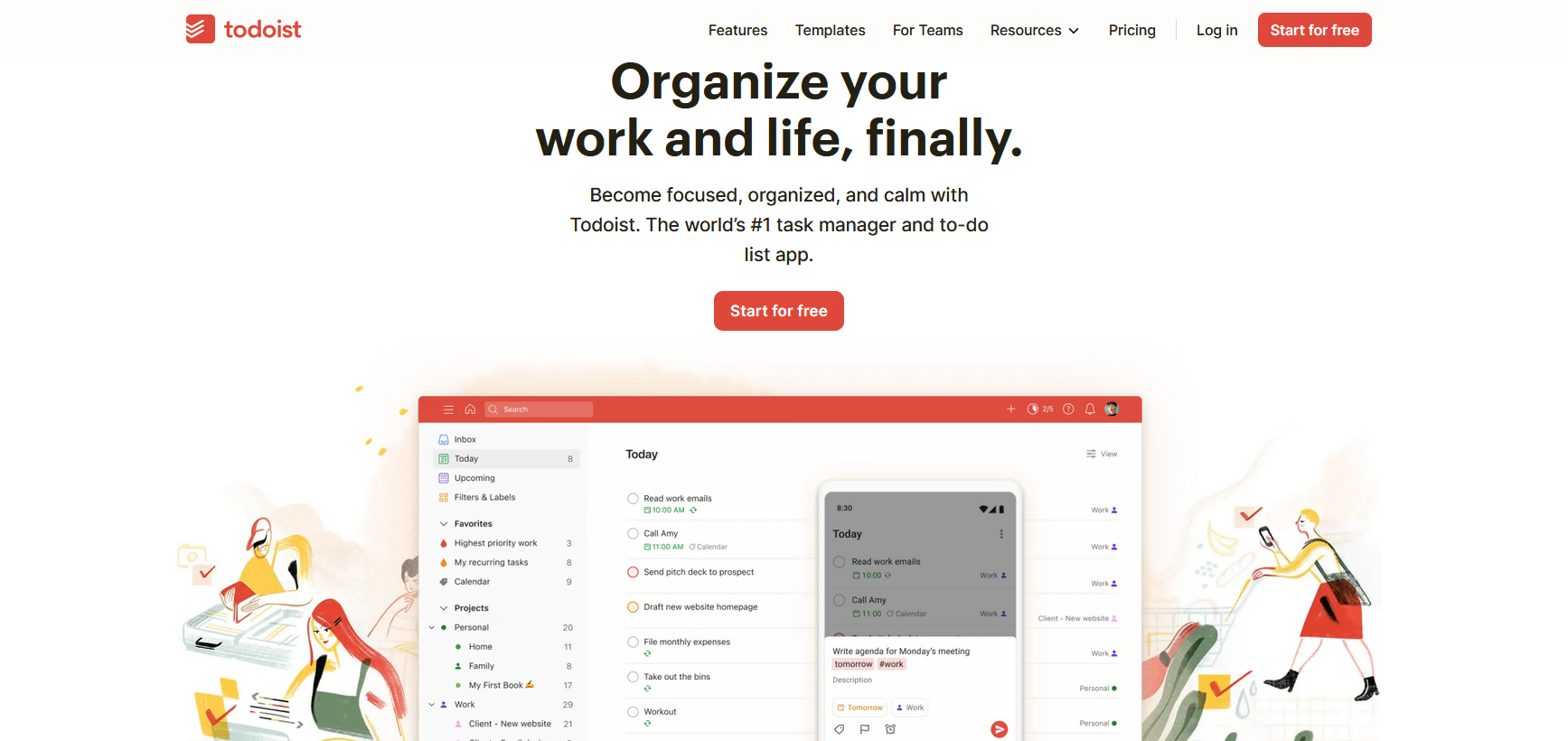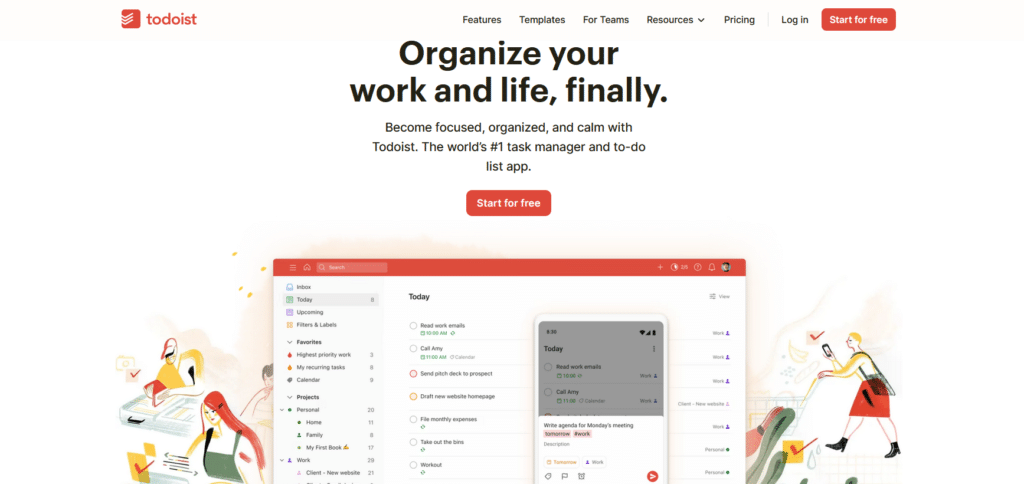 Pricing:
You can access the Todoist platform for $48 per year, or $72 per year, depending on which features you want access to and how big your business team is.
Primary advantages:
The easy-to-use interface is a huge advantage as there's no real learning curve. This plug-and-play solution breaks large projects down into smaller, manageable chunks and allows for seamless collaboration.
Special mention: Custify
If you are looking for a productivity tool designed for Customer Success Managers, then Custify is the right option for you. It is a comprehensive customer success platform, equipped with various features that help businesses manage and grow their customer base. With Custify, you can effortlessly navigate through every stage of the customer lifecycle, from initial onboarding to ongoing customer success management.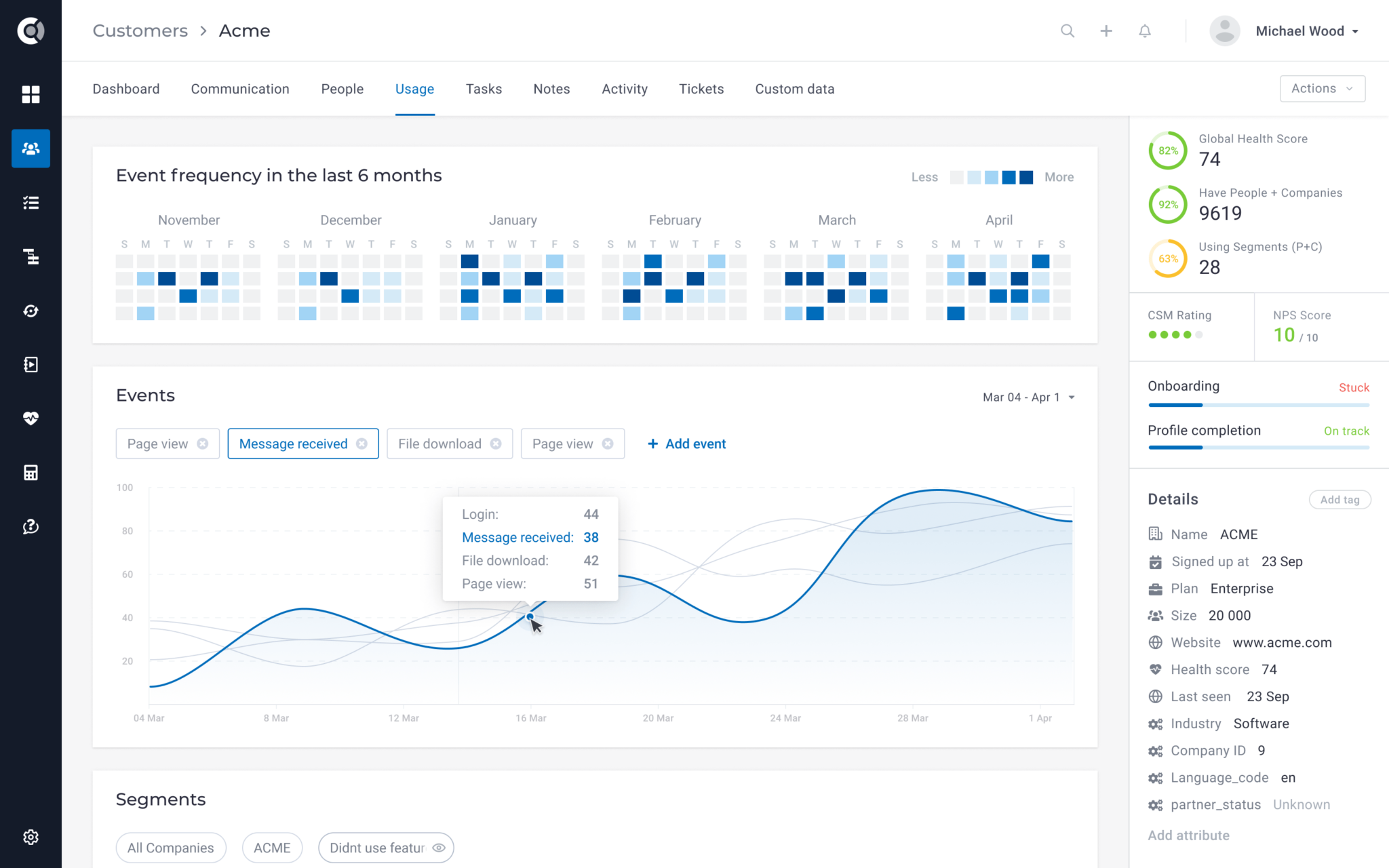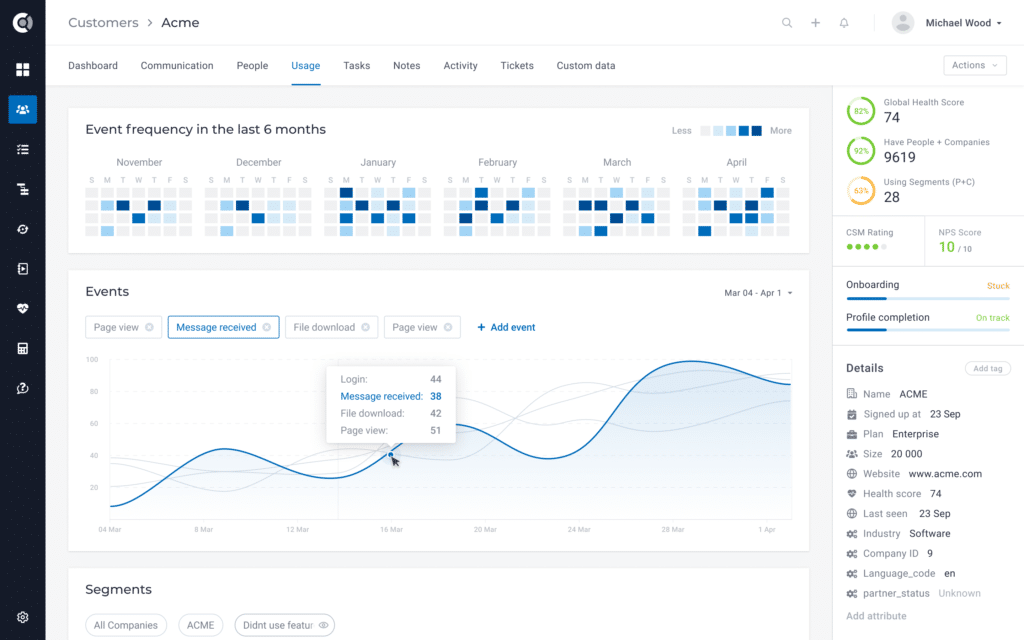 Pricing:
Custify offers a competitive price that is custom to each business.
Primary advantages: 
Custify comes with many features and use cases for CSMs. Also, Custify is more than a tool, it's a reliable business partner and this is validated by our concierge onboarding service & white glove approach.
The Benefits Of Using Productivity Tools
Utilized in the right way, there are many benefits to using productivity tools. Not only can they make your team stronger and more collaborative, but they can also bump up your daily performance goals and help you deliver better experiences to clients.
Here are some of the main benefits to using productivity tools:
Enhances productivity and efficiency – pretty much every team under the sun can benefit from a renewed desire to achieve, and an appetite for success. And that's exactly what these tools were made for. Use them to streamline everything from comms to integrations to task accomplishment.
Makes employees happier and more engaged – when employees have access to high-performance productivity tools, it can make them happier and more engaged at work. The right tools and equipment can stimulate necessary morale and motivation.
Expands your growth capacity – these tools help you accomplish more in less time. That means you get to take on bigger projects and grow your company faster.
Saves time and money – although productivity tools can be expensive, they are well worth the investment. By saving you time and allowing you to take on bigger, higher-paying clients, your business can significantly boost its profits.
Improves collaboration – collaboration and teamwork are the core of any work environment, whether in-house or remote. These tools facilitate those attributes with ease. Teams can share, chat, edit, and download files to ensure seamless communication.
Just as every business is different, the tools they'll use will differ too. Fortunately, there are a wide range of productivity tools that are designed to fulfill various functions. Choosing the right tool is crucial for getting the most value for your money and creating an easy transition for employees.
Final Thoughts
Whether you invest in a full project management system or use a time clock to track employee hours, using productivity tools to enhance resource management and create better internal operations is a game changer for businesses.
But not all tools are equal, and selecting the right one for your business is key to unlocking its potential.
Through learning more about these comprehensive tools and their many benefits, we hope your team can foster newfound energy to collaborate, innovate, and optimize your workflow.