Champions are what a CSM's dreams are made of. They love your product, they love working with you, and like true customer advocates, they never hesitate to let the world know about it.
In some cases, the entire relationship between you and a customer may depend completely on your champion within the company.
So naturally, when they leave the company, retaining that customer can become a major concern. Fortunately, there are a few things you can do to ensure retention before and after your champion leaves.
Who Are Champions?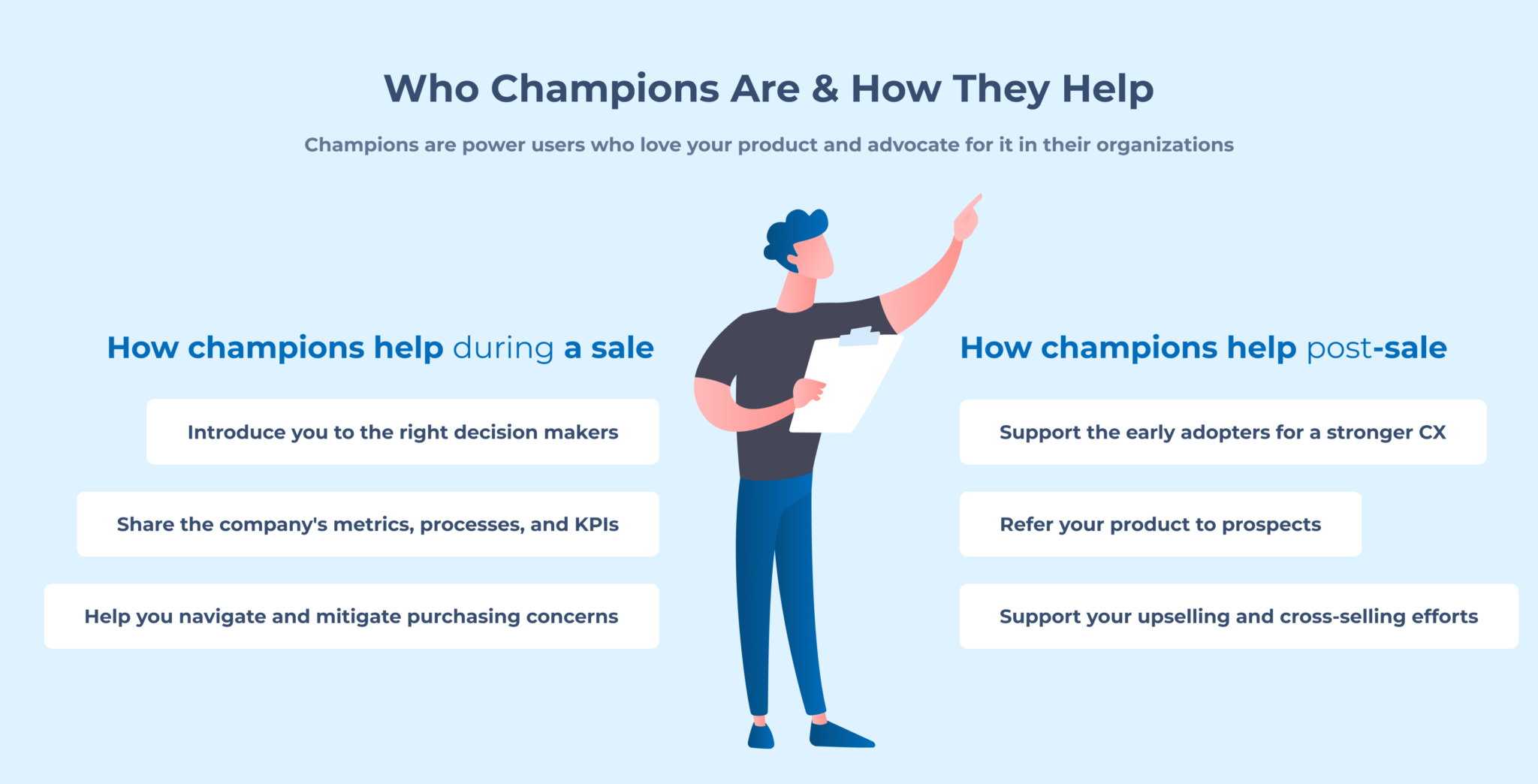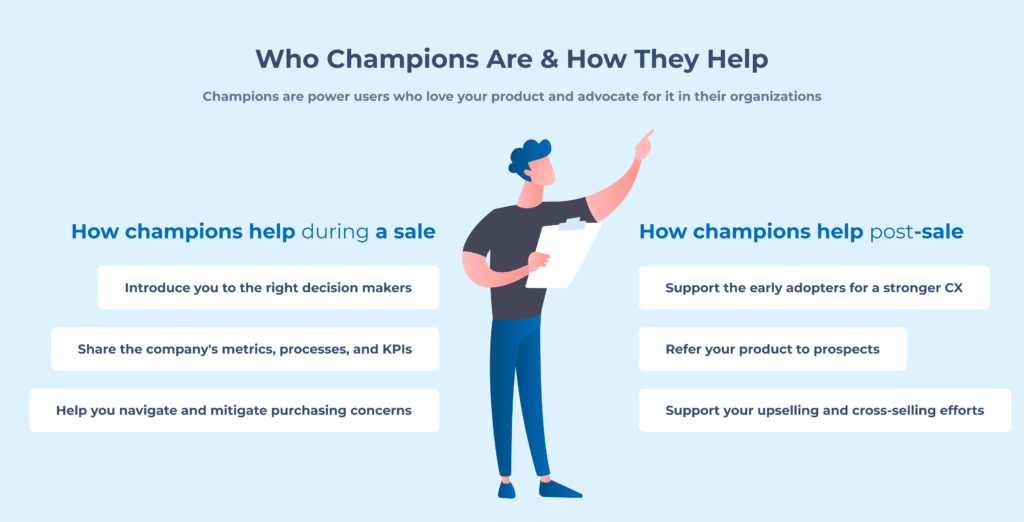 Before proceeding with the practical tips, let's do a quick crash course on the terminology used in this article.
Champions, also known as sales champions or product champions, are passionate, expert users of your product who promote it within their organization and beyond.
They are not only looking to get value from your product — they are also invested in helping you succeed. For example, they can help you successfully close the deal with their company by:
Introducing you to the right decision makers and their purchase requirements, allowing you to tailor your offer to the company's needs.
Sharing their company's metrics, KPIs, and processes with you so that you can create a stronger business case for your product.
Helping you navigate and mitigate the company stakeholders' concerns about your product.
Moreover, champions can be just as helpful in the post-sale stage by:
Supporting the early adopters of your product in the organization to improve the overall customer experience as a result.
Referring your product to other prospective customers via their connections.
Supporting your upselling and cross-selling efforts.
Simply put, champions can be very important to the success of your relationship with a customer. So, when they leave, retaining that customer in the first place can become a challenge. With that said, let's explore a few strategies that can help you retain a customer even after your champion within that organization departs.
1. Nurture Multiple Champions from the Start of the Customer Journey
Let's face the reality — it's not your champion's departure that makes you anxious about your relationship with the customer. Rather, it's the uncertainty around who will take their place as your main point of contact.
Chances are, it can be someone who's not that passionate about your product or the investment it requires. Even worse — it can be someone who prefers your competitor. If that ends up being the case, retaining your customer can become a real concern.
Fortunately, you can prevent this from happening if you have more than one champion within the organization. And the best part is that it's up to you to nurture them. That's because champions don't just pop out of nowhere — they're a result of proactive, personal engagement and a continuous demonstration of value.
CSMs have to make sure that even if they have a strong relationship with their champion, they are always prepared in case the champion leaves. For that, they have to prove value to the stakeholders too, and help the champion sell the tool internally. This can be done by:
Sharing best practices and articles with other stakeholders.
Asking the champion how you can showcase value to other departments (e.g. via presentations, video recordings, and so on).
Having shared communication channels like a dedicated Slack channel where all the users can see the conversations the champion has.
Asking the champion directly who else can be invited to QBRs or meetings.
Running surveys and making sure other stakeholders are also engaged and share their feedback about the product. If the champion is replaced, a happy team will play a big role in convincing the new POC to maintain the relationship.
This process should start early in the onboarding stage. You need to identify the personas who have the potential to become champions, and whose championship would have the most impact. Think team leaders, managers, and even C-level executives.
Ideally, you want to have at least three POCs within the organization to focus your nurturing efforts on — but the more, the merrier. So, even if one of them leaves, the others will help ensure your product's cachet with the organization.
2. Establish a Chain of Contact Based on Hierarchy
Having more than one POC within the company can be very helpful if your champion leaves. But how do you know who your POCs should be?
The best way to make sure that you're targeting the right stakeholders (namely, decision makers) is by following the company's hierarchy. Establishing this chain of contact is also something that you should aim to complete during the onboarding phase.
As is often the case, the best way to approach this is to simply ask — namely, ask your champion who they report to, who their head of department reports to, and so on. Alternatively, your sales team can probably also provide you with that information during the handoff process.
Once you have a clear idea of your customer's organizational structure, you will gain a better understanding of their goals, internal processes, and even company politics. From there, you will be able to determine the best candidates for your new champions should your existing one leave.
3. Keep an Eye on Your Champions
In a perfect world, your champion would always notify you in advance that they're leaving the company. They would even make arrangements for you to meet and start working with their successor. However, in reality, that's not always the case.
In many cases, you might only learn about their departure after fact. That's not to say that they have any intention to deceive you. Burnouts, layoffs, and sudden career changes are more common than ever in the SaaS industry.
To make sure that your champion's departure doesn't catch you by surprise, you should proactively keep an eye on them. One of the best ways to do that is to monitor their product usage via your customer success platform.
Using product usage data to track this is an incredibly useful safety net. Let's face it: you might not always be able to get in touch with your champions on a regular basis. So, having an alert system that notifies you when usage drops dramatically or when the champion's account is deactivated might prevent you from facing churn risk.
If they are indeed leaving the company, this will give you a jump-start on getting in touch with their successor to ensure retention. Or, even if the reason for the drop in their product usage is completely benign (such as a vacation), your attention and proactive attitude will earn you some extra goodwill points with the customer.
Alternatively, there is an even easier way to keep tabs on your champions. You can simply ask them to inform you in advance if they plan to leave or if any other organizational changes are taking place. This is something that can be a part of the onboarding process or a Business Review.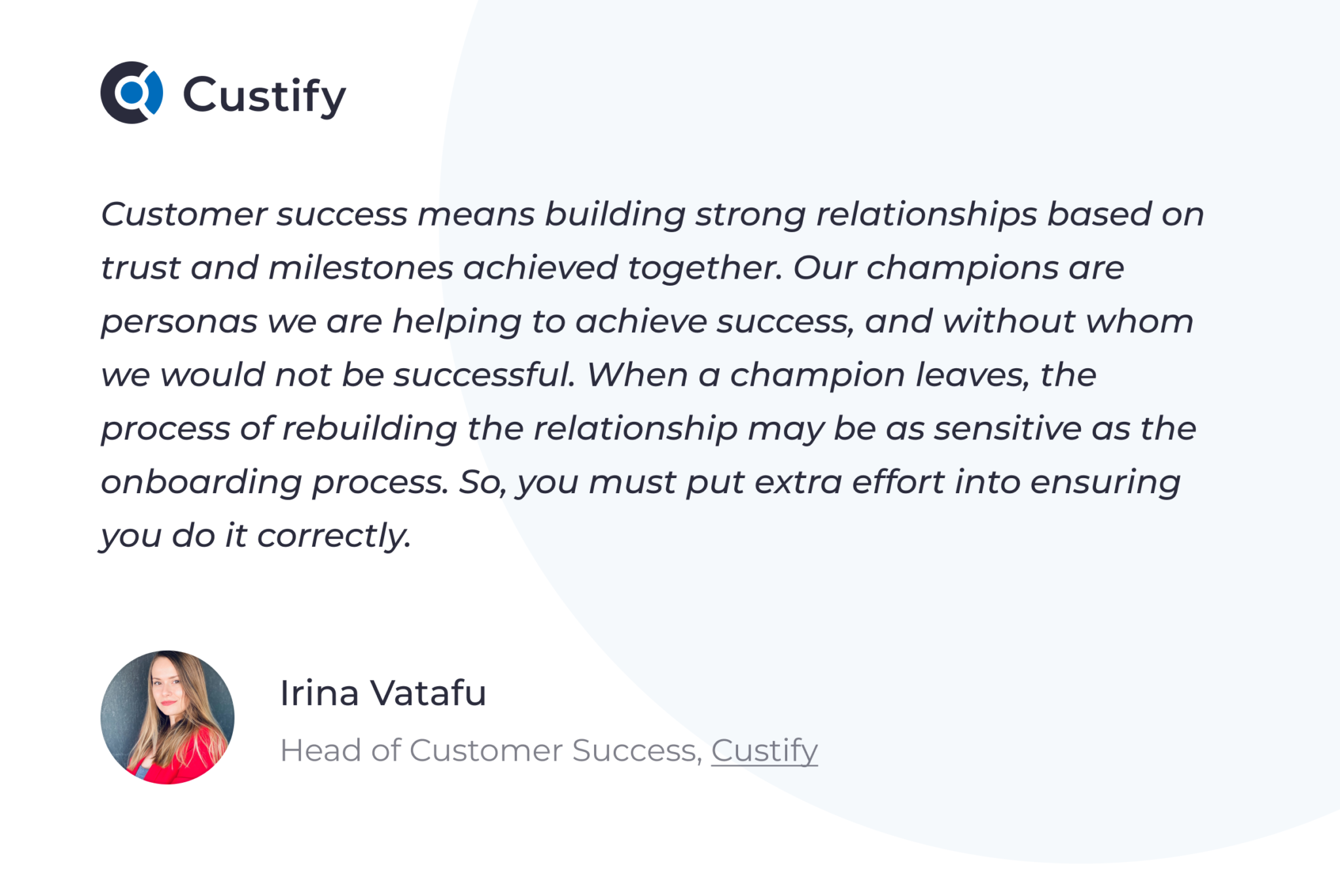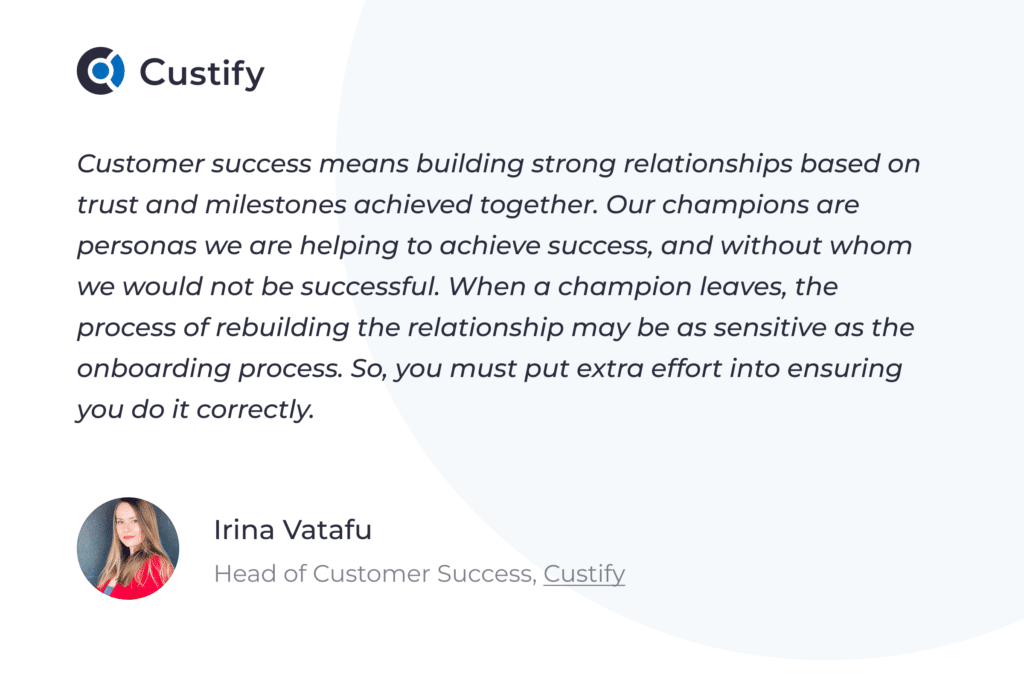 4. Re-establish Contact as Quickly as Possible
In the previous two sections, I have covered the ways you can get ahead of your champion's departure from their company and alleviate its impact. However, those were the best-case scenarios.
What should you do if your sole champion leaves without introducing you to a successor, and you have no other contacts at the company?
In such cases, you should take it upon yourself to find your new POC as quickly as possible. Your best bet is, once again, to go after the power users. Use your CS tool to segment the customer's team based on time spent in product to find the heavy users.
For example, here's how you can do this with the Champion Leaving Playbook in Custify:
1. Set up the product usage metrics that will help you automate this process. Once the usage drops significantly or once the champion account is deactivated, the playbook will automatically start.
2. A task with a high-priority label is created for the CSM to reach out to the new champion. The task checklist is:
Reach out to the new champion to schedule a call.
Prepare a presentation summarizing the achievements and the progress made so far.
Find out more about the new champion's goals and how familiar they are with the existing processes.
Make sure to point out how your product can fulfil those goals.
Rigorously follow-up on the topics discussed during the call to make sure the relationship is saved.
3. One week after the call, another task is created for the CSM to check the new champion's product usage and see if there are any red flags there. Checklist for this task is as follows:
Check product usage.
If product usage is not looking good, mark customer as high risk of churn.
In general, this process is very similar to reinitiating the onboarding process. You have to set new goals, make sure that the new champion knows how to use the product, and work towards building a strong relationship.
5. Leverage Your Customer's Success & the Value You Bring
Your work is not done after you find your new POC. In fact, what follows is an ever more important task — recreating the kind of relationship you had with your champion.
At that point, what you need to do if you want to avoid churn is to, essentially, "re-sell" your offering to your customer. Yes, it's counterintuitive — you already have a signed contract with them, after all. However, you have to assume that your new POC has little to no experience with or interest in your product.
As such, your early communication with them should be driven by the value your solution has brought, brings, and will continue bringing.
It is very important that your new POC understands this value. For example, you can communicate it by scheduling an EBR-like meeting to review your past achievements and present a strategic plan for your partnership.
As I mentioned above, this has to be seen as the restart of the onboarding. The new champion has to become familiar with the tool. You also have to set new goals and new timelines, as well as put some effort into rebuilding the relationship. Of course, if you prepared the ground by making sure the extended team adopted your product, leveraging the new champion's success will be easier.
Also, make sure that all your communication at this stage (and beyond) is customer-centric. Your new POC needs to know what's in it for them, how your product will make their work easier, and how their organization can benefit from it.
And if you're wondering about the exact talking points you should touch upon or angles to take, don't hesitate to contact your former champion. Even if their split with the company wasn't all amicable, they might be happy to help you.
6. Treat Your Champion's Departure as an Opportunity
Keep in mind that even if your champion leaves the company, they don't stop being your champion. Instead, they can become your champion at a different company.
Simply put, your champion's departure can be a great opportunity for you to win new business. You can gain a whole new customer or a replacement for your champion's former employer should things go south.
That's why it's very important that you maintain a relationship with them — whether via LinkedIn or industry communities. Personal relationships go a long way in the SaaS world, and passionate advocates of your product will always give you an advantage when pitching to prospects.
Conclusion
Losing a product champion at one of your customers can be disheartening, but it won't necessarily lead to churn. As long as you act quickly in establishing a connection with your new point of contact and lean on the value your product provides, your relationship with the customer will endure.
Additionally, your champion's commitment to your product can be stronger than corporate allegiances. Maintaining contact with them can help you sign their new company as a customer and grow your business even further.