The term "customer advocacy" may sound all sophisticated, but under the hood, it's simply a continuation of good old word-of-mouth marketing.
Word-of-mouth may be an age-old marketing tactic, but it's still as relevant in today's business landscape — SaaS included. In fact, it can be five times more effective in driving sales than paid ads. Meanwhile, as many as 64% of marketers regard it as the most effective marketing technique.
By extension, customer advocacy is just as relevant. And this article will cover everything you need to know about leveraging it — from typical customer advocate personas to strategies for nurturing advocates.
What Is Customer Advocacy?
Customer advocacy is a process where your happiest, most loyal customers become the advocates of your brand and promote it publicly or within their networks. In turn, this helps you reach more prospects based on your advocates' referrals or reviews.
However, this process doesn't just take place on its own. Advocacy is typically a result of a carefully crafted strategy. This strategy revolves around creating stellar experiences for your customers, building trust, and incentivizing them to become your advocates — all from the moment you sign them on.
That's why advocacy sits at the end or near the end of the customer journey, depending on your chosen framework. For example, in the ​​AAARR model (the most common customer journey model in the SaaS industry), it occurs in the Referral stage.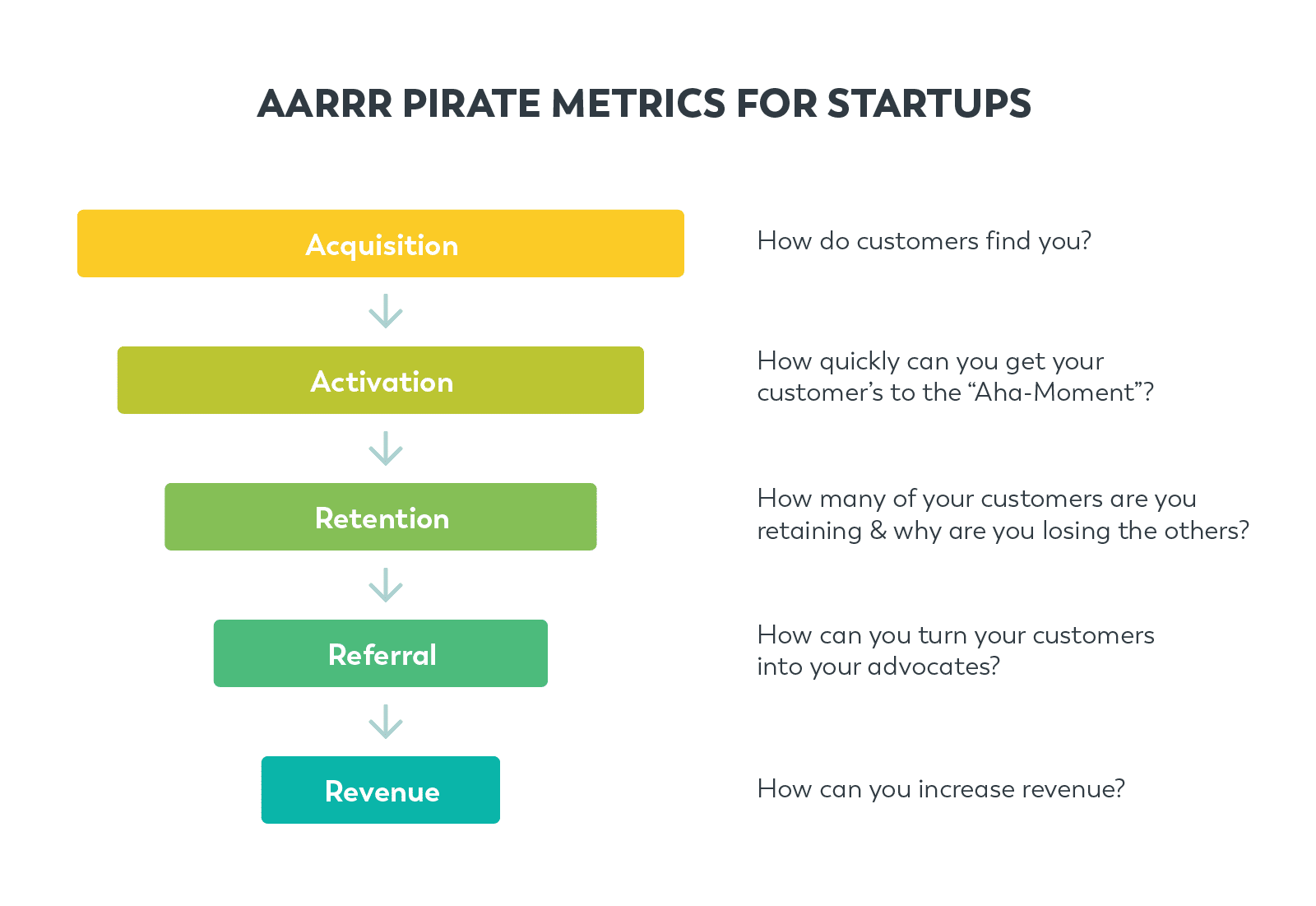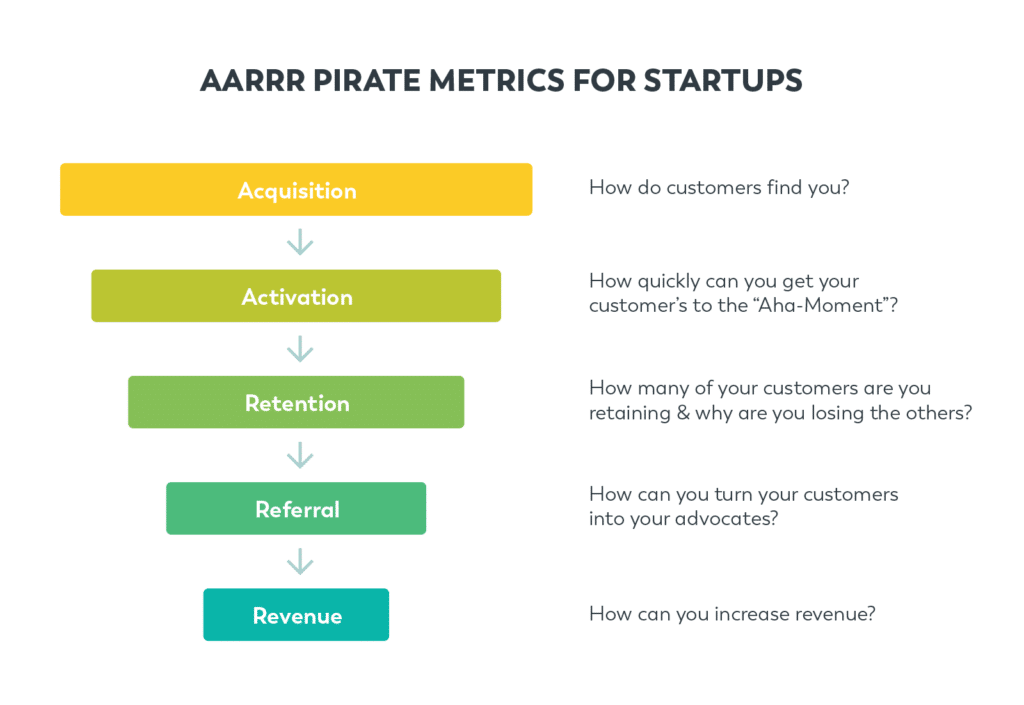 [Source]
Why Customer Advocacy Is Important
A successful customer advocacy strategy is among the most cost-effective ways of growing your business. Here are a few key benefits of advocacy in a SaaS setting:
1. Stronger Brand Awareness
Let's start with the most obvious benefit — boosting your brand awareness. As I mentioned earlier, at its core, advocacy is word-of-mouth-driven.
So, if a happy customer is willing to join your customer referral program to publicly share what a great experience they had with your brand, their message has the potential to reach a wide audience. Especially if they are a high-profile individual with a considerable online following, or if their "endorsement" of your brand goes viral for one reason or another.
In any case, what you're getting in return is the opportunity to connect with numerous prospective customers all while investing practically nothing in your outreach efforts.
2. Improved Sales
Advocates improve your sales in two ways — by spreading the word about your brand and attracting new customers and directly by staying committed to you.
Advocates tend to spend twice more money with your business than non-advocates, as reported in a Harvard Business Review study. That's because they're already your most loyal customers. As a result, they're most likely to commit to recurring purchases and respond to your upsell efforts.
For example, if your advocate reaches the limits of their current subscription plan for your product, they'd rather upgrade to a higher plan or request a customer offer from you than look into a competitor.
And that's a win-win scenario for both parties. You get a reliable path to meeting your upsell/expansion goals, and they continue benefiting from a reliable product that works for them and supports their goals.
3. Stronger Customer Support & Self-Service
Thanks to the experience they have with your product and company, advocates can help you support your current and prospective customers. In fact, they can often do a better job than your customer support team — at least in the eyes of your prospects.
That's because their experience with your product is tangible and hands-on, which can make them very relatable and trustworthy for your prospects. After all, they're your customers too — as a result, they can offer a wealth of insights to your prospects from the valuable customer perspective.
Moreover, advocates can also empower your customers via your self-service channels, like a community forum or a community help center. If you have a centralized customer community, your advocates are likely to be some of its most vocal and active members. With their knowledge and expertise, they can help your customers overcome onboarding challenges or technical issues without involving your CS or customer support team.
Shawn Riedel mentioned: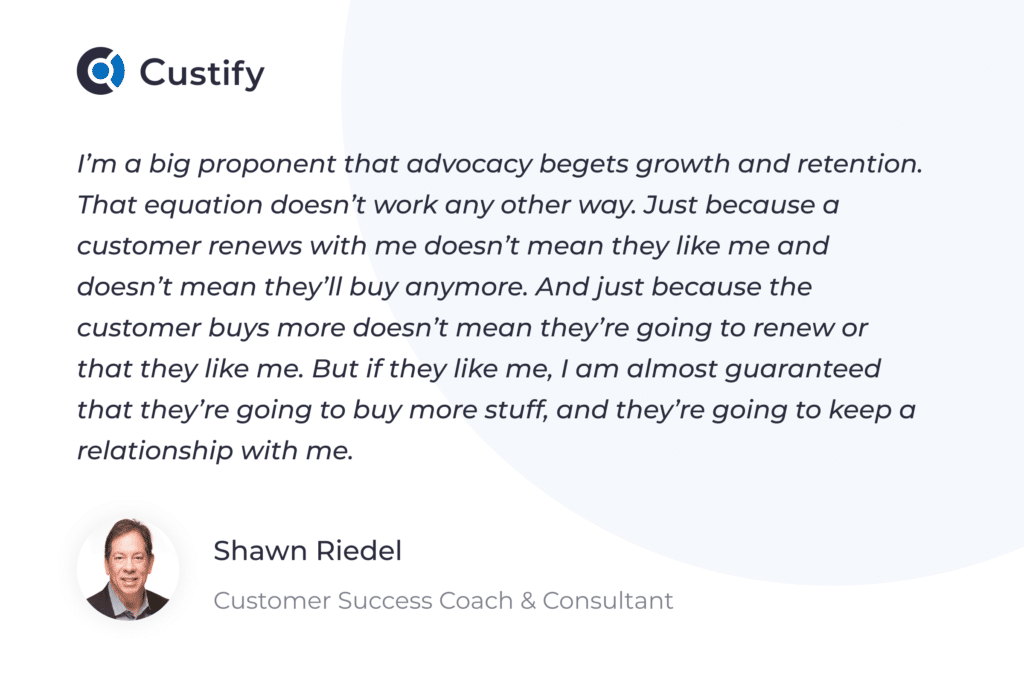 What Does a Customer Advocate Look Like?
As mentioned above, advocates are your happiest customers who are willing to personally promote your brand.
This differentiates them from the customers who are simply loyal to you. Loyal customers will stick to your brand throughout the renewals and the upsells, but they won't go out of their way to personally promote your brand.
Customer advocates, on the other hand, will remain loyal to you all while serving as your brand's ambassadors. In that sense, you can think of them as an extension of your sales team.
But what typically drives your customers to become advocates? Well, as you can probably guess, customers don't always turn into advocates for their favorite brands out of the goodness of their hearts.
More often than not, they do it because there's something in it for them, such as:
Recognition and the opportunity to establish themselves as thought leaders in their communities based on their association with your brand.
Special perks or privileges with your company, such as priority support, exclusive access to proprietary thought leadership content, and so on.
Physical/monetary benefits, such as something as simple as a discount on your products or services or a small token of appreciation.
To be more specific, your advocates' needs and motivations exist in a hierarchy not unlike Maslow's. Advocates typically start at the bottom of the pyramid and are happy to get physical rewards in return for their advocacy.
However, as their relationship with your brand evolves, so do their needs, which shift from physical rewards to social, emotional, or intellectual benefits.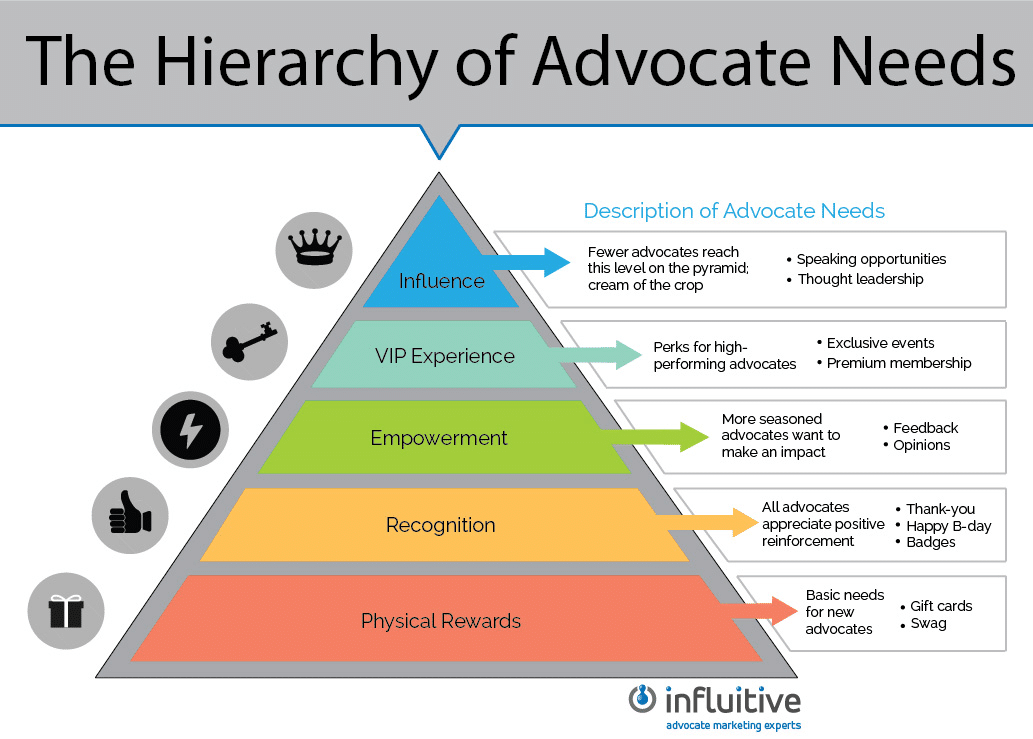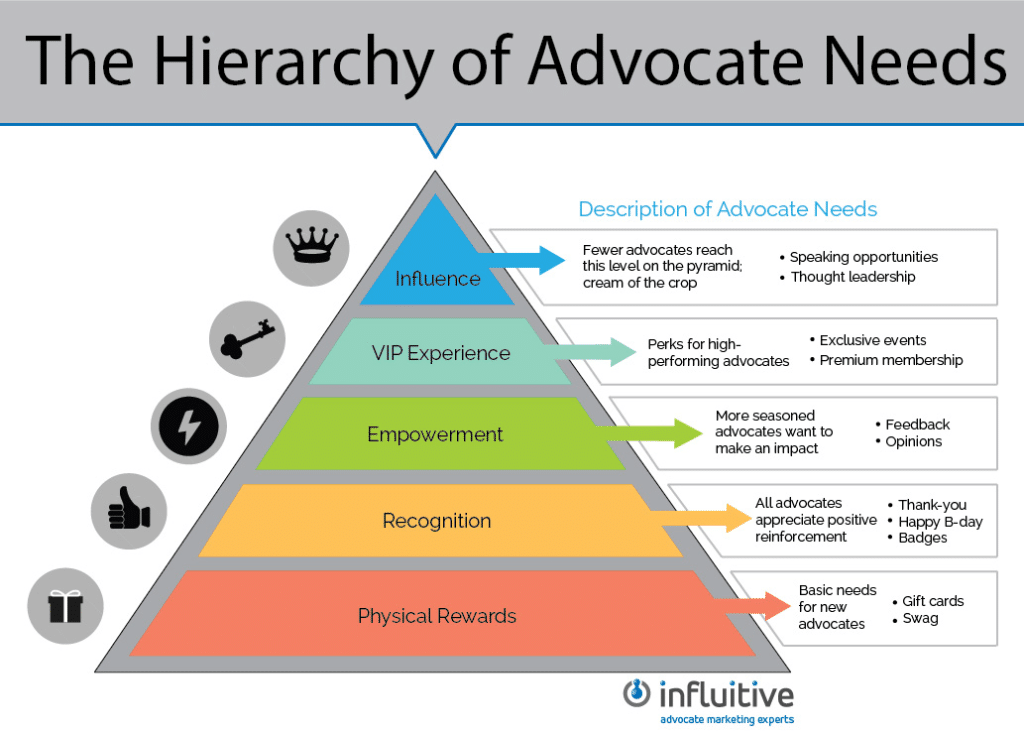 [Source]
At the same time, it is not uncommon for advocates to occupy several stages of the hierarchy at the same time. This concept was summarized very well by Forrester, which outlined the following common customer advocate personalities:
Educators: Outgoing and enthusiastic, these advocates enjoy helping others. These are the ones you would find being active in your community forum or creating guides for your product.
Validators: Well-spoken and credible, Validators are your long-term customers who would love to use their authority to promote your brand. They've had a great experience with you and wouldn't mind sharing it with the world — whether via a case study or a detailed testimonial.
Status Seekers: Ambitious and well-connected, Status Seekers are the closest you can get to influencers without spending any money. The members of this group are very concerned about their personal branding and see their association with your brand as an opportunity to strengthen it.
Collaborators: Similar to Status Seekers in terms of their network and influence, Collaborators are all about win-win scenarios. They're looking for a long-term partnership with your brand that will benefit both sides.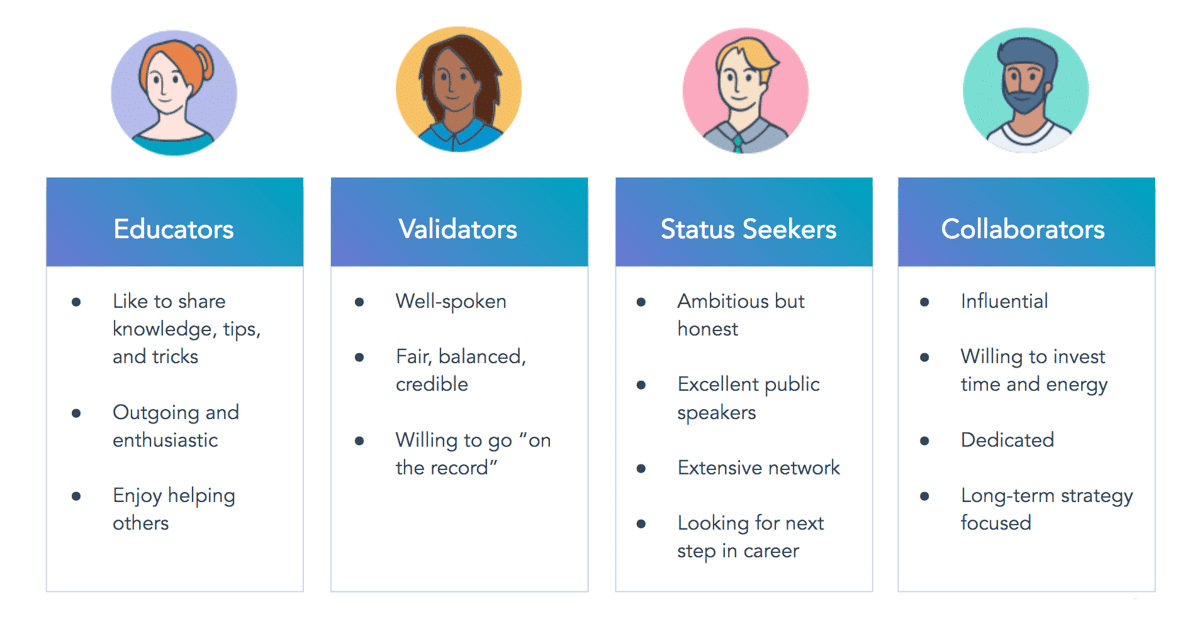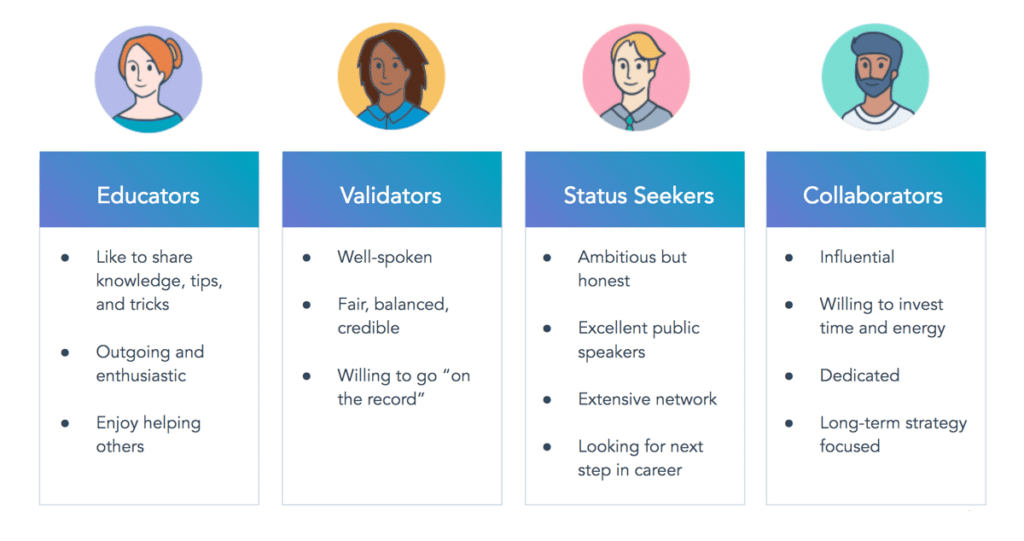 ​​
[Source]
5 Strategies for Nurturing Your Customer Advocates
At this point, I don't think you need more convincing that customer advocacy can be very beneficial to your business. So, let's cover the most important topic — how you can turn your loyal customers into advocates.
1. Identify Prospective Advocates
Before you can start nurturing your advocates, you need to identify who your prospective advocates are. And that's easier said than done — as I mentioned earlier, not all loyal customers wish to become advocates.
That's why your outreach to prospective advocates should be informed and data-driven. The best place to start is your customer success platform. You can set up a customer segment that gets automatically populated with prospective advocates based on metrics such as their MRR, CSAT score, Net Promoter Score (more on these later), and so on.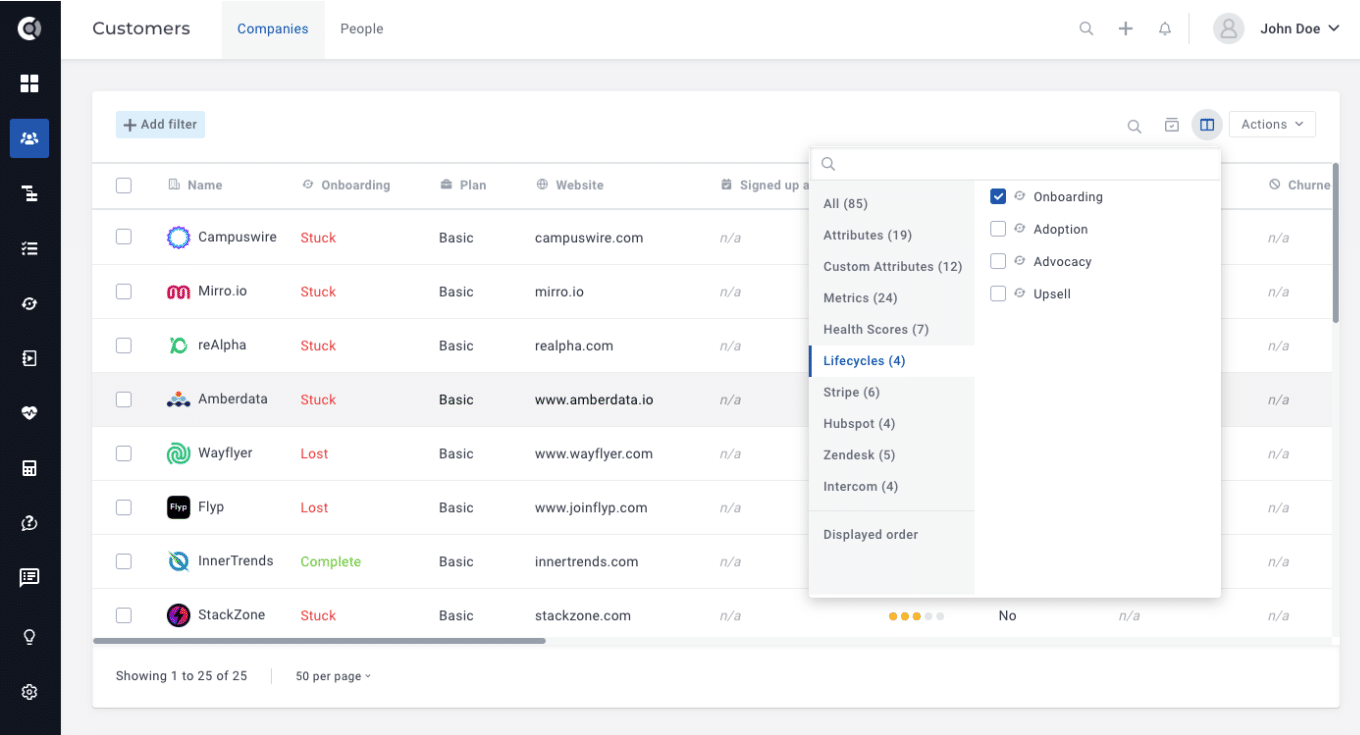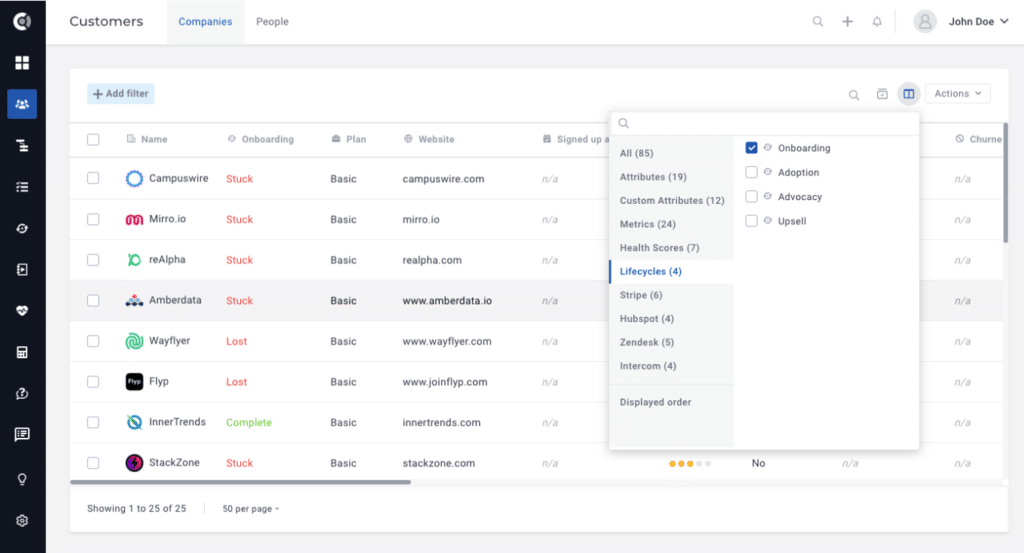 [Source]
Then, you can also set up workflows to automatically contact these customers once they enter the segment. This will make the whole outreach process quick and efficient.
Additionally, you can also manually search for prospective advocates. For example, you can check your company's reviews on websites such as G2 or Capterra and try to connect with the customers who left you rave reviews.



[Source]
2. Build Your Customer Advocacy Strategy
As most CS activities, your customer advocacy efforts can only be fruitful if they're driven by an informed strategy.
That's because customer advocacy has many layers beyond its purpose and general benefits. For example, ask yourself the following questions: what is it exactly that you want to achieve with customer advocacy? Do you want to attract more referrals or are you looking to improve the health of your current customer base? And how are you planning to achieve all that?
The answers to these questions and more lie behind an advocacy strategy. This strategy should outline the specific priorities, goals, metrics, and stakeholders of your customer advocacy efforts. For example, consider the so-called Community Blueprint created by The Captivate Collective as a template for your strategy.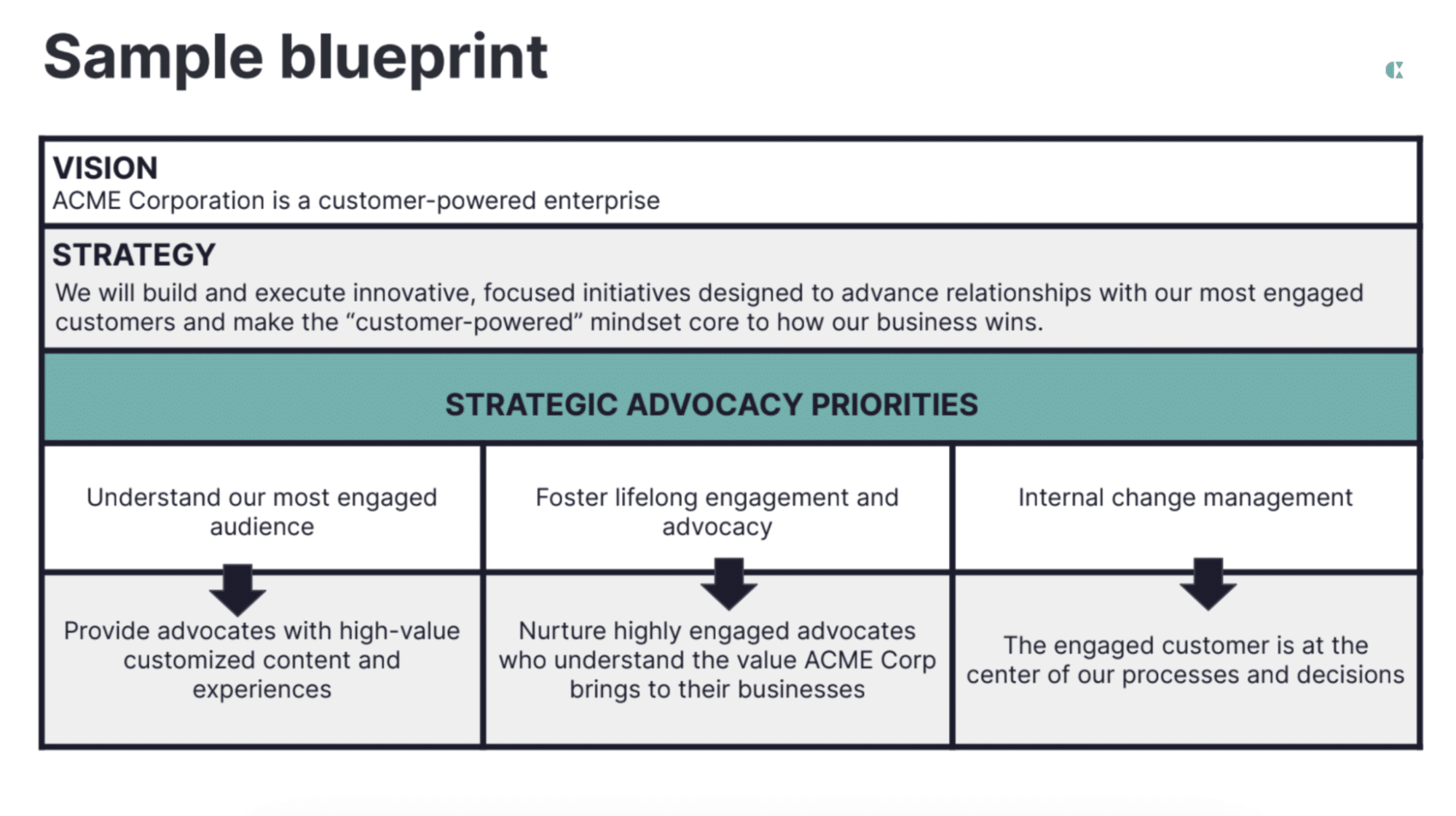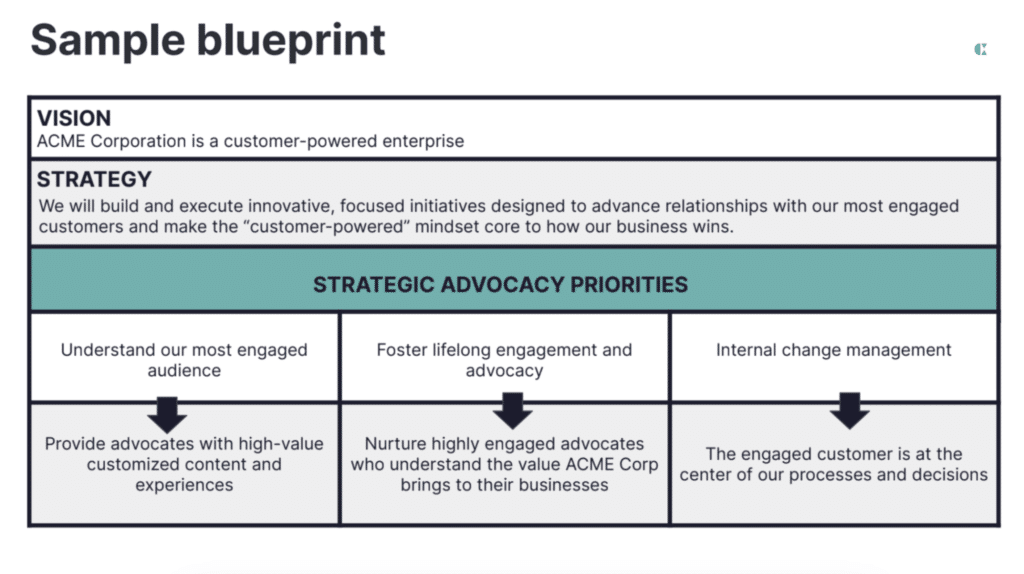 [Source]
3. Take a Hyper-Personalized Approach
Why do loyal customers turn into advocates for your brand? Because of the great experiences they have with your product or service.
And how can you ensure that they have a great experience? The answer is not just personalization, but hyper-personalization. Personalizing the experience as much as possible for each customer is at the core of CS as a whole.
To achieve this, be sure to avoid the pitfall of generalizing your customers' needs. Instead, do your best to get an intimate understanding of their individual frustrations and circumstances. Something as simple as thorough one-on-one conversations can help with that.
Also, don't forget about the wealth of insights into your customers that your CS platform can offer. By monitoring things such as health scores and product usage, you can identify the customers who are struggling with your product. Then, you can create a personalized strategy that will lead them to success.
In the end, you will reap the benefits of their satisfaction and loyalty by nurturing them further into advocates.
4. Incentivize Loyalty
Sometimes, all your loyal customers need to turn into advocates is a little encouragement. So, instead of waiting for them to come to you with a partnership proposal, you should approach and incentivize them yourself.
You can start with something that takes little effort on their behalf, such as a prompt to leave a review for your product or service. Once again, you can use your CS tool to segment and target your most successful customers and automatically target those prompts at them.
Also, don't forget — the best way to incentivize your customers' loyalty and advocacy is offering them outstanding experiences with your brand. That's why your customers turn into advocates in the first place.
Of course, there are a lot of building blocks to an outstanding experience. However, the three most important elements in descending order are the quality of your product, your expertise, and your responsiveness.
This harks back to one of the key CS principles that every CSM is familiar with: make sure you have a great product and support your customers proactively to ensure their success.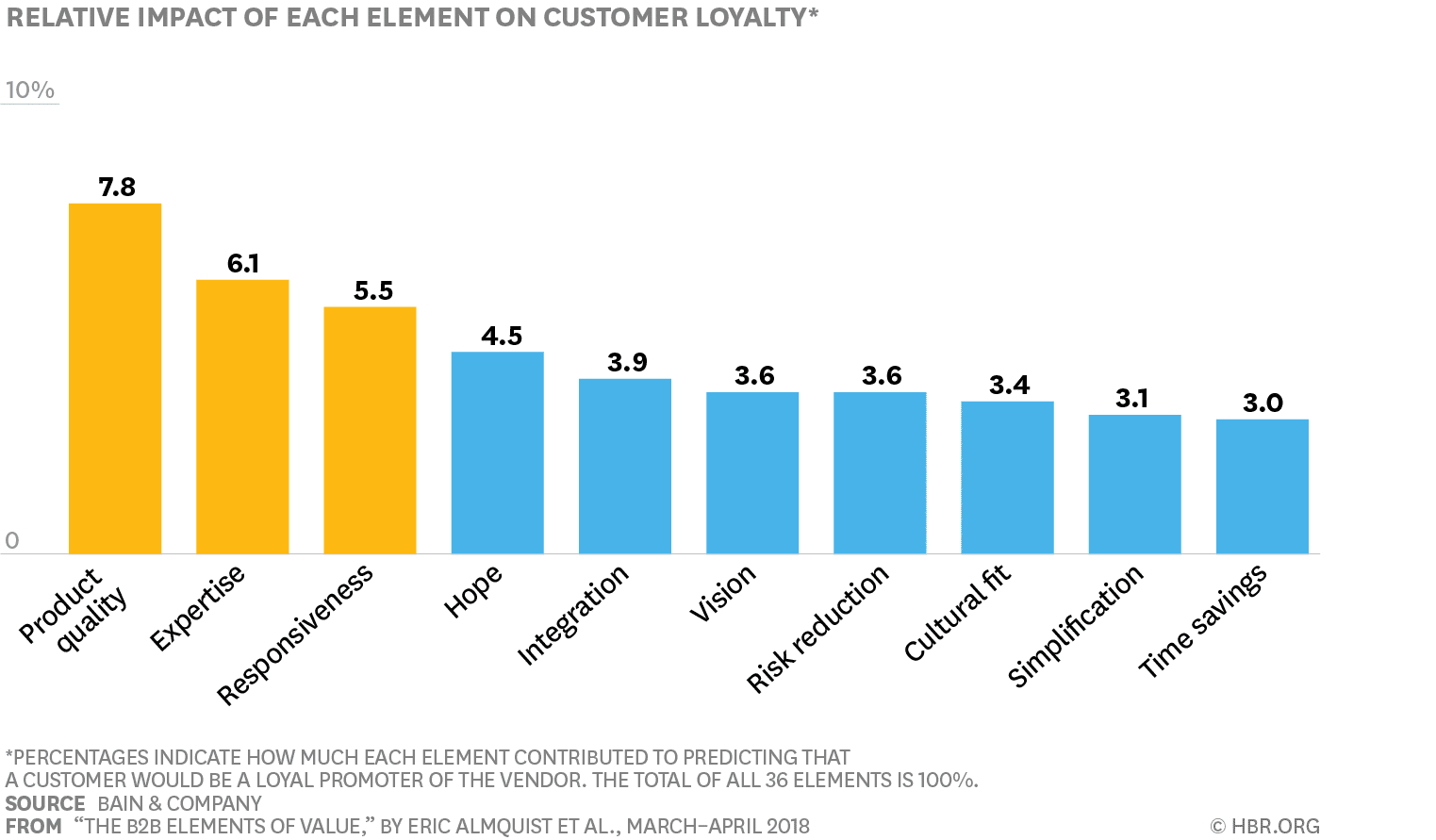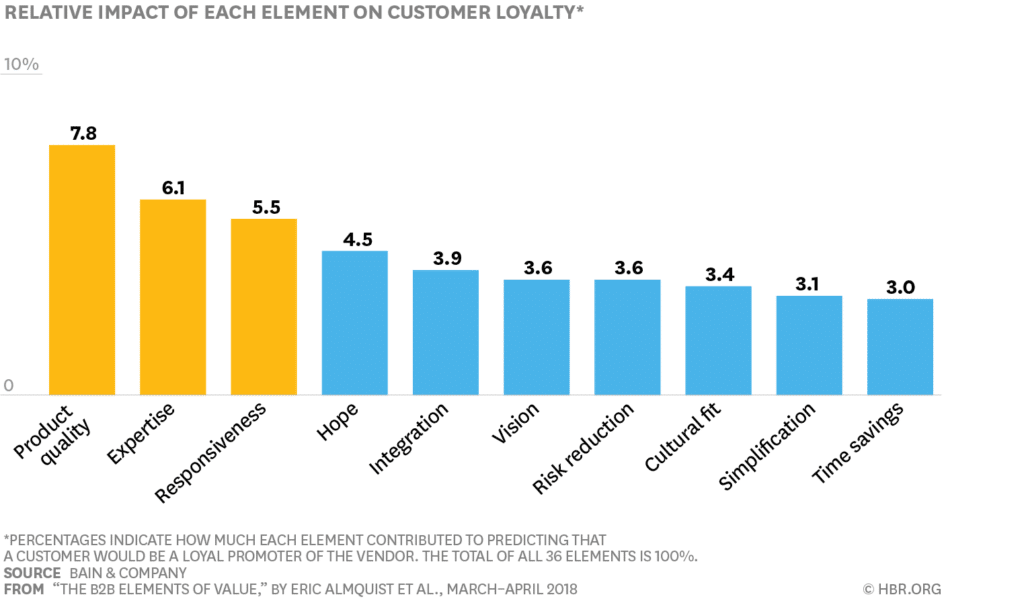 [Source]
5. Routinely Collect & Analyze Customer Feedback
There is hardly a better way to make your customers feel valued and seen than simply asking them for feedback. It's also one of the easiest ways to enable customer advocacy — here's why.
Before you can start nurturing your customers into advocates, you need to get them to trust you, your expertise, and your intention of leading them to success. To achieve this, you need to make sure you truly understand them along with their needs and problems.
And the best way to do that is to simply ask. Establishing a channel for feedback with your customers will help you build a trustworthy relationship and lay the groundwork for your customers to evolve into advocates.
From there, you will gain access to valuable insights driven by your advocates' unique hands-on experiences with your product. You can then act on this feedback to improve your product and fine-tune the experiences of your entire customer base.
This is also where NPS and CSAT surveys come into play. Net Promoter Scores and Customer Satisfaction Scores are the easiest and most standardized way to gauge your customers' advocacy potential and happiness, respectively.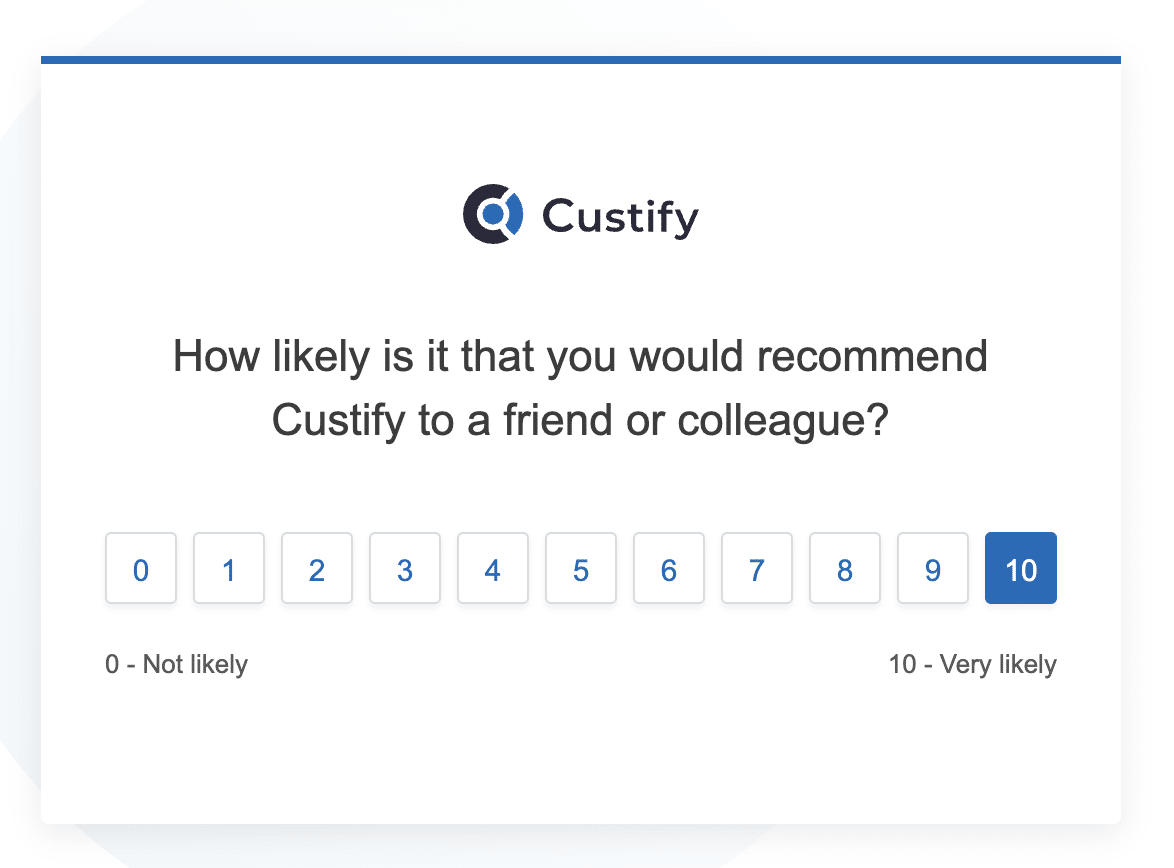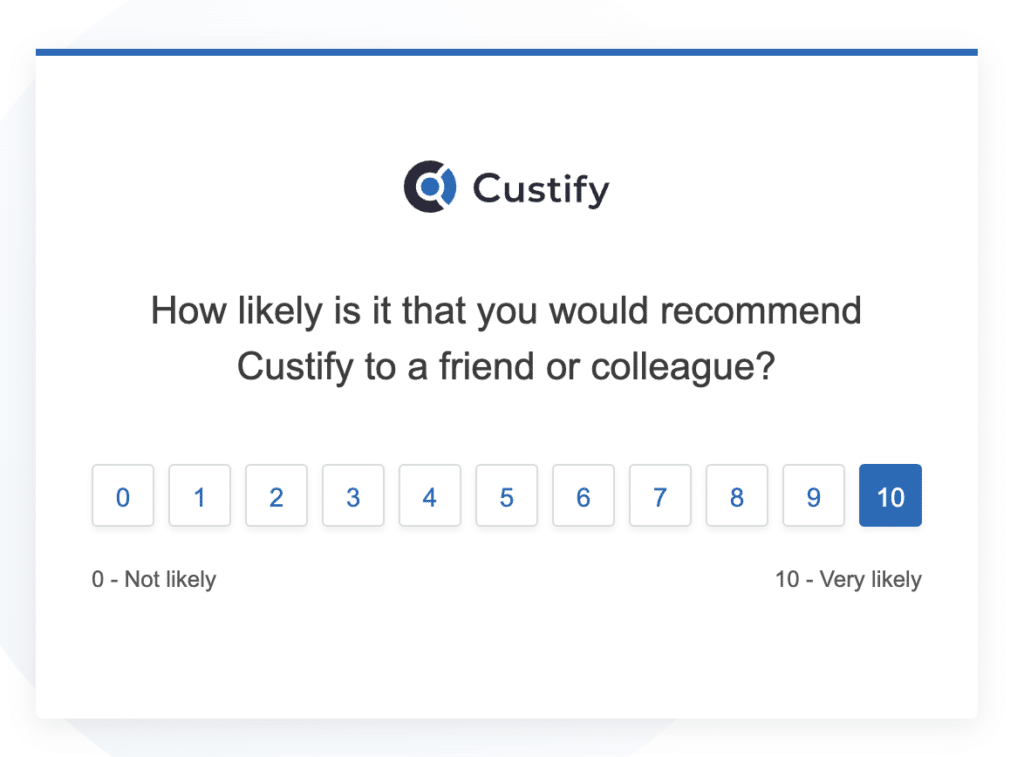 [Source]
Wrapping Up on Customer Advocacy
Because of its benefits and cost-effectiveness, customer advocacy is something that every SaaS brand should leverage for growth.
The key to a successful customer advocacy program is, first and foremost, creating outstanding experiences for your customers. If you take a thoroughly personalized approach to each one of them and really understand their needs, you will organically cultivate a community of loyal advocates.