79% of customers expect organizations to provide self-service solutions to their questions and issues. Meanwhile, 77% say they have a better opinion of brands offering self-service solutions and regular customer support. (Source: Higher Logic)
Customer self-service is not a nifty extra — it is a must-have, especially in the SaaS industry. Simply put, your customers will see you as more reliable and trustworthy if you offer them self-service.
With that said, let's explore everything you need to know about customer self-service: what it is, what its benefits are, and how you can implement a self-service tool.
What Is a Customer Self-Service Solution?
A customer self-service solution is a tool, platform, or resource that allows your customers to diagnose and resolve issues with your product or independently, without contacting a customer service agent.
The most common types of self-service solutions include:
Frequently Asked Questions (FAQs): A dedicated webpage or section on your website that features your customers' most common questions and answers.
Knowledge Base: A comprehensive portal with guides and learning materials about your product. Your knowledge base needs to cover your product from A to Z — a customer should be able to learn everything from the initial setup to use specific features.
Chatbot: Typically, AI-powered chatbots or virtual assistants can answer some of your customers' questions without involving your customer support team.
Community Forum: A community forum allows your customers to seek help from other product users
Benefits of Customer Self-Service
Customer self-service is not essential because your customers expect it. It can also benefit your company in several different ways. Let's explore some of its key benefits.
Faster Problem Resolution for Your Customers
22% of customers say self-service tools help them resolve their issues faster than other channels. That makes sense — with self-service, they don't have to wait for your customer support agents to get back to them. This can be a deal-breaker if they're dealing with a time-sensitive issue.
24/7 Availability
To follow the same train of thought — self-service is also available 24/7, unlike most support teams. With a self-service solution, your customers can resolve their time-sensitive issues even if they occur outside business hours.
Improved Customer Satisfaction
81% of customers say they try to resolve their issues independently before contacting a customer support agent. So why not empower them to be successful?
Customer who manages to resolve an issue without relying on external help will undoubtedly feel great about themselves. This will only improve their overall experience and satisfaction with your product.
Improved Efficiency of Your Customer Support Team
37% of customer support agents say that nearly half of all support tickets they get are "mind-numbing and repetitive," while 25% say that they use between 5 and 8 different tools to resolve those tickets.
That is not a very efficient approach to support, and as the number of tickets increases, your support team can get overwhelmed very quickly.
Implementing a customer self-service solution can help take some of that burden off of your support team. In turn, this will improve their efficiency and allow them to focus on more critical tasks.
Unbeatable Cost-Effectiveness
A single live interaction between a customer and a support agent can cost up to $12 for a B2B company. As an ongoing cost, it can add up quite quickly.
Meanwhile, the cost of a self-service action taken by a customer is practically zero. As such, the initial investment in building a self-service solution is extremely cost-effective in the long term.
Single Source of Truth
When you set up a self-service platform for your customers, you create a single authoritative source of truth about your product. Having this information be easily available to your customers will boost your trustworthiness and reliability in their eyes.
Scalability
Unlike customer support teams which need to be hired and trained, self-service solutions are easily scalable. For example, it is very easy to update your knowledge base when you add a new feature and keep your customers up to date.
Alternatively, if you find yourself dealing with a rapidly growing customer base, you can easily expand your self-service stack to accommodate their inquiries.
Tips & Best Practices for Implementing a Customer Self-Service Solution
Let's explore a few best practices you should follow to make your self-service solution truly useful to your customers!
Make It Easy to Access
Frankly, user-friendliness is the whole point of self-service. That's why your customers should be able to access your self-service platform quickly and easily. That's why you shouldn't bury it deep inside your website or product interface.
Instead, you want to consolidate all your self-service resources on one page — from the FAQs to the community forum and the knowledge base. This portal should be easy to navigate from anywhere on your website or app, both desktop and mobile.
Highlight the Most Common Problems & Solutions
Understanding their most common pain points is essential to making your self-service experience valuable to your customers. Are they having trouble resetting their passwords? Or are they struggling with setting up a software integration?
Whatever those common questions and issues are, you should make sure to highlight them within your self-service portal.
For example, if you're working with an FAQs page, you should order them based on just how frequently asked they are, with the most common questions appearing at the top. Or, you can feature your knowledge base's most-read articles on the main page so that your customers can easily find them.
Build a Comprehensive Knowledge Base
Your knowledge base acts as the single source of truth about your product. That's why you should make it as comprehensive as possible.
Without a Knowledge Base as a reference, it will be difficult for you to set up other types of self-service. For example, community forum users typically refer to the knowledge base to make sure that they give accurate advice to their peers.
Use Clear and Concise Language
Your customers might not necessarily be very technically savvy or familiar with the inner workings of your product. However, that shouldn't prevent them from successfully using your self-service portal.
When creating your resources, think of them as an instruction manual for an electrical appliance — simple, straightforward, and easy to understand. You should follow the same approach: avoid technical jargon and use clear and concise language.
Use Visual Aids
Visual aids such as screenshots or short tutorial clips can be a lot more helpful than just plain text. For example, a step-by-step tutorial on how to activate a certain feature will be a lot more hands-on and useful if you add an illustrative visual for each step.
In your visuals, highlight the exact actions your customers need to take and the exact buttons they need to press. This way, your tutorial will be easy to follow, even for the less tech-savvy users.
Implement Intuitive Search Functionality
Even if your self-service portal is not very big, it's a good idea to implement a powerful search functionality. The thing is, you might be familiar with its logic and how it's structured, but your customers are not. And nobody wants to waste time clicking through each section trying to find the exact resource you're looking for.
As such, a simple search bar will greatly improve your users' experience with the platform and help them find their answers faster.
Offer Multiple Channels
A couple of points back, we mentioned that the knowledge base is probably the most important self-service option you need to have. Does that mean you can completely skip chatbots, FAQs, and community forums? Not really.
We highly recommend that you offer your customers as many self-service channels as your resources allow. Each one of these channels can benefit your customers in its own unique way.
For example, your customers will typically navigate to the knowledge base to learn how to use specific features. Meanwhile, community forums can be helpful in resolving niche issues that are specific to a customer's situation.
Promote Self-Service Options
Your customers won't use your self-service platform if they don't know about it. So, be sure to promote it well. For example, you can add a section about it to your monthly newsletter or repurpose articles from your knowledge base as social media posts with links to the source.
Don't Neglect Your Support Agents
Self-service has a lot of benefits — but at the end of the day, it can't fully replace your support team (and vice versa). As you work on refining and expanding your knowledge base or community forum, make sure you don't neglect your support agents.
Provide them with up-to-date training and show them how they can leverage the self-service portal as well to provide the best support possible.
Offer Seamless Escalation to Human Support
Again, self-service is great, but at the end of the day, a live agent can only resolve some issues. . Make sure to offer your customers an easy way to contact an agent directly from the self-service portal.
5 Best Customer Self-Service Solutions
Now that we've covered the basics and the best practices of customer self-service let's explore some of the best solutions that can help you implement it.
1. Intercom
As you know, Intercom is an all-in-one marketing and customer support platform that helps companies to communicate with their customers through various channels, including chat, email, and telephone. Also, Intercom provides self-service solutions as "a smarter way to scale".
This platform allows businesses to automatically answer repetitive questions with chatbots or articles from the help center. Intercom help you create help centers, knowledge bases, manage articles, and answer automatically via chatbots.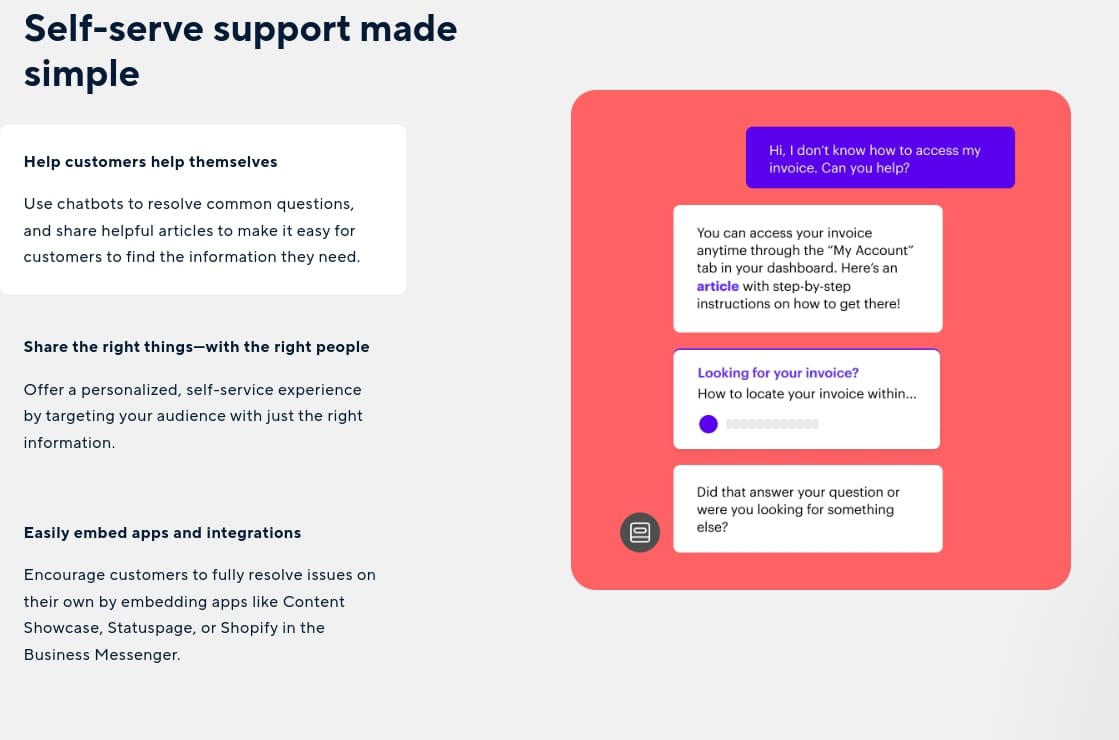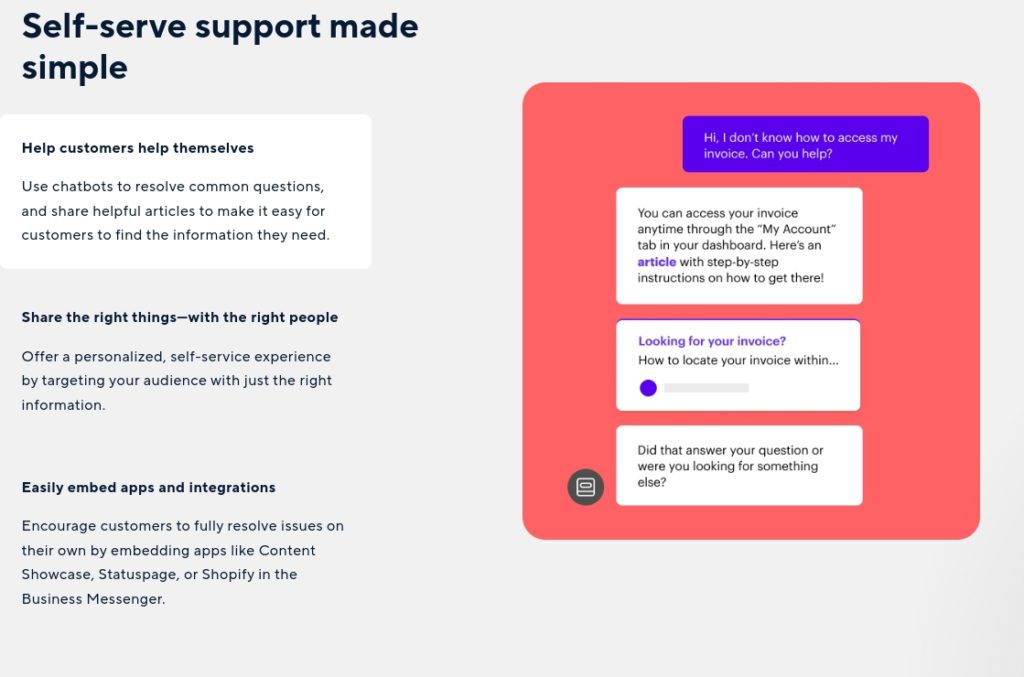 [Source]
2. Salesforce Service Cloud
One of the most popular customer service platforms, Salesforce Service Cloud, is an extension of the Salesforce CRM with rich customer support capabilities.
The platform allows customer service teams to scale and automate their processes and personalize customer interactions with AI. It also supports the Salesforce Data Cloud platform for seamlessly unifying all your customer data across multiple tools and channels.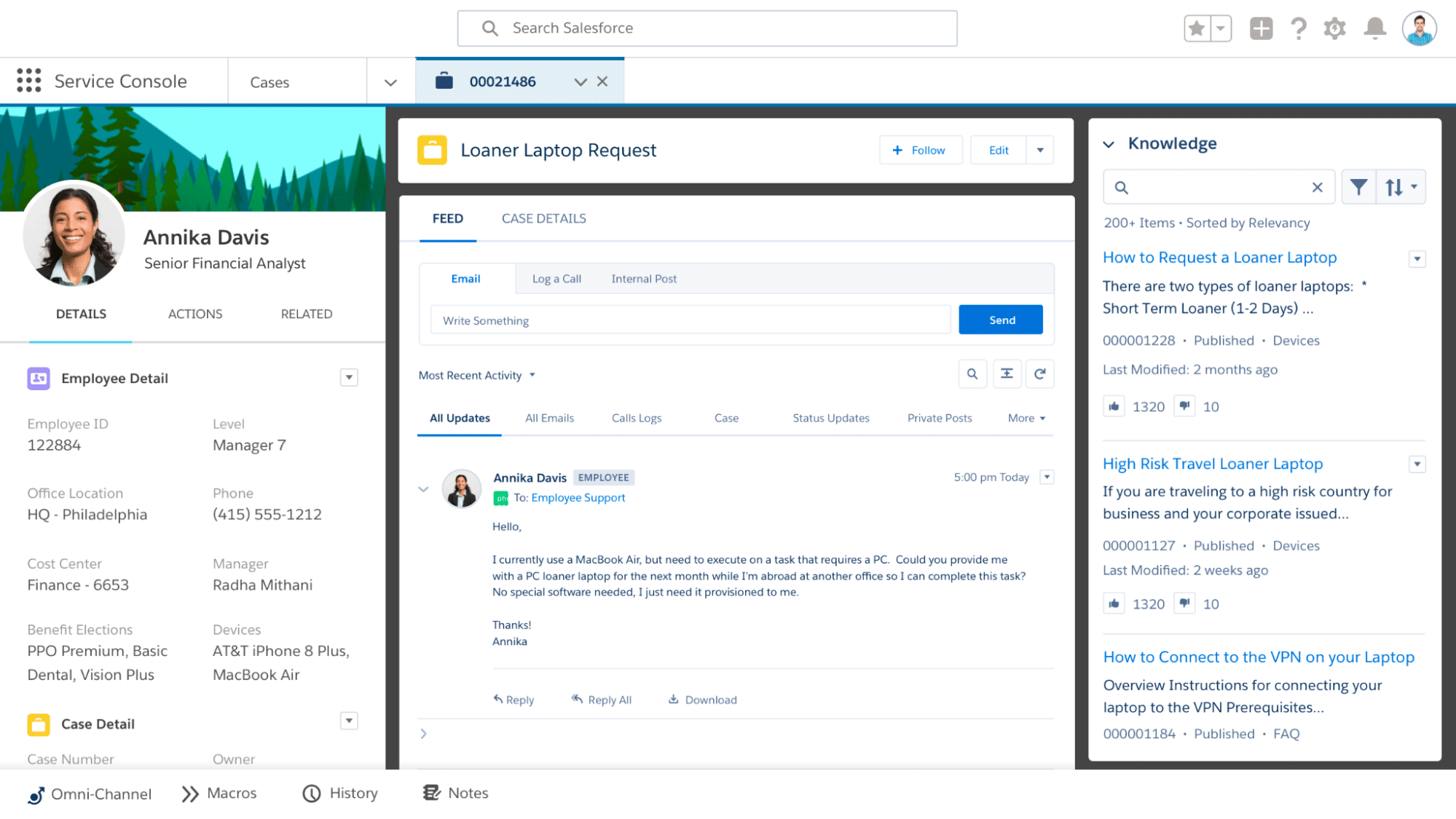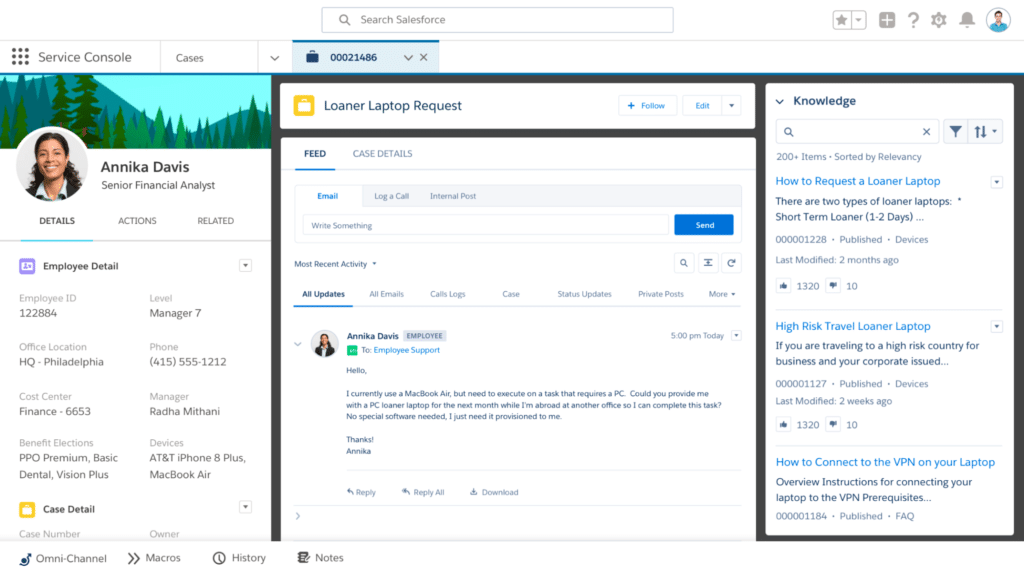 [Source]
3. Zendesk Support Suite
Zendesk Support Suite is among the oldest customer service help desk tools and is considered by some to be the ultimate customer support tool.
It offers a wide range of features and capabilities, from message and voice support to ticketing, routing, and analytics. Meanwhile, its dedicated Help Center platform allows you to create customer self-service resources that are integrated with the rest of the platform's features.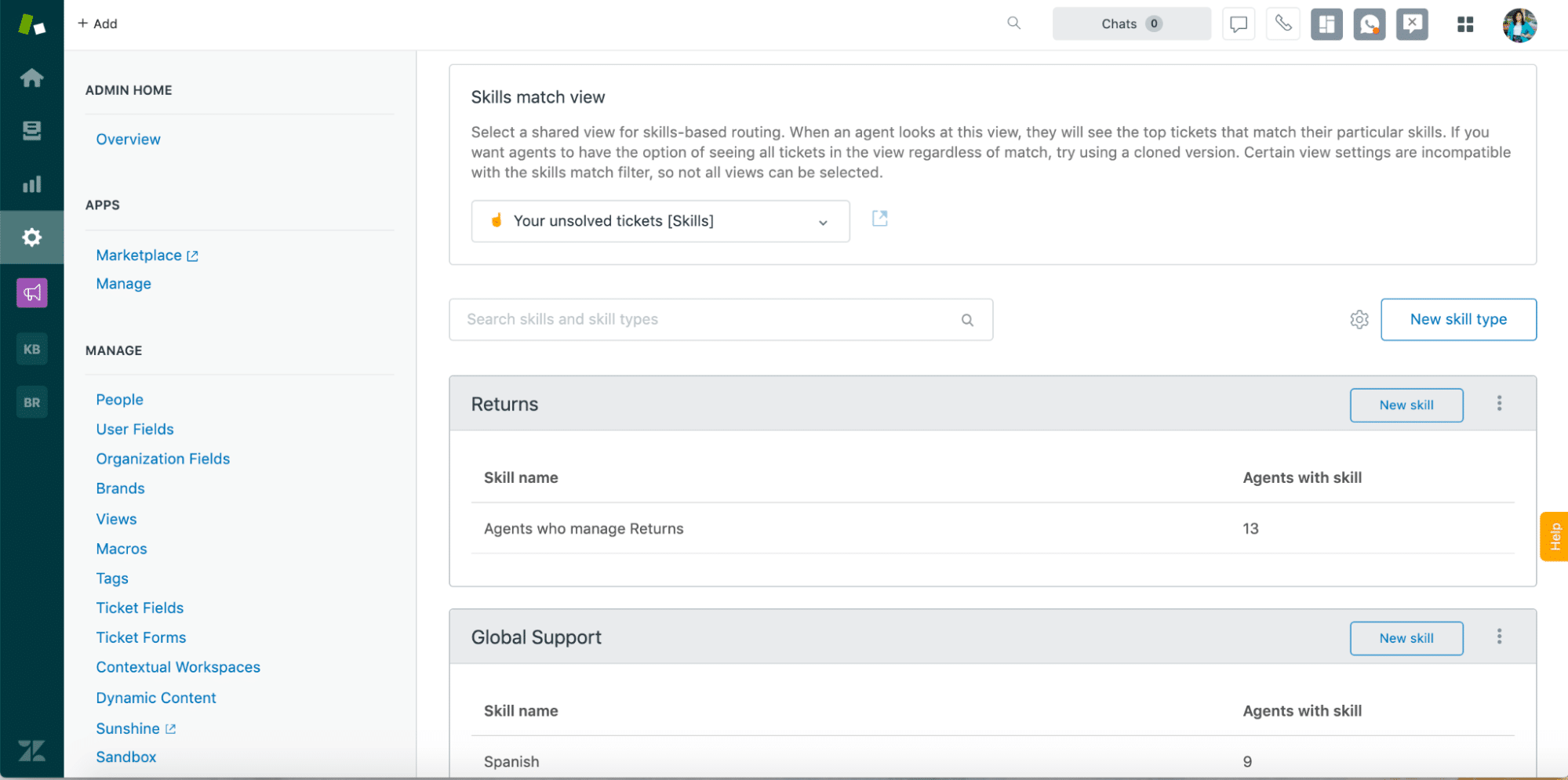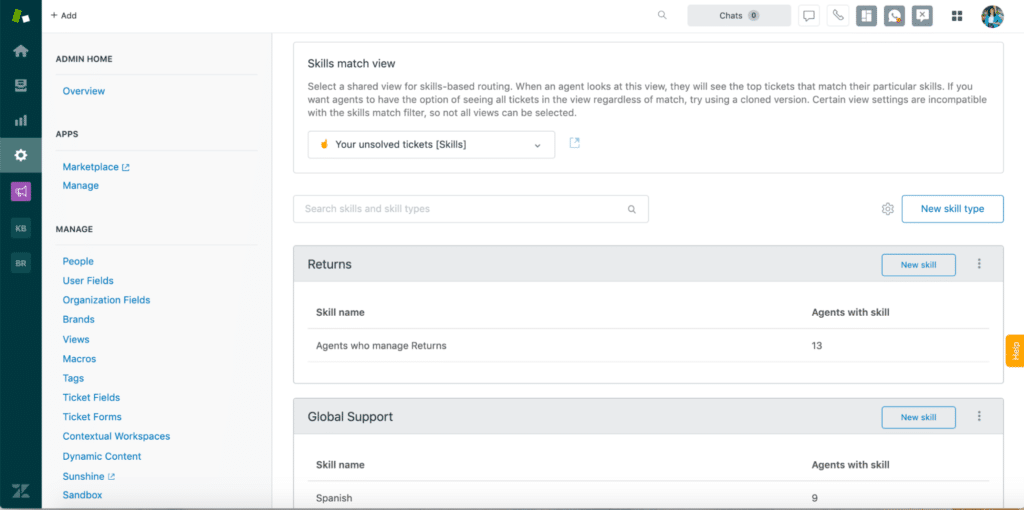 [Source]
4. Freshdesk
The Freshdesk suite unites several customer service and support tools within one platform, from a dedicated customer support desk to a customer success platform.
Freshdesk offers support capabilities via several channels, including phone, email, chat, or social media. Of course, it also wouldn't be on this list if it didn't have self-service features — namely, an AI-powered chatbot, a help widget, and a community forum-building tool.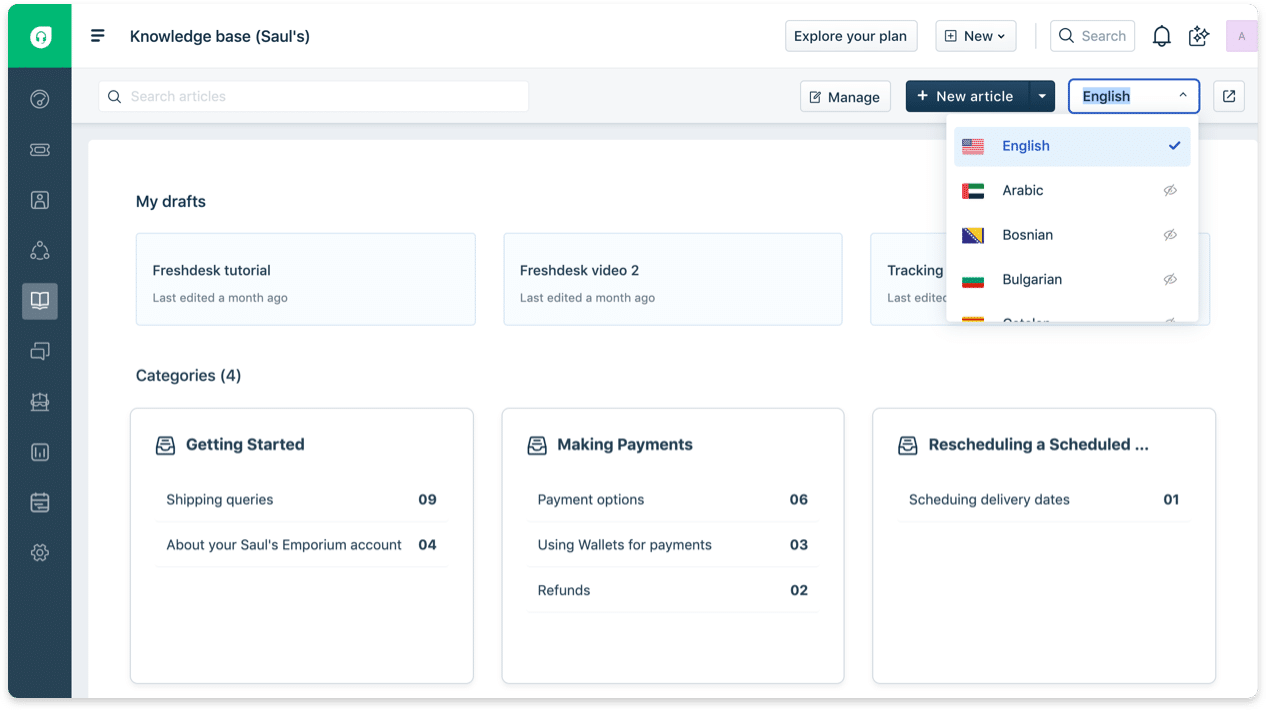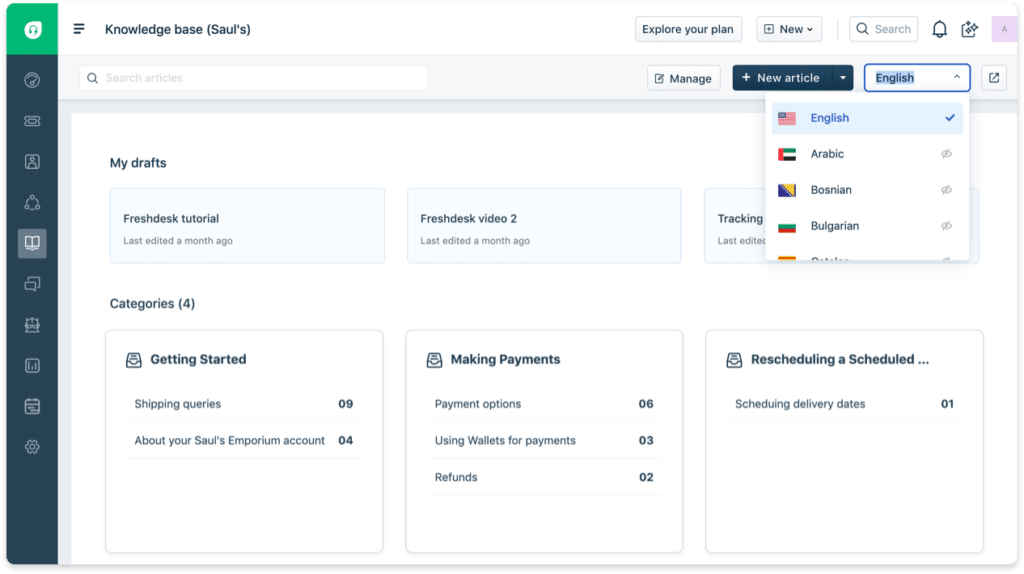 [Source]
5. Help Scout
Help Scout is often regarded as one of the easiest and simplest customer support tools to use. That's because its functionality is not as broad as in some of the other tools on this list. Nevertheless, it can still be a powerful solution to your customer support and self-service needs.
In addition to functioning as a shared email inbox for all of your customer interactions, Help Scout offers a self-service tool that allows you to build a searchable, structured knowledge base. The so-called Help Center features a no-code editor and an API for easy integration.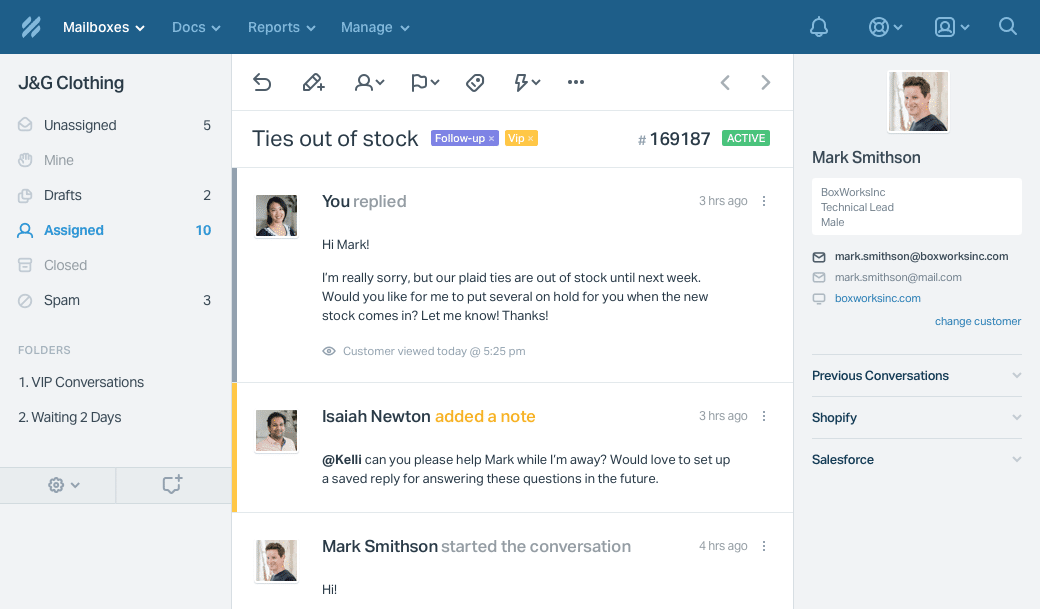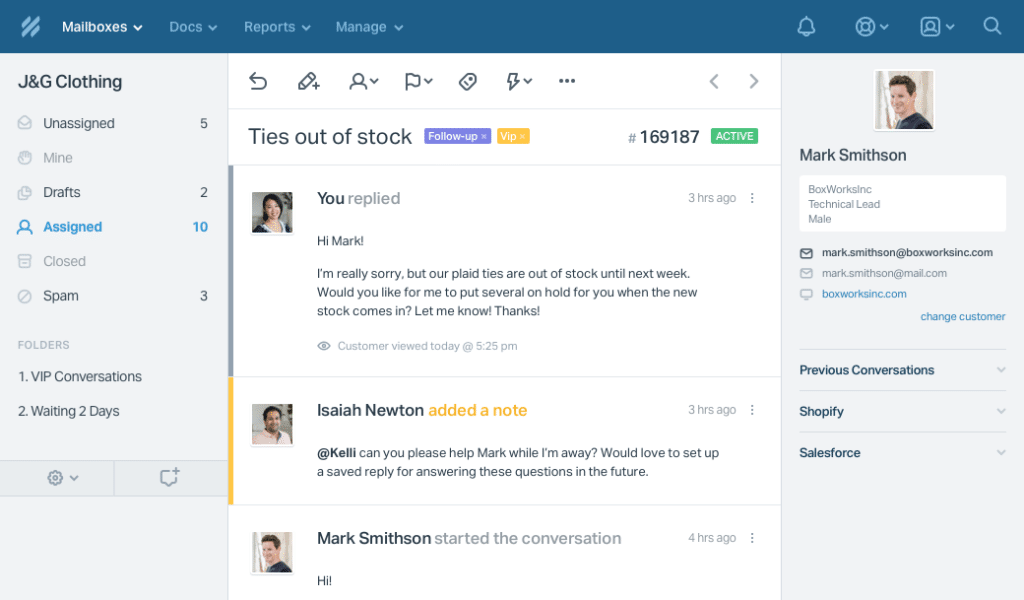 [Source]
Wrapping Up on Customer Self-Service
Having a powerful customer self-service solution in place is a must for any SaaS company. And while it may seem like a big project to undertake, setting up your self-service channels can be relatively easy with the right tool.
However, the most important thing is that a customer self-service portal is a great long-term investment. When implemented properly, it can help greatly reduce the workload of your customer support agents and improve your customers' experience with your product.