Right now, we're facing a truly unprecedented situation. The Coronavirus outbreak is affecting all of our lives, families, and businesses.
We have cities under lockdown and whole industries on pause. Travel of any kind is suspended, events are canceled, schools are closed, and most of the population is working from home.
So it's more important than ever to focus on your customers' success. Why? Because amidst this crisis, and for the near future, customer acquisition is and will be nearly impossible. So businesses like yours should be focusing all their efforts on customer retention instead.
We've always talked about the importance of strengthening your relationships with your customers. But right now, keeping your customers close might be the only thing keeping you from going out of business.
How customer success helps you limit the effects of the Coronavirus outbreak on your business
A crisis is the scariest thing a business could go through. Ideally, each business would have a contingency plan should one occur.
However, this Covid-19 epidemic is something none of us could have prepared for. So it's pointless to think about what you could have done; instead, you should focus on what you can do now to limit its effects on your business and your customers.
Right now, the role of Customer Success Managers is more important than ever. Making sure your customers know you're there for them in a time of need is essential, and the relationships you build right now are crucial for the future of your business.
1. Get The Whole Picture
Do you really know who your customers are? What their business is about? Who they interact with and who their own clients and suppliers are? What issues are they experiencing right now, as a result of this crisis?
If you want to keep them close, you need to get to know them (as well as their problems) better.
This Coronavirus outbreak has probably disrupted their normal business operations. If they serve critical industries such as healthcare, the impact on the population at large can be impacted.
These are actual situations faced by more and more organizations and communities across the globe. Businesses are facing rapid declines in sales and cash-flow, or they might have even temporarily closed their business due to restrictions.
Some of these will be short term impacts, but some of your customers may face new long-term disruption or even bankruptcy (as travel is suspended, events are canceled, and businesses such as restaurants, malls, and salons are closing due to self-isolation).
This can significantly impact your own business. Which is why it's important that you and your team evaluate customer impact. Make an Excel, sort your customers by industry/activity, and, if you have access to their data, check if their revenue is lowering.
Then sort them by priority (your most valuable customers should be taken care of first) and address them with increasing measures. Act fast and make sure your staff is empathizing with them. Don't just deliver empty messages – offer them real solutions.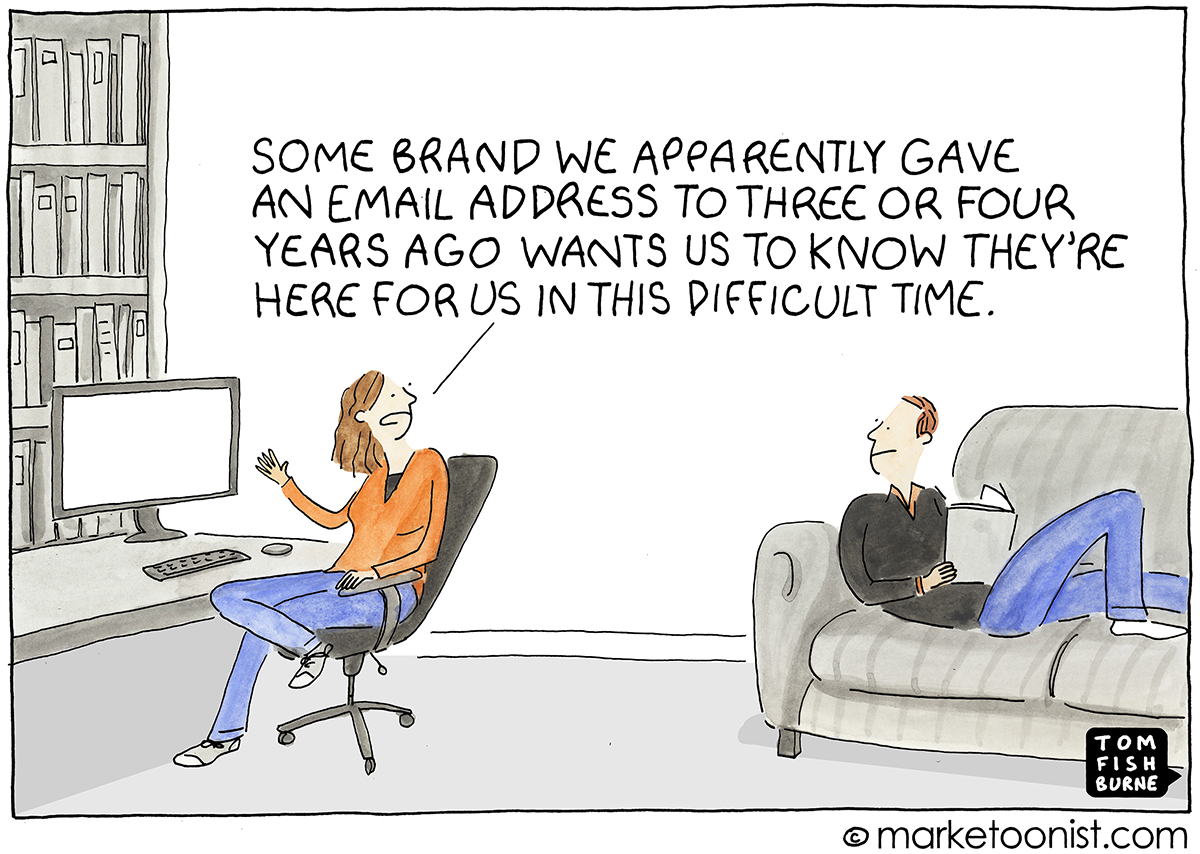 Source: Marketoonist
How do you come up with the best solutions to your customers' problems? Start by performing a quick needs analysis. Do a quick brainstorm with managers and customer success reps in your company and evaluate the following:
Will your customers be able to continue normal operations?
If not, how will that impact their business and their collaboration with you? For how long?
Do they need to continue operations because they are in a critical industry but their cash flow might be impacted?
What is the likelihood your customer will go out of business as a result of this emergency?
Once you answer these questions together with your customers, the right path to take will become clearer.
Now's the best time for you to prove that you can make your customers successful. This is a rare opportunity for you to deliver amazing value and build strong relationships that will last long after this Coronavirus outbreak has passed.
2. Reduce The Impact On Your Customers
Your customers will appreciate and remember all the resources, support, and work you're doing to help them when they need it most. Here are a few things you can do:
The first step is to reach out and let them know you're in this together. If you're aware they're having financial difficulties, be proactive and try to see if they can pause or discount their subscription until their situation improves.
Or, if your customers serve critical industries like healthcare, agriculture, and emergency responders, they might need more than their current plan includes. In this case, you might offer them the possibility to upgrade their plan and add more features free of charge or with a substantial discount.
If you're in a critical industry yourself and you have more client requests than usual, consider creating a separate helpline, email form, or landing page with FAQs, for easy access.
Make sure management understands the urgency of the situation: retaining current customers is the only way of keeping the business afloat. This might require special measures, such as:
implementing higher discounts;
postponing payments;
free upgrades;
suspending accounts;
providing extra support through various communication channels.
If you're using Customer Success Software, you can go even deeper. Keep track of KPIs that are critical to your business, so you're notified in real-time when you should reach out to your customers. Then, redistribute your resources to clients that need them most, while making sure that not one of your customers feels left out.
Remember: increasing customer retention rates by 5% increases profits by 25% to 95%
Besides these more obvious solutions, there are a few more things you should keep in mind. Things like does your product have a functionality that can help your customers navigate this emergency? Are they currently using it? Is this feature set up and ready for fast access?
By giving your customers short-term, free access to key modules or tools to help them address this crisis, they get a free preview of these features and will see first-hand how they can help their organization. This is a long-term benefit for you because, once this crisis is over, they'll be more inclined to pay for these functionalities.
If needed, you can also build new features. But first, discuss with your customers if they would be of real urgent value.
3. What NOT To Do
If your product/service doesn't directly help your customers respond to emergency needs, the best thing you can do is to stay out of their way and reduce your demands for time and attention. Sometimes, staying quiet is the best help, and now is one of those times.
Consider temporarily suspending email communication, promotions, or any other spam that just fills up your customers' inboxes. They're probably going to ignore them anyway, so there's no point in wasting your time and resources.
Instead, let them know you're supporting them from the side and that they can count on you once things get back to normal.
How Customer Success Software can help your business
If you're not using a customer success solution like Custify, now's the best time to start. You can gather all your data in one dashboard for full visibility of your customers. Their individual customer health score lets you know if they're close to churning, so you can take proactive measures.
Customer success software can also help you create upsell opportunities. By identifying which customers have a growing need for your services, you can reach out to them and offer them more features, increase their usage limits, or offer them a discount if they choose to upgrade.
Now's the best time to invest in a customer success platform because it can really boost your efficiency. It can help you stay informed, become more proactive, and reach out to your customers at the right time.
Most importantly, it helps you reduce churn, making sure that you've got a constant source of revenue from your existing customers.
It's never too late to do the right thing for your customers. That's why, considering our current situation, we're paying special attention to customers who need to use our software as fast as possible.
With Custify, you can get set up in minutes, integrating your existing systems, such as billing information, support tickets, CRM data, marketing stats, and more from the apps you're using right now. It's fast and easy – and you don't have to worry about losing your data.
Quick and simple installation, so you can immediately see results. Using our concierge onboarding service means that someone from our team will accompany you along the way and help you with the whole setup, so you're up & running in no time and with minimal effort.
To get started, request your free Custify demo now and join thousands of other companies that use customer success software to minimize the effects of this Coronavirus outbreak on their business.
When crises occur, you can distinguish two types of businesses:
those that manage crises with a level of skill, control, professionalism, and structure because they have all the information they need and can make data-backed decisions;
and those that take the "deer in headlights" approach and try to devise a strategy on the hop, acting on a hunch.
Why do you need to act now? If you manage this crisis professionally and efficiently, you can minimize its negative impact on your business and its long-term operations.
If you don't handle it well (meaning you don't use all the tools you have at your disposal), you might reach a point your business will not be able to recover from.