According to a 2016 Sirius Decisions study, more than 70% of B2B marketers are implementing account-based marketing (ABM) specific programs. But just because AB marketing is "trending" in the B2B SaaS industry doesn't mean every company is doing it right.
For starters, we see many businesses thinking that account-based marketing is an alternative to Customer Success. It isn't. They're implemented in different departments, but they use the same tactics and achieve the same results – reduced churn rate and increased retention.
Account based-marketing (ABM) is usually used by sales & marketing reps to generate demand. But the same tactics can also be applied by CSMs to improve onboarding and increase the upsell rate.
In this article, we'll show you several account-based marketing tactics you can use together with your Customer Success strategy. But first, let's see what AB marketing is.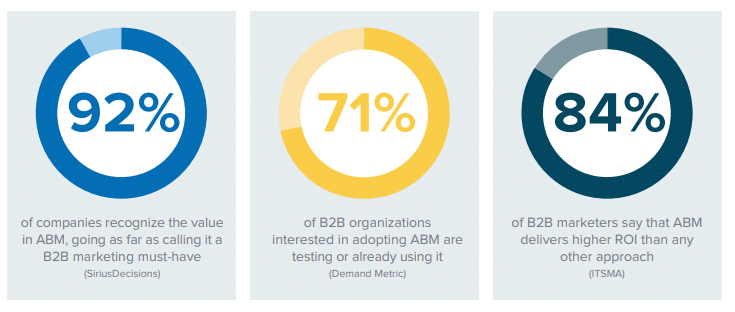 What is account-based marketing (ABM)?
Simply put, account-based marketing is a highly-personalized type of marketing. Traditionally, businesses would target accounts using a one-to-many approach. What ABM proposes is that key business accounts are marketed to directly (one-to-one approach).
This means reps should identify high-value accounts or prospects, target key stakeholders in these businesses, and then implement marketing strategies through various channels, trying to appeal to their specific personas and needs.
"Account-based marketing focuses on a few large and important accounts or those potential accounts that hold the greatest promise of adding to your bottom line" – Elyse Flynn Meyer, Founder & President of Prism Global Marketing Solutions.
Benefits of account-based marketing
Unlike other marketing approaches, AB marketing is particularly efficient for companies trying to sell into large accounts with long sales cycles and large deal sizes. That's because it ensures:
1. Marketing and sales alignment
ABM encourages marketing & sales reps to work together to identify high-value accounts and create personalized campaigns. Then, these accounts are moved through the pipeline individually, both before and after the lead conversion.
2. Shorter sales cycles
Large and enterprise-level companies require major purchase decisions to involve multiple stakeholders. This slows down the sales process because the purchase cycle starts at a lower level in the organization and then moves slowly towards the primary decision-maker.
Account-based marketing solves this problem by nurturing all prospects (everyone involved in the decision process) simultaneously.
3. Clearer ROI
85% of marketers describe account-based marketing as delivering a higher ROI than any other B2B marketing approach. That's because ABM is incredibly targeted, personalized, and accurate compared to general inbound and outbound strategies.
These characteristics also make the ROI generated by ABM much easier to measure. Here's why (according to a SiriusDecisions 2015 State of ABM Survey):
Response rates from ABM accounts: 47%
Online activity from ABM accounts: 39%
Number of new contacts in ABM accounts: 36%
Internal stakeholder feedback: 36%
Participation in all marketing activities: 25%
4. Efficient use of resources
Account-based marketing forces you to channel your marketing efforts on key accounts to drive the most revenue. Because you're focusing on a narrow segment of your customers, these initiatives help you optimize your most valuable resources: time and money.
By combining sales and marketing efforts, your marketing team can work directly with your sales reps to target and develop content for your key accounts. This also enables you to track results more easily and optimize your marketing strategies as you go.
Should you implement account-based marketing?
Although account-based marketing can yield great results, it's a B2B marketing approach that works best for enterprise-level sales organizations with over 1,000 employees. This is due to the fact that these companies have multiple stakeholders involved in the sale.
However, a B2B Marketing survey found the majority of marketers surveyed were taking a one-to-one approach.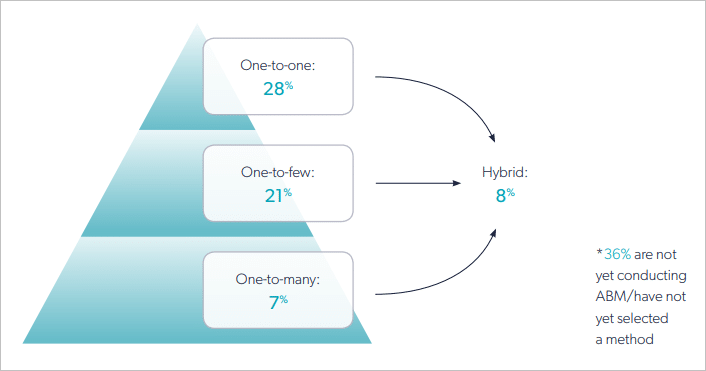 If your employee count is under 1,000 or you're not in the B2B sector, you can still use this approach, but check if it makes sense for your business model and sales/marketing cycles. For example, it's not realistic to implement an account-based marketing strategy if you're a small business with limited resources and a low CLV.
What is Customer Success?
Customer Success means anticipating possible customer challenges or questions and proactively trying to come up with solutions before issues arise. The goal of Customer Success is to reduce churn and ensure customer retention. This is done by providing support and communication to ensure that the user understands and utilizes the product, and will become a loyal customer.
"Customer Success differs from account-based marketing because account managers market to specifically targeted accounts by creating campaigns just for that account. The main responsibility of an account manager is to personalize the campaign for the account at hand and ensure the conversion" – Aaron McWilliams, Director of Marketing at 1Dental.com.
CS is critical to any business because it improves customer happiness and loyalty. By helping customers succeed, they'll become promoters and advocates. Customer success is tied directly to a business' bottom line as it helps reduce churn rates, improve renewal and satisfaction, and, therefore, boost revenue.
So how are account-based marketing and customer success different?
Account managers take a reactive approach to relationship-building, whereas CSMs tend to be much more proactive in nature.
"CSMs anticipate issues that may arise and work to develop processes to smooth things out. They're solving problems before they happen at different consumer journey touchpoints, and they're tasked with optimizing the customer experience to promote retention and loyalty.
Account managers respond to issues as they occur, providing solutions designed to mitigate and resolve different problems. Troubleshooting usually involves directing customers to the most appropriate resource, and they're tasked with optimizing sales and reducing churn" – Kimberly Smith, Marketing Manager at Clarify Capital
It's important to note, though, that both focus on increasing CLV through relationship-building and loyalty. CSMs focus on the consumer, customizing, and augmenting organization processes to provide more value to the customer, while account managers focus on meeting organizational objectives and nurturing relationships to drive sales.
Why account-based marketing complements Customer Success
Nurturing relationships with customers is great. But CSMs need to realize that if the person at the other end leaves their company or gets promoted, they could lose that customer. To avoid this, you need to build relationships across the entire account.
To approach Customer Success from an account-centric perspective, you need to:
identify all the key people within your customer's company, as well as the key players in your company that may engage with them;
focus on your core goals (onboarding, renewal, usage, expansion, advocacy) – to produce a successful outcome, you need to get right both the timing and the sequencing of interactions across channels and people;
have visibility and the ability to view account-based metrics – true account-based success metrics (coverage, engagement, and impact) are nuanced and can be difficult to track, but ultimately provide immense value.
Examples of account-based marketing tactics used in Customer Success
The two main goals of Customer Success are customer retention and churn reduction. Account-based marketing has the potential to help you achieve both.
When you're a small business that's just starting out, churn doesn't matter that much. For example, suppose you have 30 customers. In that case, a churn rate of 10% (a high one according to benchmarks!) only means losing three customers. That's not so bad. The business is growing, and you can replace them fairly quickly.
But if you have 30,000 customers, 10% means losing 3,000 customers. They are definitely a lot harder to replace than 3 customers, and the impact on your revenue is also more significant.
AB marketing helps solve many of the most common problems CSMs face while also providing a scalable strategy for renewal, extension, and expansion.
Below are a few examples of account-based marketing tactics Customer Success teams can use:
1. Renewal and retention campaigns
1:1 campaigns are the perfect opportunity to keep your product top-of-mind when your customer nears their renewal date. For this type of campaign, you can highlight new features they're not using yet, reinforce your product's strengths, and take advantage of multi-channel marketing to reach them via various mediums.
Additionally, make sure you engage multiple stakeholders from the client company as, most probably, the decision to renew involves more than just one person.
One advertising tactic you could use is running ads targeting people in the client company and directing them to a landing page where you feature use cases and highlight specific benefits that will drive their decision to renew.
2. Webinars
Just like advertising campaigns, webinars can be personalized to be relevant (and timely!) for a specific target account. For example, you can hold a webinar for a particular company, or you can create it with a target audience in mind.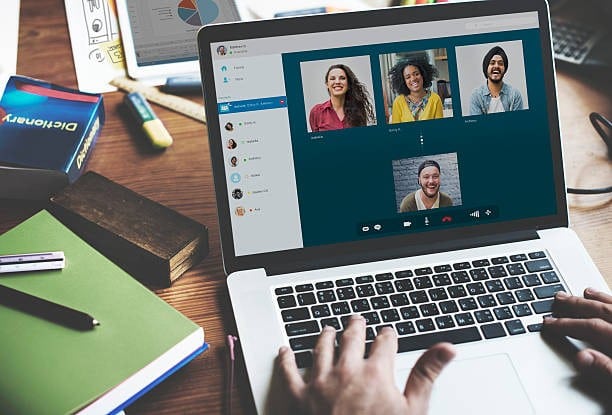 3. Direct mail
Direct mail has increasingly become a popular method of reaching prospects because the revenue potential is much bigger. Keep in mind that gifts and marketing sent through direct mail should also be of higher value.
4. Web personalization
Don't stop at driving traffic through personalized Search Engine Marketing and inbound marketing campaigns. Once leads reach your website, you can offer them a custom, account-specific experience by personalizing your landing pages.
You can create account-specific pages that display custom copy, images, offers, and forms depending on the person or account that is visiting the website. Or, you could go even further and use deep personalization techniques such as displaying the name of the visitor on the landing page. Be careful, though, as some people might find this overly intrusive.
5. Social intelligence
The core principle of account-based marketing is personalized communication based on the client company's current initiatives and challenges. One way you can do that is by using a service like Google Alerts to understand what is happening at a company level.
Another tactic is to monitor social activity, as this can uncover more information than PR-driven articles and press releases. For example, people often use social media to share the news that matters to them. Be quick and redirect or re-message whenever you discover new information.
How account-based marketing and Customer Success can collaborate to increase leads and retention
One of the key characteristics of account-based marketing is that it encourages collaboration. That's due to several reasons, one of them being marketing reps can't deliver highly personalized messages themselves – they need help from other departments.
This is where the Customer Success team comes in. CSMs know best how a client uses a product and what they need to do to ensure success.
Using the right tech stack
For marketers, there are many solutions out there; at the end of the day, you're probably going to use multiple tools to do the tactics mentioned above. But your CS team only needs one customer success tool in their daily tasks.
Many of our customers use Custify across sales, support, customer success, and marketing simply because everyone can see everything related to existing clients and leads in one place. This makes tracking activities like campaign performance, ROI, retention, app usage, and churn so much easier. A cross-department tool for a collaborative company.
Account-based marketing is about convincing a customer that your product is their best choice. If CSMs are in contact with different people in the client company, it can be a huge advantage for ABM accounts where decisions are taken by several stakeholders because they know who needs what and how you can approach them.
Is your Customer Success team already working hard to drive results for your customers? Why not boost these results by implementing account-based marketing tactics that can help you generate even better outcomes?