87% of business leaders have attested to customer experience being at the top of their priorities. The customer success team dynamic ensures customer success and great customer service. With a good customer success team dynamic, you'll achieve great benefits like reduced churn, lower customer acquisition costs, and increased opportunities for upselling and expansion.
Take five minutes to read and discover eight powerful customer success strategies to improve your customer success team dynamic.
1. Check renewal performance
Unlike traditional business models with one-off sales processes, SaaS and B2B businesses rely heavily on subscription renewals, cross-sells, and upsells. High renewal rates allow these companies to have a predictable revenue stream.
The renewal rate can be measured by the number of customers that renew their relationship with the company at the end of their subscription.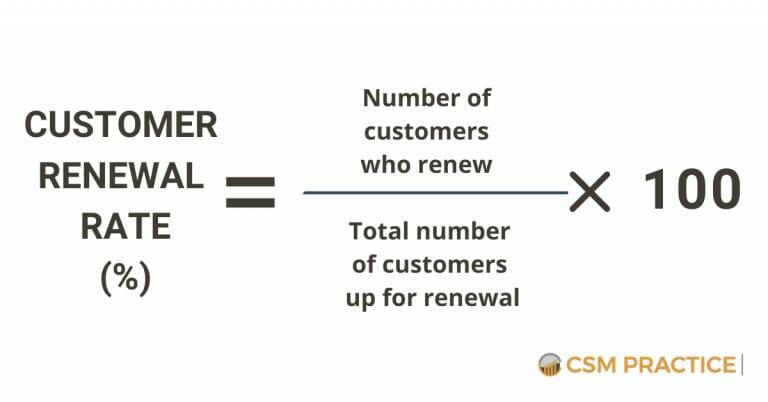 Research by Bain and Company further suggests that an increase in customer retention rates by 5% can increase profits by 25-95%. By checking the renewal rate, your customer success or sales team can know whether customers are satisfied with the product and what needs to be done to improve renewals, upsells, and cross-sells.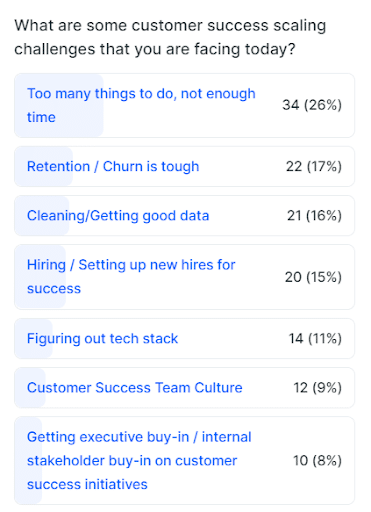 Customer success managers have attested to renewals and retention being among the key challenges they face, according to the above poll survey by the Custify team. So, how can your customer success team ensure that your renewals are the top game? Specific data metrics and other behavioral or customer sentiment indicators will allow you to monitor trends and predict the likelihood of churn.
Your customer success team should accurately profile each customer's journey, from onboarding to the renewal stage, and monitor metrics such as engagement frequency and product usage. They should also ensure that all customer queries — for example, open support tickets and Service Level Agreements — have been met. All these will provide insight on how to better the customer experience for your team.
2. Review call recordings and client discussions
The modern B2B or SaaS customer experience has multiple touchpoints, which are all critical for the customer success team. As the number of digital marketing types increases, tracking all client communications and discussions becomes even more critical.
You can do that via your CRM or CMS platform, email, phone calls, or social media. In many cases, phone calls will reveal a lot of information about your customer's wants, needs, and challenges. With recordings of calls with clients, you can share insightful briefs with the entire success team.
Going over recordings of calls with clients will also allow your customer success team to better understand customer needs and friction points. The team will be aligned on resolving customer pain points and increasing customer satisfaction.
3. Review Net Promoter Score
Net Promoter Score (NPS) is a health score that assesses customer loyalty, advocacy, and satisfaction with a brand. The basis for NPS is a simple question: "How likely are you to recommend our product/service to a friend or colleague?"
The scale ranges from 0-10 with three categories of respondents. An example of an NPS calculation is shown below.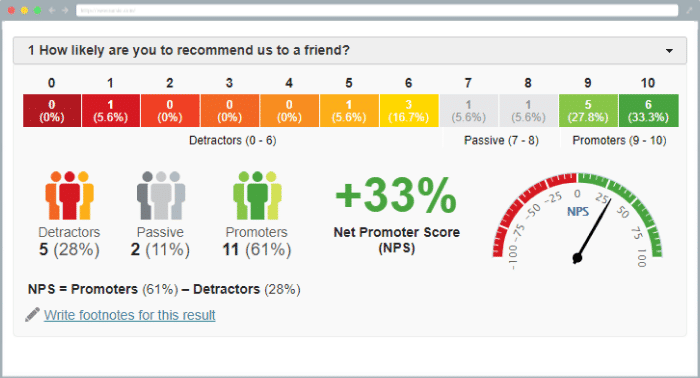 Source: Survio
Promoters fall in the 9-10 range and are highly likely to recommend the product/service. Passives fall in the 7-8 range and are satisfied with your product/service but not enough to recommend it.
Detractors fall in the 0-6 range. You'll want to follow up with these customers to understand how you can improve their experience with your product or service.
As a customer success manager, you want the NPS to fall in the 9-10 range. Anything significantly less than this should be a red flag to your customer success team that something is amiss.
Another customer engagement metric to keep in mind is the Customer Satisfaction Score (CSAT). This is simply a performance measure of customer satisfaction or product quality in any industry. Respondents use a 1 to 5 scale ranging from very unsatisfied to neutral to very satisfied.
Using the scores you receive on the NPS and the CSAT, your team can understand which products or features they should improve. For example, maybe the problem isn't your product, but the processes or team response. With such surveys, you can also uncover other reasons why the customer gave you a specific score and how they feel about your brand.
Besides improving your product, the feedback from these surveys can deliver valuable insights into how to boost the customer success team dynamic.
4. Improve planning and work routines
Planning in a customer success team involves adopting the right tools that make it easier for team members to perform their roles and meet customer expectations. Good planning and teamwork routines will improve your customer success dynamics by ensuring that you never lag on customer issues and that your entire team is on the same page.
Some of the tech automation stack required to handle all work routines efficiently includes:
A CRM that helps manage accounts.
Data visualization tools that help understand trends.
A self-service portal or help center that allows customers to quickly get the help they need.
Automation tools such as Custify's Customer 360° enable customer success teams to gain a wide-lens perspective of the entire customer lifecycle. This helps the team work more efficiently to deliver customer delight.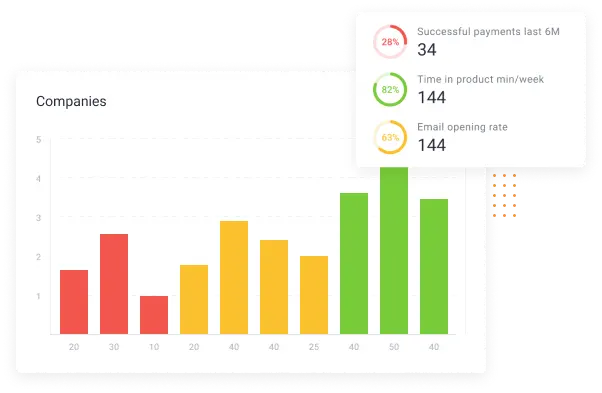 The tool also provides automation in areas such as reports, health dashboards (an example shown above), workflows, and alerts. This boosts the team's efficiency even further.
5. Create an employee onboarding process
A comprehensive employee onboarding for your customer success team is essential for improving the customer success team dynamic.
A good onboarding process ensures employees are acclimatized to their new roles. Not only that but they also get introduced to their respective teams, helping to establish and strengthen team relationships and dynamics.
That's critical for the employee to blend in right away. In addition, it eliminates friction, helping each employee align with the team and organizational goals.
To create an excellent employee onboarding process, you can start by collecting feedback from existing employees. Is there anything they would change from how they were introduced into their roles?
You may also want to invest in a learning management software solution to house all your training materials. This can streamline the employee onboarding experience. It ensures the materials new hires need to perform their duties are in the same place.
The other thing you don't want to ignore is the power of a mentor. As the customer success manager, appoint one of your experienced team members to mentor new hires. Let them explain the organization and team culture. They should also help the new hires get settled in.
6. Improve response time
Your customer success team needs to improve its first response time, which is the amount of time it takes them to respond to an inquiry.
A 2018 survey by SuperOffice revealed that about 46% of customers expect companies to respond within 4 hours of first contact. Also, 12% of respondents expect companies to respond in 15 minutes or less. The results from the survey are summarized in the infographic below.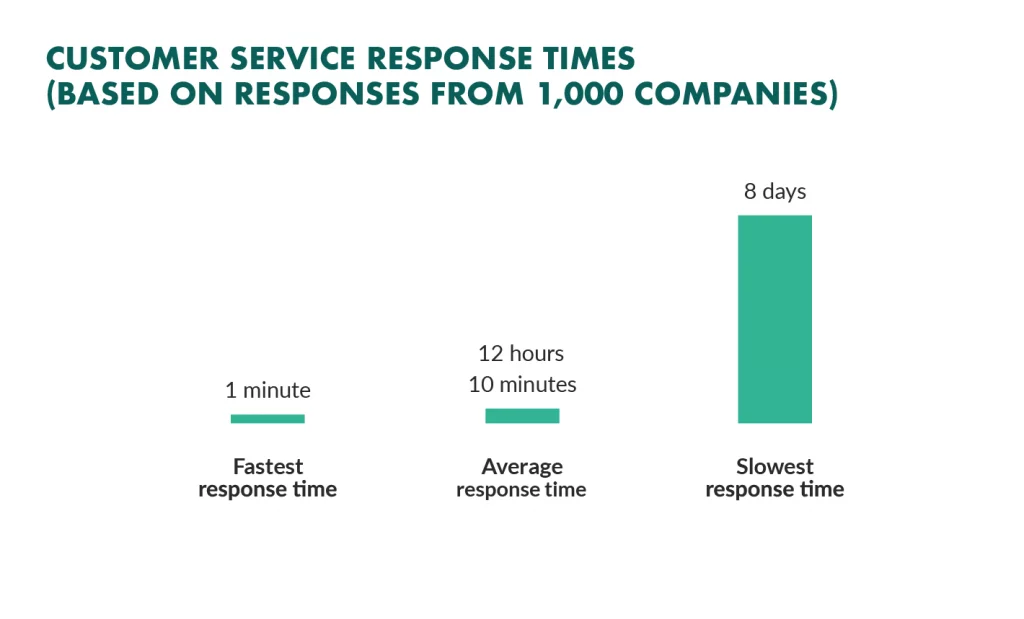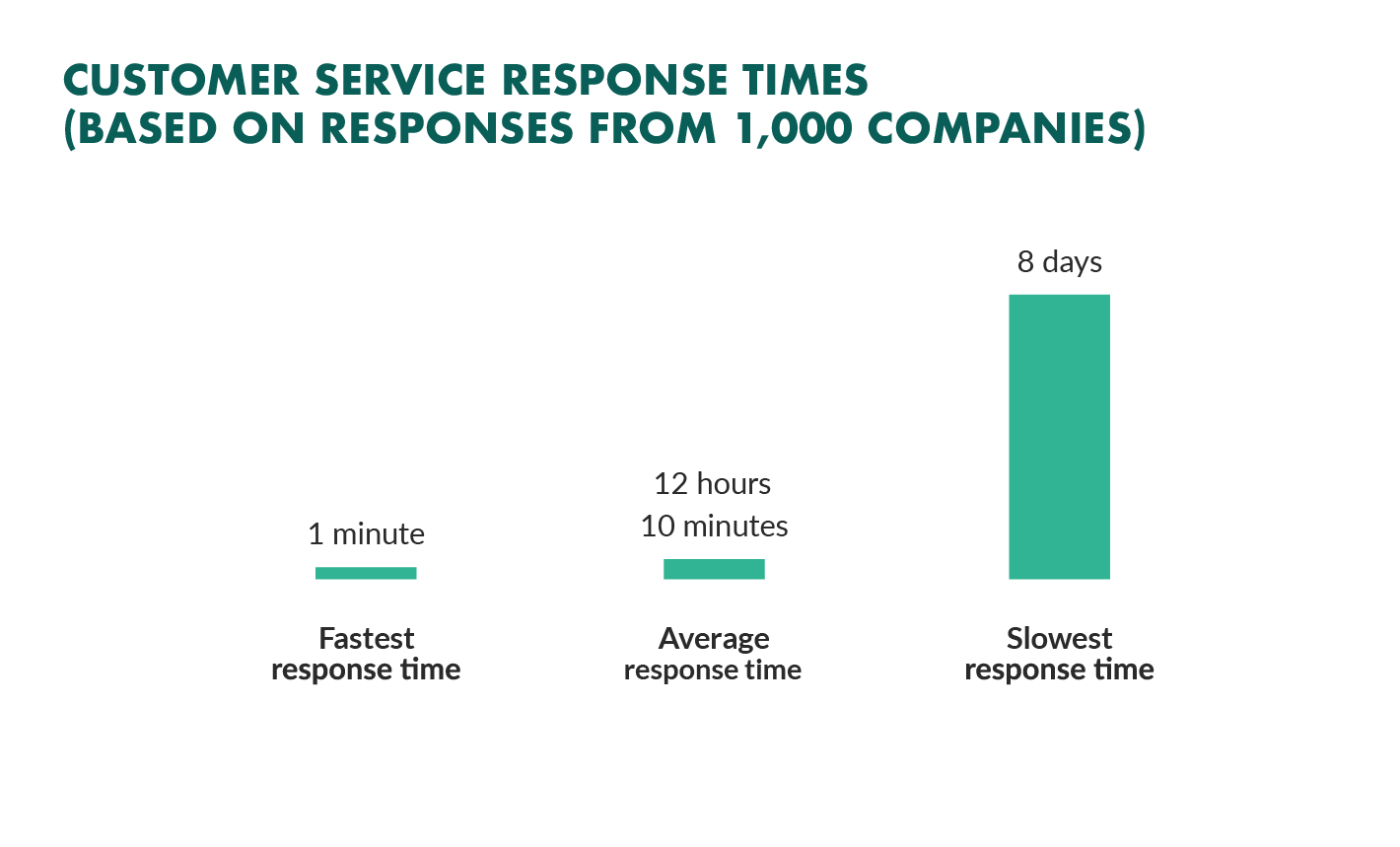 What are some ways in which you could improve the response time for your customer success team?
Enable automated ticketing linked to your customer success software.
Study common patterns of a customer journey and anticipate requests. You can then prepare customer response templates.
Consider investing in a virtual assistant or AI chatbots such as ManyChat to improve response time and solve common problems related to customer feedback.
Provide a knowledge base or a dedicated FAQ page.
With these critical points covered, your customer success team can focus more on the customer, which will aid churn reduction.
7. Build trust
Trust is essential for the success of any relationship. The relationship between your customer success team members is not an exception. For your team to reach its full potential, team members must learn to trust each other.
How do you build trust between your customer success team members, though? Cultivating an open and honest communication culture is a great place to start. Build an environment where every team member feels heard. Practice an open door policy and encourage the team members to speak up even when it's the customer success manager who's wrong about something.
You also want to improve collaboration between the team members. This could mean investing in the right tools to facilitate efficient communication and team collaboration.
Furthermore, create networking opportunities between team members. For example, it could be through regular team lunches and other team-building activities. This is critical in boosting team chemistry.
Team members that trust each other plan and execute their jobs more effectively. This improves the entire team's dynamics, and the benefits will trickle down to the customers.
8. Implement and monitor the first contact resolution rate
Admittedly, technology has enabled businesses to offer their customers more communication channels. Right from social media and digital business cards to live agents, chatbots, and emails. Unfortunately, the customers won't care much about the wide array of options if their queries aren't resolved swiftly. That's why it's critical to monitor the first contact resolution rate.
The first contact resolution rate (FCR) measures how many complaints were resolved upon a customer's first contact. A quick resolution rate eliminates the need for follow-ups.
An example calculation for the FCR is shown below.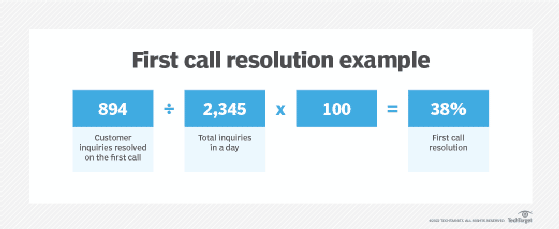 The customer success team should be able to review the most frequent types of inquiries received during the first contact with a customer.
By checking the resolution rate, a CSM can make decisions such as deploying additional team members to customer issues or improving the notification or response systems.
They can also take other measures to ensure that the FCR is as high as possible. For example, introducing live chat.
In Closing
Customer success is both an objective and a journey. It doesn't happen overnight, but through patience, refinement, and a concerted effort to improve processes and make your customer base the focal point of your business.
Your customer success team should sync with each other and the customer to ensure the best customer success team dynamics. In addition, primary attention should be paid to internal systems and technology, such as workflows, communications, and employee onboarding.
Furthermore, your customer success team can track and improve metrics such as NPS, renewal rates, FCR, and response times. They can then gauge their performance against these metrics and see what needs improvement.
Remember that for customer success to work, your team first has to engage well within itself. A customer-first mentality builds trust and gets you loyal customers while improving customer success team dynamics.