So your customer success team is growing.
You're faced with new clients, new challenges, and too many new tasks to add to your customer success workflows.
You may think you'll never be able to maintain the quality of your work at scale. But all it takes is a bit of rigorous planning and some best practices.
We're here today to shine some light on what customer success workflows are, what they should be, and what you can do to make them specific, perfectly distributed, data-led, and something you and your team will enjoy working on. Let's start with a goal:
The Definition of a Good Customer Success Workflow
Customer success workflows are a window into the day-to-day activities of the CS team. They present a clear picture of customers, responsibilities, expectations, and desired outcomes. They help assign tasks to CSMs based on various factors such as skill, experience, communication skills, and empathy. Lastly, CS workflows can be individual for a CSM, but they're more commonly team-based, designed to promote efficient collaboration and time management with the goal of delivering customer outcomes.
In an ideal world, a perfect customer success workflow would include:
A list of responsibilities and tasks divided by project, customer, and CSM.
The correct internal and external stakeholders for each project and task.
A complete list of customers with optional projects for each of them.
Some form of alignment and collaboration towards customer outcomes, preferably always visible and in focus.
Multiple data sets and tools integrated into the workflow so the
CS team can work practically and through a data-science approach.
Miscellany productivity boosters: tags, subtasks, dependencies, milestones, charts, and more.
Beyond the elements required for a good CS workflow, it also needs to be tidy. Adding too many things can bog down your team and act as a productivity detractor rather than a booster. Our survey on quiet quitting in CS found that more than 48% of CSMs have over 10 major job activities. The following list of tips will help you organize your customer success workflows point by point.
Disclaimer
This article will explain and give advice for customer success workflows as understood in the traditional sense of the word: lists of tasks for individuals and teams.
There is significant confusion inside the customer success space between workflows, automation flows, and playbooks. At Custify, we use the term playbooks to designate CS automation flows within our software tool, designed to help CSMs and their teams work with efficiency and remove manual work.
How to Create Clear and Concise Customer Success Workflows Rooted in Data Science
1. Use Your Tech Stack to Inform Your Task Distribution
Customer success lives and breathes data. It's the support structure that holds the entire department together while lowering your CRC and raising your ROI. So naturally, you should pay close attention to how you can use data to inform the tasks you and your team have to complete.
This could be a simple CS software dashboard review before each weekly sync, or it could be an automated and optimized integration between your CRM, CS, and workflow management tools. How far you should go with these integrations largely depends on the number CSMs and customers you have:
If you're in a small team, it likely doesn't make sense to spend too much time on integrations and automation.
If you have hundreds or thousands of customers per CSM, then maybe automating your task distribution and prioritization is the right way to go.
Once you've got this step figured out, find ways to tailor your CS tasks to pair with metrics derived from the tech stack at your disposal. In other words, use what you have to optimize what you can.
2. Collect the Right Data
There's also something to be said about collecting the right data to optimize your CS workflows. Oftentimes, CS teams end up collecting countless vanity metrics for various reasons like:
"We've always done it like this"
These metrics are industry standards
This specific stakeholder wants to see this metric
The CFO wants to track LTV:CAC, so we need CLV, ARPU, Gross Margin, and more.
So take a critical view of existing metrics and datapoints and determine which ones are the most important in relation to customer outcomes and business goals. Here are some guidelines for finding the right approach to customer success data: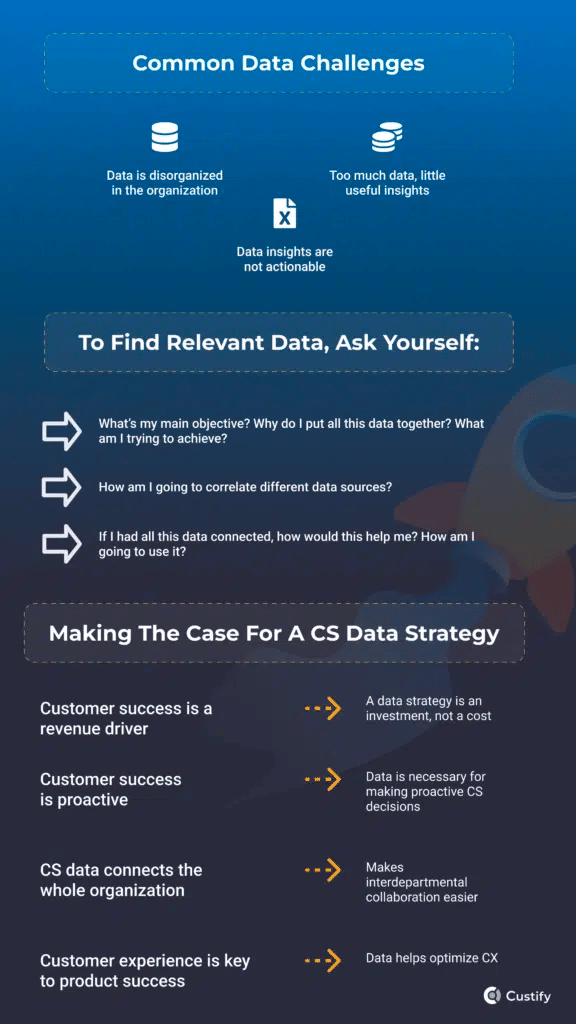 Read more: The Role of Data in Customer Success
3. Gather, Organize, and Prioritize All Customer Feedback
A quick way to engineer CS workflows to serve your customers better is by reviewing customer feedback. A Voice of the Customer program can help focus your efforts around your top clients' feedback to find the most relevant and actionable insights.
Here are some pointers on using customer feedback to improve your customer success workflows:
Split customer feedback by customer, groups of customers, or CSMs (whichever makes most sense to your type of business)
Assign tasks for CSMs to fix recurring issues before they become reasons for customers to churn
Prioritize tasks and accounts based on churn likelihood, account size, and customer outcomes and goals
Always set tasks for responding to relevant customer feedback and, separately, informing those customers once their feedback has led to product updates, new features, or other improvements.
4. Divide CS Responsibilities Across Your Team
Customer success managers typically have six key activities they need to master: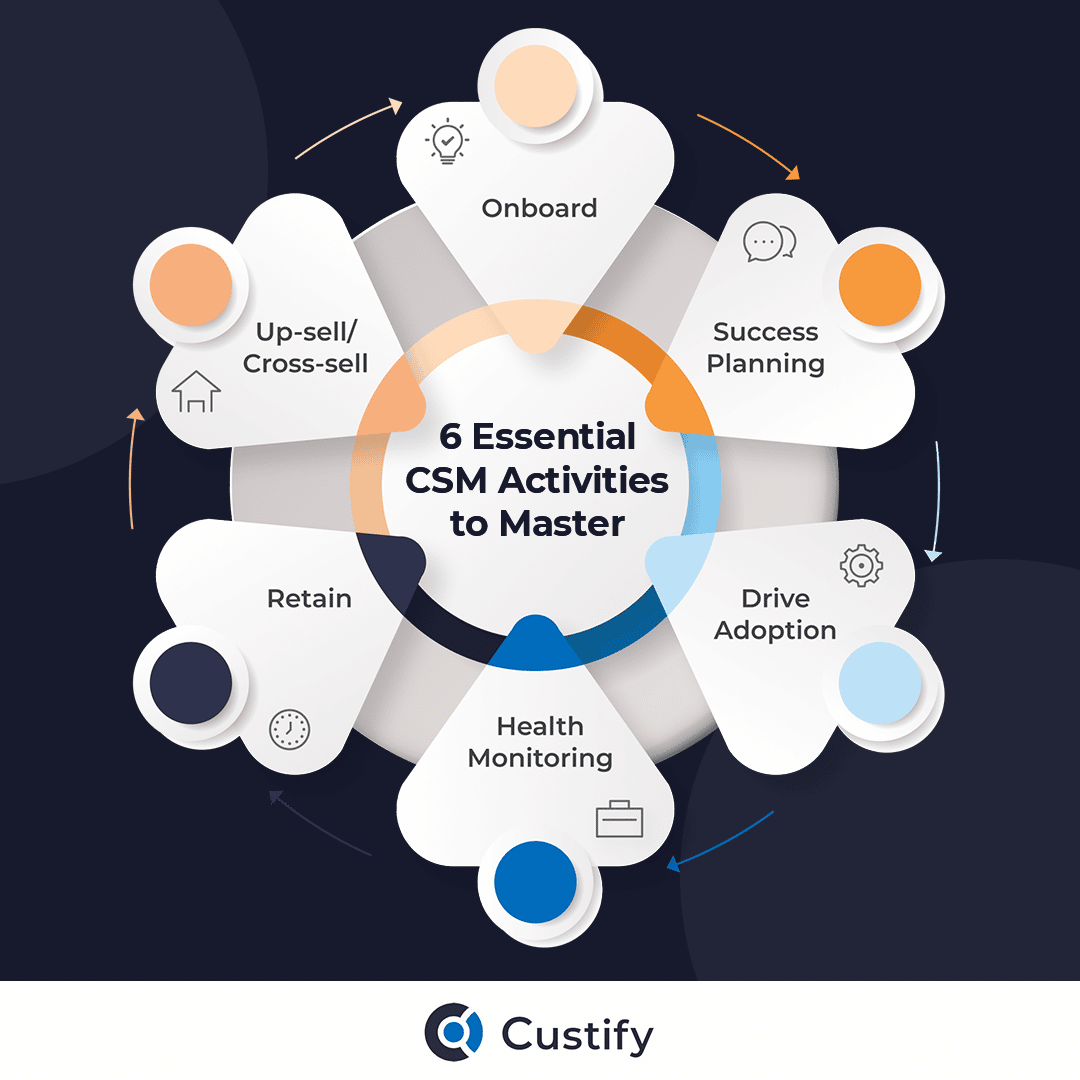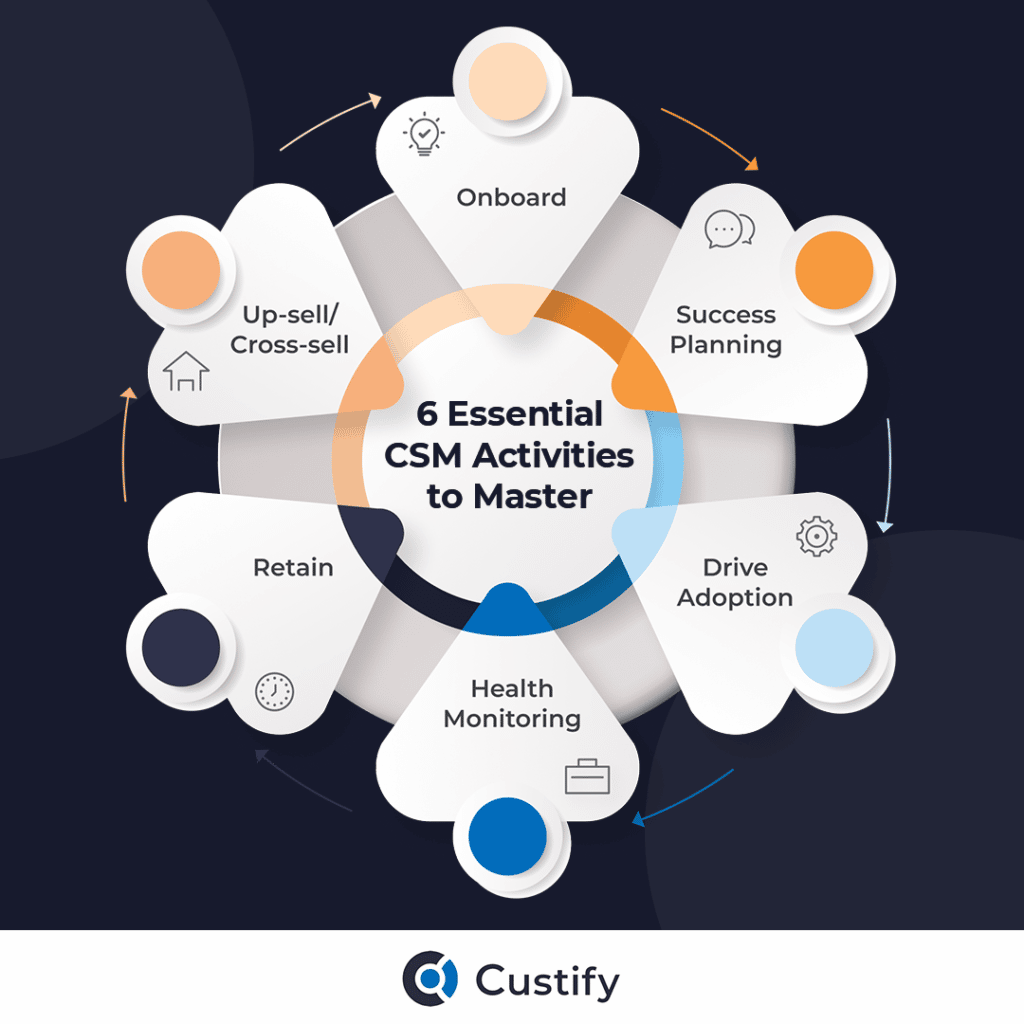 So for efficient workflows, the CS team has to cover all the bases, with tasks distributed accordingly to the most qualified team members that can handle them. Furthermore, each activity has several specific tasks that need special attention:
Onboarding: the initial welcome message, the kick-off meeting, establishing clear goals and objectives, and understanding customer outcomes
Success planning: setting goals, account overview, customer journey map, strategy reviews
Driving product adoption: customer coaching and training, sending tutorials, best practices, and useful templates
Monitoring: tracking product usage, sentiment analysis, risk assessment, proactive interventions
Retention efforts: setting up renewal notification(s), planning budgets, following up, creating win-loss analyses
Upsell/cross-sell: reviewing account(s) periodically, ROI analysis, reviewing goals and setting new ones, opportunity alignment
Keep in mind: onboarding is the most important stage you have to get right. Once that's optimized, everything else should fall into place much more quickly and without that much stress.
5. Ensure Effective Collaboration with Stakeholders
The success of a customer is never the sole responsibility of customer success. Yes, I know that might sound crazy, I know you've probably learned or faced the exact opposite. However, customer success is truly a company-wide effort and way of approaching customer relations.
CS involves multiple teams in no particular order:
Sales. Customer success and sales alignment is something we keep coming back to in our guides, articles, and webinars because it's just that important.
Product. The measure of efficiency in this collaboration is how quickly you can go from customer feedback to product update. There will be cases when the velocity of that change will determine whether a customer churns or upgrades.
Financial. Beyond simply facilitating payments and aiding with account tasks, your colleagues in finance and particularly the CFO need to be in the loop to understand the scope and value of customer success.
Account. Some companies merge this with customer success, but regardless the person in charge of the account will likely collaborate closely with the CSMs.
Marketing. Just like sales, marketing also needs to have alignment on product capabilities and customer concerns, needs, and outcomes. That can only come from customer success.
All these stakeholders need to be included in your customer success workflows in specific places and for specific tasks that have to do with them – at least name-drop them if you don't tag them. And don't stop there – if a task requires external stakeholder input, like a report from their sales team, don't forget to add them to the task.
6. Have Playbooks in Place for Worst-Case Scenarios
Customer service, in all of its forms, including CS, will include a lot of firefighting, trying to jump from one crisis to the next, and attempting but not always succeeding in ensuring positive outcomes.
One effect of having too many things on our plate is analysis paralysis. CSMs know very well what I'm referring to: those moments during your workday when you're supposed to be doing five things and end up spending too much time deciding how to start, or worse end up doing all five at once.
To avoid this anxiety-inducing scenario, it's best to have playbooks for when the worst comes to worst:
Write down best practices for distributing tasks when you're short-staffed. If a valuable member of the team leaves, you won't be stumped and will know by default who takes over their accounts, their specific tasks, and, more importantly, which of your tasks are not as important and can therefore be deprioritized.
Create predictive models for customer churn and plan tasks for each model. This can lead to a solid playbook designed around your customer base, highlighting 3-4 scenarios (usually based on types of accounts).
Cover any other potential risks. Overwhelmed by the number of risks to your team's stability? Work out a risk assessment table and make sure all your high-impact / high-probability risks are covered by a plan.
Another thing you could do to prepare for the anxiety-inducing days when customers churn is to have an offboarding interview process in place. Through offboarding surveys, you can learn what you could've done better, use that research to improve existing practices, and if the survey is live over Zoom, you can come prepared with a discount or counteroffer for that customer (don't push it!).
7. Remove Manual Work by Automating What You Can
Manual work can be the bane of productivity in Customer Success. That's because a large part of a CSM's daily workflow consists of bite-sized, repetitive tasks.
However, the solution to this issue is quite simple: implementing automated playbooks. These playbooks, as we call them in our customer success platform, can serve one, two, or many more different types of customers and customer outcomes.
Some popular types of automated playbooks include:
Proactive reach-out playbooks that play out whenever customers encounter frequently-seen issues, delivering the solution to them in a timely manner and through the customer's preferred channel of communication.
Onboarding playbooks that can be triggered both automatically and manually by the lead CSM. A playbook such as this can send materials, product information, tutorials, financial documents, and more.
Churn monitoring playbooks that alert the lead CSM or the entire team when frequent reasons for churn are detected – you can analyze accounts and set up the playbook so that you have plenty of time to act before the customer decides to leave.
"My award-winning DIY flow: [I] have 7 different outcomes in one flow. I can't live without it because it's built and structured in such a way that based on the smallest metric, or the smallest event, or the smallest reply to an email – you gather the customers and direct them on another path and that allows me to redirect them to the original path if further down the line they reach that metric or did reply to that email. So again, I've built that playbook, and I iterate every month, but the foundation allowed me to step away from manual work 100%.

It helped me focus more on our clients that do have success services and do need to run that extra mile because they're larger organizations in the first place. And it really allowed me to think about playbooks for them as well."

Stijn Smet, Team Lead Customer Success @ Whale
The bottom line is any step added to automated playbooks removes a task or subtask from you and your CSMs workflows, allowing you to stay focused on those high-touch accounts and redirect your efforts accordingly.
8. Periodically Update Workflows Based on CS Data
True data scientists follow rigorous procedures to ensure their data is always vetted and up to date. Beyond making sure the numbers you're tracking are correct and relevant, you and your CS team should also set up processes to periodically review your data sets and ensure the metrics, KPIs, and health scores you track aren't obsolete.
Once you know the data you collect is still relevant, use it to:
rethink tasks and processes
reassign tasks
reorganize customers
reassign accounts to CSMs
remove irrelevant tasks
realign your priorities with desired customer outcomes
Don't Overplan: Why CS Workflows Need to Be Extra Flexible
Of course, customer success is a very dynamic job.
A typical CSM workflow involves a lot of proactive action and constant shifts to appease customers and put out fires, as we already saw above.
It's been proven that overplanning can lead to poor job performance. Here are some tips to avoid overplanning:
Set deadlines for your planning stage. Include time limits for brainstorming, drafting, and the final plan.
Set deadlines for your time-sensitive tasks. It's sometimes easy to forget deadlines when a project is overly-complex. However, deadlines help keep every stakeholder in line in terms of both tasks and expectations.
Action plans trump everything. Planning should prioritize action items. Once you have some points you're 100% certain of, stop creating timelines and subtasks and start doing the tasks themselves.
Embrace imperfections and move forward. Being imperfect is human, and everyone, even your customers, can understand that – however, they won't understand if you miss an important deadline – so obsessing over neatness can actively hurt your customer relationships while increasing the workload on your team.
Examples of Automated CS Playbooks
To help you out with automation and clear up misunderstandings regarding customer success workflows, here are some examples of clear-cut and ready-to-use customer success playbooks:
High Touch Customer Onboarding Playbook:
CRM Trigger > New sale closes > Send welcome email > Create calendar event and send invite for Onboarding meeting > Send Onboarding follow-up > Send product guides and tutorials > Create calendar event and send invites for Implementation meeting > Create tasks for account setup dependencies > Send notification to CSM if product adoption failed > If product adoption is complete, move to Growth flow
Customer Growth Playbook:
Onboarding playbook > Product adoption complete > If customer has an issue in the product, send a how to > If customer issues persist, alert CSM on Slack > If feature use increases dramatically, notify CSM > If customer accesses new feature demo, add to Upsell list and alert CSM > If the account is reaching renewal date, trigger renewal playbook
Account Renewal Playbook:
CS Trigger > Account reaching renewal data > Review feature usage > If customer qualifies for upsell, add to Upsell list and alert CSM > Check credit card expiration date > If card expired or expiring soon, notify Customer and CSM > (Optional) Run account updater > Renew subscription > Check payment history > If payment failed, send dunning email to customer and alert CSM
Of course, these playbooks are useful, but they're also high level overviews of what a playbook should be. The real flow will likely reflect your business and customers a lot more.
Summing Up: Make Your Workflows Work for You
Ultimately, creating a workable model of a customer success workflow comes down to you, your team, your niche, your product, and your customers.
The balance between planning, doing, and delivering on customer outcomes is often more complex than the tasks themselves. That's because CSMs aren't just number-crunchers and pencil pushers. Theirs is a more strategic job as "shepherds" leading their customers through a journey to their goals.
So never forget the ultimate goal of a customer success workflow: to help you and your team work as efficiently as possible in your efforts to deliver on those goals.