As we live in a highly competitive environment, even the smallest details can make or break a winner. Demand is growing exponentially, and so far, supply is following the trend, which, among other things, means that customer expectations are extremely high. The customer experience is becoming the main focus and pain point for many companies, and constant call center optimization is critical to delivering world-class customer support.
Did you know that 88% of customers across all age groups consider customer experience as one of the most important aspects influencing their purchase decision? Even more interesting is the fact that more than 50% of customers believe there is a great need for improvement in customer service and support across most industries.
To achieve customer service excellence, you need to constantly track, measure, and optimize call center processes. Get it right and you can expect satisfied and loyal customers, lower churn rates, higher customer retention, and, most importantly, increased company revenue.
Let us tell you how you can effectively optimize your call center's performance and increase customer satisfaction and overall revenue.
What is Call Center Optimization?
Customer service is extremely important in today's competitive world and can make the difference between the success or failure of your business. Regardless of how good your customer service is, call center optimization is a process that requires constant measurement, experimentation, and improvement. Recent technological advances have only increased the customer demands who want their issues resolved in a timely manner.
For example, if a customer has a bad experience with your call center (e.g., because an agent was rude or a customer did not find a solution to their problem after a long conversation), there's a good chance they'll share their opinion on social or other channels. It can negatively impact the reputation of your business and irreparably damage its image. That's why more and more companies are striving to provide the best possible customer experience, through continuous optimization of the call center.
Call centers employ complex strategies aimed at improving customer satisfaction and employee engagement, among other qualitative and quantitative aspects.
Here are some of the key benefits of call center optimization:
Reduction in operating costs
Reduction in the number of silent calls, total call duration and call abandonment rates
Improved productivity
Increased revenue
Better customer experience and higher customer satisfaction
An option to access customers' data & leverage AI to help solve their problems
All of these benefits directly impact your company's revenue. By implementing call center optimization strategies, you can improve customer satisfaction, reduce abandoned calls, and increase first call resolution rates (FCR). This leads to more efficient use of resources and increased revenue for your business. So if you want to improve your call center's performance, you should start with the advice listed below.
Which aspects you should optimize to increase call center performance
Optimizing call center performance is anything but a simple task. To find out what is affecting overall performance, you need to measure its current state and compare it to benchmark metrics in your industry.
Here are the critical aspects of call center optimization that you should consider:
Agent performance
It's important to track and measure agent performance, as this will give you a clear picture of how they are performing. That is key to delivering quality service.
As we will mention later, there are various metrics that help you track an agent's performance such as first call resolution rate, average waiting time, average time on call, and overall service level.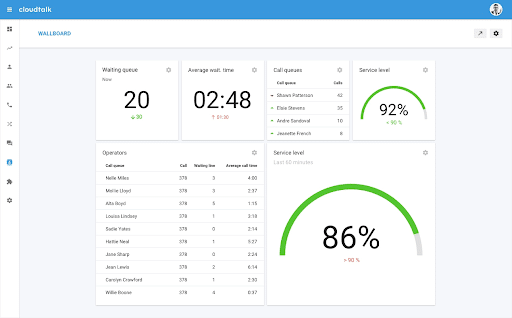 (Source)
Overall service quality
Tracking and analyzing service quality can give you a good understanding of what aspects you can improve. There are several software solutions that record, transcribe and analyze interactions with customers. It provides insights to improve communication.
Internal workforce management
Refers to your entire workforce, its organization and supporting business processes that enable forecasting call volumes, employee scheduling, agent matching, and more.
For example, there are peaks in demand when you need more staff than usual. It's important to anticipate this so you do not suffer from staff shortages.
5 effective methods to optimize and improve call center performance
In this part, we will talk about different strategies and approaches that will allow you to effectively optimize and improve your call center's performance, ultimately leading to higher customer satisfaction and revenue.
Know which metrics to track and compare against industry benchmarks
As a call center manager, you need to know which metrics are critical and set them as key performance indicators (KPIs). Make sure you do not have too many KPIs because it's easy to lose track of what's most important for your call center. Make sure you compare your KPIs to industry benchmarks, as this will help you understand how your call center compares to the competition. For example, KPI benchmarks vary slightly by industry, but long queues and wait times are metrics that generally impact customer satisfaction the most.
To understand your current call center performance, you need to measure the right metrics and continuously track the impact of optimizations on them. Here are the most important ones you should track:
Average time to answer calls – as the name suggests, this is the time it takes an agent to answer an inbound call. It is counted from the moment the agent's phone rings.
First Call Resolution Rate (FCR) – this metric is one of the most important, as it indicates how many times your agent resolved the issue on the first call. The higher this rate is, the higher the overall customer satisfaction and loyalty.
Number of calls required to resolve the issue – if the customer's request is not resolved on the first call, you need to track the total number of calls required for resolving customer issues.
Average call time – duration of active customer interaction with the call center team.
Average waiting time – duration of waiting time, i.e. how much time passes from dialing the number to connecting with the agent.
Average abandonment rate – indicates the number (in percent) of customers who abandon their calls due to long waiting times in the queue.
Overall customer satisfaction – most call centers have a short survey where the customer shares the satisfaction rate along with a comment about the overall experience.
Constantly improve your agents' training
Agents are the most important asset in your call center, so invest in their education and training. Supportive technology that your call center uses is important, but little beats a well-trained and educated agent who can handle even the most difficult customers and problems.
Today, there are several best practices for training call center agents.
It includes:
Gamification
Gamification proves to be a very effective tool for keeping your employees' engagement at a high level. There are no limits to creativity. You can incorporate various gamified aspects into your training, such as role-playing, contests, prize pools or leveling, which drastically increases agent engagement in the learning process.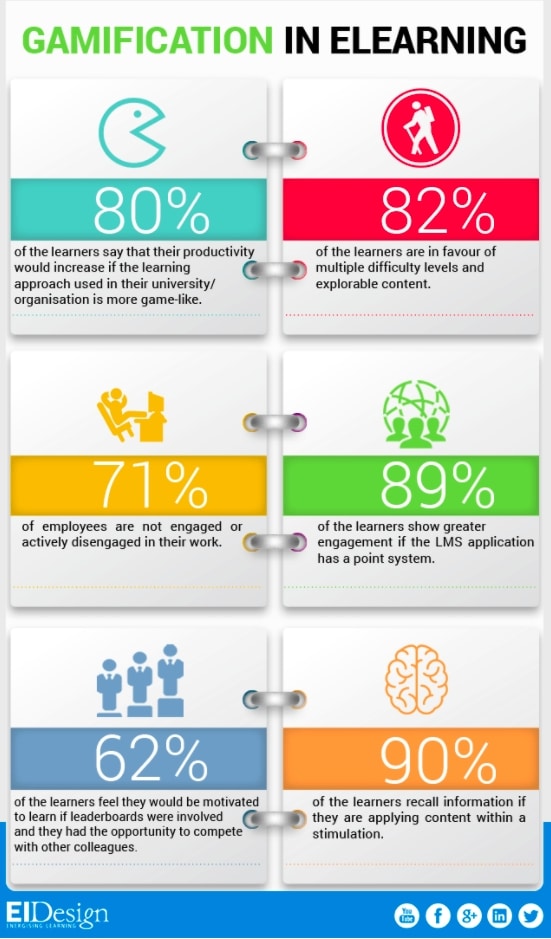 (Source)
Create a knowledge base
Call center knowledge base It provides quick and organized information support to your agents. Furthermore, specialized and organized forums where agents can discuss and quickly find solutions to customer problems improves first call resolution rates and overall customer satisfaction.
Focus on key areas for improvement and eliminate any knowledge gaps
Assessing agent capabilities is an ongoing process that provides a clear picture of what needs to be improved. Identifying knowledge and performance gaps is critical when training agents, as it reduces the resources required to have a well-trained agent.
Make sure you provide constant feedback
Without feedback, it's difficult for agents to understand their current performance and skills, as well as areas where they are still lacking to meet benchmark KPIs. Focus on giving them constructive feedback so they know how to improve in certain areas.
Ongoing training will not only give you insight into your talent pool, but will also help you identify which training methods are most effective. Knowing your talent pool is critical, since with advanced software, you can use this information to route calls for specific customer issues to the best agents.
Invest in the right call center software
Technological advances in recent years have enabled call centers to dig deep into call data and track its performance. This allows you to analyze what's working and what's not, which ultimately gives you a competitive advantage. Today, advanced technology, such as live chat and AI-fueled solutions among others, can supplement understaffed and under-resourced call centers, but the focus is on well-trained agents who know the functions inside and out.
The times of spreadsheets are over, and most companies streamline their processes by using advanced platforms. It's important to evaluate your current technology inventory and measure the agent's performance. Make sure the tools you use can integrate with each other and work effectively together. That way, your agents can ultimately create great customer experiences through quick problem-solving.
Furthermore, introduce an omnichannel customer experience, as retention rates are 90% higher for omnichannel compared to single-channel customer support.
Leverage artificial intelligence (AI) capabilities and gain a competitive edge
Artificial intelligence (AI) software is becoming more advanced every year, and many call centers are leveraging AI capabilities to increase customer satisfaction. Using AI alone will not do much, but using AI to support your trained agents makes for effortless customer service. You can expect shorter wait times and faster issue resolution, which ultimately increases customer satisfaction.
There are many uses for AI:
Behavioral routing software where AI automatically connects customers with the right and qualified agent. The agent not only matches the customer in terms of behavior and personality but also in the skill set needed for solving specific problems.
Speech analytics provides agents with a real-time overview of user behavior, such as when the user is stressed, sad, happy, etc. An agent can offer better service by knowing how the customer is feeling.
Chatbots can help users solve trivial problems, but they can also learn about them and gain very important data to store in your CRM. Furthermore, chatbots can lighten the load on your agents by answering simple customer queries, allowing agents to solve more complex customer problems. According to a Drift survey, 87.2% of consumers have positive or neutral experiences using chatbots. Furthermore, 68% of customers prefer having an option to interact with a chatbot because of the fast answer to their query.
(Source)
A callback software gives customers the option to receive a call from an available agent instead of long queuing. That plays to your advantage since extended waiting times are the main reason for high abandonment rates and clients' frustration. Callback software, therefore, improves the overall customer loyalty and satisfaction.
Create a strategic schedule for your agents
Predicting the number of agents needed for each time period is paramount to increasing customer satisfaction and overall revenue. For example, there are periods of low demand for agents, followed by periods of particularly high demand. The right forecasting software will help you understand the call volume for a given period. This allows you to save resources by setting the number of agents to match the demand.
For example, if you can not predict a call volume, it can go both ways. You can hire too many agents, resulting in overpaying wages even when there is no demand. Conversely, you should not understaff your call center during peak periods, as wait times could skyrocket and first-call rates might drop due to agent burnout.
Yet there will be times when you simply cannot predict demand and your agents will have idle time. If you find that some agents have idle time, it's important to understand that employee engagement is critical, and idle time reduces it. Find ways to keep the employee engaged (make a list of few ways you can keep an idle employee engaged).
High Call Center Performance Correlates With High Customer Satisfaction
Customer experience can make the difference between the success or failure of your business and has quickly become one of the most important business metrics in many industries. Successful call center optimization is an ongoing process that improves the overall quality of your call center. It leads to higher customer satisfaction and a better experience.
There are several aspects that can improve call center performance, such as investing in your people, the right tools and call center technologies. The better your customer service is, the happier your customers are and the higher their satisfaction and loyalty, which leads to higher revenues.