Imagine you've emptied your business coffers to develop the best product and provide services that leave your competitors in the dust. Everything was going great until you realized your Customer Satisfaction Score (CSAT) and Lifetime Value (LTV) were decreasing, bit by bit.
And now your competitors with subpar products have taken the lead while you watch your Return on Investment (ROI) plummet.
Okay, snap out of it!
While your business may not have reached its lowest point, it's crucial to understand that simply having a great product won't be enough to succeed without providing outstanding customer service. Gaining traction would be virtually impossible in such circumstances.
In this article, I'll explain what customer service experience is and how you can use it to scale your business and bring in more ROI.
What Is Customer Service Experience?
Customer service experience is a holistic phrase describing how your customers feel during and after their interaction with your brand or product, whether directly or indirectly. It starts from the moment they find you online, to when they're browsing your site, chatting with your customer service, buying something, and even after they've made the purchase.
Picture this:
Brand A is a SaaS company that offers email marketing software for all businesses. Their software ranks first on G2 and Clutch rating in terms of the number of features available. But they have received a lot of criticism about their slow customer support response time.
Likewise, Brand A's website is poorly designed with several touchpoints that make it difficult for new clients to locate the resources they need without breaking a sweat.
Brand B provides similar CMS software but has fewer features compared to Brand A and ranks second. However, Brand B offers top-notch customer support with an average response rate of one minute, their team goes a long way to engage each client on a personal level, and they have a scalable website with less jargon and straightforward navigation.
If I were to choose a brand to work with as an executive or brand owner, it would be brand B. And the reason is simple.
The features are beautiful. Decades ago, most businesses would kill for products with more functionalities, regardless of the cost.
But now, 81% of customers simply prefer alternative brands that provide:
the fastest response rate,
tailored solutions to their problems,
personalized communication,
lightning-fast website loading speed,
good and easy-to-use products,
and a more streamlined customer journey.
All these factors combine to form that dream experience envisaged by every customer. And if you can't provide something near, the same, or even more, then there's no way your business is going to come out ahead.
4 Ways To Create An Excellent Customer Service Experience
Creating an excellent customer service experience is no rocket science. We'll walk you through the steps below.
1. Build A Customer-Centric Team
Let's start with the root.
You can't build the type of experience your customers want if your team is only sales-led. Another mistake most businesses make is limiting customer centricity to only the support team. That's like putting the entire hope and lifeline of your business in a single department.
Here's what you should do instead:
Train and provide customer training resources for all your departments, including the frontline customer support team.
Design a customer-centric approach to handling and providing services across all channels.
Help other departments of your organization gain access to customer data.
Include the customer support team and their data in every meeting.
They shouldn't be at the bottom-level seat.
Equip each team member with skills that will enable them to develop interpersonal relationships with your customers.
2. Develop A User-friendly Website
Oh yes, we all love aesthetically beautiful websites. But besides looking good, is your website user-friendly or do people have to download a navigation guide before they can even find your registration page?
To provide a quality customer service experience, you need to optimize your website, which is usually the first line of interaction with organic leads.
By optimization, I'm talking about reducing loading time, eliminating intrusive pop-ups, cutting down on in-page ads, removing broken pages, using structure menus, giving distinctive names to relevant anchors, and fixing content clutters.
Before you carry out these fixes, you need to:
Conduct an SEO audit to analyze factors affecting your load speed, mobile friendliness, internal linking and other factors that can affect user experience.
Inform your customers of a revamp ahead of time. This is very important, as you don't want them to wake up to broken pages.
Ask customers for their thoughts on the new changes to your website.
3. Prioritize Both Speed And Quality Of Service
There's a popular belief that fast services are often poor in quality. While that holds some iota of truth for small retail businesses, it's actually the opposite for B2B wholesale brands. Customers expect you to provide the best service at a pace-breaking speed.
Do they want to speak with your customer care support team? Then your response rate must be in seconds or a few minutes. A customer wants some resources from your website? Then you need to reduce your pages' touch points for easy accessibility.
Other things to implement:
Equip your customer support team with advanced voip call center software.
Use omnichannel marketing to provide more interaction points for your customers and target audience.
Introduce artificially intelligent chatbots to handle common requests and queries.
Make your product easy to use and provide simpler resources that will shorten customers' learning curve.
4. Gather And Review Customer Feedback
Creating an effective customer service optimization strategy is particularly difficult because most times you aren't sure what customers really want.
But with feedback, you can easily find your way into the minds of your customers and know how they perceive your products, services, website, communication, and much more.
Another important thing to keep in mind is the feedback loop. Collecting a satisfaction report once won't do justice to your long-term strategies. So you need to find a passive way to always get feedback.
Do this:
Redirect customers to a feedback page after every purchase. Of course, filling it should be optional.
Send annual or quarter emails requesting quick feedback from customers. Add perks like discount or free shipping to improve response rate.
Appreciate each feedback and let customers know you heard them.
Inform them of the changes you implemented after getting their feedback. That will make your customers feel included.
Business Benefits From A Good Customer Service Experience (With Case Studies)
Although I've given a few hints about how a good customer service experience gives you an edge over competitors, it's best you see their impact in the real business world.
Higher Customer Lifetime Value (LTV): ECO Modern Essentials
Customer lifetime value, also known as LTV, depicts your customer's "worth" over a certain period. It is more or less the amount of revenue a single customer generates for your brand in a year, half a year, or even years.
LTV is very important since it depicts the number of repeat purchases you expect from a customer. And it's no news that repeat purchases are the true ROI builder for brands that prioritize scaling their revenue.
Let's take a look at ECO Modern Essentials, a wellness brand providing pure essential oils and sustainable oil production kits.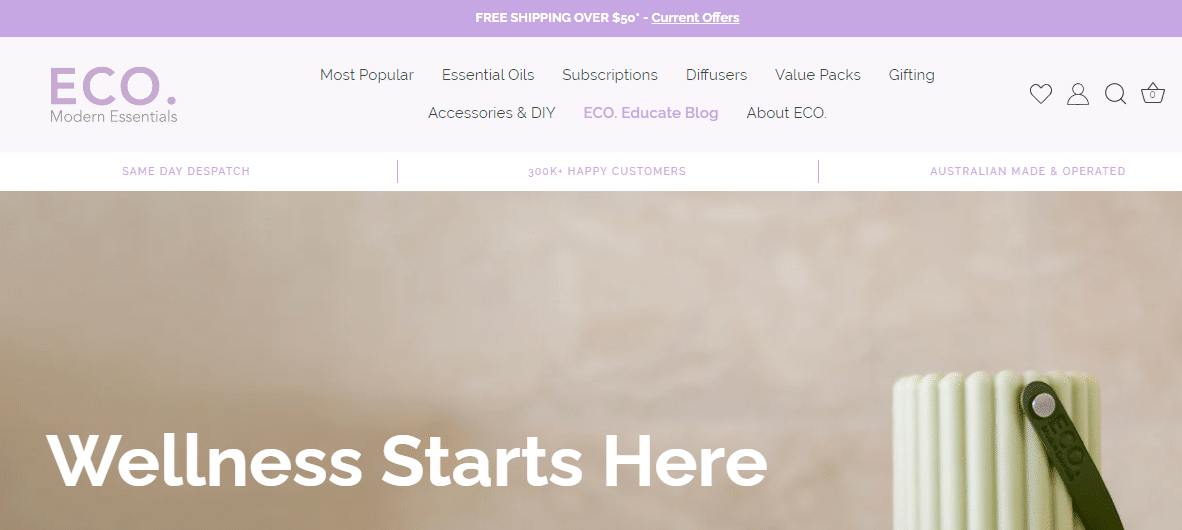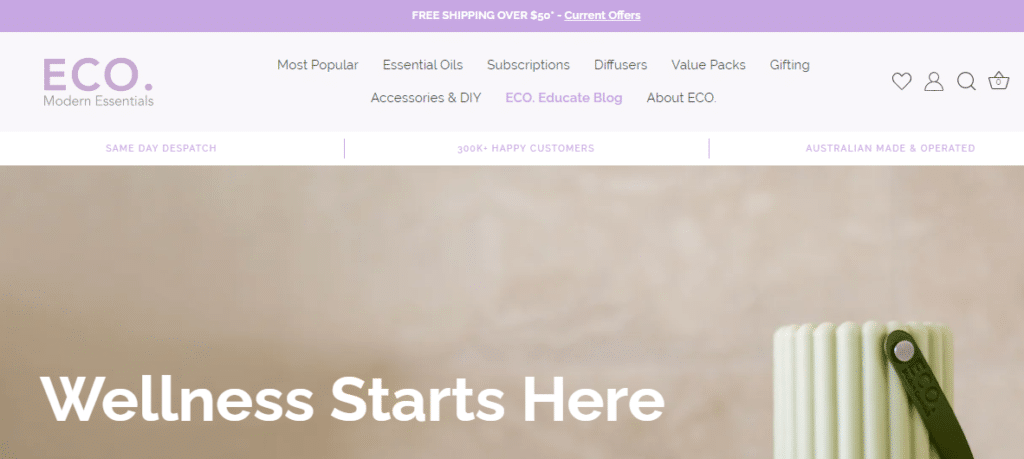 Source: ECO
ECO is one of the few lucky brands that got a rocket growth. But this came at the cost of their customer service experience. They got themselves a broken customer journey template in addition to flawed customer relationships.
In order to fix this, ECO first outlined their main problem and solutions:
Prioritize customer experience and interaction over immediate sales.
Understand customer behavior and life cycle stages.
Use collected feedback data to create better policies.
Get an automation software to improve customer service experience.
According to Natalie Peat, ECO's e-commerce and finance manager,
"We needed to get to a place where we were being true to our values and delighting our customers. So we sat down and looked at four key areas where we could really make a difference."
After implementation, ECO got a 276% YoY increase in active customer revenue and boosted their LVT.
Enhanced Customer Retention: Lume
Customer Retention works hand-in-hand with Customer's Lifetime Value. Only customers who stay with you longer and remain loyal to your brand can make repeat purchases over time. But despite sounding easy, customer retention is actually a bone of contention for several brands.
For instance, Forbes reports that businesses lose over $75 billion annually due to customers lost as a result of poor customer service experience. And in case you didn't know, it costs six times more to gain new customers than to retain an existing one.
Think of the stress that comes with sorting thousands of leads from scratch and qualifying them through the sales funnel until they make a purchase. Worst still, the chances of getting a new lead to make a purchase is barely 5 to 20%.
Lume, a body deodorant brand, understood this and thus devised a strategy to ensure their customers always want to come back after every purchase.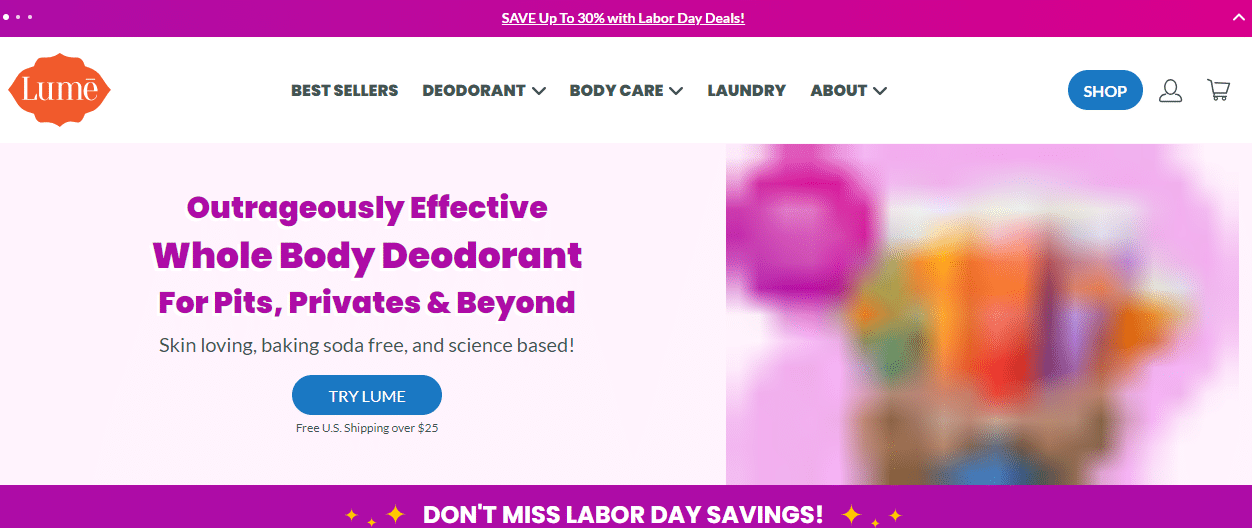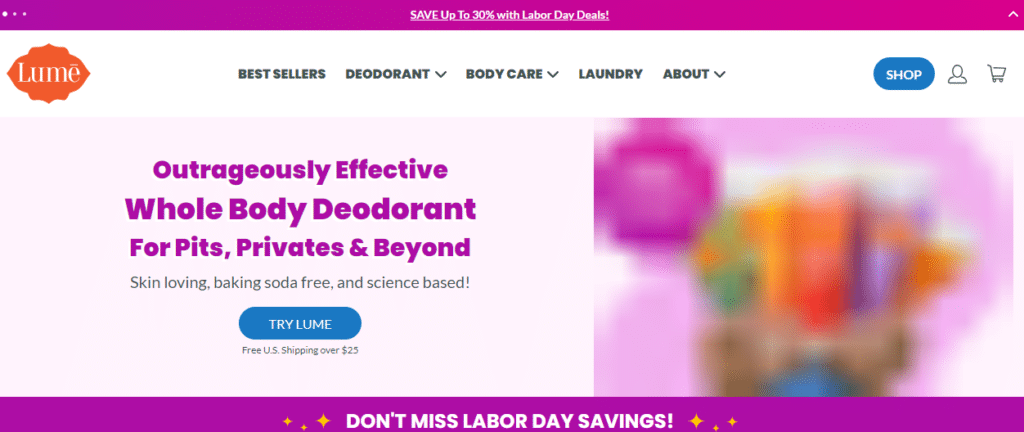 Source: Lume
Besides creating awesome deodorants that work like magic, Lume realized a big problem – customers can:
Always run to the nearest store for a non-Lume deodorant if their Lume deodorant is down to the last drop.
The more customers see your product is dispensable and know they can always use a one-stop shop alternative, the faster you will lose them. Plus, your customer retention score will be in shambles.
To fix this, Lume provided:
An auto-renewal service that's scheduled with door-step delivery. This is in sync with when your product is going to finish and ensures you always know a backup is underway.
Discount on every renewal product instead of loyalty points. That means customers can get the same Lume deodorant at a cheaper price if they opt in for auto-renewal services, with no extra cost.
Notification emails about product delivery and other details at least six days to renewal date. Not everyone loves to get sudden auto-debits. Honestly, it annoys me to see my last change going to an auto-renewal I wasn't pinged about. Lume's strategy ensures this doesn't happen and gives you a heads-up.
Options to cancel, modify, or review your auto-renewal and delivery subscription. You can even swap your products ahead of time.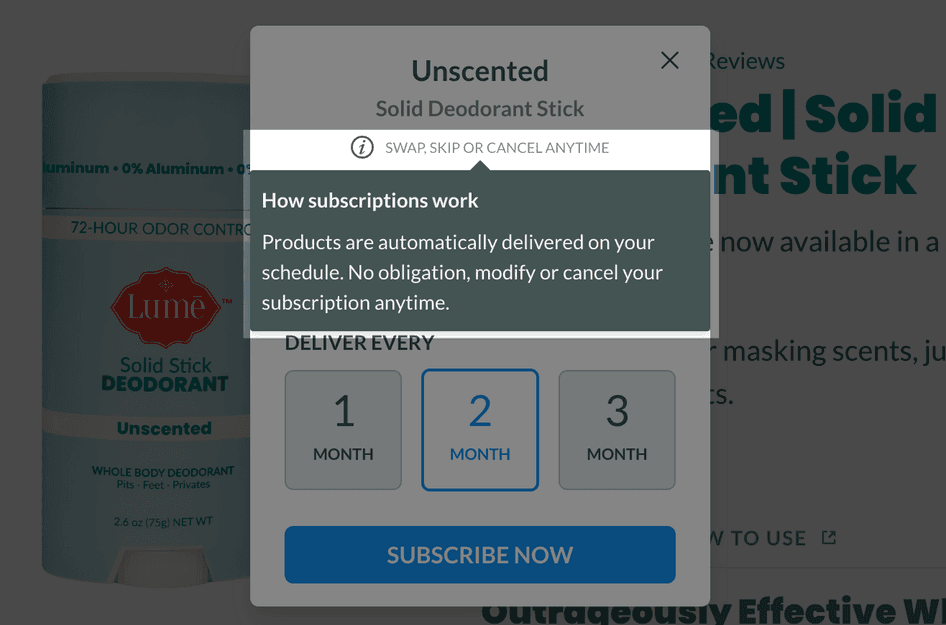 Lume's subscription box
As a result of this approach, Lume was able to retain more customers and grow its revenue with over $100 million direct consumer revenue in 2021.
Helps You Build Brand Advocates: Glossier
There are thousands of ways to market your product, but none of them beat word of mouth or user-generated content. Word of mouth alone generates $1 Trillion consumer revenue annually – that's huge.
Besides, approximately 81% read online local business reviews, while 46% of customers trust recommendations from their family and friends. Now imagine if half of your existing customers advocate for your products and services. You will be riding on a rollercoaster to the top.
But that's only something you can achieve by providing an excellent customer service experience.
Let's check out Glossier, a beauty company.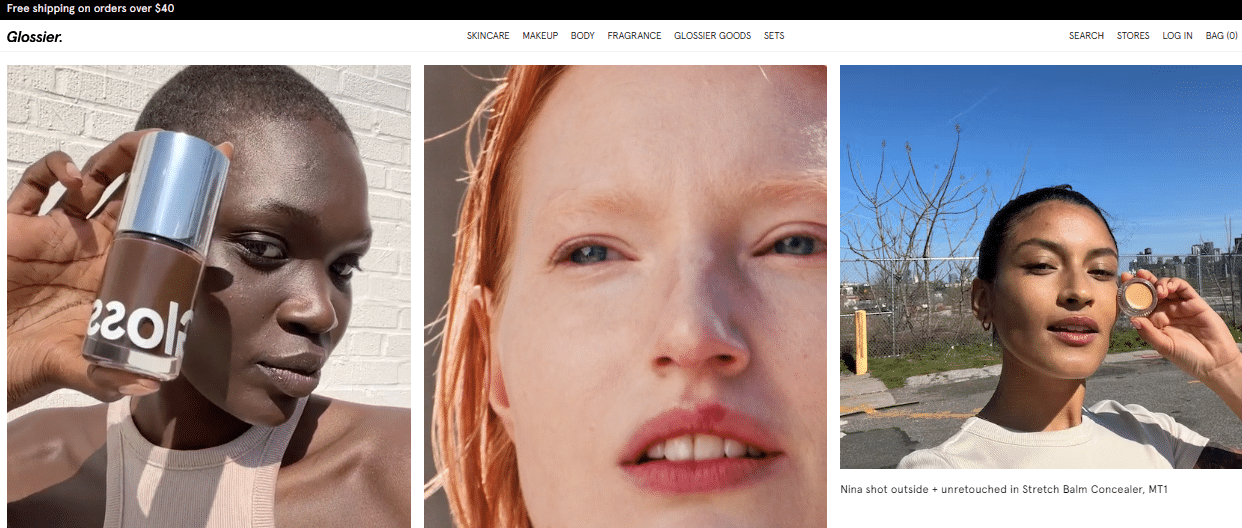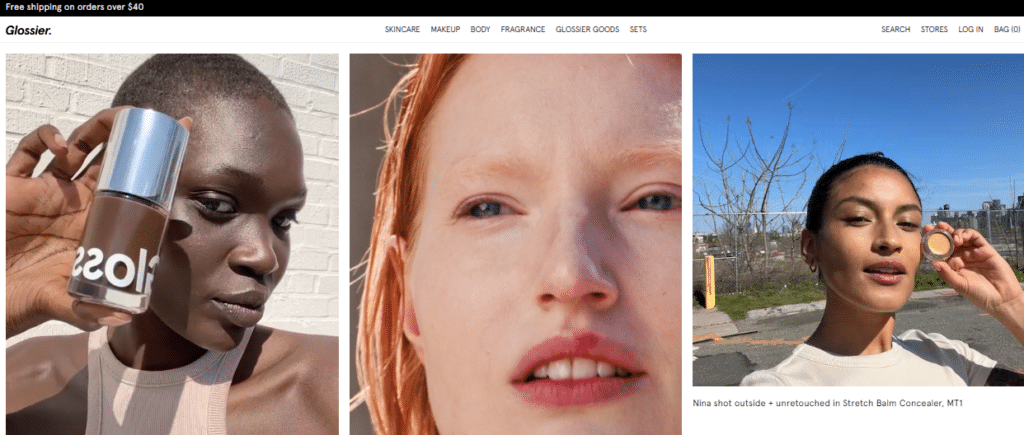 Source: Glossier
While Glossier didn't use a direct advocacy program like Adidas and the likes, they understood how providing quality customer service experience can turn regular customers into loyal advocates.
At the start, Glossier initiated consistent interaction with customers in order to know what they want, where, and how they want it. Afterward, they focused on tailoring their website copy, product titles and descriptions, social media pieces, and even emails into something casual and friendly for customers.
In turn, Glossier was able to create a unique brand voice that resonates with customers on a personal level. That's similar to what Duolingo did.
The result? Glossier has been able to scale its worth up to $1.8 billion.
According to the founder of Glossier, Emilie Weiss,
"The most important channel for us is word of mouth! ~70% of our sales come from direct/organic/referral traffic. That's important to us because it shows us that our customers care so deeply about Glossier that they're referring to other people–they're true advocates of the brand."
Conclusion
Providing a perfect customer service experience is almost impossible. Customer wants are dynamic, and you have to constantly keep up with them. But that doesn't mean you can't provide an excellent experience.
To recap, start with building a customer-centric team or organization. Then work on customer-brand interpersonal relationships while also optimizing other factors like your UX. Don't forget the role of omni channels in marketing and communication. And lastly, prioritize customer feedback to improve your customer service experience delivery.