Do you believe you have the skills and abilities to guide prospects from the sales process to become customers? To get hired as a customer success manager, your resume must guide the recruiter through well-thought-out sections that will convince him you're the best candidate to help the company address its needs with your experience, skills, and abilities.
Your resume has to capture the attention of the hiring manager fast. Several studies show that on average a recruiter spends 6-8 seconds looking at each resume.
The job title is descriptive of what the position entails. The Customer Success Manager (CSM) is tasked with ensuring that customers find success in using the company's products and services by guiding them through the support process.
Companies want to hire a Customer Success Manager who can help build long-term and sustainable relationships with clients. When the company is able to retain customers, it is assured of consistent revenue from repeat purchases and new ones from referrals.
In this guide, we will teach you how to write an effective Customer Success Manager resume by discussing the following topics:
How to Choose the Right Resume Format
Duties and Responsibilities For The Work Experience Section
Skills List
Top Tips On How To Make a Good CSM Resume
How To Choose The Right Resume Format
Not all resume formats are created equal. Choose the right one and your strengths get magnified. Choose the wrong one…
There are 3 types of resume formats to choose from: Reverse-chronological, functional, and the combination. Which one should you choose?
1. The Reverse-chronological
If you have at least 2 years of work experience as a Customer Success Manager and you don't have an unemployment gap that exceeds 4 months, the reverse-chronological is the right format for you.
As described, in this format, you present your work experience section starting from the most recent or current employment period. In the education section, you start out with the highest educational level you attained.
The format of the reverse-chronological is as follows:
Contact Information
Objective Statement
Skills
Work Experience
Education
Certifications
2. The Functional
The functional format is ideal for job seekers who have no work experience as a Customer Success Manager or at all. This is also the right resume format for applicants who have an unemployment gap that exceeds 4 months.
The purpose of the functional format is to highlight your relevant skills and abilities in order to downplay your lack of work experience.
Some relevant skills a Customer Success Manager can highlight are:
Leadership
Negotiation
Problem-solving
Ability to work in teams
Effective communication
Engage in productive conversations about products with customers
Understand customer needs and goals
Provide training for clients
Provide customer service for clients
The format of the functional is as follows:
Contact Information
Objective Statement
Skills
Certifications
Seminars/Workshops Attended
Education
Work Experience
3. The Combination
The Combination should be the format of choice of a job applicant who has extensive work experience in a related field such as sales and customer support and wants to shift careers and become a Customer Success Manager.
The format is called "Combination" because it features elements of the Reverse-chronological and Functional formats:
The work experience and education sections are presented in reverse-chronological order.
The structure of the format is the same as the Functional whereby all the skills and qualifications are positioned ahead of Work Experience.
The purpose of the Combination format is to substantiate the Work Experience section by summarizing the relevant and most useful skills and abilities acquired by the applicant throughout his extensive employment history.
Customer Success Manager Resume Sample
Below, we'll highlight a resume sample, for a candidate that has over 5 years of experience as a customer success manager.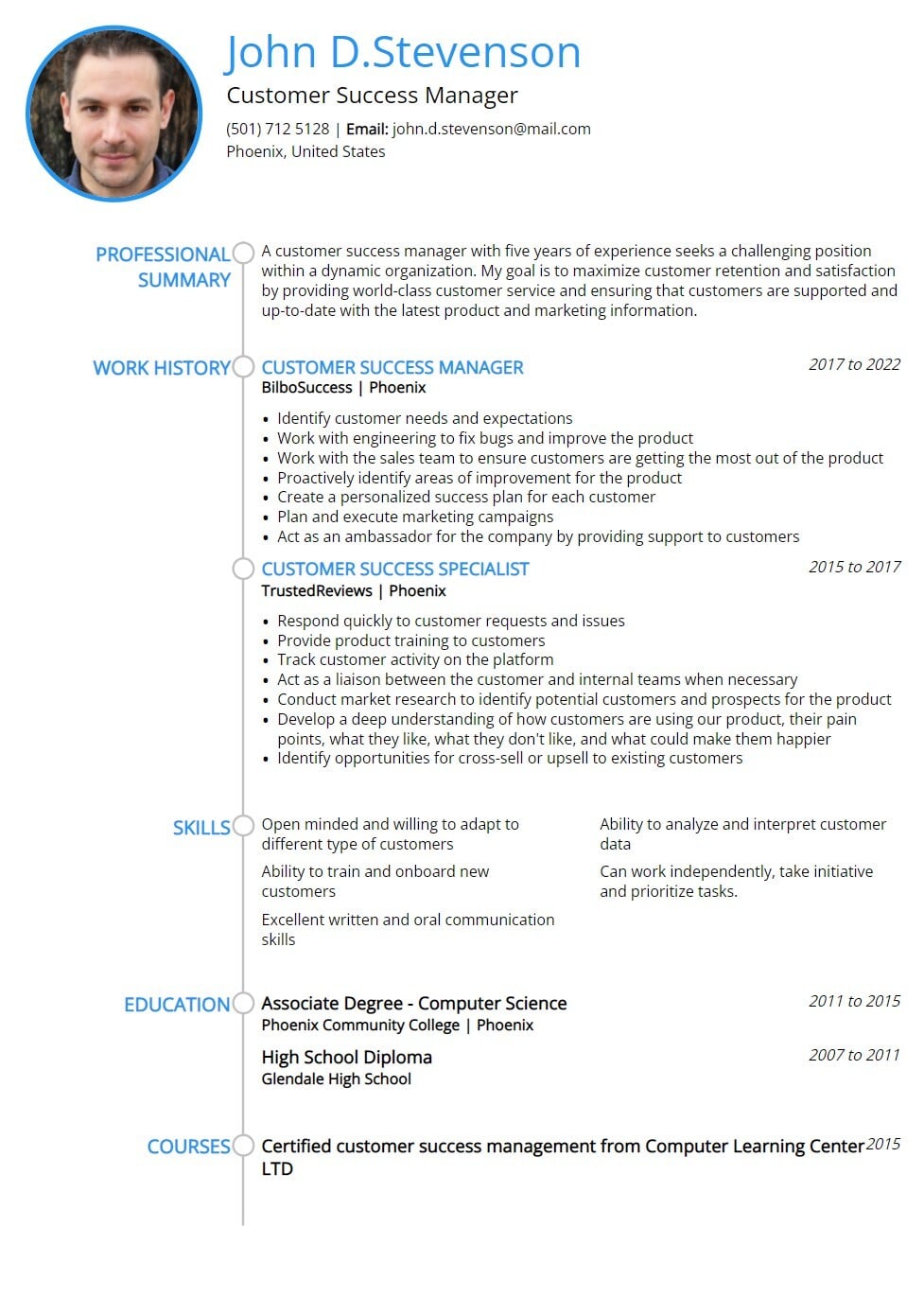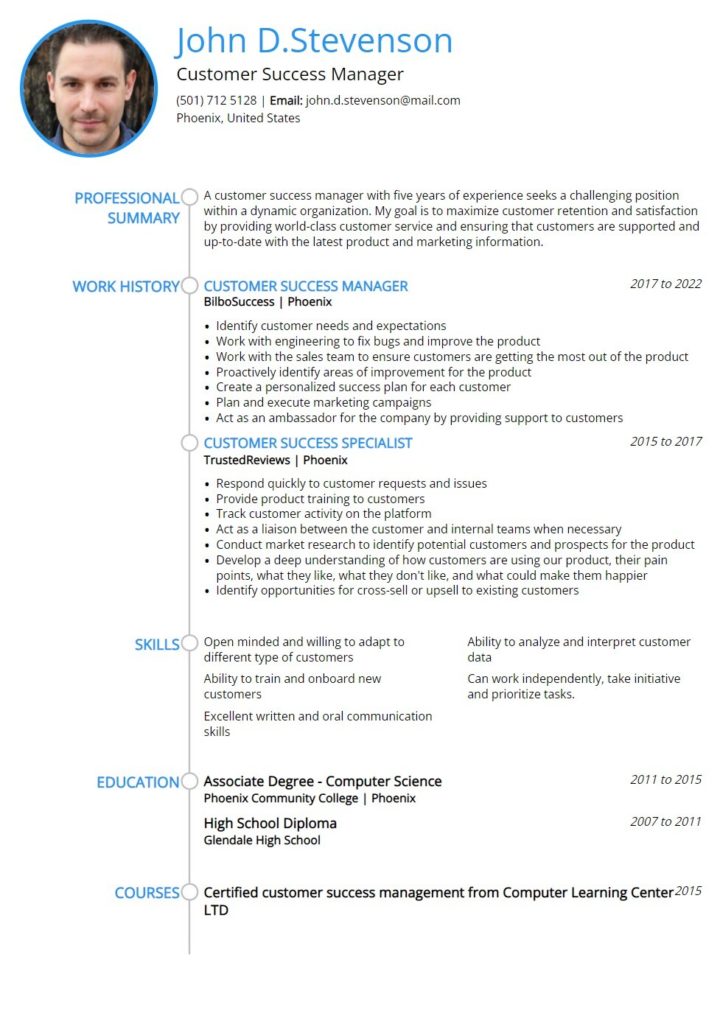 Duties And Responsibilities For The Work Experience Section
The work experience section summarizes your professional history. It contains information that gives the recruiter valuable insights into your career – how far you've progressed, the duties and responsibilities you handled, your contributions to the company, and milestones if any.
Arguably, the work experience section could be the most important part of your resume because this is where the recruiter can assess if you have the background to do the job correctly and deliver results.
To get to the next stage of the hiring process – the interview – your work experience section must be top-notch and impressive.
Before writing your work experience section, revisit the job ad and find out what the demands and expectations are for the new CSM. The job ad will normally include a description of your duties and responsibilities, objectives, and other requirements.
Review your work experience and prioritize the duties and responsibilities that are similar to those indicated in the job ad. It should provide the answers to the questions and concerns raised by the company in the placement.
Leave out information that isn't relevant to the position of CSM. If your first job was as a Copywriter at an ad agency, there's no need to include this information in the work experience section because it has nothing to do with what a CSM does.
Lastly, an effective strategy to get the recruiter excited about you is to substantiate your work experience with numbers and figures.
How many people did you supervise/manage?
What was the customer retention rate during your term as CSM?
How much did sales improve when you were on board as CSM?
Numbers make it easier for the recruiter to understand and appreciate your value as a Customer Success Manager.
Customer Success Manager Skills List
You can view the CSM as a hybrid between sales and customer support. It conducts research on customers in order to create an accurate buyer's profile that can be used by sales to fine-tune their strategies.
Likewise, customer support agents can use the buyer's profile to have a better understanding of the customer's behavior.
For sure, the candidates applying for the same job as you have these abilities. Your challenge is to convince the recruiter that you have the right skills to substantiate your claim as the best candidate for the position of Customer Success Manager.
Here's a rundown of the qualifications recruiters want to see in your CSM skills list:
1. Client Management
Client management skills refer to the CSM's ability to build strong, long-lasting relationships with existing customers.
Your database of customers is a viable source of revenue because these are people who have chosen your company and are familiar with your products and services.
It costs less to extract more sales from an existing customer than to generate new sales from new customers.
2. Customer Support
Customer support involves taking customers through the appropriate steps or processes that help resolve their issues or concerns. There are different channels used by a CSM to extend customer support including phone, email, or chat.
To be effective, a CSM must have excellent communication skills as well. He must be a good listener and a clear communicator; have the ability to articulate instructions regardless of the channel used.
3. Knowledge of Computer Software/Hardware
A CSM uses a variety of software programs to manage his duties and responsibilities. Here are a few of the software programs that you're expected to be familiar with:
SaaS Cloud-based software such as Custify
Project Management Tools – Asana, Trello, Basecamp, and Zoho Projects
CRM Software – Salesforce, HubSpot, and Zoho CRM.
Spreadsheet programs
4. Project Management
Customers are unique. Each one has a different need and responds to products and services in their own way. It's not only individual customers but also industrial clients – companies that enter long-term contracts with your business.
Customer Success Managers are tasked to ensure that every end-user, individual or industrial, is taken through the entire process to help them optimize the benefits of the product or service.
Managing a customer is the same as managing a project. You can't do this alone. You need the assistance of other people with the right skill to properly guide the end-user through the process.
5. Business Acumen
An effective CSM is someone who is familiar with how business works. He can see from the perspective of the company and the customer and has the ability to balance the interests of both parties in order to achieve his goals.
Review business metrics – financial reports, performance reviews, and industry statistics – to have a comprehensive understanding of the company's current position.
Prepare and discuss Quarterly Business Review (QBR) with sales and customer support in order to inform everyone of current pain points and collaborate on suggestions on how to improve them.
Use analytical thinking to understand the customer requirements and specific business needs. Collect data and build a company profile, in order to build a customized experience for SaaS businesses. Understand health scores, and determine when the risk of churn is high.
Top Tips On How To Make Your Good CSM Resume Better
Now that you know how to write a good Customer Success Manager resume, make it better by following our tips below:
Keep your resume within one page. The only exception is if you have more than 10 years of work experience as a Customer Success Manager.
Choose a font style that looks professional and accepted by recruiters such as Arial, Calibri, Cambria, and Helvetica.
Organize the key information in your resume with bullet points.
Write in an easy-to-understand and conversational manner.
Use headings in boldface to distinguish one section from another.
Exclude irrelevant information.
Make sure there are no errors in grammar and spelling.
Highlight the specific skills that make you a great customer success manager. These can include skills that show your analytical thinking, dedication for solid customer support, great communication with customers, ability to offer training online or offline.
Conclusion
The resume is your first contact with the potential employer. It should make a good impression for your application to be considered. Think of yourself as the product – how would you sell your qualifications as a CSM to the employer? It's essential if you want to get hired.
Your resume is a representation of how you work as a CSM. Each section is a part of the process of taking the recruiter through your qualifications so that he can have an understanding of your value as a Customer Success Manager.