In today's fast-paced and highly competitive world of B2B products and SaaS offerings, we see the terms "Customer Success" and "Customer Support" thrown around more than a Frisbee on a warm summer day.
Both are critical to the success of any company or brand. The difference between customer success and customer support lies in their nature: one is proactive and the other is reactive.
Using these terms interchangeably can cause confusion both outside and inside of your organization. Because of this, we must define and explore the differences of each and how, when combined, they can propel your business to new levels.
Given that success in today's world often comes down to "relationships" (i.e., with your customers), how your prospective and current customers view your company is of the utmost importance. When it comes to focusing on customers we often hear, "hey, but aren't customer success and customer service basically the same things"? While both are indeed intertwined, each relying heavily on the other to work in perfect harmony, they are, in fact, not the same.
Read on to learn more about how you can effectively leverage the Success-Service 1-2 punch to knock out the competition.
But first…
What Is Customer Success?
Customer success… sounds simple to define, right? It is, and yet it's not. To an extent, customer success will be defined based upon the goals or intended outcomes expected from the use or implementation of your organization's services or products.
Generally speaking, customer success is a real-time, proactive approach consisting of:
As such, a customer success strategy could be defined as: "A holistic, ingrained, and proactive company-wide initiative that leverages customer health and visibility metrics as well as technology to continually adjust in ways that help provide value and improve success rates of customers."
Customer Success Vs Customer Satisfaction
Since we've defined customer success, we think it's also important to point out that it does not equal customer satisfaction.
There has always been a gap between giving customers what they need and giving them what they want. Although seeing a customer satisfied makes us happy, offering great experience to a customer is meaningless if it doesn't lead to customer success.
At the same time, giving customers what they need without them being aware of this is unlikely to lead to customer success also.
As a service provider, offering your customers exactly what they've ordered, trusting that they're always right, will help you achieve customer satisfaction momentarily. But you won't go beyond that. Downgrading your offering to a basic level means the customer is just hiring you for your time, not for your expertise.
On the other hand, if you explain to them what they actually need, you'll not just make them satisfied, but you'll achieve true customer success in the long run.
One Size Doesn't Fit All
Each customer is unique and, as such, will have different uses for your services or products. It's therefore up to the CSM (Customer Success Manager) to fully understand the individual needs of each customer, and to champion fulfillment of those needs throughout their journey with your organization.
What Is Customer Service and Support?
Often, customer support involves helping a customer overcome an issue or problem they happen to be experiencing when interacting with your company or products. Other times, it may involve help with finding ways to better utilize your services to overcome an issue independent of your offerings. And the above example is a perfect illustration of why focusing solely on "customer support" leaves room for improvement.
As a provider of solutions and champion of your customers, focusing solely on helping with "problems" when they arise will only get you and your users so far. In comparison to support, "customer success" takes that relationship a step further, helping customers to identify and capitalize on the things that will drive long-term success and engagement.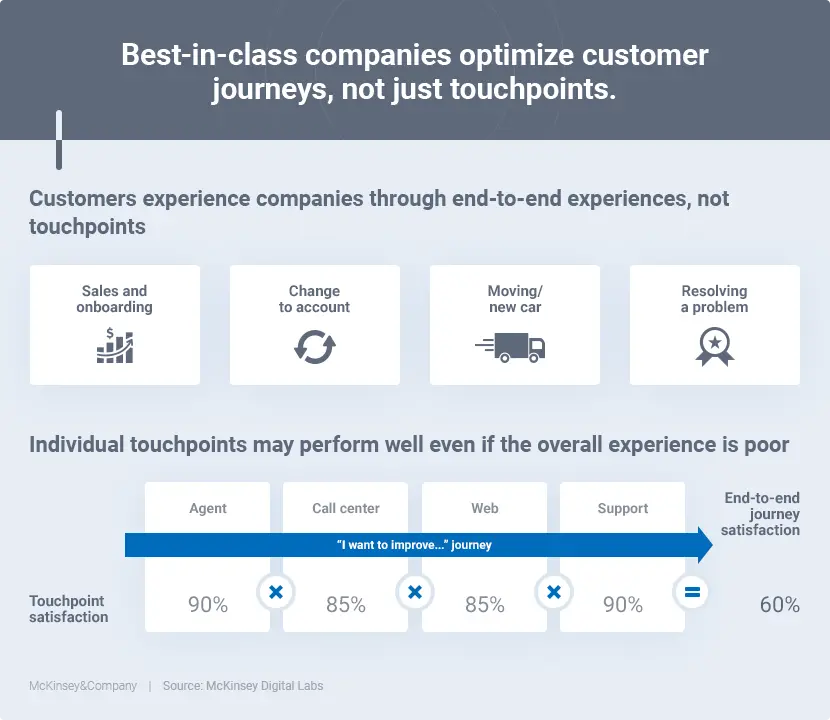 Customer Success vs Customer Support – 5 Key Differences
Ideally, both customer success and support teams and initiatives should work together, providing a complementary approach to customer care.
However, here are a few ways in which they differ…
5 Differences between customer success and customer support
1. Reactive Vs. Proactive
Customer support is generally "reactive" in approach, helping a customer once they need something or reach out with a problem or question. In contrast, customer success is "proactive", focusing on helping identify and facilitate customers reaching their goals.
2. Transactional Vs Relationship Oriented
Customer support and service interactions are generally transactional in nature. They begin when a customer reaches out, and end upon a resolution to their request. On the other hand, customer success doesn't have an "endpoint". It's an ongoing, evolving, and consistent focus, continually working to build upon existing relationships to further the bond between the customer and the company.
For example, a customer that never completes onboarding isn't going to generate more revenue. Custify can help you track your customers' journeys and get a global view of their progress. You can define goals that they should meet and automatically get notified if they don't. This way, you can proactively reach out whenever they need your help.
3. KPIs And Metrics
With most organizations, customer service metrics focus on measuring and improving upon both the speed and quality of support interactions. This level of measurement typically doesn't consider events prior to or after the support interaction. Conversely, customer success is interested in the downstream positive impacts those interactions may have on a successful customer, such as:
Improved retention rates
Higher LTVs
Increased repeat purchases
Increased upsell or cross-sell rates
Speaking of upsells, with Custify you'll never miss an opportunity to upsell ever again. Our platform automatically creates tasks that remind you to reach out to your customers at the best time. This way, you know exactly who is more likely to purchase additional services and when, Customer success is furthermore interested with measuring and tracking customer activities within the product. CSMs do this by using customer health scores. The goal here is to provide assistance along the way and guarantee the customer reaches their desired outcome or gets the value they expect from the product.
4. Hiring And Recruiting
Given that customer service is a field over 20 years old, roles and best practices with regards to hiring are well-established. However, when it comes to customer success, the field is (generously speaking) ten years or so young. Given its new(ish) entry to the business world, we do not yet have the depth or breadth of knowledge to provide us with a definitive and convergent outlook on the "right" way to hire, train, and implement customer success initiatives.
5. Measurable ROI
Most organizations view customer service and support as a standardized cost necessary for normal business operations. When customer service channels break down, it's an obvious nightmare, and failure to adequately support, staff, and train service teams results in well-documented decreases in:
Customer satisfaction ratings
LTV of customers
Referrals
And more…
Costs associated with poor customer support are easily measurable and understood by both leadership and finance departments within most organizations.
On the other hand, customer success is a lesser understood initiative, with leadership and finance often pushing hard to those involved to provide them with demonstrable returns on efforts and investments into success initiatives.
Customer success can be measured by:
Product usage and adoption into customers' daily business activities
Velocity and volume of referrals
Reputation and brand mention monitoring (sentiment analysis of mentions)
Natural increases in revenue not tied to specific marketing efforts
Increases in retention rates, upgrades, and cross-sales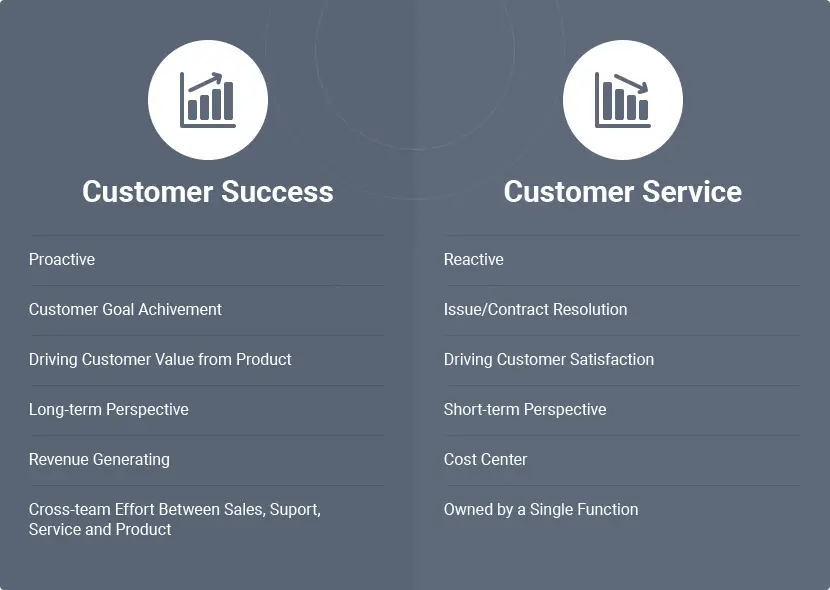 Customer Support & Success Initiatives Play Nice With Each Other
As outlined earlier, both customer support and success are critical business processes that will help you grow, retain and improve customer relationships…all of which translate into increased revenue and success for your company.
And while they are best kept as separate departments in order to clearly define the roles, mission, and goals of each, they should also have the autonomy to work together and in harmony.
By keeping both departments on the same page and in the loop of each others' activities and prerogatives, you can better leverage customer data to make better-informed decisions as it relates to items that will have the biggest impact on your subscriber base.
For example, if your support teams consistently encounter the same issue or complaint from subscribers, they can relay that information to the customer success team who can work with UI/UX departments to make changes needed to eliminate the issue altogether.
What now?
In contrast, customer success is "proactive", focusing on helping identify and facilitate customers reaching their goals before any reason for churn comes up.
If you haven't already, start the conversation of ways in which you can incorporate and utilize both support and success strategies to help your company grow. Take a holistic approach, and bring in leadership from all departments to help provide you with the insight needed to make appropriate decisions.