Customer churn is the SaaS kryptonite and the bane of SaaS leaders' existence. That's why they're constantly looking for innovative ways to retain their customers and overcome churn.
If you're looking for the best customer retention strategies that will help you reduce churn in 2023, you've come to the right place. In this article, we'll explore customer retention, why it's essential, and what the best customer retention strategies are.
Why Is Customer Retention Essential?
If your SaaS revenue is a bucket, customer churn is the drill that makes holes in the bottom through which your recurring revenue leaks out. While finding new ways to top up the bucket (customer acquisition) makes sense, plugging the leaky holes is a lot more effective — and that is customer retention.
Speaking more formally, customer retention is the process of keeping your customer engaged with your service until they become loyal long-term clients. And as they become long-term customers, it will give you more opportunities to upsell, increasing their LTV (lifetime value). Long-term customers are also much more likely to become promoters of your product, bringing in more users via word-of-mouth referrals.
All in all, customer retention is not only easier and cheaper than customer acquisition but also results in an increasing customer value over time. In turn, boosting your customer retention by just 5% can increase your revenue by anywhere between 25% and 95%.
But how do you implement it?
For this article, we've compiled 14 customer retention strategies you can use, all of which can be divided into three categories: improving customer engagement, providing customer delight, and engaging in proactive listening.
Strategies for Improving Customer Engagement
Keeping your customers consistently engaged with your service throughout their journey is the first building block of a successful retention strategy. Here's how you can maintain and improve customer engagement.
1. Set Clear Expectations for Your Customers
One of the major reasons for customer churn is user expectations not being met. This happens when the user is promised something which the product is not able to deliver.
It is essential to be very clear in your messaging about how you add value for your users. Tell them exactly what they get when they sign up. Besides that, it's good practice to slightly underpromise on the perceived value added and overdeliver, which leads to customers being delighted.
Even if you don't practice this, remember that vice versa, overpromising value and under-delivering on it is a recipe for disaster.
The best way to approach this is to set expectations that are both clear and somewhat vague at the same time. See how Semrush describes the benefits of its SEO toolkit: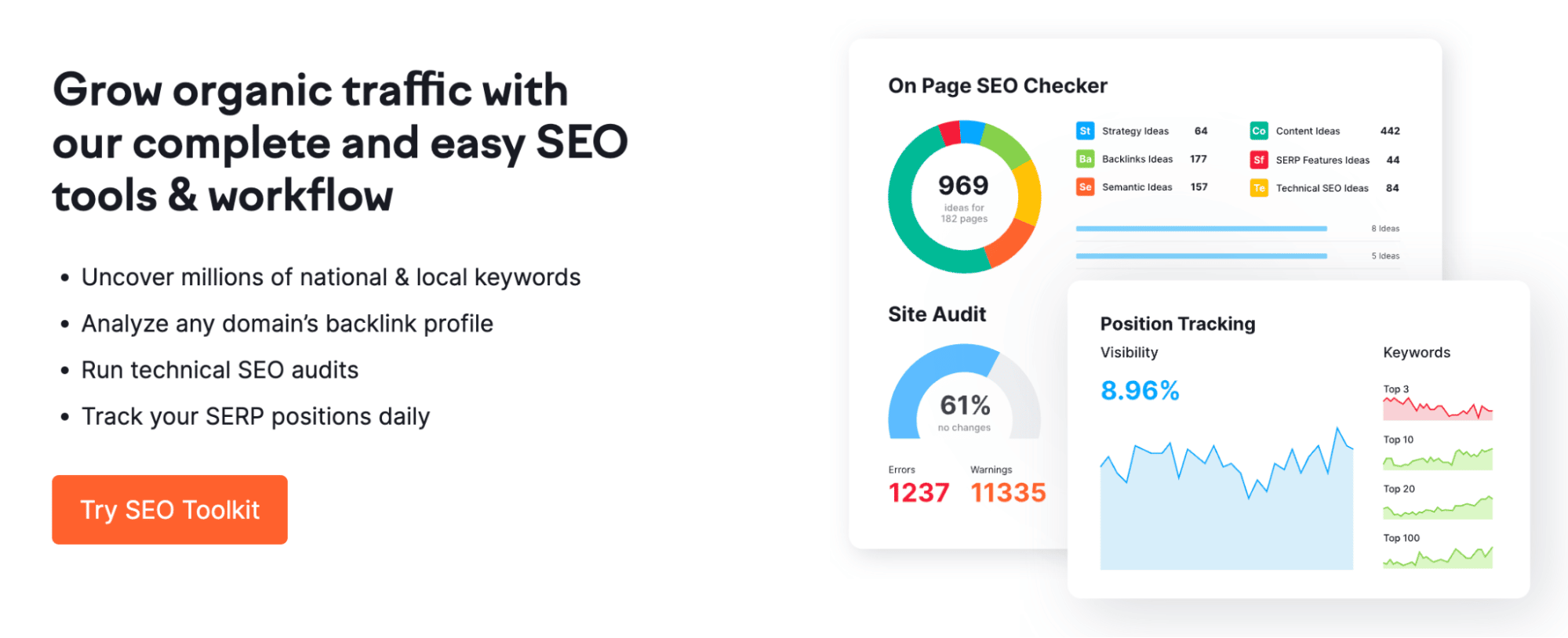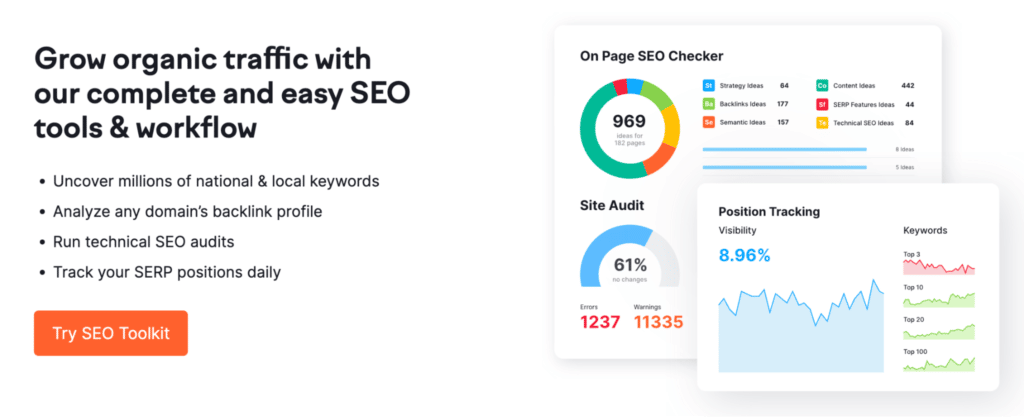 They promise that customers will be able to "grow organic traffic," "uncover millions of keywords," and "run technical SEO audits," but they don't throw any bold or overly specific claims into the mix.
In other words, they set the expectations bar fairly low. They don't imply that the customers will be able to not only uncover all those keywords but also successfully rank for them, improve their SERP positions, boost conversions, and so on.
That way, once the customer achieves some tangible SEO results with Semrush, they will be delighted because Semrush undersold their promise.
2. Give Your Customers Their "Wow" Moment
The "wow" moment is the moment the customer starts seeing the true value of your service. It's when they get an answer to the fundamental question: "what's in it for me?"
From the moment a user signs up, the user experience should be targeted toward getting them to this moment as soon and as smoothly as possible.
For this, focus on optimizing your onboarding. Send out instructional content early on to get users acquainted with the service and its features.
If your service is more complex, it makes sense to offer free training to the users. People interested in your product will want to learn how it works, and by training them you're guiding them to the "wow" moment.
For example, HubSpot achieves that by offering its customers a comprehensive library of free training courses that not only help the users get a better grasp of the platform but also grow as professionals.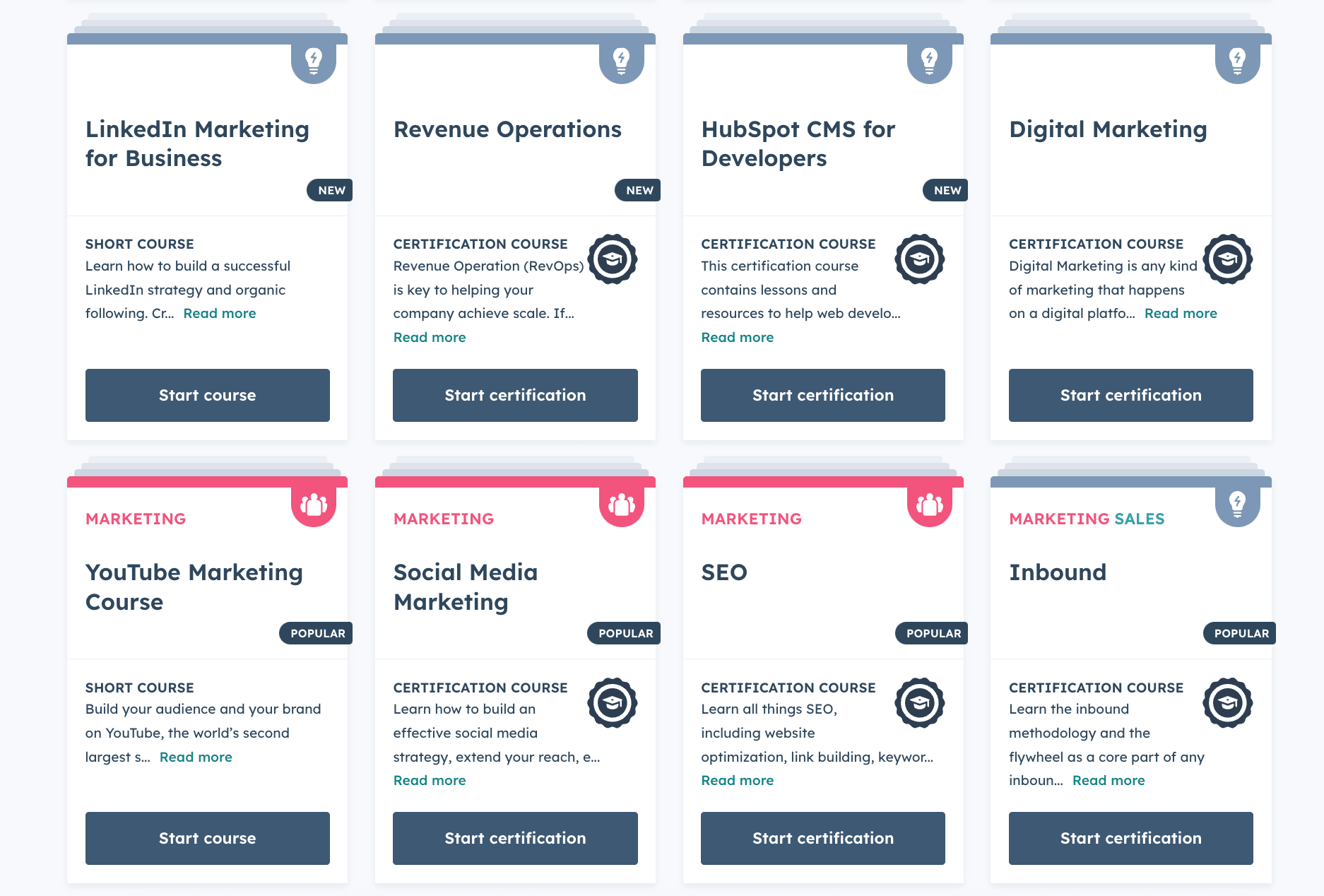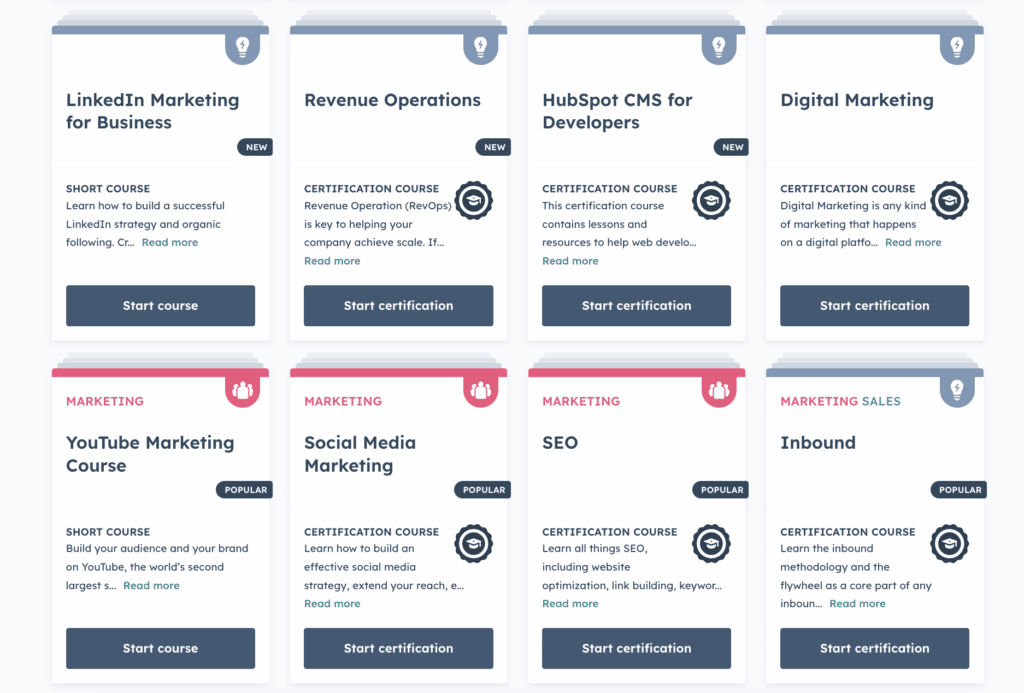 3. Emphasize Your Unique Value Proposition (UVP)
Your value proposition is what makes your product unique.
A good value proposition is simple, tells the users exactly what they will get, and can be read and understood in about 5 seconds. It also avoids hype words and business jargon. Clarity is the key.
Constant delivery of the value proposition is a must. It is what your users signed up for and it is what will get them to stay.
It is also a good practice to remind them about your value proposition from time to time. Showing them what they're gaining will encourage them to continue their subscription.
Here's an example from our own kitchen — the hero section on the Custify homepage that clearly states the unique value proposition of our software, along with a CTA and social proof: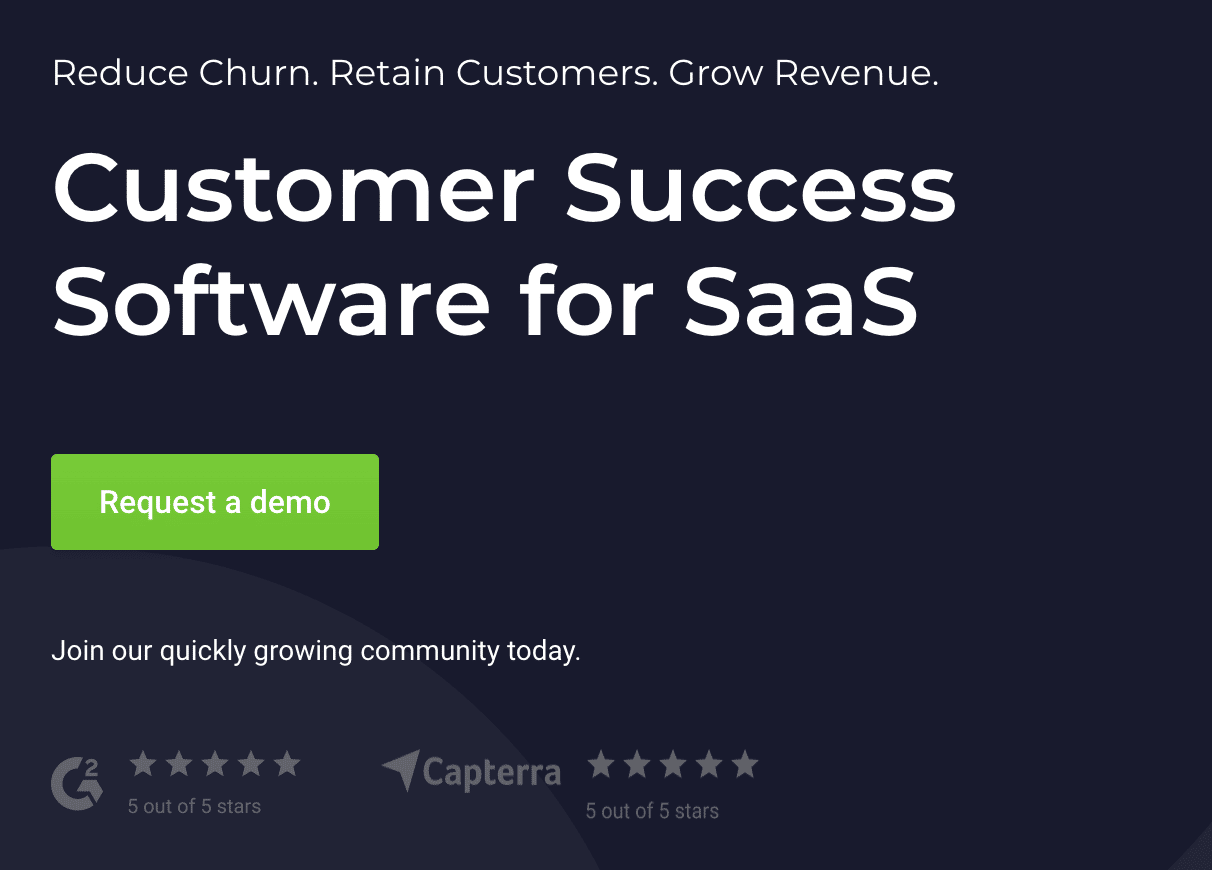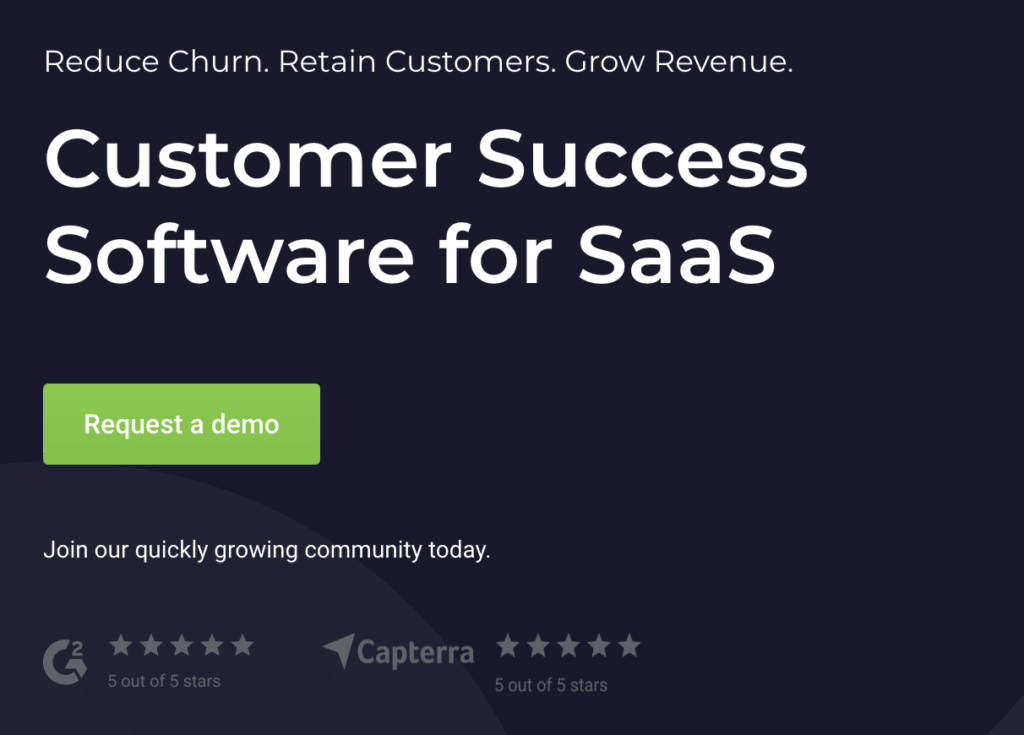 4. Don't Hesitate to Upsell Your Customers
Forming long-term relationships with your customers is one of the best customer retention strategies.
Users turn into long-term customers as they see the value you provide. As a result, upselling is a win-win: users get better services, and you get more revenue. For example, here's how Slack upsells its Pro subscription — the messaging on the landing page is very clear, followed by a lengthy list of benefits that the users will get from a paid plan: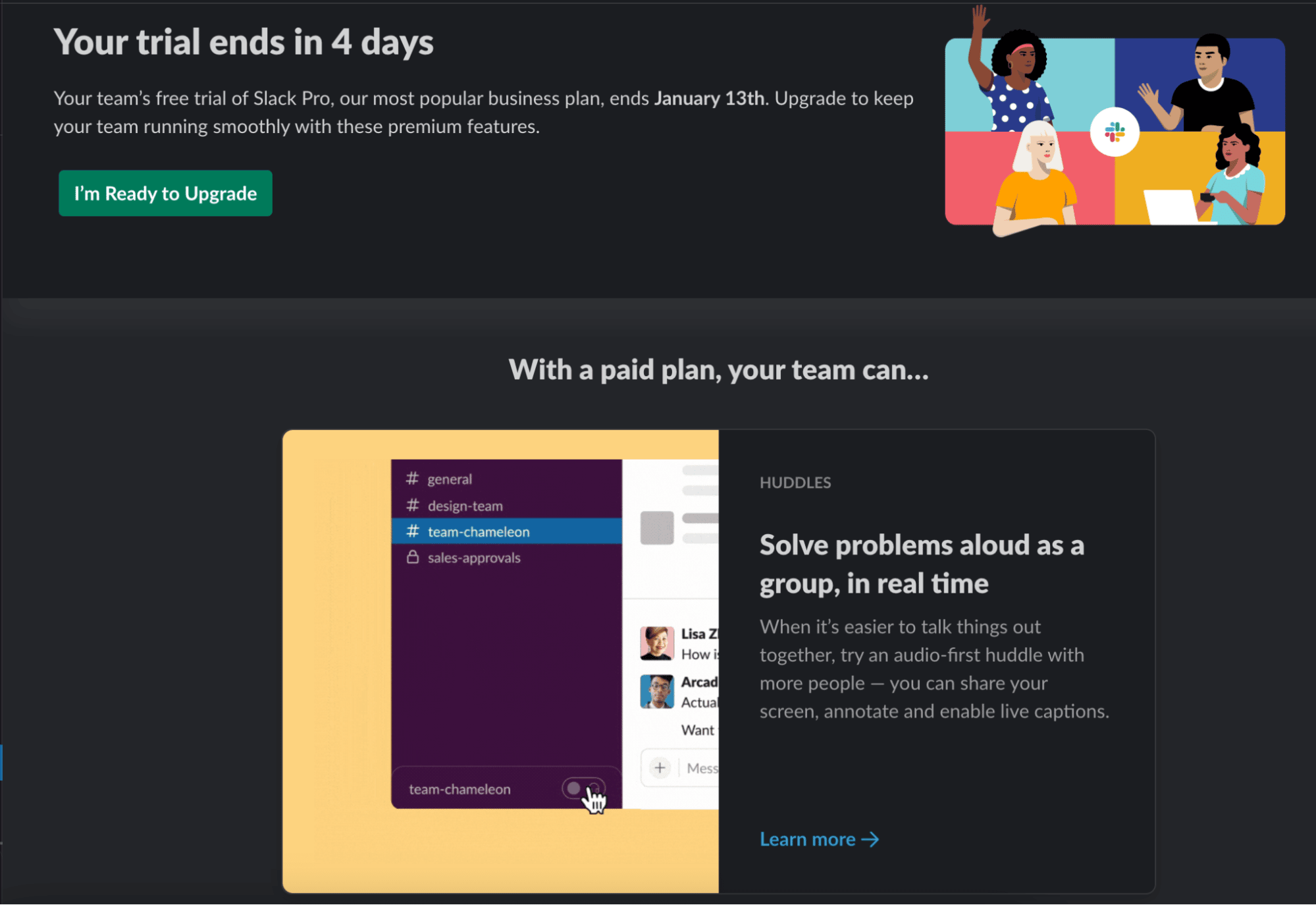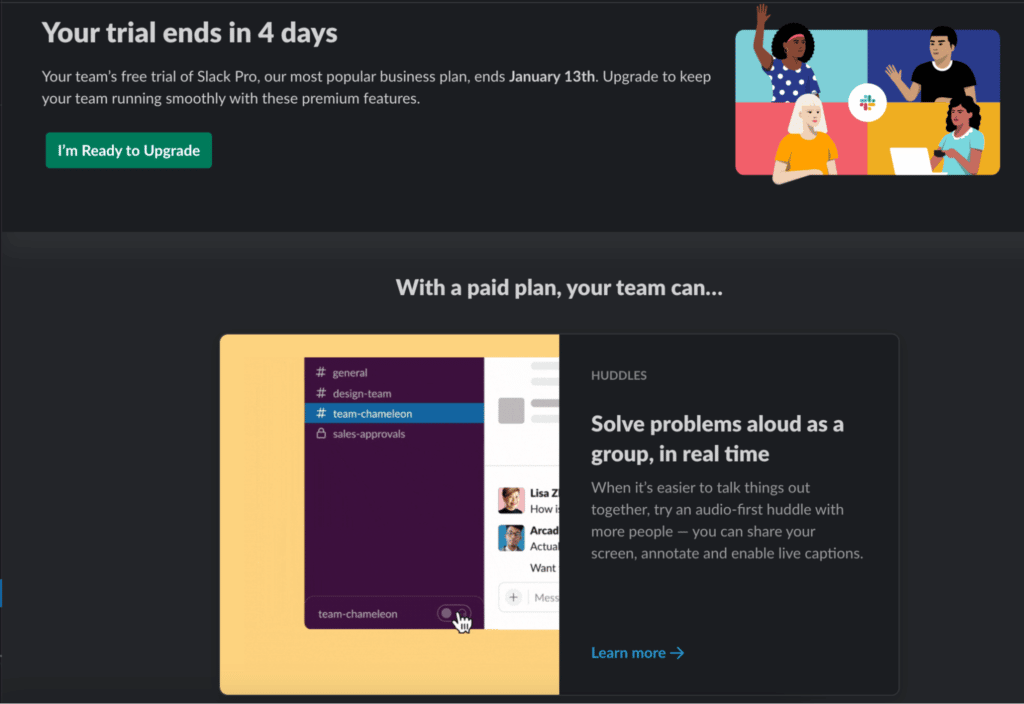 Upselling has a two-fold effect. You are now tackling multiple pain points for the user, so your relationship deepens. With higher billing amounts, the user commitment increases, making them more likely to stick around longer.
5. Send Targeted Tips For Increased Engagement
You can set up automated emails which get triggered when the user performs a specific action to engage them further.
For example, if the user completes designing a sales page, you can email them saying, "Congratulations on setting up your first page. Here is how to get the best out of your sales pages", and direct them to a blog or an informative video.
You can also engage them with additional functionality. In this case, you could tell them how pairing your sales page with an exit pop-up can help, and direct them to the pop-up designer in your app. Tips like this add value to the customers' efforts and make them stick around.
For instance, here's an email that Trello sends to users with a list of a few software integrations that are available within the platform and links to the respective integration pages.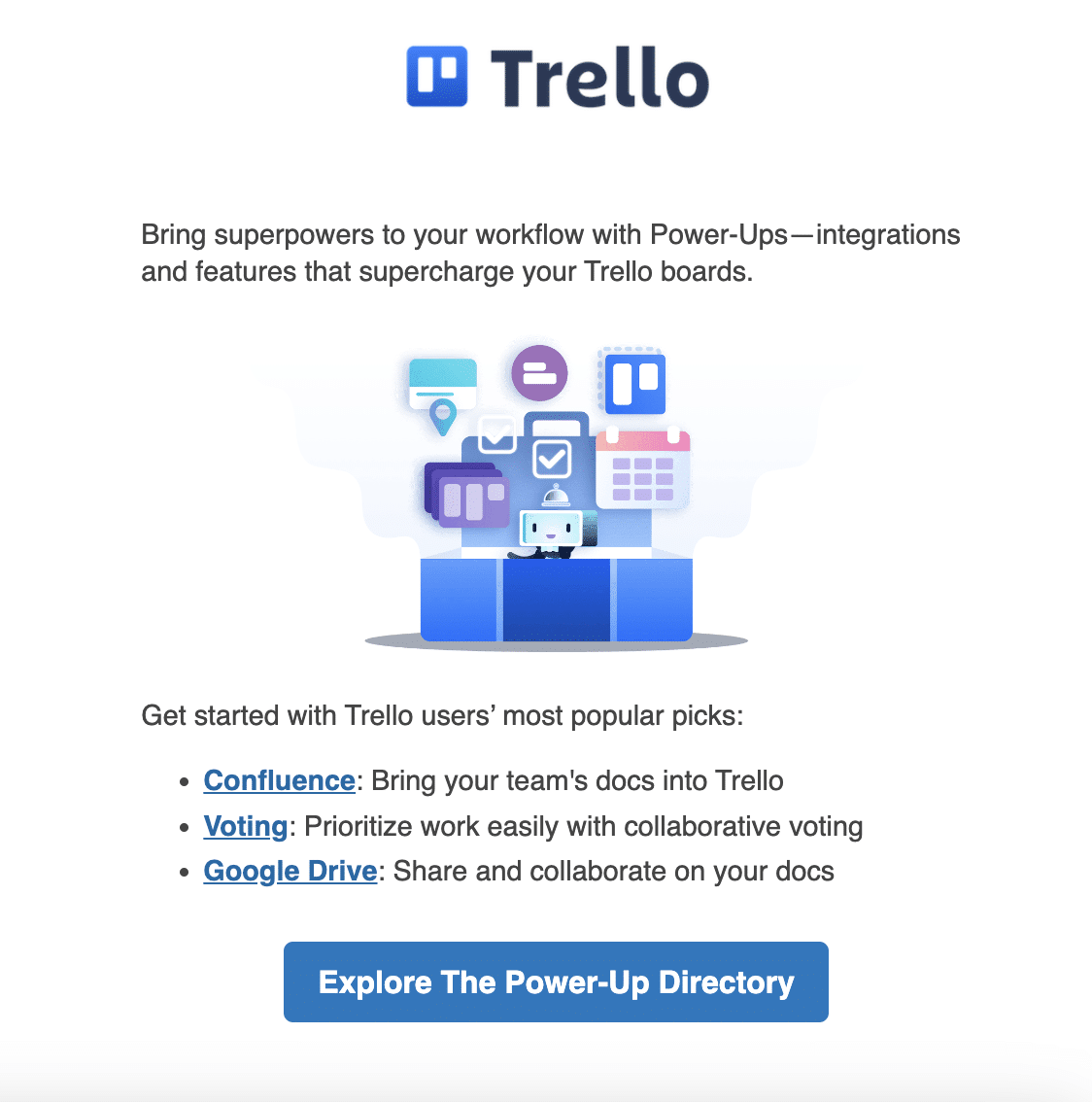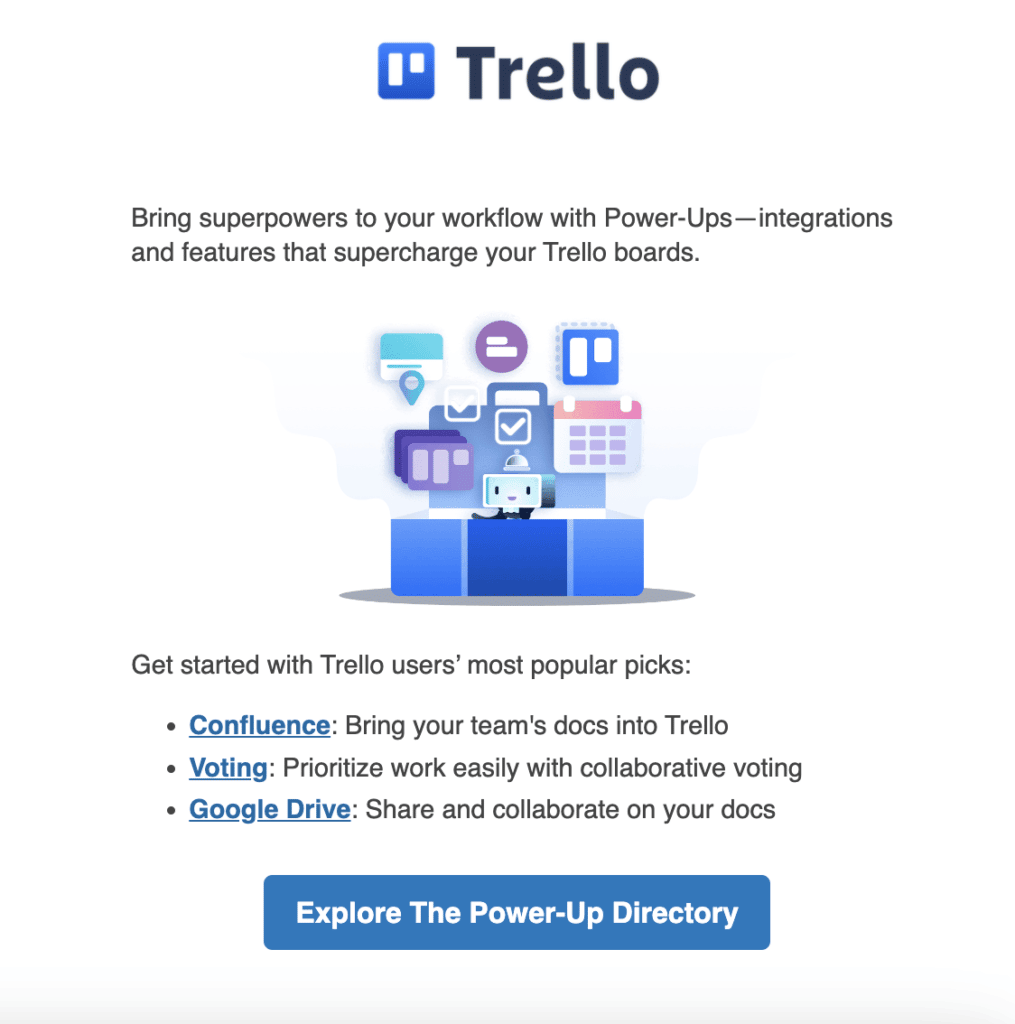 Strategies for Providing Customer Delight
Delighting your customers means exceeding their expectations and pleasantly surprising them with a positive experience. Here are a few ways you can provide customer delight.
1. Maintain A Regular Interaction Schedule
Imagine subscribing to a service and hearing from them only when money is getting withdrawn from your bank account. Not pleasant, right?
You have to make the user mindful of the value you provide, so they don't end up associating you with the feeling of losing money for nothing.
This is why maintaining regular customer interaction is crucial for retention. Even if you don't, if you're not regularly sending content-heavy emails, call them once in a while just to say "hi" or see how they are doing with the product.
It shows the users that you care beyond the money – you actually want to help them achieve their goals.
Once again, here is an example from Trello — which is very consistent with its customer communication (including a themed Halloween message):


2. Keep Updating & Upgrading Your Product
This is another way to let users know that you're working to help them achieve their goals.
Invite constructive feedback on your product (more on this later), and keep improving your product via upgrades and new features. As users see more value over time, customer retention rates will keep increasing.
Churn also sometimes occurs due to boredom — as users interact with a stale platform over time, it may result in decreased perceived value and lesser engagement consequently. Releasing new versions will help fight that.
Finally, don't forget to keep your customer up to speed on all the updates and upgrades you make, even after the fact. For example, at Custify, we maintain a database of all the product updates, which is available to the users as part of our knowledge base: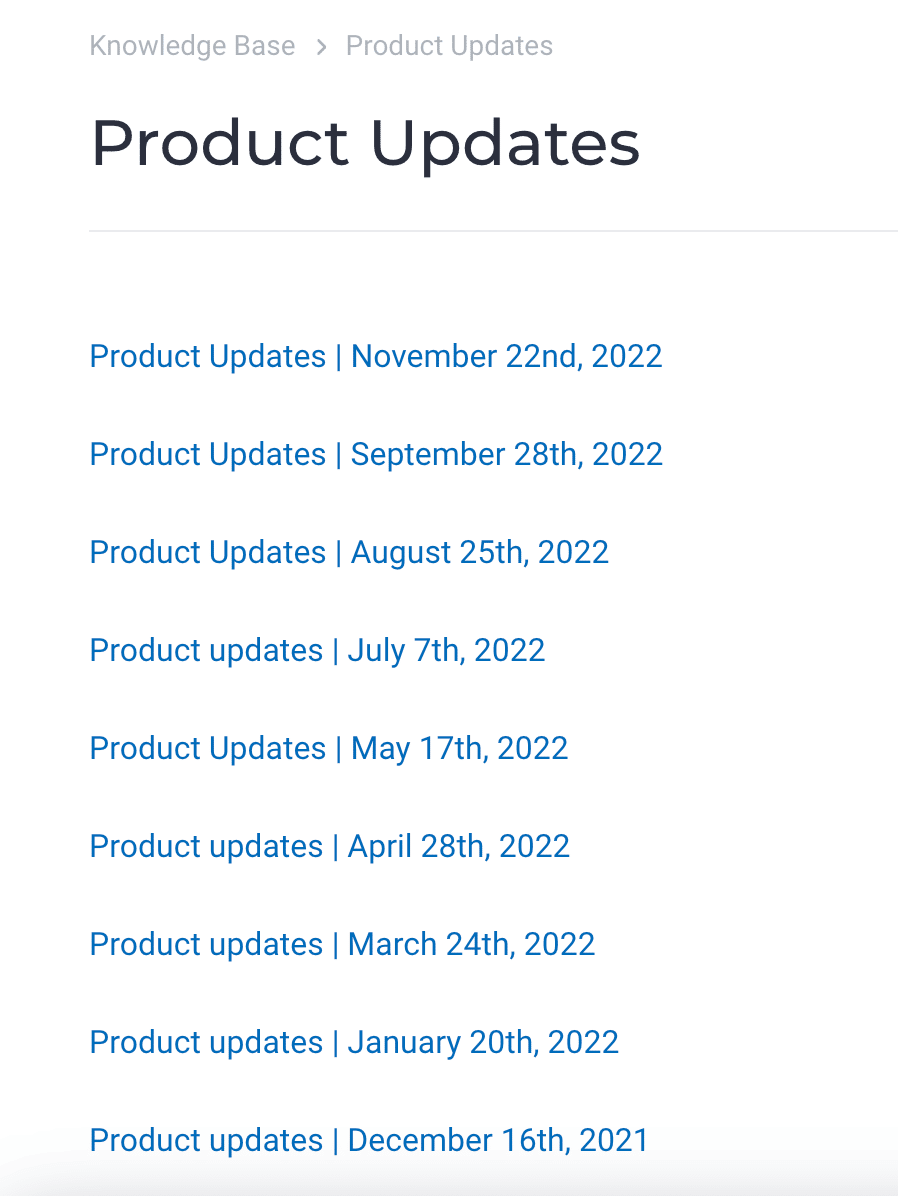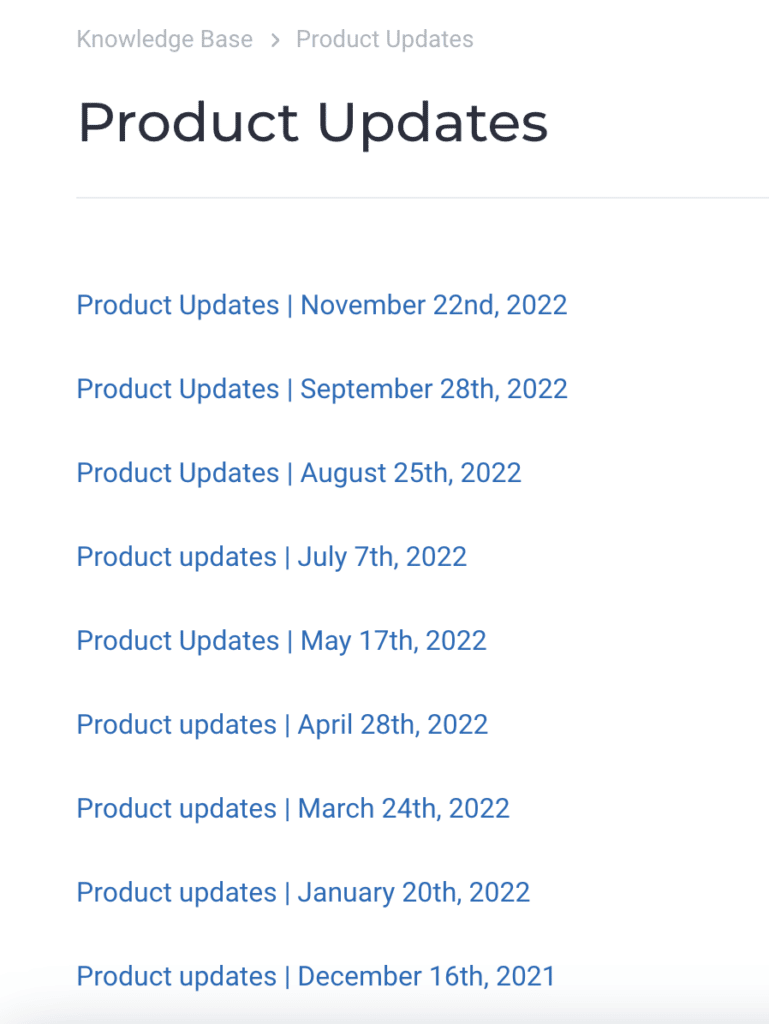 3. Offer Exceptional Customer Service
We've said before, and we'll say it again – customer service can make or break an organization.
Users may put up with a bug in your UI if you can solve their problem immediately, but a bad customer service experience will turn off most of them.
In fact, 67% of users cite bad customer service experience as the primary reason for churn. Customer service issues are the experiences that speak to users about your attitude toward solving their problems.
When solving these issues, practice delighting users. Always go overboard with your efforts — even if you make a mistake, 78% of customers will refrain from churning as long as your customer service is good.
Think of any issue a user faces as a bump in the road to the perfect customer experience. Not only do you remove the bump, but you also give the users something extra for their troubles.
Also, keep in mind that an excellent customer service approach also includes providing self-service solutions to your customers — a must-have in 2023. Self-service offerings may include a knowledge base, a resource hub for developers, or a community forum.
Here's an example of the latter, courtesy of Intercom:


4. Reward Your Customers
When users do stay with you for a long time, you should reward them.
Let them know you appreciate them sticking around. If done right, loyalty programs will help both the user and your company, making it a win-win. In fact, 79% of consumers prefer to do business with companies that offer loyalty rewards.
Loyalty rewards don't need to be complicated. A simple discount, upgrade, or freebie (like a free month of subscription/upgrading their plan) can work wonders to invoke further loyalty.
Or, you could start an entire partnership program with special rewards and benefits for your most loyal customers, like Hotjar: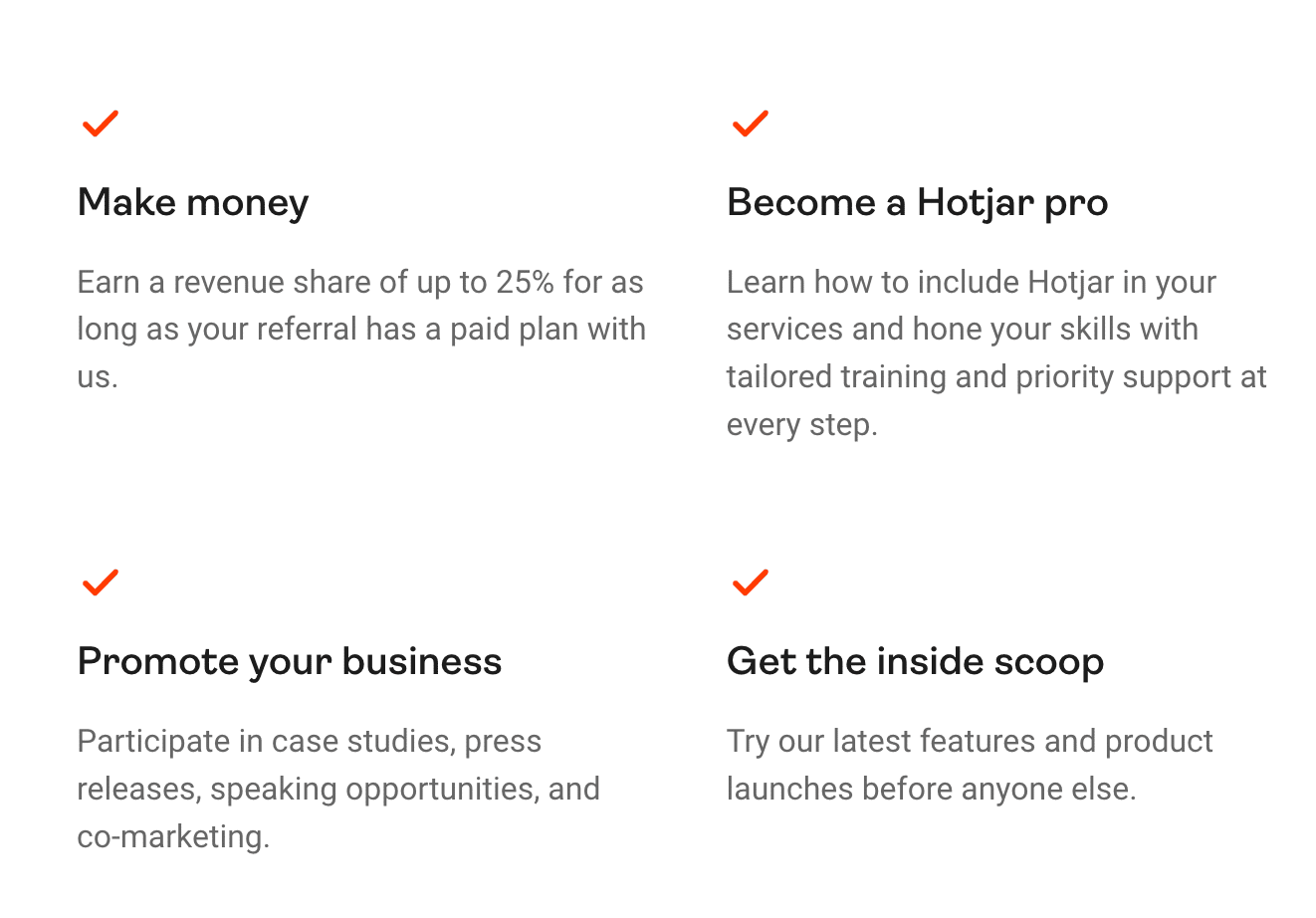 Strategies for Engaging in Proactive Listening
By proactively listening to your customers, you can anticipate and resolve their concerns before they arise to further boost satisfaction and loyalty. Here's how.
1. Ask for Feedback
The easiest way to get feedback from your customers is, unsurprisingly, to simply ask. So, don't hesitate to send your customers an occasional survey as part of your newsletter or on the post-checkout confirmation page.
The keyword here is "occasional." Trust us, you don't want to badger your customers about a survey at every step of the way. Instead, opt for asking them for feedback at key stages of their journey when your customers feel most in charge, such as after a successful upsell or following an important milestone.
2. Avoid Surveys on Service Tickets
Feedback on the customer service resolution experience can be a great way to optimize your process, but it can also annoy the user in unwanted ways.
Put yourself in the users' shoes. You faced an issue and went through the trouble of getting it resolved. Thankfully, the resolution process was smooth. But now the team keeps on pestering you to give feedback on your experience.
It's the same as the annoying reporter asking a crash victim questions about their rescue as soon as they're saved. The key to getting them to talk is the time and place — and the same applies to your customers.
3. Nurture a Community for Your Customers
Building a support community around your brand has benefits for both the brand and the customers.
By getting to interact with other users and your team, your customers will get a feeling of belonging. That's where you move from a formal to a personal relationship with them. Interacting with your users at a grassroots level is also a source of invaluable feedback.
4. Measure Engagement
As we mentioned above, collecting user feedback at the right time and place is one of the most important factors for customer retention. With the help of the right technology, you can do most of it without pestering the users to fill out annoying forms. This can be achieved by measuring their engagement with your product/website by tracking their behavior.
At Custify, we've developed a tool that allows you to track all your user engagement KPIs in one dashboard as part of the customer Health Scores. It alerts you when users are exhibiting churn-like behaviors, so you can intervene at the right time with the right message.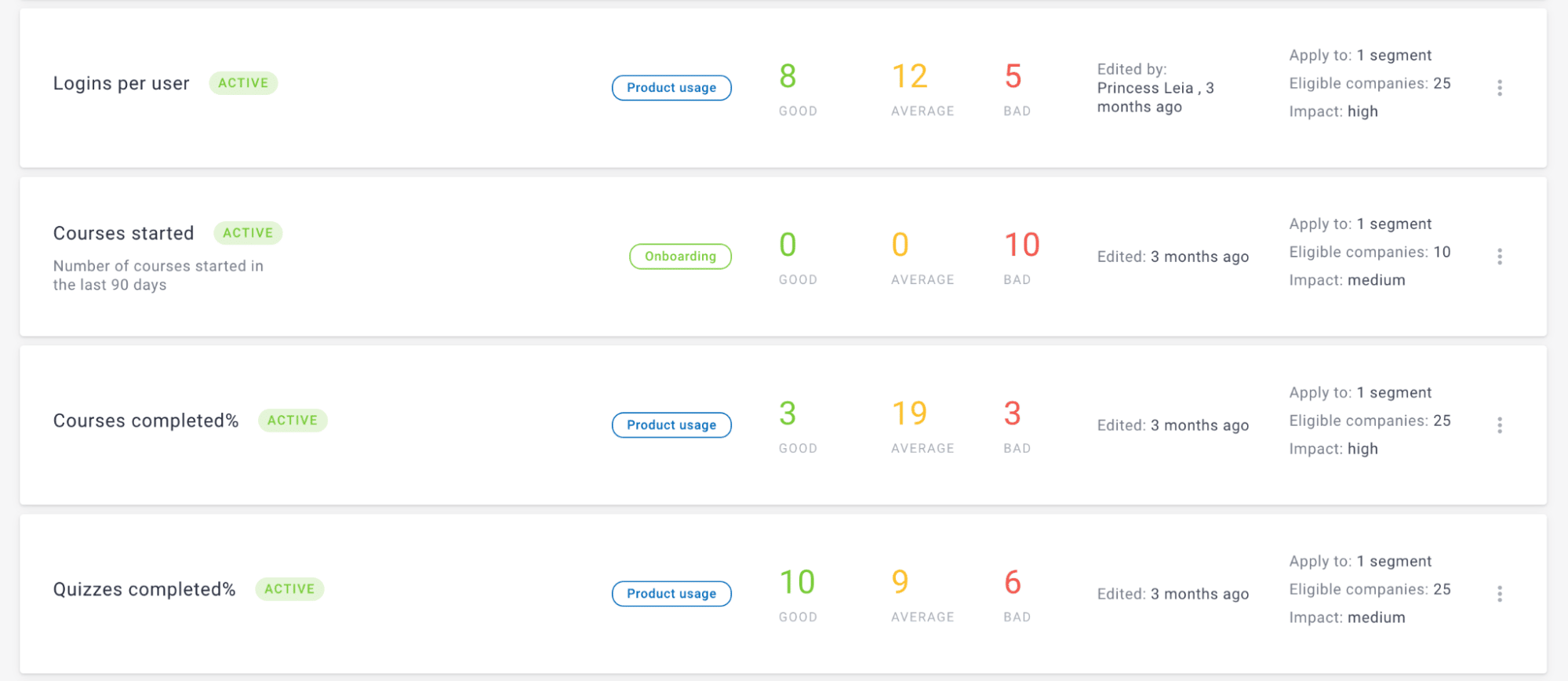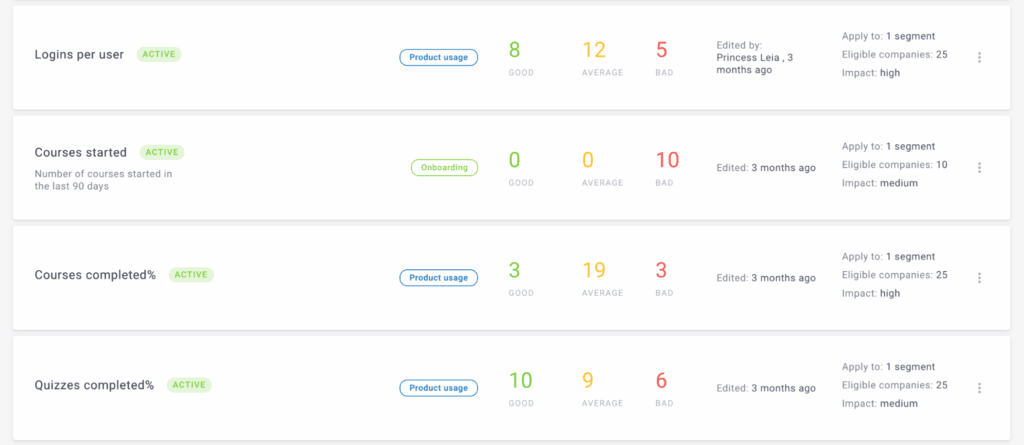 5. Offer Exit Surveys
Let us be clear – if someone wants to leave, never make it hard for them to do it. This approach which works in real life holds true for SaaS as well.
Make your cancellation policy super simple to avoid breakouts on social media by grumpy users. Customers typically leave for a valid reason, and this allows you to use exit surveys to gain enormous insight into the things you are doing wrong. This will help you increase retention for future users.
Wrapping Up on Customer Retention Strategies
Customer retention in SaaS is all about respecting the time and problems of your customers and making your service worth their while.
People will always be happy to pay to get their problems solved by someone who understands them. The better you understand your users, the longer you can get them to stay.