While getting new customers is important, nurturing the existing ones is the foundation of building a successful business and maintaining its sustainable growth. Though obviously no business is able to retain each and every customer due to a variety of reasons, consider that about 65% of a company's business comes from its existing customers.
Yet, a huge number of businesses still don't have a solid customer retention strategy in place and struggle to keep their current customers. Let's take a look at some of the most common customer retention challenges and how your business can overcome them.
What is customer retention?
At the most basic level, customer retention is the ability of a company to retain its customers over a period of time. That includes all the activities a business undertakes in order to build long-lasting relationships with customers, encourage them to return for repeat purchases and prevent them from switching to a competitor. Customer retention strategies are focused on keeping existing customers and maximizing customer lifetime value, typically through customer loyalty initiatives.
Why is it important to retain customers?
You might have heard many times that acquiring new customers costs businesses anywhere from 5 to 25 times higher than retaining existing ones. Over the past years, various studies have also proved the undeniable link between a business's ability to retain customers and its profitability.
Customer retention is crucial to a company's expansion and success. These are the main reasons:
What are the factors that influence customer retention?
Why do some customers churn while others stick around with your business for the long haul? There are numerous factors – both objective and subjective – that can influence your customers' purchasing decisions and ultimately your customer retention rate. Though it largely depends on your industry, the type and size of the business you are in, some of the basic factors that can affect your customer retention are the following:
The perceived quality and added value of your products/ services
The quality of customer experience delivered by your company
The quality of customer service and support provided
The level of personalization in your interactions with customers
The cost and the difficulty of switching to a competitor
8 Most common customer retention challenges and how to overcome them
Let's take a closer look at the most common customer retention challenges businesses are facing today and what you can do to handle them. If you manage to overcome at least some of these challenges, that can significantly improve your customer retention rates.
1. You put more effort into acquiring new customers
Building and maintaining a steady pipeline of new customers is surely important to growing a business. However, since 80% of your revenue comes from only about 20% of your customers, it's equally or even more important to focus your sales and marketing efforts on retaining the customers who have already purchased from you. Despite that, many companies still focus on acquisition more than retention, even though it costs 7 times more to acquire a new customer than retaining one. And 63% of marketers believe that new customer acquisition is the most important advertising tool.
Solution: Make sure your relationship doesn't end once your leads convert into customers. Invest your marketing and customer success efforts into maintaining long-term relations, improving engagement, increasing customer satisfaction and cultivating loyal customers through loyalty and retention strategies.
2. You don't leverage customer feedback
Are your customers happy with your products, the quality of customer support and the overall experience with your brand? Where do they face friction throughout their journey? What can be done to improve their experience? You might never know the answers to these questions until you ask your customers.
If you don't pay attention to regularly collecting, keeping track of and analyzing customer feedback, you are missing out on enormous opportunities to get insights into where your business needs improvement. Consistently gauging how customers feel about your brand and acting on their feedback is a significant contributor to customer retention.
Solution: If you haven't already done so, build out your customer feedback strategy and start gathering feedback from your customers. Implement Customer Satisfaction Score (CSAT) surveys, Customer Effort Score (CES) surveys and Net Promoter Score (NPS) surveys to measure customer satisfaction and get a deeper understanding of your customers' needs.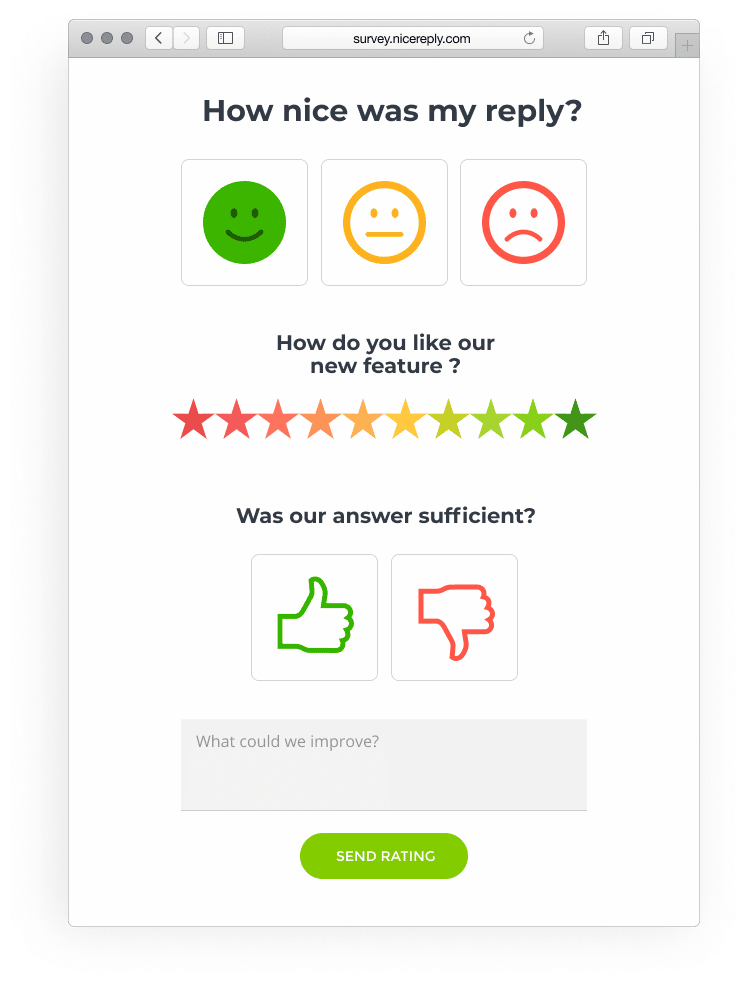 3. You don't provide excellent customer service
Keeping pace with the ever-rising expectations of digitally empowered and demanding consumers, customer service continues to be a major competitive differentiator for brands and an important factor in customer retention. According to the CX Trends 2022 report by Zendesk, more than 60% of consumers now have higher customer service standards, and 61% would switch to a company's competitor after just one bad customer service experience. At the same time, the same survey found that 79% of consumers have made purchase decisions based on the quality of customer service, while 81% will likely make another purchase following a positive customer service experience.
Solution: Make delivering outstanding customer service a priority for your business. Equip your customer-facing teams with the right tools (CRM, Help Desk, Customer Success Software) that will enable them to provide a seamless, consistently positive experience across all channels and exceed customer expectations.
4. You fail to deliver personalized experiences
Today's consumers expect brands they spend money with to treat them as individuals rather than just numbers. That is why personalization plays a key role in shaping customer experiences and driving customer retention. Based on various studies, 63% of consumers will stop buying from brands that use poor personalization tactics, while 80% are more likely to do business with a company if it offers personalized experiences. That said, 98% of marketers believe personalization advances their relationships with customers.
Solution: Use the power of data analytics to get to know your customers deeper, understand their behaviors, interests, needs, and preferences. Use that data-driven information in your CS tool and marketing campaign management software to better tailor your customer success and marketing campaigns and deliver more personalized experiences to your customers.
5. You lack a human touch in customer interactions
Despite the rapid rise of automation, AI-powered systems and chatbots, a huge number of consumers would still prefer a human interaction with a business, especially when it comes to customer service engagements. According to the PwC Future of Customer Experience Survey, 75% of global consumers want to interact with a real person even as technology for automated solutions improves, and 59% feel companies have lost touch with the human element of customer experience.
Solution: If you employ automated solutions and AI chatbots, make sure your customer support is still backed up by a team of human agents. Allow your customers to reach out to your business and get assistance from a real person, because nothing beats human touch in customer service interactions.
6. You don't invest in customer loyalty initiatives
Most business leaders agree that loyal, emotionally committed customers are easier to retain. Customer loyalty is largely driven by various loyalty initiatives like loyalty programs, rewards, special offers, etc. Based on the Bond Loyalty Report, 80% of consumers say that loyalty programs make them more likely to continue doing business with brands, 73% are more likely to recommend brands with good loyalty programs and 68% would even spend more to maximize the benefits they receive.
Solution: Improve your customer loyalty strategy and start offering incentives that are relevant to your business and bring value to your customers to encourage them to stay loyal to your brand. An effective customer loyalty program can boost engagement and help you retain more customers for the long term.
7. Your competitors are moving faster than you
Today's marketplace is a competitive battlefield. Consumers have access to a wide range of similar products and services, and are willing to switch brands in search of a better value proposition. In fact, 58% of consumers worldwide who had switched brands in the past year were seeking better product quality. Especially if you're in SaaS, your product needs to continuously evolve along with the technology advancements in order to adapt to market standards and changing customer needs.
Solution: Invest time and resources in improving the quality of your offering to deliver better value to your customers and ensure your product has a competitive advantage. Or at least ensure that it's on par with major rivals. If you don't leverage new technology to drive your product improvement and innovation, it's only a matter of time before customers switch to a competitor who does.
8. You are unable to satisfy and retain employees
Employee satisfaction and employee retention come hand in hand with customer satisfaction and customer retention. Happy employees who feel empowered, supported and appreciated are more engaged, motivated and 20% more productive than unhappy employees. That means they are more likely to go the extra mile to satisfy customers and deliver outstanding experiences whenever they interact with customers. And when customers deal with happy employees on a regular basis, that also greatly contributes to their willingness to stick around with your brand for a longer time.
Solution: Build a strong company culture that highly values its employees and is committed to employee happiness. Regularly engage employees and encourage feedback sharing, empower and recognize success. That will improve employee satisfaction, reduce turnover and ultimately increase your company's ability to satisfy and retain customers.
Wrapping up
Retaining your current customers might be challenging as it takes time, effort and strategic transformations within your organization. But the payoff is worth it – considering that retained customers have higher lifetime value and are more profitable for your business. Focus more on building and maintaining long-term relationships with your customers, deliver personalized experiences and excellent service, take advantage of customer feedback, offer customer loyalty incentives, ensure your product is highly competitive and improve employee happiness to retain more customers in the long run.