Whether you're a small business seeking greater organization or an enterprise-level company looking to simplify the customer support process, a knowledge base can be an invaluable asset. But what is a knowledge base, exactly?
This article will cover the what, why, and how of knowledge bases. Keep reading to learn more about how a knowledge base can benefit your business, and how to choose the best tool to get started.
What is a knowledge base?
A knowledge base (KB) is an online repository of information that is designed to help people solve problems or answer questions. Knowledge bases are typically created by businesses to provide self-service support for either customers or employees.
The goals of a knowledge base are to answer common questions, reduce support costs, and improve the quality of customer service. Knowledge bases can take many different forms, but all should allow users to easily find the information they need.
Benefits of a knowledge base
There are many benefits of using a knowledge base, but here are some of the most notable:
Internal
Onboarding: A knowledge base can be a valuable resource for new employees, providing them with the instruction needed to get up to speed quickly. Also, by aggregating this documentation in one place, you can streamline an otherwise repetitive process.
Company policies: Freely store and share company policies, procedures, and other important materials in a central location. By making this information easily accessible, you can help ensure that everyone is on the same page.
Pay schedules and benefits: A knowledge base can be used to post and update pay schedules and benefits information, so employees always have the most up-to-date details.
Contact information: Help your employees get in touch with anyone in the company. From HR to IT, a knowledge base can be used in conjunction with an org chart to store and share contact information for all company departments.
External
Fast self-service: Some customers prefer to find answers on their own, without having to contact support. A knowledge base can improve customer satisfaction by providing a quick way for them to find the answers they need.
Reduced support costs: By providing answers to common questions, you can greatly reduce the number of support calls and emails, which can save a company time and money.
24/7 availability: A knowledge base is an online resource that is available 24/7, which means customers can get answers to their questions at any time, day or night. This can be particularly valuable if you cater to an international audience.
Helps search engine optimization: A well-written and well-organized knowledge base can improve your website's SEO, making it easier for potential customers to find your site.
Knowledge base examples
Before creating a knowledge base, it can be helpful to see how others have done it. For both design and content inspiration, here are three examples of effective knowledge bases: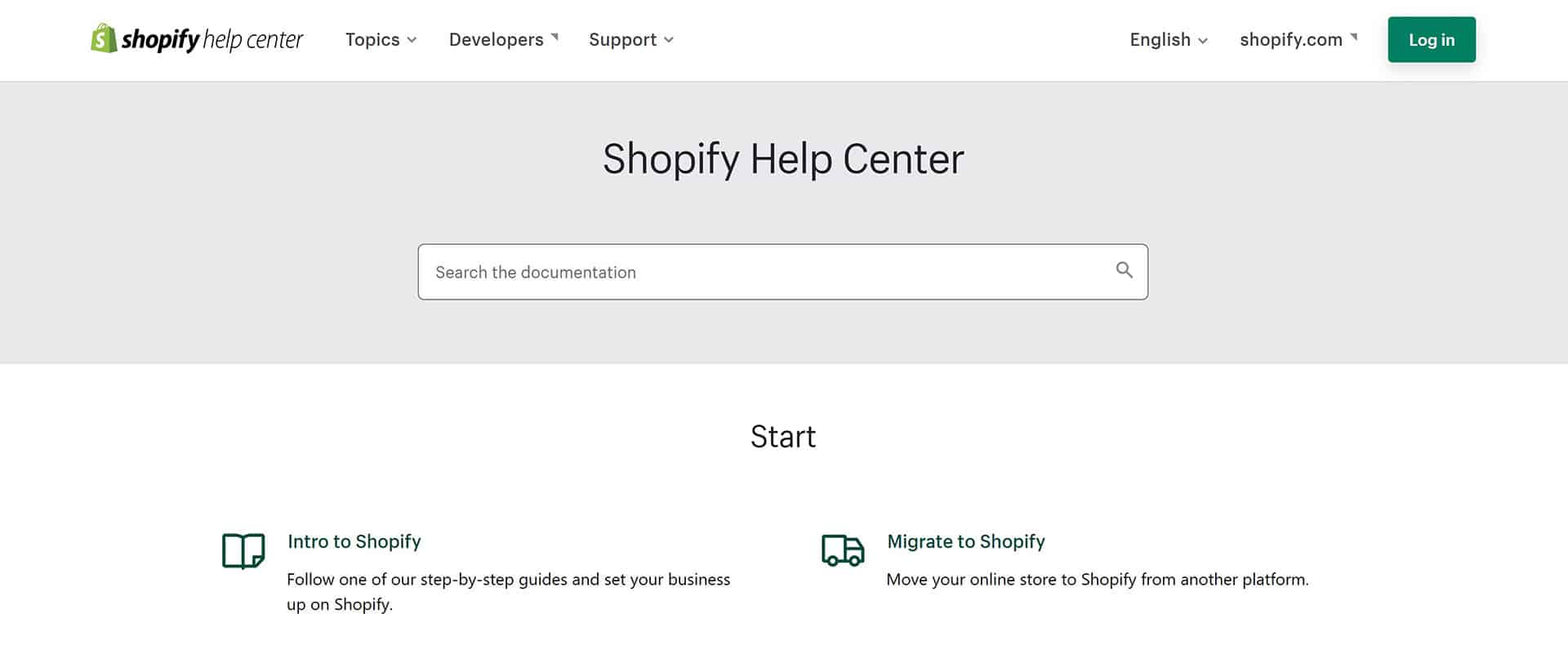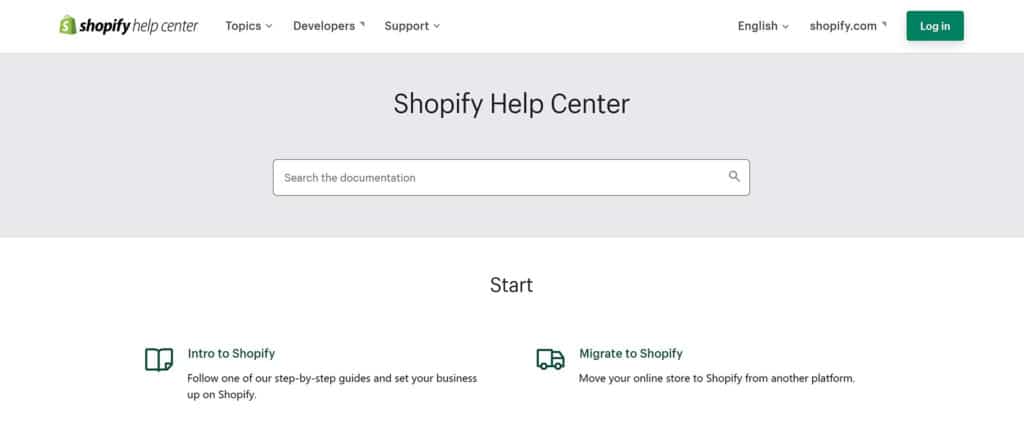 The Shopify Help Center is a great example of an external knowledge base. It's well-organized and easy to navigate, with articles divided into sections based on topics.
Shopify merchants can sift through support documentation on starting a store, selling products, managing the backend system, marketing to new audiences, and expanding as a business. And if none of those topics cover the specific issue they are experiencing, there is a link to contact support at the bottom of the page.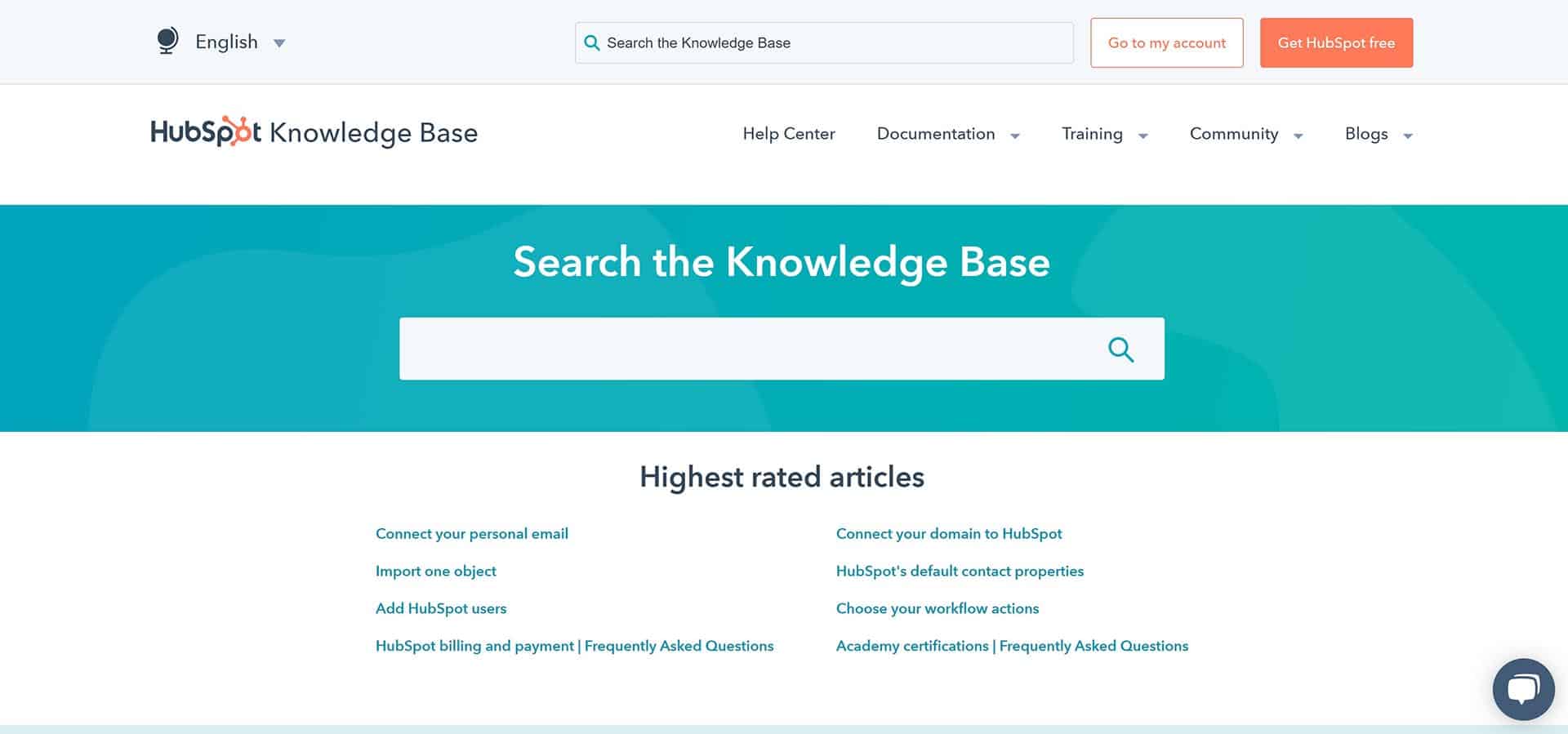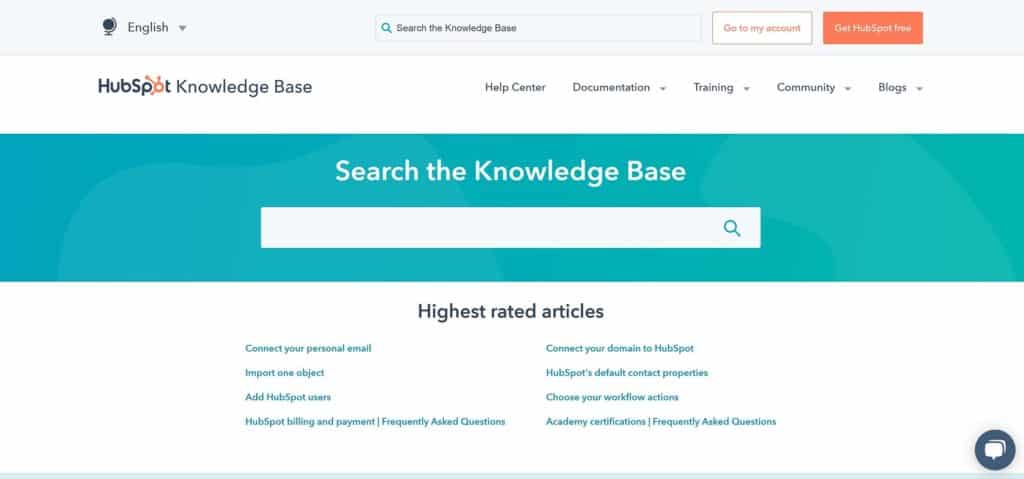 The HubSpot Knowledge Base is another external example, this one geared towards marketing and sales professionals.
It is filled with articles on 10 different topics, all visually represented with icons. Each topic consists of a handful of sub-topics, which makes locating relevant resources a breeze.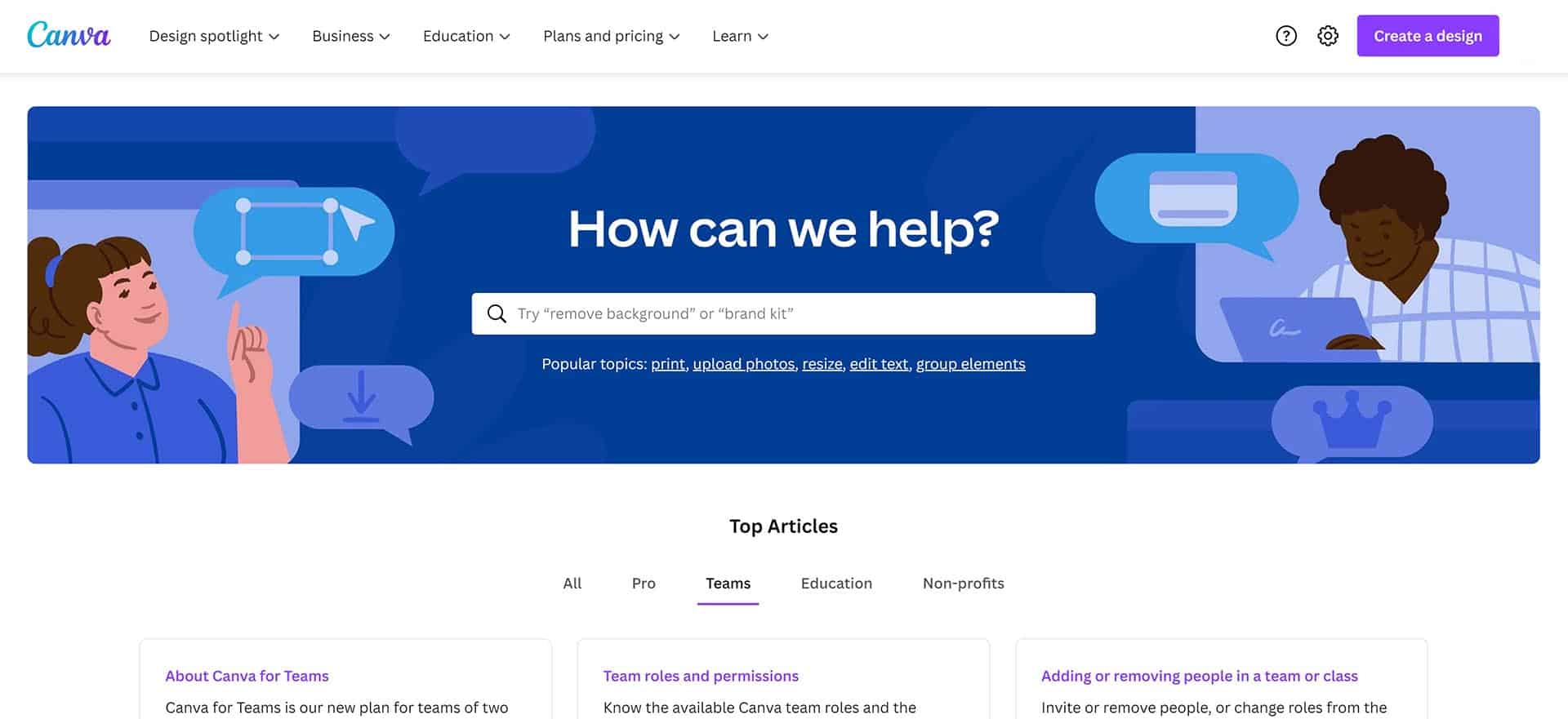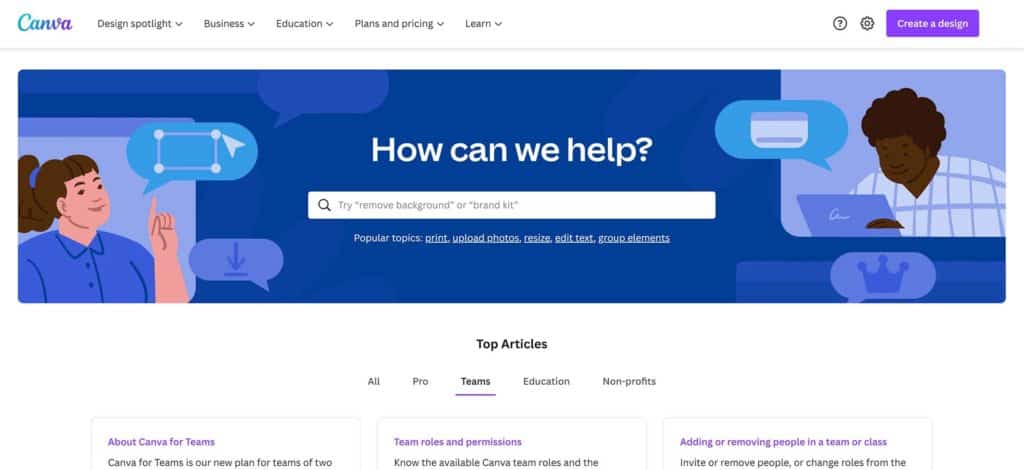 Like the previous examples, Canva lays out its Knowledge Base in a straightforward format.
The search bar is prominently displayed at the top of the page, making it easy for visitors to dig into a specific issue. Just below that, Canva highlights their "Top Articles" which acts as an FAQ page of sorts.
After that, users can explore articles by category. And if they still can't find what they need, there's a link to message the support team.
How to build a knowledge base
Now that we've looked at what a knowledge base is and explored a few examples, it's time to start building your own. Here are the 6 key steps to take:
1. Create an organizational system
First, establish an organizational system for your knowledge base. This will help ensure that your content is always easy to locate and digest.
There are a few different ways you can do this:
By topic: Group articles by topic or subject matter. For example, you could have a section for "Billing" and another for "Shipping."
By product: If you offer multiple products or services, you may want to group articles by each one. For example, you could have a section for "Product A" and another for "Product B."
By audience: Organize articles by who they are intended to help. For example, you could have a section for "Enterprise" and another for "Small Teams."
2. Create a style guide
To reinforce your brand identity and maintain consistency across your knowledge base, create a simple style guide. This document should spell out how your content will look and feel.
At a minimum, your style guide should cover the following:
Tone and voice: How do you want your articles to sound? Formal? Casual? Humorous?
Formatting: How should your articles be formatted? Are there certain font or color requirements the team should adhere to?
Images: What type of images will you use? Should they be a certain size or resolution?
3. Assign sections
Before you dive into the content, decide which topics or categories should be covered in your knowledge base. This will help you determine what articles need to be written and where each piece of content will live. Be sure to develop content for every stage of the customer journey, buyer persona, and product you have to offer.
Next, assign each topic cluster to an owner. Depending on the size of your team, an owner may be charged with the upkeep of one or several sections. To the extent possible, try to match owners with categories that align with their skills, expertise, and job functions.
4. Assemble content
It's time to start writing articles! By dividing responsibilities among owners, you should be able to move through this phase relatively quickly.
However, if your backlog of articles is growing, consider establishing an editorial calendar. This will help you prioritize the most important articles, keep track of deadlines, and continue to move forward.
As you and your fellow authors assemble content, keep the following in mind:
Keep it organized: Begin each article with a clear and concise headline. Then, use headings and subheadings to break the content up into manageable chunks.
Make it scannable: No one wants to read a wall of text. Use short paragraphs, bulleted lists, and other formatting techniques so that your content is scannable.
Include visuals: A few images can go a long way in making your content more engaging. Whenever possible, add photos, infographics, screenshots, and other visuals to your articles.
5.  Revisit content regularly
Your knowledge base is never "done." As your products, services, and team evolve, so too will your needs. As such, it's important to revisit your content on a regular basis.
At a minimum, you should review articles:
When something changes: If a product is updated or a process changes, be sure to update your content accordingly.
When something breaks: When an issue arises, consider adding an article to your knowledge base that addresses the problem. Even if you intend on contacting customers proactively, it is still helpful to have this content available for future reference.
When something is outdated: Articles that are no longer accurate can do more harm than good. If you come across an article that's out of date, be sure to either update it or remove it altogether.
6. Manage it with software
Knowledge base software provides a central repository for all your content, making it easy for customers to find answers to their questions. Additionally, most knowledge base tools come with a number of features and functionality that can further improve the quality and efficacy of your content, including:
Search engine optimization: Knowledge base software can help you optimize your articles for search engines. This allows customers to quickly find answers and can even boost your organic traffic.
Analytics: With built-in analytics, you can track how your articles are performing, uncover insights, and make changes to better address issues.
Version control: Knowledge base software gives you the ability to track and manage different versions of your articles. This is especially helpful when making regular updates.
3 best knowledge base tools
There are many different knowledge base tools available, each catering to a slightly different set of requirements.
Although the best tool for your business will ultimately depend on your specific use cases and budget, here are three of the best options on the market: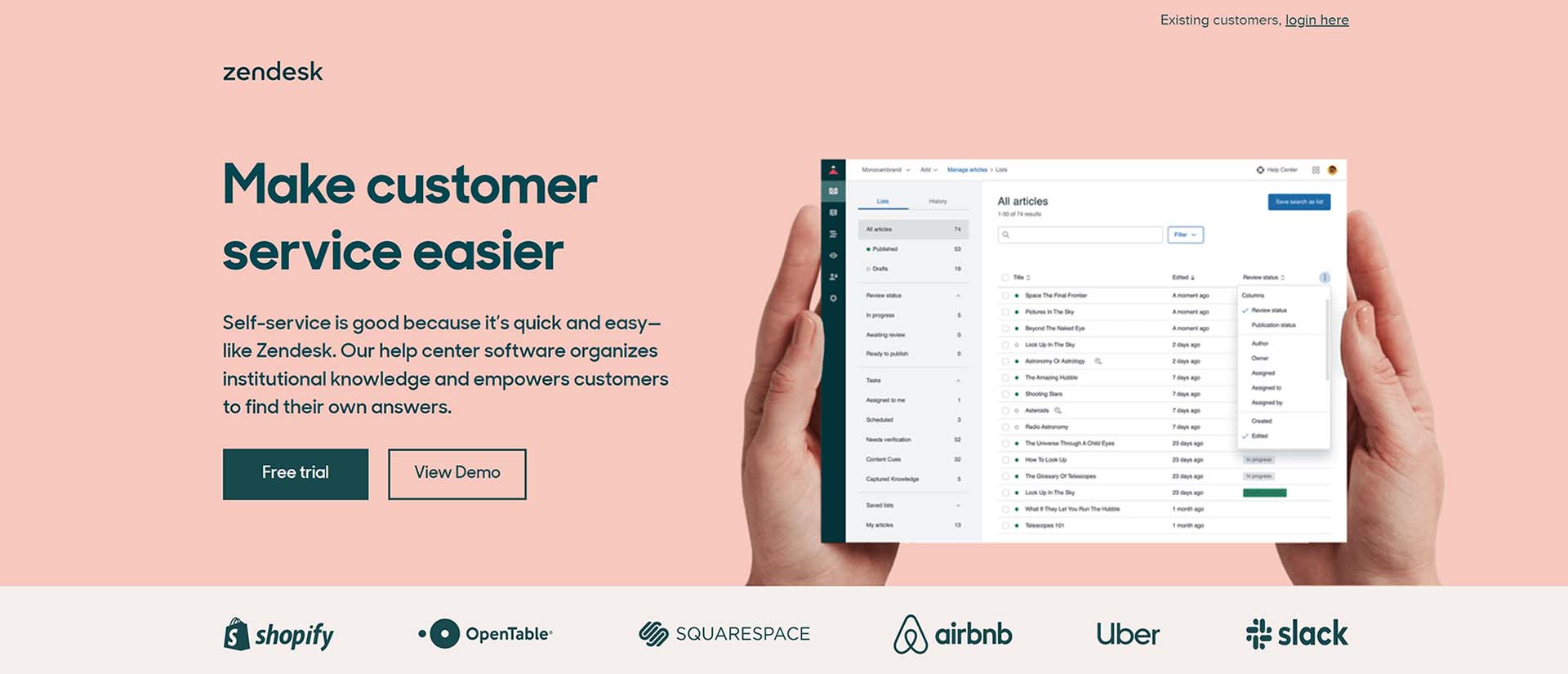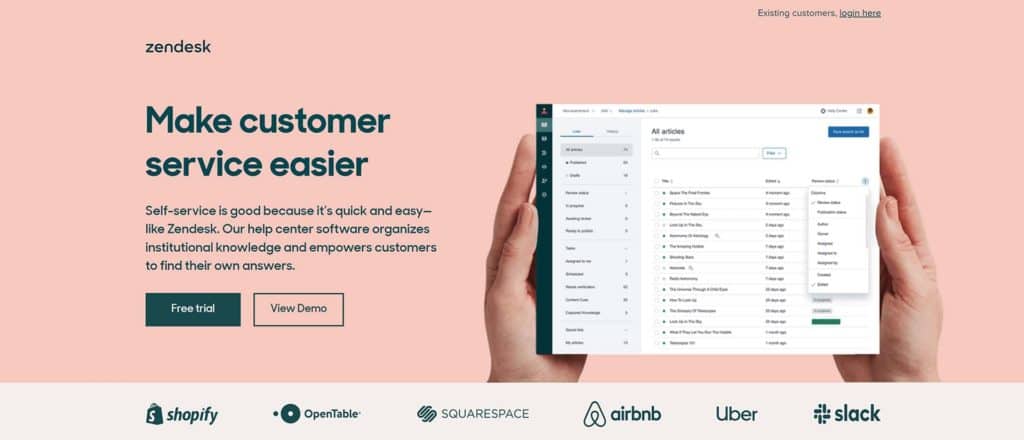 Zendesk offers a comprehensive knowledge base solution that's designed to improve customer support.
With Zendesk, you can quickly and easily create articles, categorize them, and add searchable tags. Zendesk also surfaces content gaps and suggests new article topics through customer search data.
Top features:
Content management
Self-service portal
SEO
Search
Analytics
Custom branding
Price: $49/agent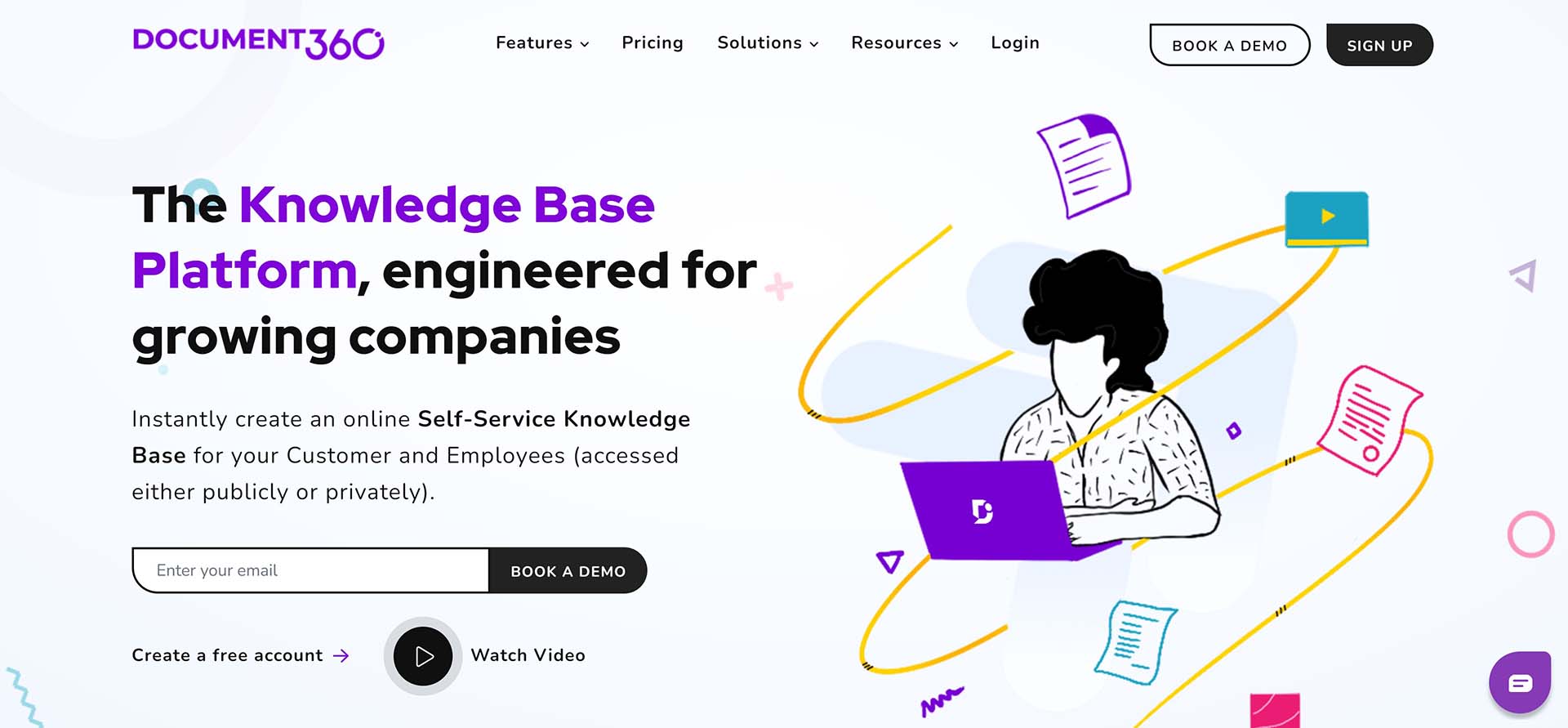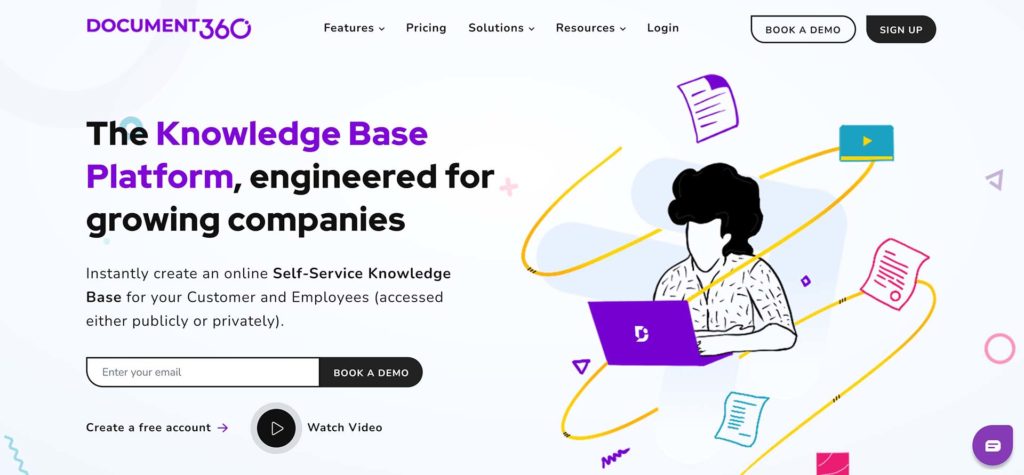 Unlike Zendesk, Document360 is a tool that is specifically designed for creating knowledge bases.
With both internal and external facing solutions, Document360 makes it easy to share content with employees and customers alike. The software is widely used for technical documentation, product help docs, and online user guides.
Top features:
Content management
Article templates
Self-service portal
Custom domain with SSL
SEO
Custom branding
Cookie consent
Price: $99/project (up to 5 agents)



Notion is an incredibly flexible tool that can be used to create an internal knowledge base, kanban boards, checklists, and more.
Initially developed as a database and note-taking app, the software has gained popularity among project managers and small business leaders. While Notion doesn't offer all the bells and whistles of some other tools, it is an affordable and highly customizable solution for internal organization.
Top features:
Content management
Flexible organization
Template gallery
Bidirectional linking
Search
Price: $8/user (Notion also offers a free tier for individuals)
How we chose the best knowledge base tools
To choose the best knowledge base tools, we considered a wide range of products and used these key criteria to inform our decision-making process:
Ease of use
Knowledge bases should be easy to create, use, and maintain. The best products strike a balance between being user-friendly and feature-rich. We ranked products higher if they offered a simple content management system and intuitive navigation.
Pricing
What good is a knowledge base if it's too expensive for your business to afford? We looked for products that were reasonably priced for growing businesses and offered a free trial or a free tier.
Templates
Article templates can be a helpful starting point for creating new content that is well-organized and on-brand. We favored products that offered a variety of templates as well as the ability to create custom pages.
Search
Knowledge base search should be fast and accurate. Whether you are seeking an internal or external tool, robust search functionality can save time and simplify the user experience.
Integrations
The best knowledge base tools integrate with the systems you already use, making it painless to share content across platforms. We looked for products that integrated with popular customer support software and CRMs.