Introduction
A successful customer success strategy comes from a delicate combination of manual CS team processes and data insights.
In fact, it's precisely the data insights into your customers that will allow you to establish impactful, actionable CS practices within your organization and drive value for your customers.
In other words, data plays a critical role in customer success — here's how and why you should leverage it: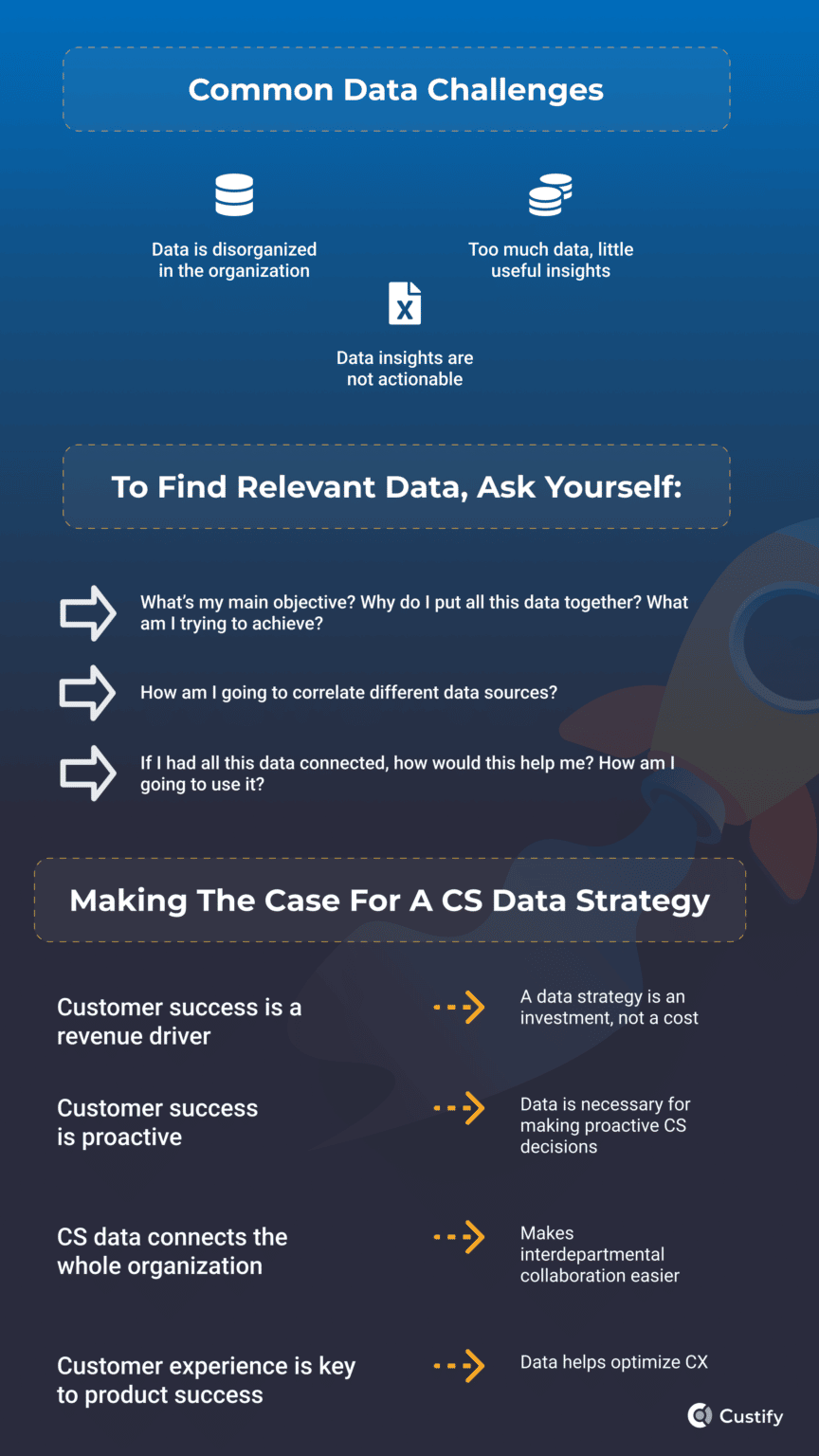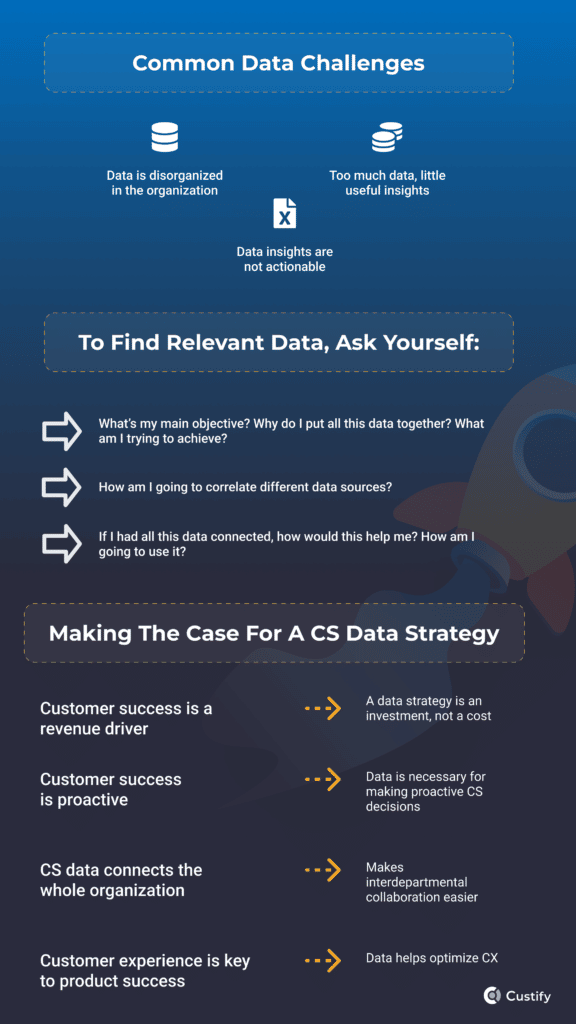 Common Data Challenges In Customer Success
Even if you already have a wealth of customer data within your organization, leveraging it for customer success can be challenging. In fact, even the most data-savvy companies can struggle with using their data for customer success. Here are some of the most common challenges.
1. The Data Is Disorganized
Chances are, you already know how much data you have at your disposal, but you cannot use it effectively because it's all spread out across different tools and platforms, such as your CRM system, your billing platform, your business intelligence tool, and so on.
This is not uncommon in organizations that don't have a unified data strategy that is aligned with their customer success strategy.
For all that data to be useful, it should be united under the singular umbrella of customer success — both theoretically (analyzing and treating the data from the viewpoint of your customer success strategy) and practically (managing all the data with a single customer success platform).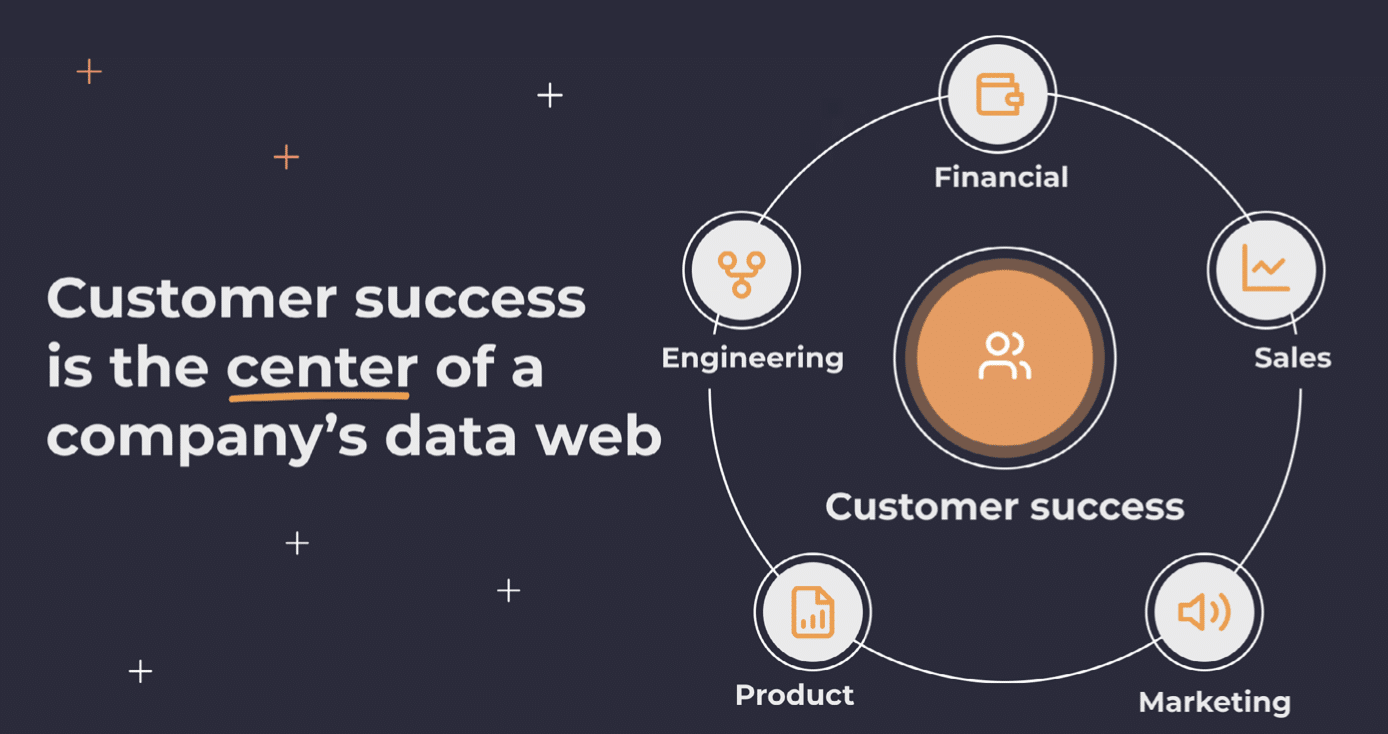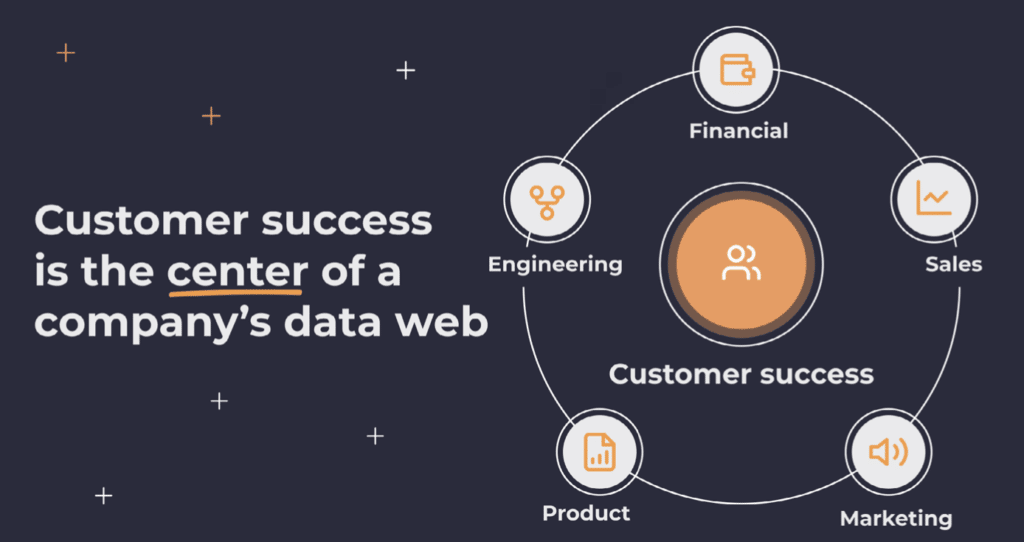 2. There Is Too Much Data
An abundance of data is not always a good thing — especially when it comes to customer success. The truth is, not all of the data you have can be turned into actionable insights that will guide your customer success strategy.
On the contrary, a lot of the customer data that organizations possess is, essentially, just noise. So, how do you fish out the gold from all the sand?
Ask yourself the following questions:
What's my main objective with this data? Why do I need all this data together? What am I trying to achieve?
How am I going to correlate different data sources?
If I had all this data connected, how would this help me? How am I going to use it?
3. The Data Insights Are Not Actionable
Finally, to benefit from the insights that you get into your customers, you should be able to integrate these insights into your customer success strategy. Otherwise, those insights are not actionable and, therefore, not valuable.
For example, consider a certain insight you get from one specific customer — such as the number of meetings you had with them before you could confidently discuss pricing? Is that something you could add to your customer success playbook and apply it to your interactions with other customers? That's how you can recognize an actionable insight.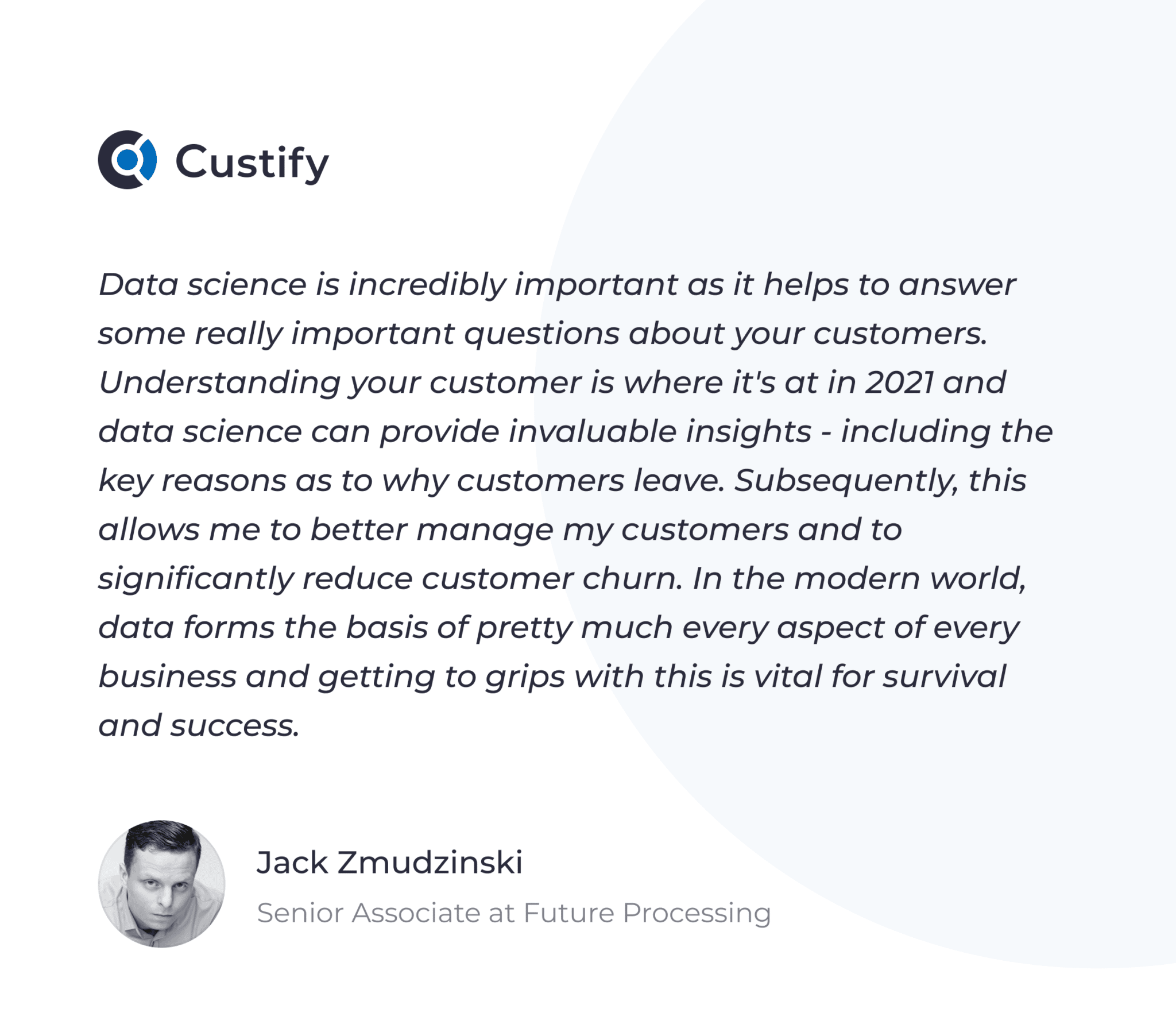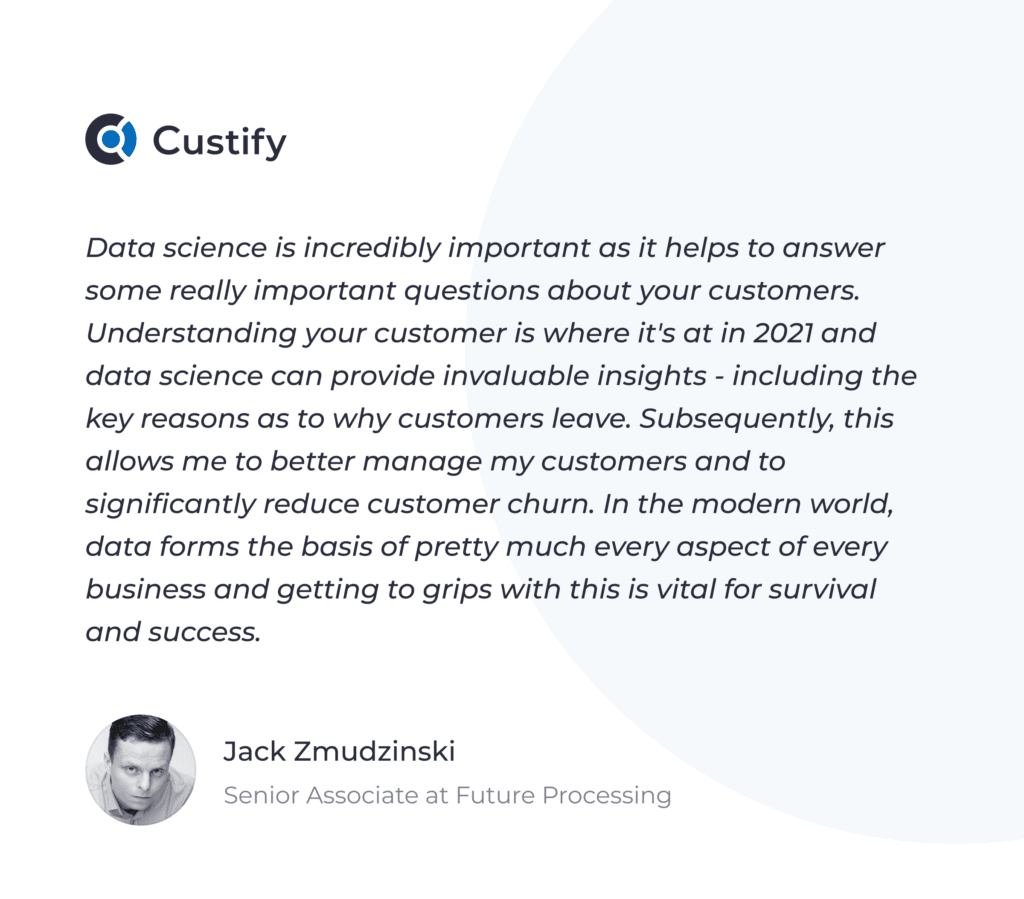 Making the Case for a CS Data Strategy
Leveraging data insights in customer success goes beyond simply strengthening your relationships with your customers and driving more value for them. In fact, implementing a successful data strategy from the perspective of customer success has several far-reaching benefits for your entire organization.
Here are a few arguments you can use to make a strong case for implementing a CS data strategy in your organization.
1. Customer Success Is a Revenue Driver
If Customer Success is seen as a cost center, the company will never commit the resources required to optimize growth and retention. In fact, it will end up cutting its budget, performance will drop and more budget cuts will follow. An all too common vicious circle.
To avoid this, when debating with CEOs and CFOs, don't simply focus on the costs of retaining revenue. Instead, push for a discussion about long-term sustainability and growth initiatives. Customer Success must spearhead and take credit for expansion revenue tactics (upsell and cross-sell), or more commonly known as net renewal rate. To do this, customer success must be fully integrated into the overall corporate strategy.
2. Customer Success Is Proactive
What differentiates customer success from customer success is the philosophy of acting, rather than reacting.
In other words, instead of simply reacting to a customer issue like customer support specialists do, customer success specialists proactively look for ways to ensure customer happiness.
For example, CSMs can monitor product usage and make recommendations on ways to derive more value or reduce cost based on the client's activity, segment or customer base. Customers will then be far more likely to renew and even buy
new features.
3. A Unified CS Strategy Connects Your Organization
Once you start leveraging your customer data for customer success, you should integrate it within your entire organization.
By pushing to connect and integrate customer data into one source of truth for the entire organization, every aspect of the customer journey will be positively impacted. If all teams have access to the same customer context, support can be faster, handovers from sales to CS can be smoother, account managers and CSMs can keep notes and emails in sync.
4. Strong CS Equals Strong CX
According to Gartner, more than two-thirds of companies now compete primarily on the basis of customer experience – up from only 36% in 2010!
So, if you're at this point in time when you share the same features, price and market fit as your main competitors, CX is the key.
Leveraging CS data insights can help you unlock insights into your CX and deliver a strong experience to your customers.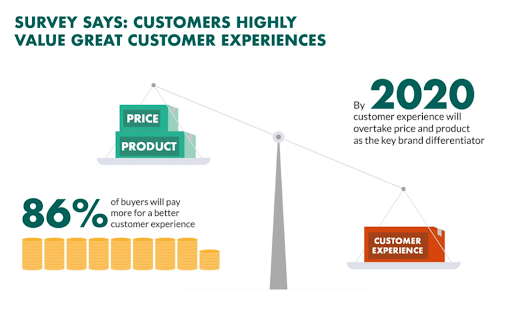 The Essential Customer Success Metrics to Monitor
Now that we've covered the why of leveraging data in customer success, let's discuss the how.
More specifically, let's cover the types of data metrics that you should monitor and leverage for insights into your customers. Generally speaking, these metrics fall into two categories:
Leading metrics that allow you to measure change and your progress in achieving your goals (i.e. NPS, CSAT, Time to Value (TTV), and product adoption)
Lagging metrics that measure your past results, such as renewals, revenue growth, and churn
Moreover, these metrics are all related to different phases of your customer's lifecycle. Here are the ones you should be monitoring during those phases: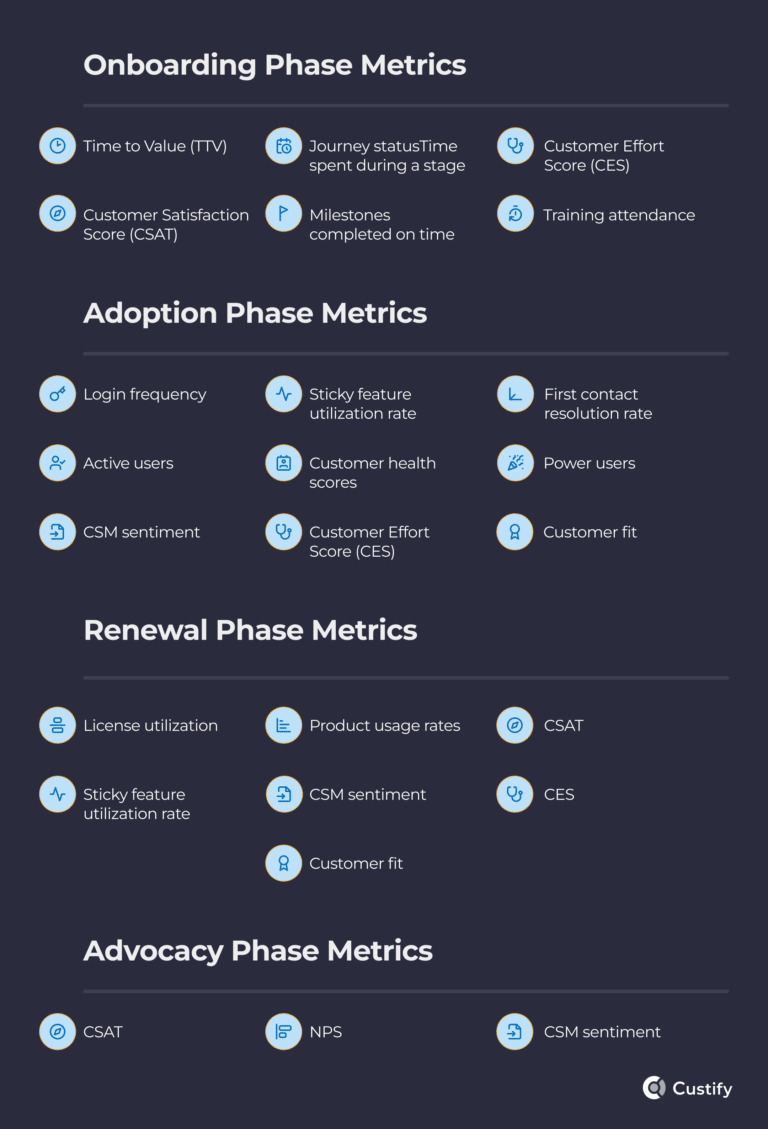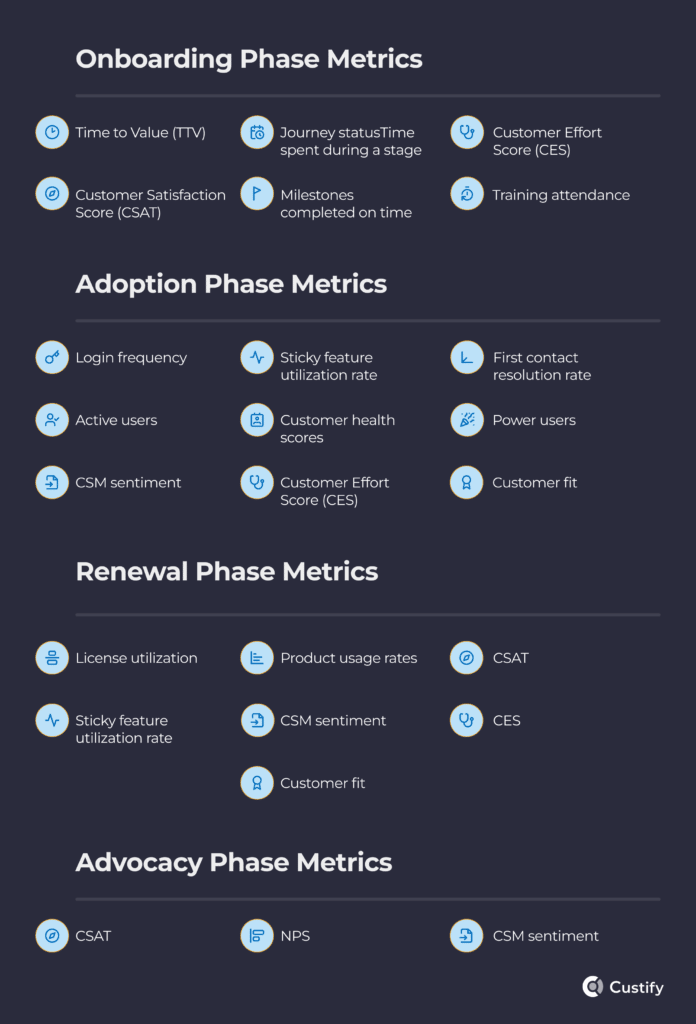 The Elephant In The Room — Leveraging Data Effectively
The wealth of data that your organization has is only as good as the CSMs who will be leveraging that data. So, how do you make sure that your data is in good hands?
Instead of spelling out each action, your CSMs should take in a very descriptive step-by-step playbook, you should focus on hiring individuals who have a high level of business awareness and understand how to find, interpret, and act on data.
Once you build your dream team, it's time to build dashboards that let your CSMs know their portfolio health (payment health, usage health, sentiment health, etc.) at a glance.
If you can zoom in on a customer and identify exactly when and why they went sideways, it's easier (and advisable!) to come up with possible strategies to get them back on track (instead of going by the playbook and applying a previously decided strategy that may or may not work on them).
Now, how do you do this effectively? Data, my friend! An effective data strategy is the cornerstone of every good CS implementation because it's the only way to effectively and quickly detect, diagnose and react to customer needs.