Why the Customer Journey Matters
It's rough out there for B2B companies. The economic winds have changed in 2023, leading to mass layoffs and delayed buying decisions.
This means that net new revenue is more difficult to come by than it used to be.
As a result, many companies are doubling down on customer success to help them weather the storm.
The trouble is that budgets are also being cut across the board – and anything deemed 'non-essential' is being thrown overboard by cost-conscious customers.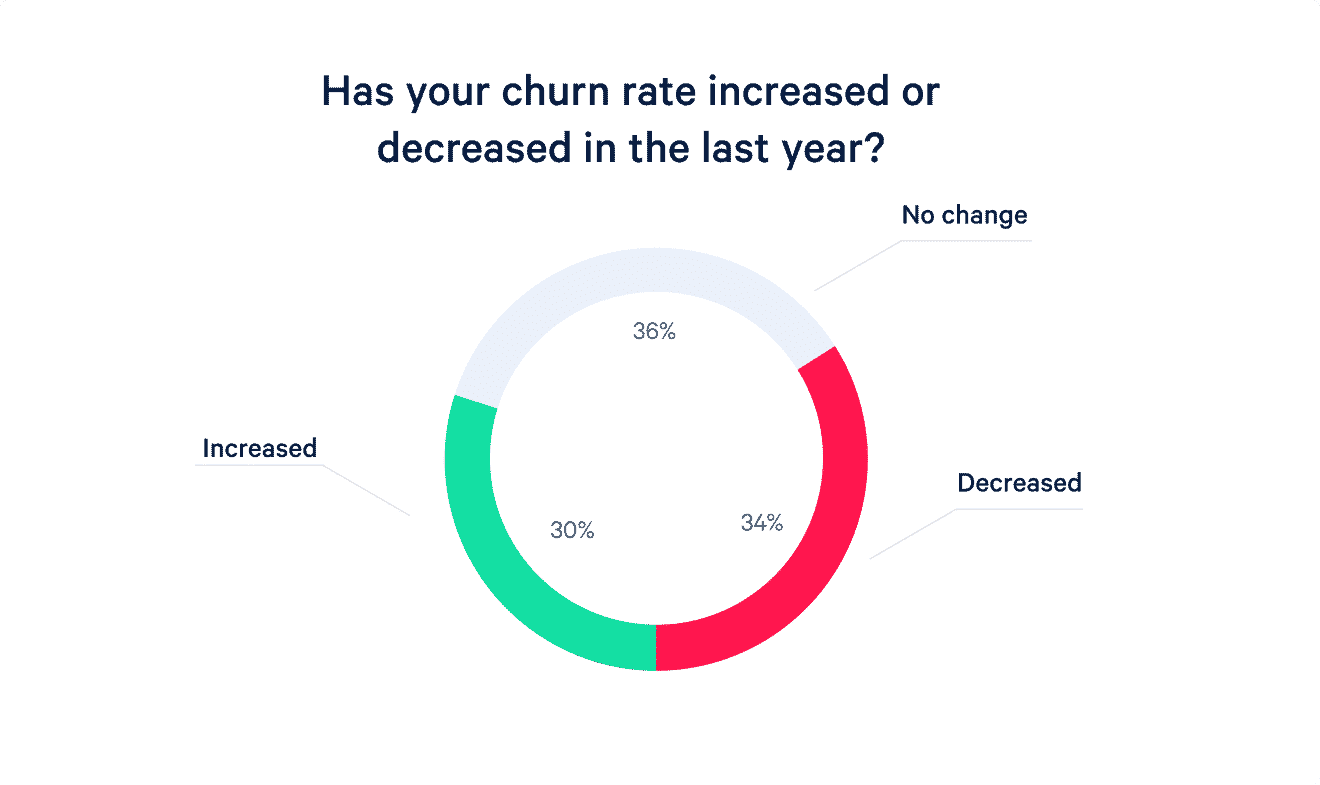 As a result, a staggering 30% of SaaS companies have seen their churn rates increase in the past year.
All of this means that to improve your chances of retaining customers – and ultimately expanding them, too – you need to provide more value than ever by leveling up on everything you do, not least your customer journey.
But why should you focus on improving your customer journey?
Put simply, it's the heartbeat of your customer success function, and a whopping 80% of customers now say that the experience a company provides is as important as the product.
Now more crucial than ever, a highly optimized customer journey has a number of benefits that you can take advantage of, including:
✅ Increased adoption rates
✅ Higher customer retention
✅ More – and better quality – upsell & cross-sell opportunities
✅ The chance to develop customer advocates
✅ A repeatable and scalable process
Meanwhile, getting the experience wrong for your customers – or not taking the time to continuously improve it – could lead to:
❌ Low adoption rates
❌ Increased churn rates
❌ Lack of expansion revenue
❌ Negative reviews / NPS / word of mouth
❌ Burnout of your CS team
Ultimately, to get your customer journey dialed in and on-point, you'll need a tool – like a Customer Success Platform – to do some of the heavy lifting for you.
To help you understand some of the challenges you're going to face while you improve your customer journey – and how to leverage CSP technology to overcome them – we've put together an incredible new eBook.
It's 100% free and designed to give you everything you need to improve CX and make your team more efficient – all by leveraging technology
Our New ebook
Dedicated technology, such as a Customer Success Platform, is purpose-built to help you transform the experience you provide for your customers.
This means you'll be able to create a customer journey that isn't just a series of disjointed touchpoints – but instead is a cohesive, engaging, and rewarding experience for your customers.
We appreciate that it's a nuanced topic, so think of this eBook as your comprehensive guide to improving your customer journey through the power of a Customer Success Platform.
Who is this eBook for?
If you're a CS leader looking to improve your customer experience and plug leaking holes in your customer journey, this book is definitely for you.
If you're a CSM who wants to start thinking more strategically about the customer journey, this book is absolutely for you.
If you're a C-suite executive or business leader looking to explore ways to fix revenue retention issues in your organization, this book is 100% for you.
Even if you don't fit neatly into one of these categories, and you're simply an 'enthusiast' for all things CS, then we know you're going to get a lot out of reading the eBook, too.
So, what are you waiting for?
Key Takeaways
By the end of this book, you'll know exactly how to leverage a CSP so you can overhaul your existing customer journey and make it more valuable than ever for your customers.
There are 6 key areas we've covered in the eBook to help you maximize the impact of your customer journey, including:
Transforming Handovers – switching from manual to digital processes to make sure every handoff is a consistently great experience for your customers.
Streamlining QBRs – turning them from dread 'time-sapping' activity into an easily managed and highly informative session with your customers.
Improving Communication – helping your CSMs to communicate in an effective and timely manner with your customers whilst also saving time.
Personalizing CX – to make sure that your customers are only receiving the right communication and information relevant to them and their needs.
Leveraging Data – understanding how you can make better use of your customer data from within a centralized 360-degree view of your customers.
Time-saving Automation – making the most of automation features to make sure that manual, repetitive tasks are put on auto-pilot so your CSMS can get back to what they do best.
As if that wasn't enough, once you implement some of our suggestions, your CSMs will be able to claim back hours of time from 'busy work' each week, so they can focus their time on 'moving the needle' for their customers instead.
Expert Insights
We've written this book specifically for CS professionals, so we've also included expert insights from fellow CS pros and influencers, including:
Between the expert insights and the in-depth detail in the book, you'll have everything you need to navigate your way through transforming your customer journey.
What can I expect from this guide?
Across 6 easy-to-read chapters, we'll delve deeper into exactly how you can use a Customer Success Platform to:
Transform handovers
Streamline QBRs
Improve customer communications
Create high-quality personalized experiences
Leverage data to take your journey to the next level
and bring it all together with some incredibly smart automation
Transform handovers
In any customer journey, one of the most critical – yet often overlooked – elements is the 'handoff' between internal teams.
A handoff is a fancy name for the point in a customer journey where your customer is passed from one team to another, dealing with new people in your company as a result.
Some people liken a 'handoff' to the passing of a baton in a relay race – because it needs to be a smooth and seamless transition, or things can go drastically wrong.
Whether it's the transition from marketing to sales or from sales to customer success, these handoffs are pivotal moments that can make or break the experience for your customers.
The challenge is that many organizations either don't have appropriate processes in place – or choose to do everything manually.
This leads to inconsistent experiences for your customers and the potential for important information or potential additional revenue to fall through the cracks.
Luckily, many of these issues can be fixed by adopting the right technology – not least a Customer Success Platform.
Streamline QBRs
It doesn't matter whether you call them QBRs (Quarterly Business Reviews), EBRs (Executive Business Reviews), or just plain old Account Reviews.
Whatever you call them in your business, you know that they can be time-consuming to prepare, frustrating to organize, and that the mere mention of them can send shivers down the spines of your CSMs.
"The drag with QBRs often boils down to scrambling for data and wrangling slides".

Jeff Breunsbach – Director, Corporate Marketing @ Higher Logic / Co-Founder @ Gain Grow Retain
That said, QBRs are an essential part of most customer journeys – so there is no getting away from them.
If you're unfamiliar with the concept, they're essentially a regular review meeting with your customer to look at their performance and progress with your product, as well as setting mutually agreed goals and discussing strategies.
If you don't make the most of these QBR meetings, they can quickly become a burden for your customers and a time drain on your CSM.
So, to help you and your CSMs save time and ensure you're preparing a QBR that has value for your customers, we've outlined some common time-sapping challenges you might be facing and solutions you can implement with CSP technology.
Improve customer communications
Effective communication is the key component of any successful customer relationship.
It's not just about conveying information; instead, communication is about building trust, setting expectations, and guiding your customers through their journey with your product or service.
However, despite your best intentions, as businesses scale, making sure all your customer communication is high-quality and personalized can become increasingly difficult to manage.
To help you discover how technology like a customer success platform could help you to overcome these challenges, in this chapter, we're going to delve into some of the key ways your CSMs need to communicate and what options you have to help them with it.
Create high-quality personalized experiences
You've heard it before – "the customer is king". Some customers even think they're different from the rest and deserve special treatment.
Instead of your CS team getting frustrated, maybe it's worth considering that these customers might be right?
"Personalization drives performance and better customer outcomes. Companies that grow faster drive 40% more of their revenue from personalization than their slower-growing counterparts". McKinsey
Customers are no longer satisfied with generic 'one size fits all' solutions and interactions.
Instead, they demand personalized experiences that are based on their unique needs and preferences.
The key point for setting up your customer for success while using personalization strategies is during onboarding.
Onboarding is one of the first real touchpoints with your product and service – outside of sales, obviously. So, it's an ideal time to set the stage for your customer's ongoing success with you.
Personalizing the experience is the ultimate way to ensure that customers feel valued and understood right from the beginning.
So, let's look at how you can leverage technology to help you with it.
Leverage data to take your journey to the next level
We all know how valuable data is. There are laws protecting it – and teams dedicated to managing it.
Data has become so valuable because it can be used to shape strategy and inform decision-making in business. Put simply, using data effectively directly contributes to the profitability of a company.
Data is important for all departments in your organization, but using data correctly is especially crucial for customer success.
This is because, in CS, data can provide incredible insights into customer behavior that can help you predict churn and identify expansion opportunities.
However, having data is one thing; knowing how to use it properly is another. As a CS leader, you should be encouraging your team to leverage data to spot opportunities with their customers. But what's the best way?
Let's delve into the role that data plays in customer success and explore how Customer Success Platforms can help you make the most of your customer data.
Automate Tasks and Save Time
As a CS professional, you'll have seen all sorts of changes come into play over the years. However, in the same way that customer success is constantly evolving, at the same time, some things never change.
The one thing that'll never change in customer success? The need for CSMs to be hyper-efficient.
As your business scales, managing an ever-growing list of customer accounts becomes increasingly complex.
The manual processes that you used to use when you had a handful of customers will ultimately become useless as your customer base expands.
Supporting this growth is where automation comes into play. It serves as the 'secret sauce' behind creating a smooth and seamless customer journey every time.
With this in mind, in this chapter, we'll explore the role of automation in customer success and investigate the types of tasks that can be automated to save CSMs some serious time.