Prospects never read anything at first; they never believe anything at first; and they never buy anything at first. – Ray Edwards
Indeed, in today's flooded market, the most important thing for your B2B business is to establish trust with your prospects. That said, if it seems that you've been lacking in that department, chances are that your overall marketing strategy may not be finely tuned to creating an emotional connection and understanding with your target audience.
So, what can you do through your marketing and branding efforts that would boost the prospects' trust in your business? The following suggestions are true must-haves to get you on the right track.
1. Your B2B business should provide comprehensive company info
As you're marketing your products/services to other businesses, you should be able to put yourself in their shoes easier. No business owner would make a decision to trust your business if they find it difficult to find essential company information on your website.
According to this B2B Web Usability Report, 54% of B2B buyers claim that the lack of comprehensive company info makes them doubt the brand's credibility. Also, 52% of B2B buyers tend to check the company's About page first to get more insight into who they are, what they do and how they do it. It's also important to mention that 64% of prospects regard easily accessible contact info as highly important.
So, what does this mean for B2B businesses? Make sure that you run a thorough evaluation of your website content and ensure that organizational and contact information is clear and transparent.
Potential reviews to get to ASAP:
Create a comprehensive professional company organization overview
Provide bios for the leadership and management together with links to appropriate social media profiles
Disclose your company address with Google My Business listings, add phone numbers and user-friendly contact forms
Make contact easy and simple
Now, make sure that the phone numbers you decide to publish actually work and allow prospects to get in touch with you directly. Also, avoid using any personal phone numbers or publishing them in the Contact section, always use your business phone number to contact your prospects. Doing so will help you maintain transparent, efficient, and professional communication.
Streamlining and improving this part of customer service is very important, which is why many businesses opt for introducing the VoIP system to their workflow. You can check out Talkdesk or its competitors to find a solution that best works for your B2B business. You can also try out a business landline phone service, as an alternative to VoiP.
Some people don't like to discuss things over the phone though. To keep up with the trends, a great feature that would certainly make you stand out in the market in a good way is conversational text messaging. With a chat option available on your website (and even social media), you can connect to your prospects more efficiently. Utilizing machine learning and AI tech with chatbots is also a great solution in case you don't plan to employ more agents yet want to provide a 24/7 customer care service.
2. Establish trust with your prospects through third-party validation
The previously mentioned comprehensive company info will represent a basis for transparent and effective brand message and image on third-party websites.
Brand mentions
When checking the organizational information of your B2B business, it's crucial that your prospects can smoothly navigate through the available cross-links.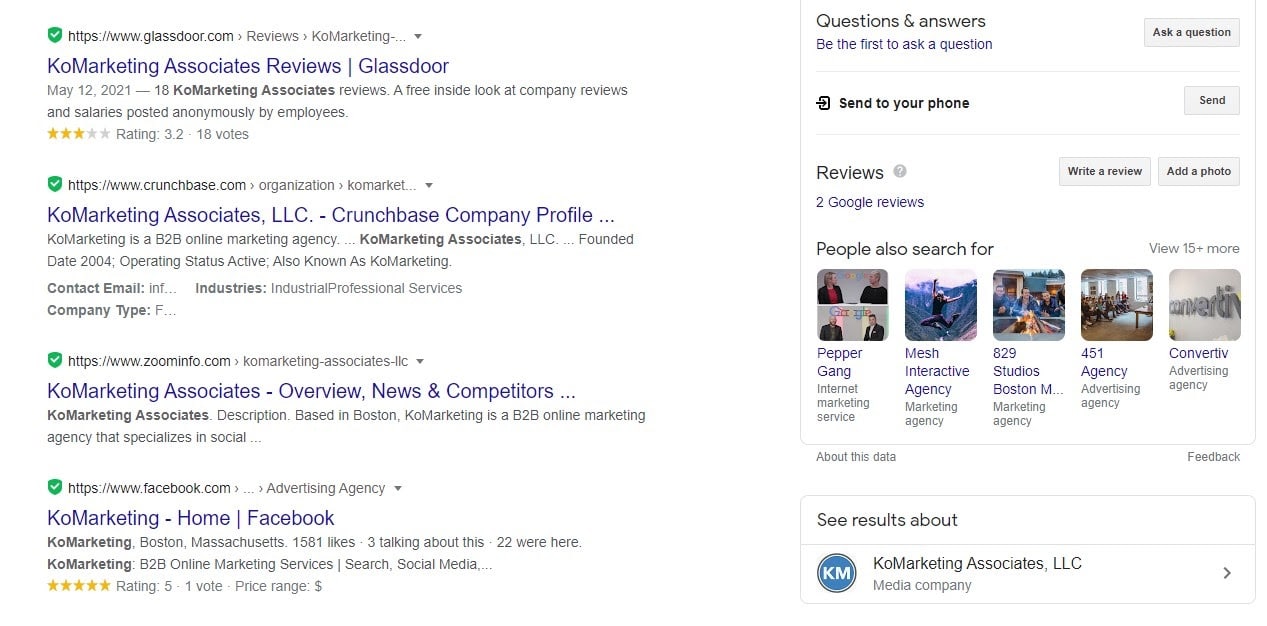 In order to establish trust with your prospects successfully, keep in mind that plenty of brand mentions can be a considerable bonus. Essentially, utilize third-party channels where you can post and link to your own content to grow your reach and authority. If you can't make the most out of guest blogging just yet, don't hesitate to go the proven route of job-posting sites, business listings and social media platforms.
Third-party accreditation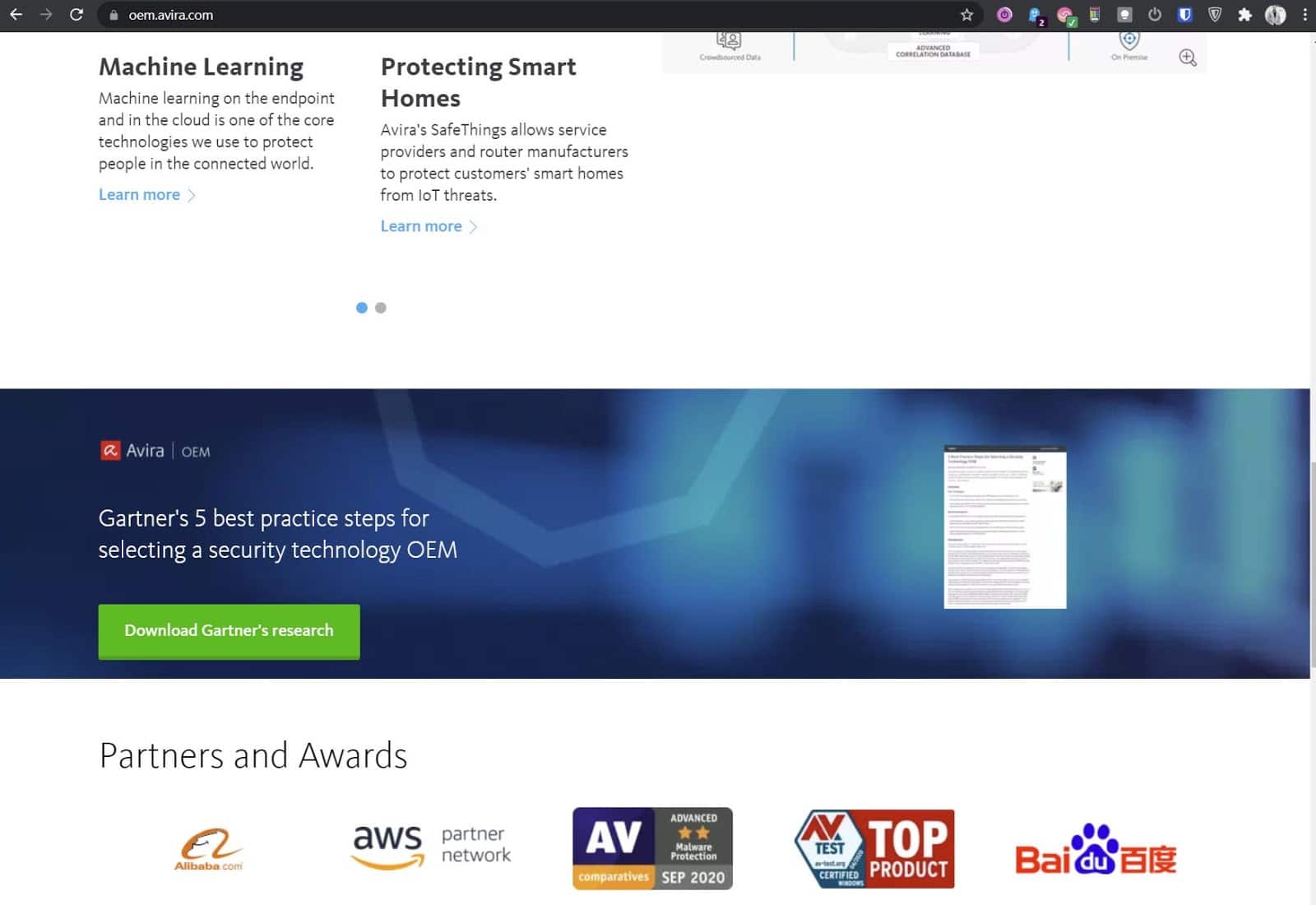 Another very effective way for establishing trust in today's online market is to openly display third-party accreditations on your business website. Not only does this influence the prospects but also search engines. For instance, these can be:
Payment gateway security badges and PCI compliance to showcase the security of your available online payment methods
Depending on the industry that you operate in, you can strongly benefit from public and easily accessible compliance certifications and regulatory statements
In case you have great references from industry-related organizations and publications, don't hesitate to display them
Include all other industry references, awards, certifications and so on
Independent ratings and reviews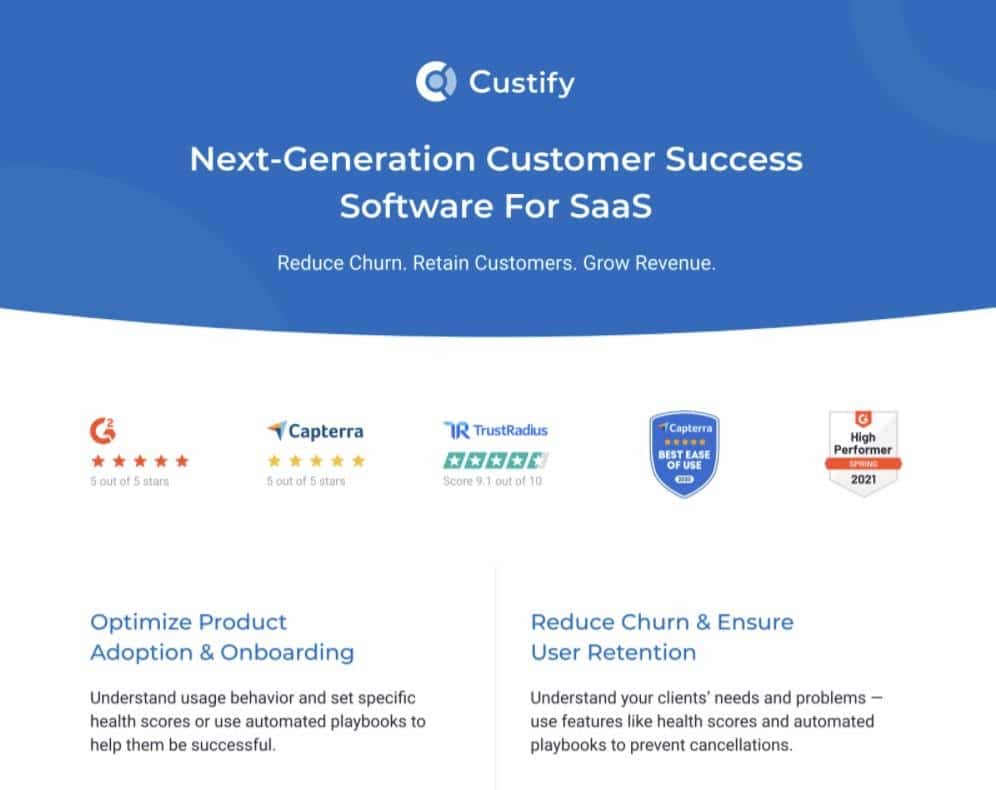 Among the third-party accreditations, independent ratings and reviews may as well be the most important in terms of trustworthiness. These often pop up in organic search results too, signaling the B2B buyers that you already have satisfied customers and credibility in the industry.
Make use of the ratings and reviews made on third-party websites for your entire brand or specific products that you offer so that you can include those for your own marketing purposes and brand reputation.
3. Create a strong and professional social media presence
Social media has expanded from its original use to just connect with your friends and family and is now one of the main indicators of brands' reach, reputation and professionalism. Therefore, your B2B business can't afford to miss out on utilizing the power of social media outreach in this day and age if your goal is to establish trust with your prospects.
Facebook, Twitter and LinkedIn are currently the most prominent social media platforms but if other options suit your niche better, don't hesitate to use those as well.
For starters, the key practice is to keep your social media channels active and informative. Keep in mind the following essentials:
Your social media profiles should feature high-quality images, especially when it comes to the profile and cover photos, proper and clear logos as well as videos if available
The copy of your social media should contain comprehensive information about your company together with the organizational info
Make sure to add essential links such as a link to your business website, other social media pages and all other links that provide value
It's important to create an effective social media strategy and social media content calendar for every channel that you use. Share valuable and meaningful content and engage with your audience in a professional and respectful manner.
4. Utilize customer case studies and testimonials
Your B2B vendor home page should always focus on featuring customer case studies together with the applicable solutions and products that allow for a win-win situation for both you and your customers.
In order to make the most out of customer case studies like this, make it a point to cross-link these relevant solutions and product pages. Not only will this show your professionalism and credibility to your prospects and make them trust you more, but it will also increase your SEO rank and allow you to incorporate further content marketing efforts thanks to the available keywords. Almost 48% of B2B buyers consider finding up-to-date product or service information as a top challenge. To further improve your SEO goals, consider getting a good website hosting, managing your backlinks properly, and hold website audits from time to time.
Another thing that prospects pay attention to when they land on a B2B business website is testimonials. These should be prominently displayed on your home page. To avoid clutter and keep your site user-friendly even with all this information readily available, make sure to use a proven testimonial template that showcases valuable feedback without overwhelming your page design. Just like the rest of your website, testimonials should also have a visually engaging quality to them.
5. Make good use of content marketing assets
Content marketing is a crucial part of digital marketing, especially when it comes to establishing trust with your prospects. The main point here is to create content assets that would meet the demands of top-funnel queries that your prospects are searching for. Consider the following types of content:
Content hubs
Create content hubs that are based on one main topic and relevant keywords. This will allow for the efficient creation of more detailed blog posts and provide integrity and proper organization to your content in general. Thanks to these content hubs (or pillar pages), your prospects will be able to navigate your content with ease and find the answers they're looking for quickly. It's also an amazing SEO strategy.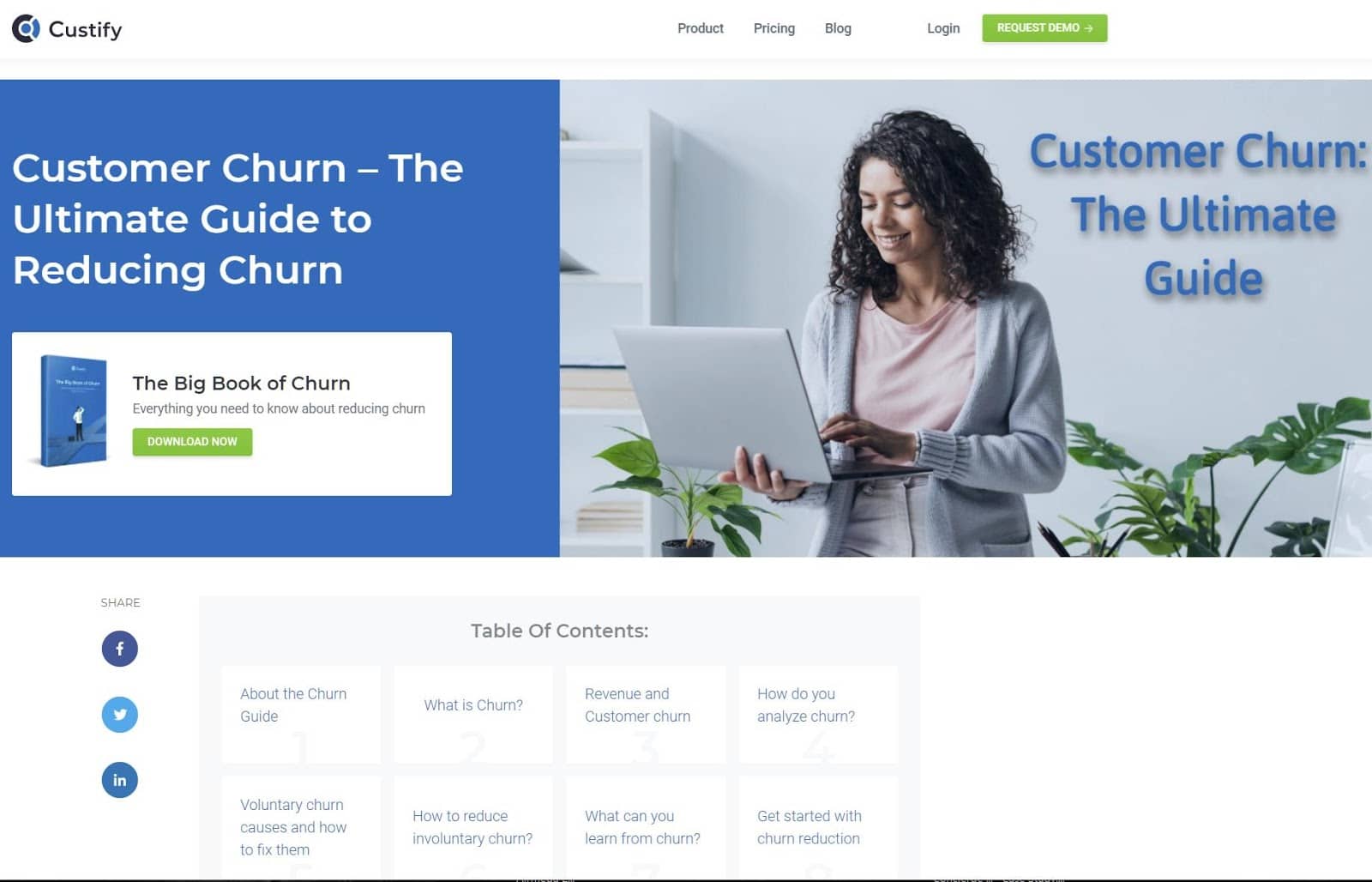 Detailed blog posts
With the creation of content hubs, you can continue to create meaningful blog posts that make sense for both prospects and search engines.
Thanks to the previously mentioned content hubs, your blog posts can be based on detailed topics and let you make the most out of the long-tail keyword opportunities. It's with this practice that your content could show up on the first page of SERPs as well.
Of course, for this strategy to work its wonders, make sure to cross-link your pages properly and continuously.
FAQ page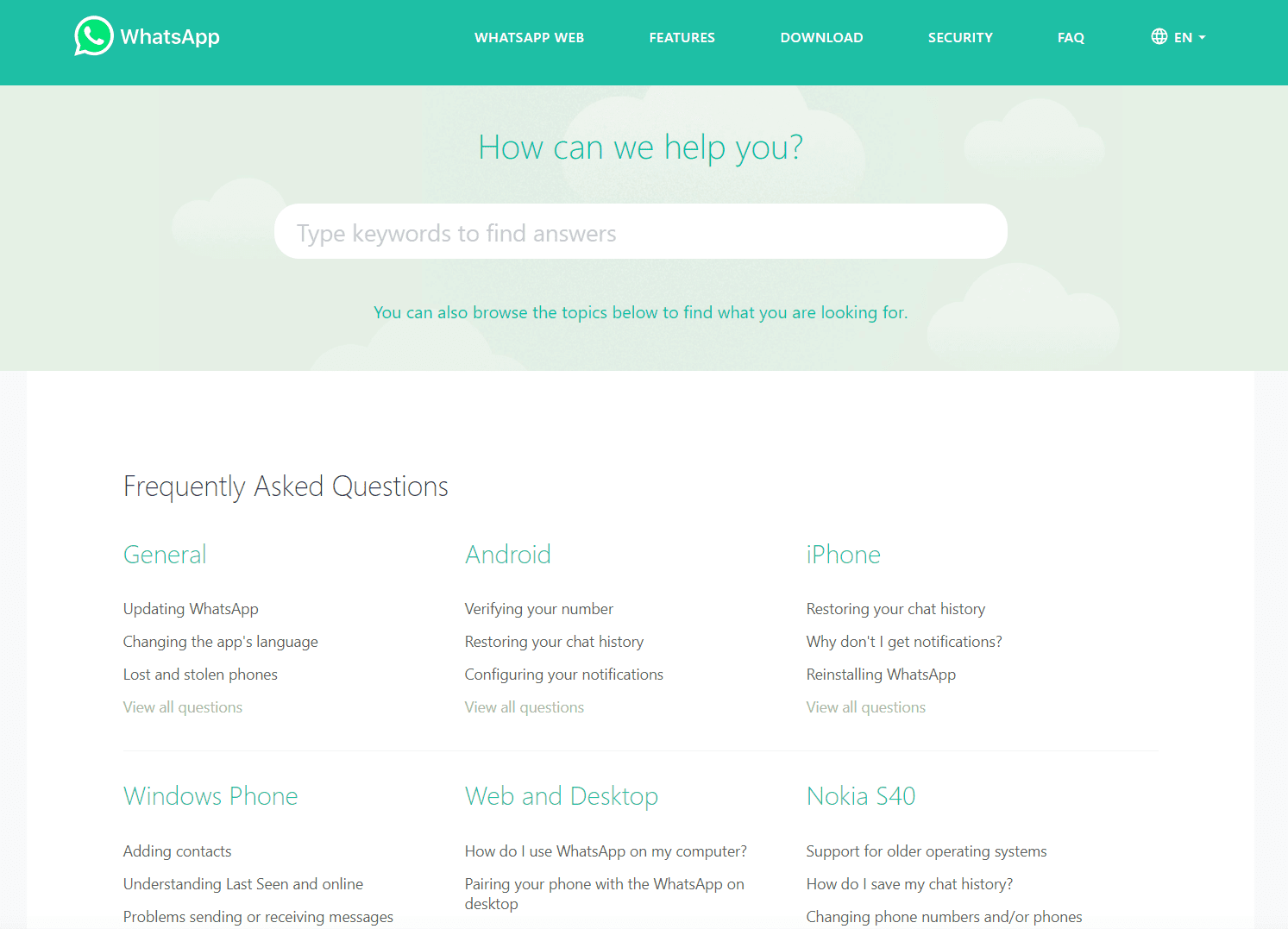 Another important piece of content that you should never forget is your FAQ page. This is where you can answer specific questions that prospective B2B buyers in your industry are highly likely to ask. You can get a good idea of what questions to answer by checking on your customer service team. Another great resource includes the "People Also Ask" feature in regard to your main keywords.
Essentially, your goal with these content marketing assets should be to solve potential problems and answer questions that your prospective buyers may have – not create more sales pitches!
6. Get involved with your local community
Even if you're looking to expand your reach from your geographic area, especially for local B2B businesses, helping the community is always appreciated. It's difficult to show a personal side when you work only with businesses, and community engagement can be just the right kind of personal expression that helps you resonate with B2B prospects.
In case you're in need of some engagement suggestions, consider the following:
Look for volunteer opportunities within the community that you can take part in together with your employees.
For businesses that don't have a lot of time on their hands, sponsoring a local sports team is a great incentive.
You can also sponsor a certain event that both you and your employees can attend.
Organize a charity drive. You don't have to ask your employees to donate money but you can all put some effort to give back to the community by donating clothes, books and other items.
Offer your professional expertise for free to help start-up companies in your community.
Support local charities with monetary donations if that's financially possible.
Feel free to showcase your activity in the community on your social media pages as well as the news or purposefully created section of your website.
Conclusion
In your effort to establish trust with your prospects as a B2B business, you'll get to connect all of your digital marketing efforts, boosting the development of your sales opportunities and overall brand awareness. When you focus on establishing relationships and understanding with your prospects, customers and vendors, you can expect a higher trust and authority level in the industry as well.