Product-led growth (PLG) and sales-led growth (SLG) are two very different approaches to growing a SaaS business. While the first focuses on providing value through the product and self-service models, the latter relies heavily on sales and success representatives for acquisition. There is also a third motion, a hybrid of PLG and SLG.
Each growth motion offers compelling advantages, and the choice between them is not always obvious. This article will focus on the third, hybrid, and offer a blueprint for scaling your support, sales, and success teams around it.
Simply put, the hybrid motion is a go-to-market approach that pairs sales-led and product-led strategies into one go-to-market motion. Its goal is to reap the advantages of both, while also mitigating their weaknesses.
Here's a breakdown of what we'll explore today:
The strengths and weaknesses of PLG vs. SLG;
Their impact on the hybrid growth motion;
How to transition from PLG to hybrid motion;
Strategies for scaling your support and success teams around this motion.
You should care about the hybrid motion if:
You're a PLG company trying to move upmarket.
You're a startup in the GTM stage and want to combine sales-led and product-led motions from the start.
What is the hybrid SaaS motion, and why should you care?
Hybrid motion blends the bottom-up approach of PLG by leveraging the product as a primary driver of demand with the top-down approach of SLG to support the acquisition of larger clients.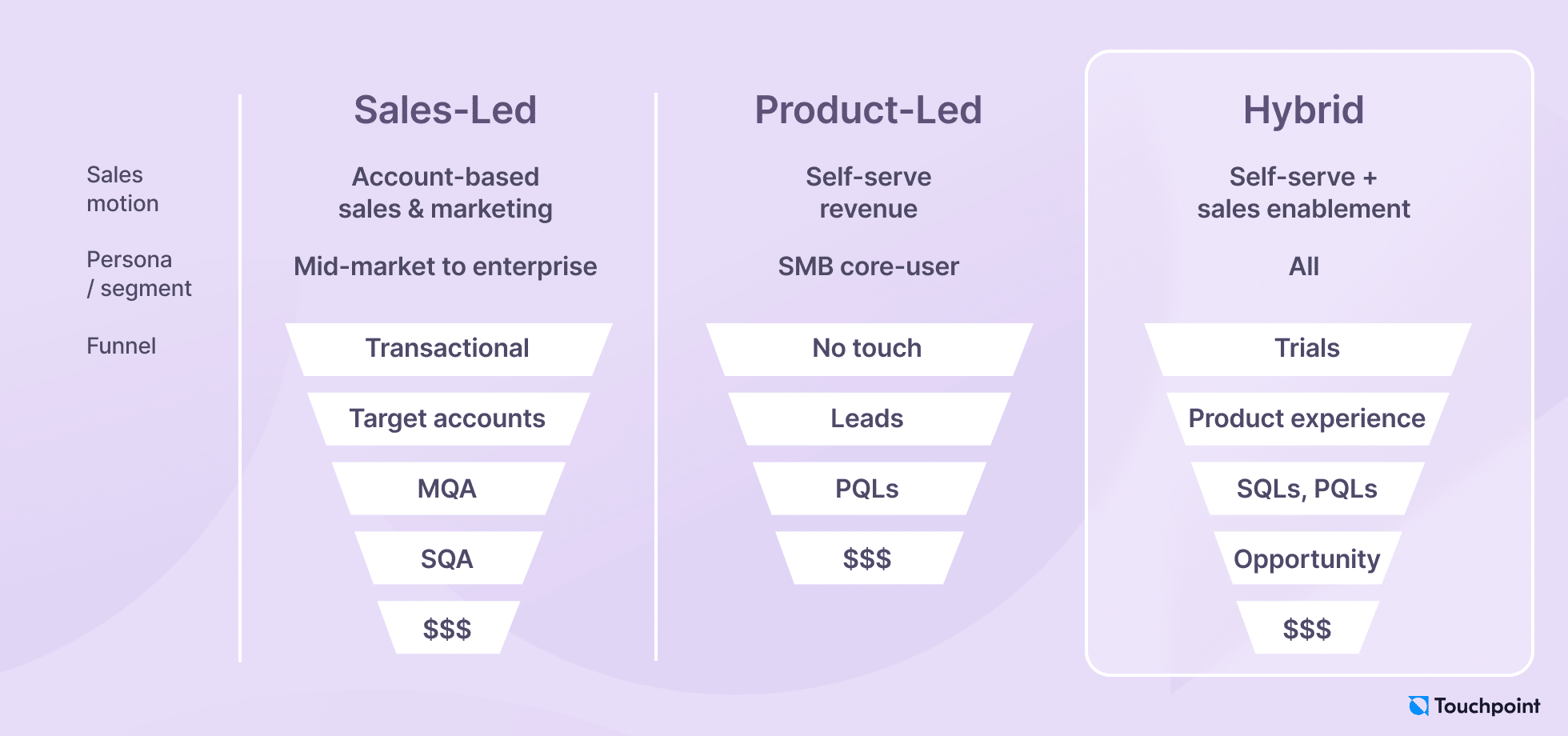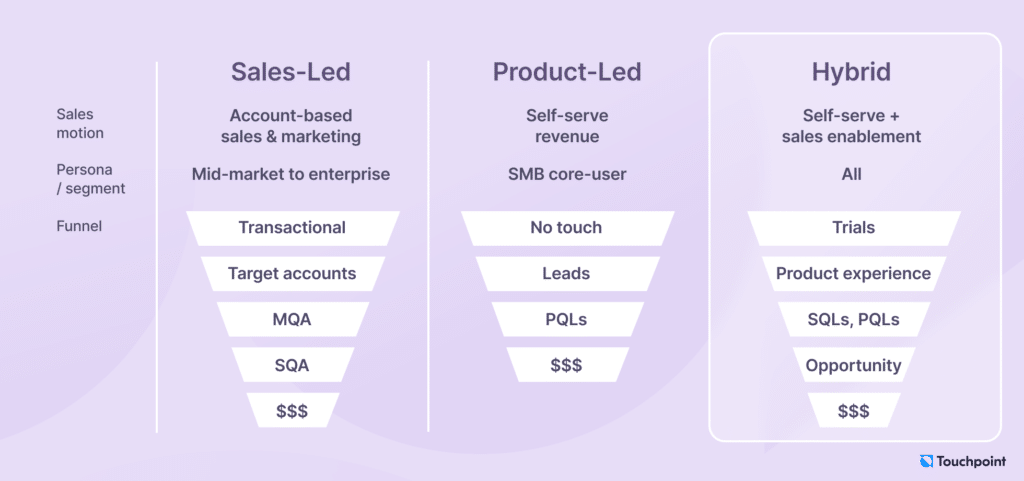 The combined approach of a hybrid SaaS motion allows companies with limited resources to scale while covering all lead-gen bases:
Product-led growth (PLG) facilitates lead acquisition at every stage with lower customer acquisition costs (CAC), focusing on enhancing the customer experience pre and post-purchase;
Sales-led growth (SLG) makes it possible to offer personalized sales experiences that turn smaller contracts into enterprise deals. According to statistics, sales and success teams are responsible for 58% of upsells, while the product is only responsible for 10%, hence the importance of incorporating SLG into your growth strategy.
Here are the main advantages and weaknesses of PLG vs SLG: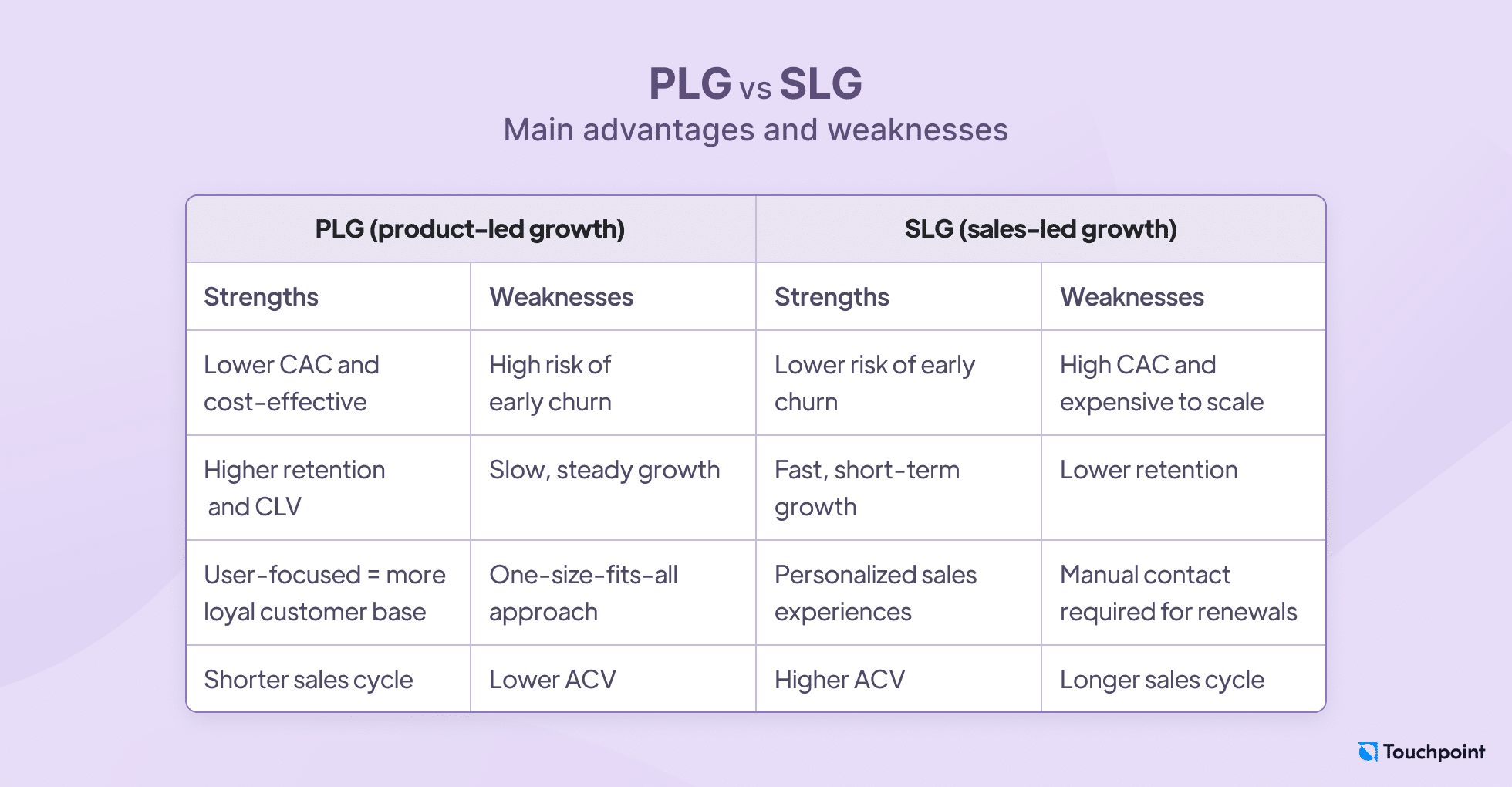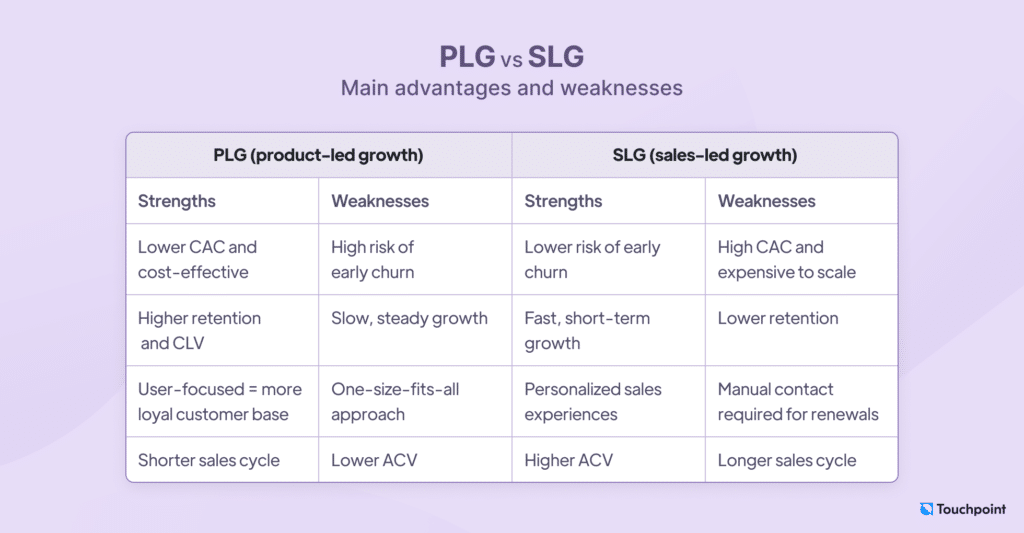 The hybrid approach enables PLG companies to target higher-value clients and drive more revenue through sales enablement, while also maintaining their low-touch approach for the top of the funnel.
It is much easier to scale than an entire sales team, and also facilitates expansion through repeat interactions, transforming the traditional marketing funnel into a momentum-based flywheel.
The table below will give you an idea about the growth opportunities of a hybrid motion: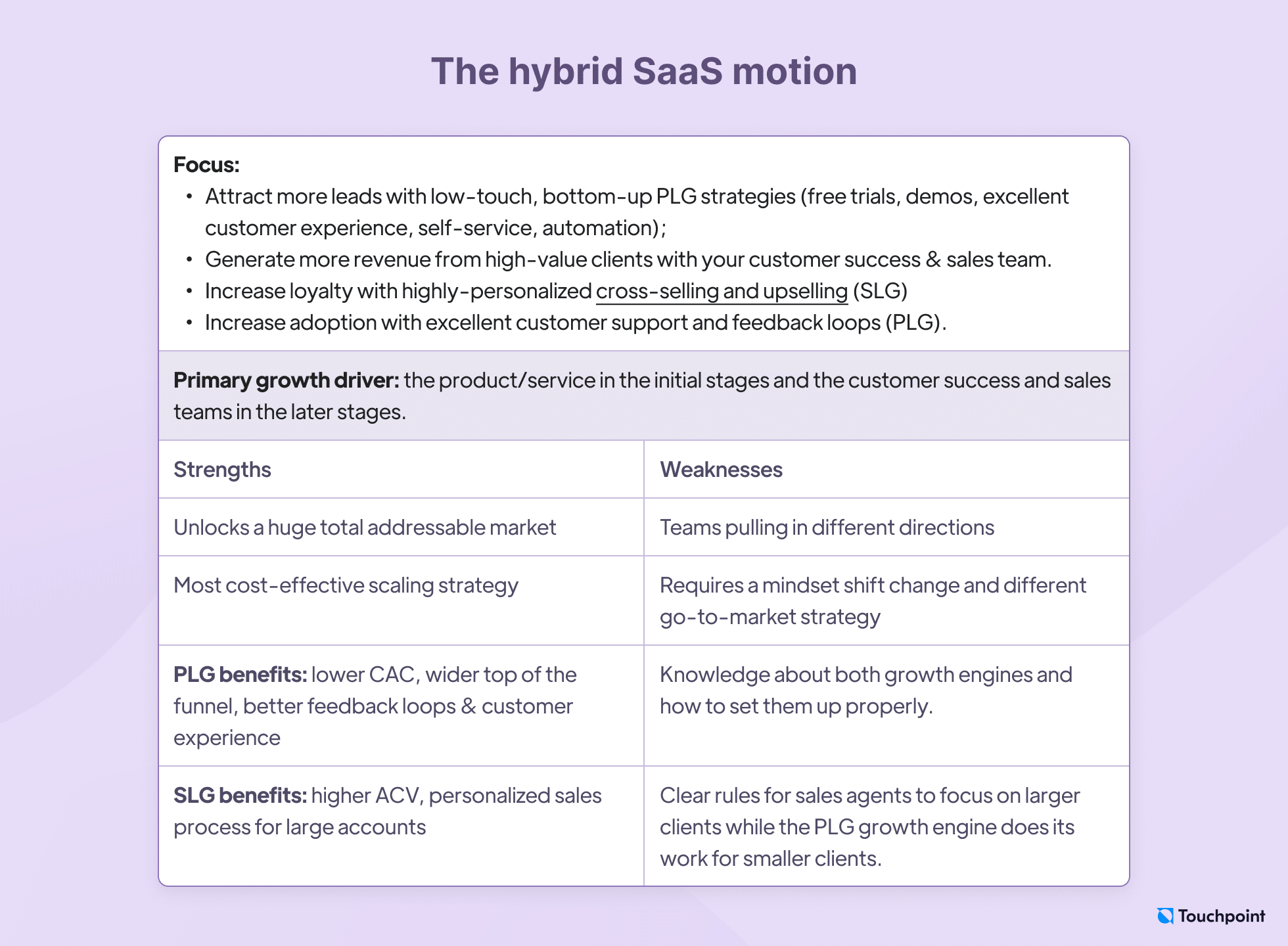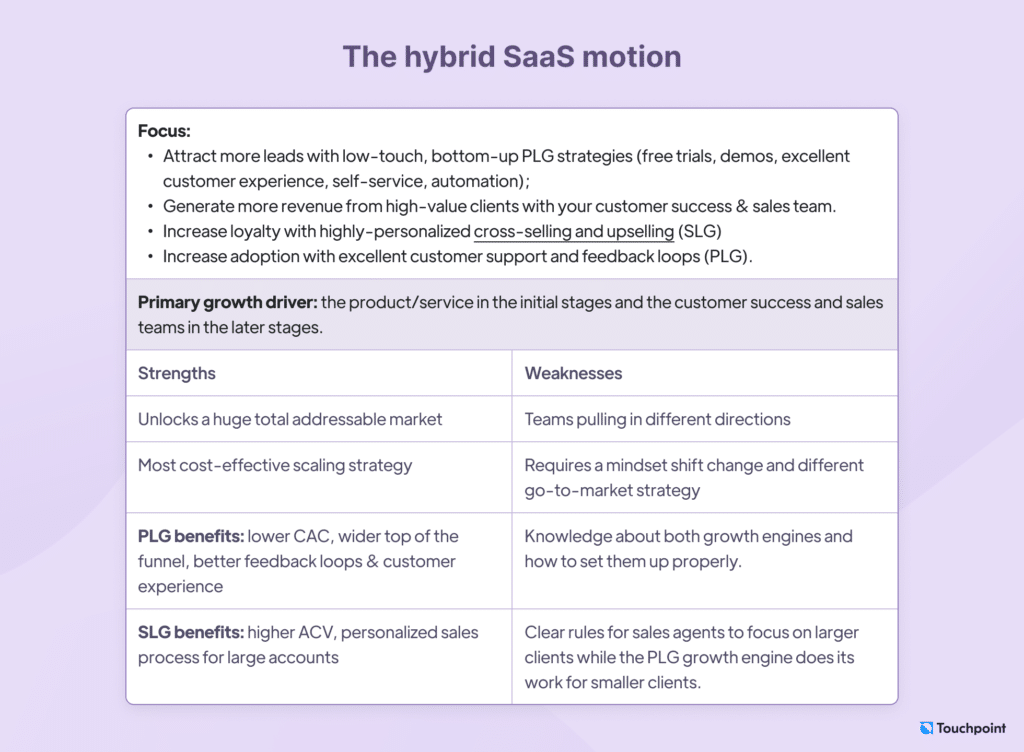 How to transition your team from PLG to hybrid motion
The hybrid motion sounds great… Now what?
To be honest, we're still figuring it out ourselves, but here are the main points that have helped with our transition from PLG to hybrid.
1. Take a closer look at your positioning and USP
As a PLG company, you should provide most of the value directly through the product. This changes with the hybrid motion. The first step to repositioning your product for hybrid growth is to consolidate your customer data.
Sit down with your support, success, and product teams to identify critical patterns for user behavior, friction in the customer journey, and opportunities for sales-assisted conversions.
SaaS positioning is hard, but these questions provide a good starting point:
Does my product cater to the needs of larger clients?
What does my ideal client look like, and what need do I fulfill for him/her?
At what stages in their journey would my target audience benefit from personalized sales experiences?
How do I tailor my pricing to suit the needs of SLG and PLG audiences?
What sets me apart from other competitors in the space?
What is the main message I want to convey to my audience?
If you're in the go-to-market stage, you're lucky. You "just" need to balance addressing product needs for high-value accounts with investments for the broader audience while also highlighting your unique selling point.
What to consider: your value proposition, product packaging, pricing, and messaging.
What you need: an excellent grasp of your target audience, plus the ability to identify must-haves and nice-to-haves for your product.
2. Rethink the structure of your team
Hybrid teams need to adopt a multidisciplinary, cross-functional approach. Product marketers, support agents, sales reps, marketers, and designers, share a joint mandate in defining customer success for your business.
I've been mentioning customer success a lot throughout this article, and you can read all about it from the Customer Success Strategy Ebook, but for now, let's define what a success team does in the context of PLG, SLG, and PLS:
In product-led companies, CS teams aim to increase customer satisfaction and retention post-sale.
In sales-led companies, teams are usually siloed – so the success team has a diminished role, usually taking over after the sales teams close a deal.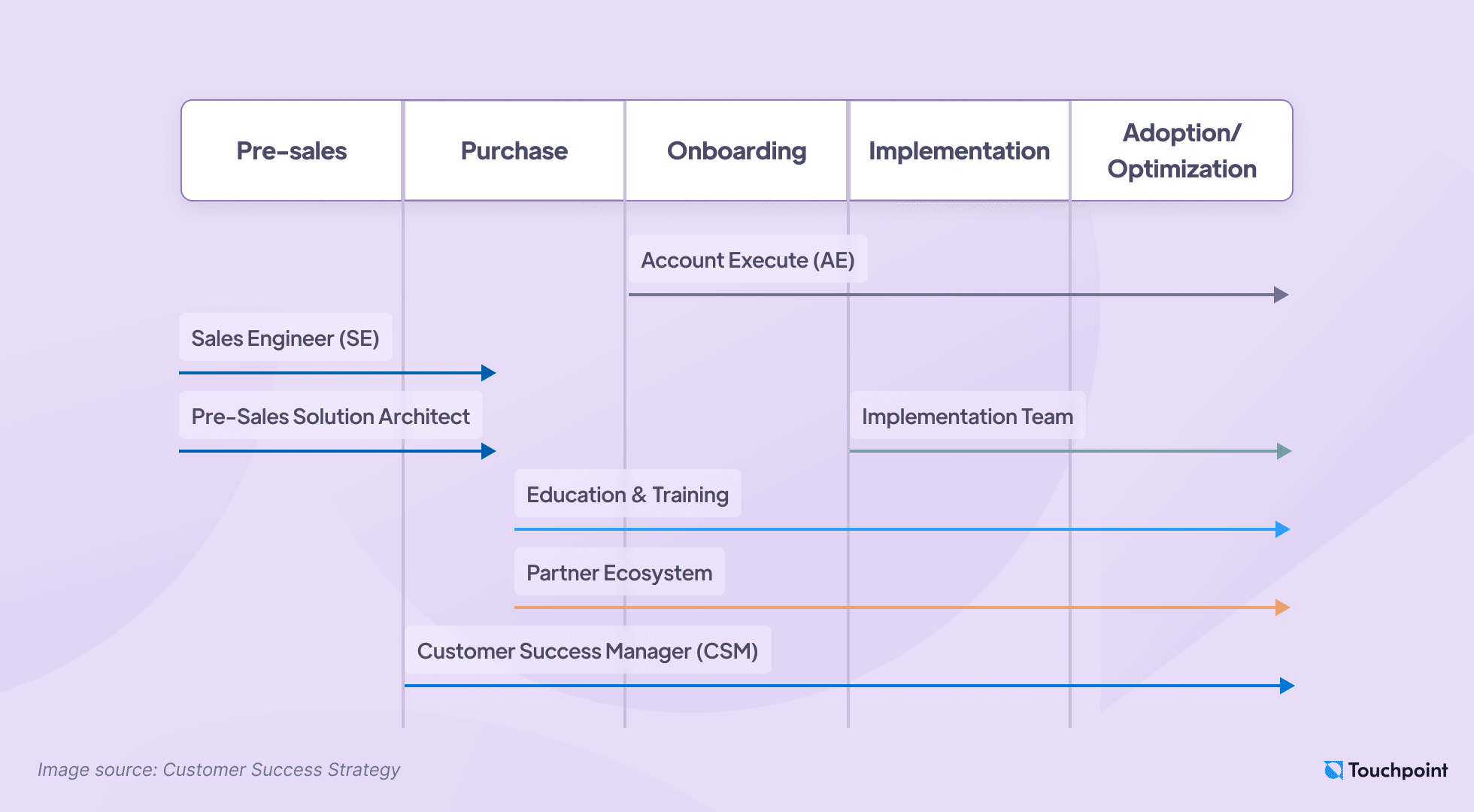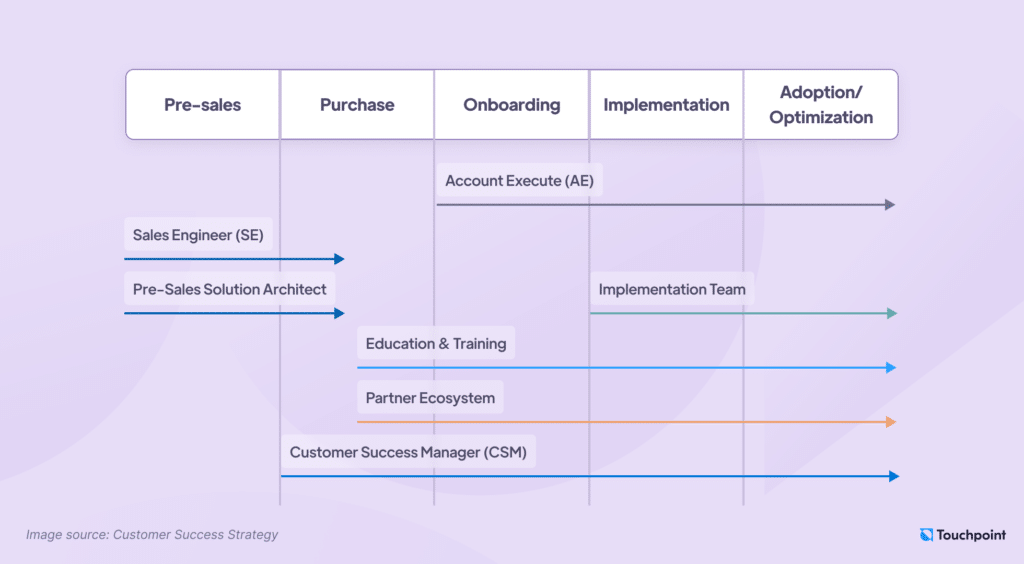 Image inspiration: Customer Success Strategy
The customer success function gains a whole new dimension in product-led sales companies.
"Customer success is not just a business function – it's how you should conduct business. The philosophy is simple: your success depends on your customers' success."
CS teams bridge the gap between sales, product, and support. Here's exactly what they should do in a hybrid motion SaaS:
Share customer data with sales teams to help them have more meaningful interactions;
Communicate with the product and engineering teams to develop truly useful features or custom solutions for enterprise clients;
Actively engage customers before and after they make a purchase.
Assist support or sales with cross-sells and upsells.
Identify customer needs or pain points that the product addresses to help the marketing team develop better campaigns.
Below is a structure I recommend for the hybrid motion SaaS team:

What to consider: hiring process, onboarding, and communication.
What you need: good leaders, collaboration and communication between teams, and strong engineering.
Of course, new teams come with the challenge of goal setting, onboarding, and developing the right processes. This brings us to the next point:
3. Streamline processes using the right tools
To ensure a smooth transition from PLG to hybrid, you should provide new tools, playbooks, training, and incentives to emphasize your team's new responsibilities in the customer journey.
3.1. Define new processes and update old ones
Your processes should facilitate team collaboration (hiring, onboarding, communication, responsibilities, success metrics) and set rules for customer interactions.
Answering the following questions will help you define customer-facing processes.
How do I want to address my target audience?
What are the main touchpoints in the customer journey?
Which teams are responsible for moving customers to the next stage in their journey?
How do users interact with my product, and how can I make it easier?
Where will sales-enablement actions be most effective?
How do I communicate product updates or changes?
What does success look like for my support and sales team?
Already know the answers? Readdress them from the hybrid motion perspective. Involve your leaders.
Examples of processes that you should develop or refine:
Personalized sales process: involvement of teams in prospecting, lead generation, qualification, closing, and post-sale stages.
SaaS growth processes: how you build out, prioritize, and launch high-impact experiments.
Support & success processes: contact, information gathering, problem-solving, automation, escalation, etc.
Marketing processes: key messages, channels, campaigns, and goals.
Your customer-facing processes will also define internal processes.
What to consider: aligning departments across company-wide goals.
What you need: transparency, data from all departments, and constant communication.
3.2. Introduce the right tools
One of the biggest challenges for PLS is choosing the right tech stack to create and automate repeatable processes. When choosing your tools, focus on the ones that can keep up with the operational agility required by the hybrid motion.
Essential tools for hybrid SaaS:
Customer data platform to act as your source of truth (BlueVenn, 6sense).
Robust CRM that supports the PLG model (e.g., getting deals automatically from the sign-up process, scoring leads, filtering leads that require support from sales teams).
Sales engagement tool.
Customer success tools to measure your key metrics (Custify);
Product analytics tools (MixPanel, Pendo, Amplitude);
Multi-channel support tools (Zendesk, Touchpoint).
What to consider: integrations for your tech stack, and payment infrastructure.
What you need: time to experiment, and compatible technology.
4. Track relevant KPIs
Your company is unique, and so are its success metrics. It's up to your team to define what matters most, depending on the size of your business, industry, target audience, competition level, etc. Here are some KPIs that I consider relevant for the hybrid motion:
Sales metrics:
Increasing monthly and annual revenue (MRR and ARR);
Increasing customer lifetime value (CLV) and average account value (ACV);
Maintaining good net dollar retention (NDR);
Increasing revenue per employee.
Support metrics:
Fluctuations in first response and average handle time;
Top topics and issues;
Ticket escalation rate;
Self-service rate.
Customer success metrics:
Improving NPS and CSAT scores;
Increasing average revenue per account;
Reducing churn rate.
5. Adapt as you go
Our biggest lesson so far has been that a great SaaS solution builds itself through trial and error. Delivering the epiphany about the value of your product is not something that simply comes to you one night.
To achieve true hybrid transformation, listen to your customers, obtain key stakeholders' buy-in, develop open feedback loops, and implement new features quickly. Constant, incremental improvements are key to hybrid success.
Hybrid SaaS transition checklist
OK, let's summarize the key points into helpful checklists for your teams:
1. For customer support teams:
Improve support processes: redesign your contact points and adopt a multi-channel approach.
Involve support in product, sales, and marketing decisions.
Take advantage of new technology: make use of automation (auto-replies, canned responses, etc.), adopt AI and NLP technology, etc.
Elevate self-service options: expand your knowledge base, make it easily accessible, grow your community, and offer in-app tutorials and guides.
Hire and onboard the right agents: invest in training, create transparent onboarding processes, etc.
2. For customer success teams:
Hire a customer success manager: to align your CS team and facilitate communication with other departments.
Define success at the company level: identify your key metrics (NPS, CSAT, churn rate, CLTV, CAC, etc.) and align all your teams around them.
Define success at every touchpoint and for every user persona.
Improve or develop communication and collaboration procedures.
Don't just collect feedback, act on it.
Set-up processes to quickly share key data with sales, marketing, and product teams.
3. For sales teams
Start building your sales team: if you don't already have one, now is the time to start investing in your sales department.
Establish incentives and rewards.
Provide product training to encourage upsells and cross-sells.
Create sales documentation and playbooks.
Analyze customer usage data from the success team to develop personalized sales offers.
Collaborate with the product team to implement custom features for enterprise clients.
Use the right tools to facilitate conversions.
Track deals even after they close to improve product engagement.
Is the hybrid motion right for you?
Remember, the hybrid motion isn't just about filling your funnel with new revenue opportunities. It's about optimizing revenue potential from your existing customers and creating better product experiences.
Since SLG companies can no longer keep up with the costs of growing sales teams, and PLG ones are unable to move upmarket without sales-led tactics, the evolution to hybrid motion is inevitable. Are you ready to take the next great step?