In a SaaS world where 80% of customers uninstall apps because they don't understand how to use them, it's high time we sat down to chat about Time to Value (TTV).
This all-important SaaS metric often gets completely ignored by businesses in their never-ending race to reduce customer churn and keep the ship steady. In fact, recent data from Userpilot shows that onboarding as a whole is disregarded by a quarter of SaaS ventures that chose not to have a dedicated onboarding team.
That's a shame because onboarding is likely the most impactful phase of the customer journey, and Time to Value is likely the best indicator of customer satisfaction you can have so early on. After all, how are your customers going to understand the advantages of doing business with you if they spend their time chasing a goal they may never reach?
So today, I'll dive into:
Defining the TTV metric and presenting it in a SaaS context
Breaking down derived metrics like immediate time to value and time to exceed value
Detailing how you can effectively measure TTV in your organization & for your SaaS
Some FAQs around this trending SaaS concept
What Is Time to Value (TTV)?
Time to Value (TTV) represents the length of time between the moment of user signup and the moment at which they reach their expected goal or value from paying for the product or service. Essentially, it's a measure of how long it takes for users to be satisfied. Generally, TTV is directly proportional to the complexity of your customers' desired outcomes.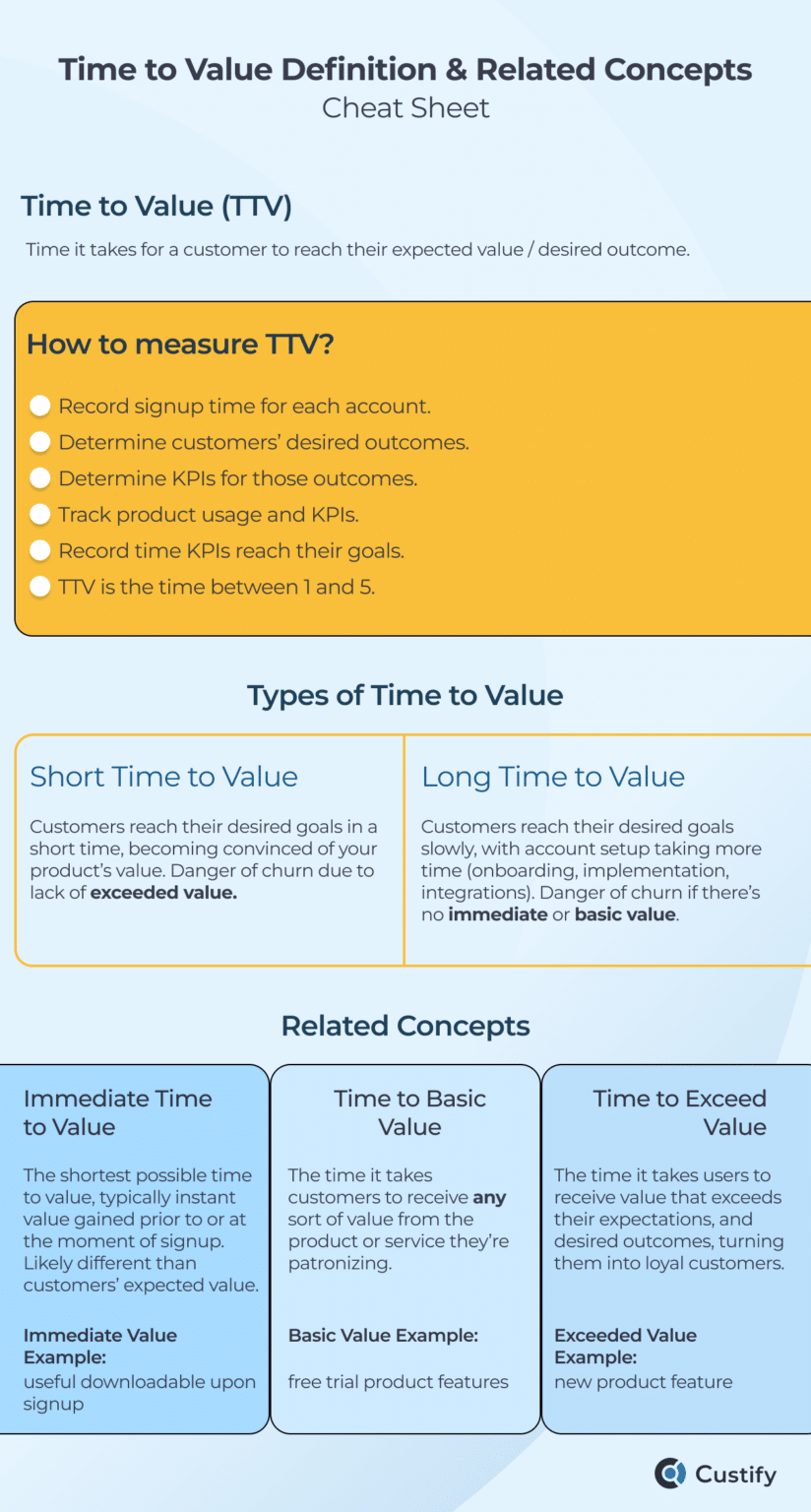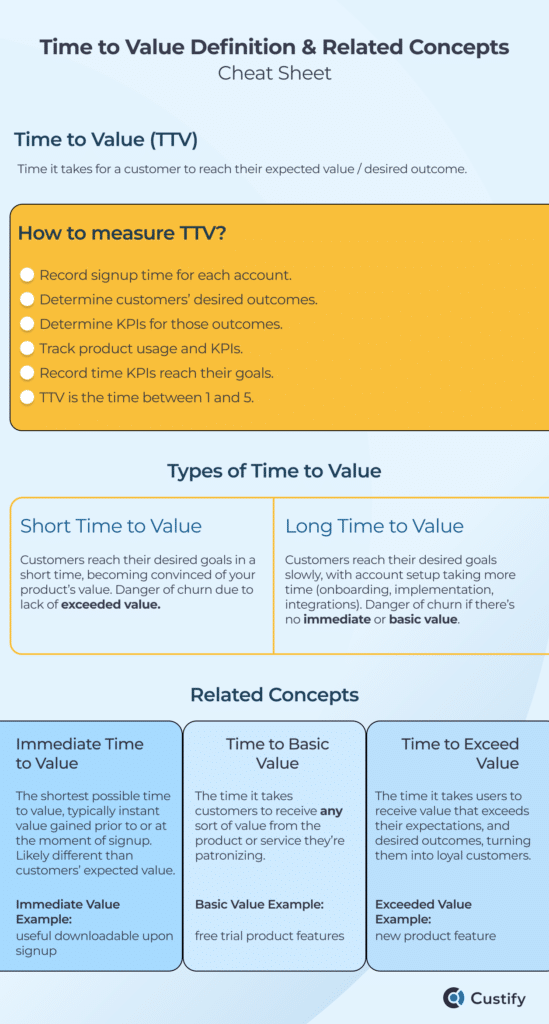 When you hear talk of TTV, it's generally in one of two ways:
Short Time to Value. When customers receive the value they're after within a short timeframe. Generally seen as a good thing unless users churn immediately after receiving the value they're chasing.
Long Time to Value. When it takes weeks or more for an account to get set up and start producing the expected value for the customer. Typically implies a high-touch engagement model that involves complex integrations, personalized onboarding, guided implementation, and even custom development.
To effectively provide value and keep users from churning in cases where TTV can be very long, companies often resort to providing other types of value or some type of immediate value.
Conversely, once customers reach their goals, it can be difficult to keep them as paying subscribers. In that case, it's the job of the assigned CSM to continue adding value to the account, exceeding customer expectations and maintaining their loyalty.
All of these are metrics related to TTV, which you can explore below:
Time to First Value
Also known as Time to Basic Value, this secondary metric essentially measures the time it takes for customers to receive any kind of recognizable value. Even the most basic value addition has the chance of convincing users they've made the right choice, so for complex products or services, time to basic value can be a way to measure how quickly users get hooked on a product or service.
Immediate Time to Value
Other products go a different route with immediate time to value – i.e., value customers receive instantly once they sign up (or even before they sign up, depending on your pricing model). Products that offer instant value effectively secure customers from churning early on.
The downside of offering immediate value is that it can be exploited, particularly if it's a value provided before users subscribe to your product or services.
Time to Exceed Value
Customers eventually attain their desired value with your product or service. If that point comes and you're not prepared, they might fall prey to involuntary customer churn. To prevent that, CSMs must work with Product to ensure customers constantly have some value they can obtain from the product – either through product updates, guided assistance, or a mix of the two. Time to exceed value is also sometimes referred to as Time to increase CLV, as users who reach this stage have typically increased their value as customers.
How to Measure Time to Value
There are multiple ways of measuring TTV, depending on your type of product, your pricing model and strategy, and your ideal customer engagement model.
1. For Most Customers, Measure their Outcomes
In most SaaS, you will be able to ask customers what their objectives are, assign KPIs to those objectives, and then keep track of them as you go. Once those KPIs reach their goals, you will know your customers' time to value.
2. For Free Trials, Measure Time to Conversion
If your product is a free trial or freemium one, you can measure the time it takes to convert new users to paid accounts. Essentially, if a non-paying customer becomes a subscriber, it's clear they've found value in your product and you can equate Time to Conversion with Time to Value.
3. For Low Touch, Measure Feature Adoption
When you have hundreds or thousands of accounts, it can become difficult to track all of their objectives within your product. A simple way to do this at scale is to determine your most wanted features (you can use a survey) and then measure feature adoption with the help of your customer success platform.
4. For High Touch, Talk to Your Customers
One of the simplest ways to find the truth – particularly when metrics give you mixed signals – is to talk directly to your customers. Of course, that only makes sense for high-touch engagement models when you know you can carve off some time to spend in one-to-one meetings with customers. But the upside of that is you're stepping in and asking customers directly about their objectives – if they're not yet loyal, that kind of dedication will go a long way toward ensuring they become loyal.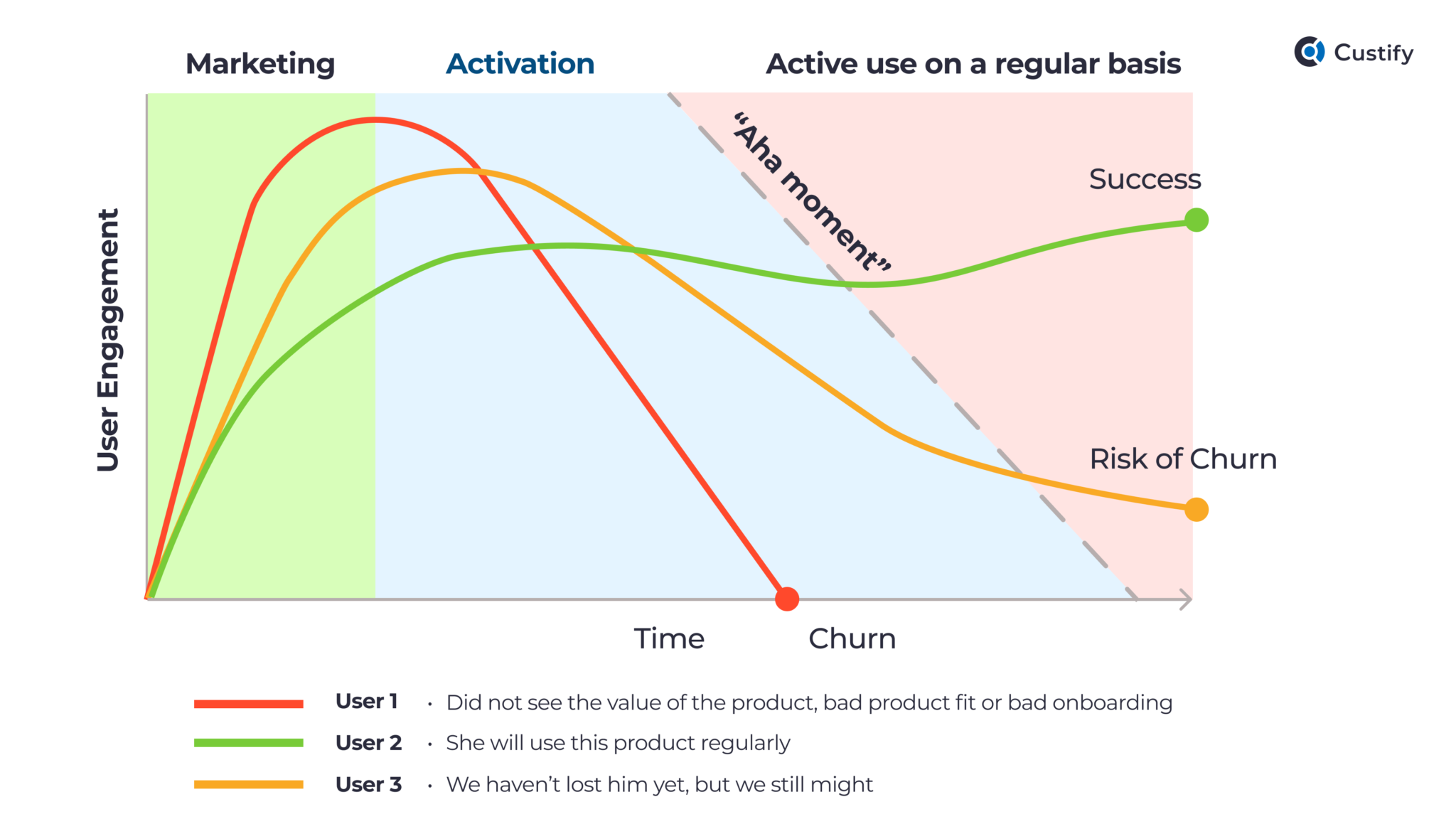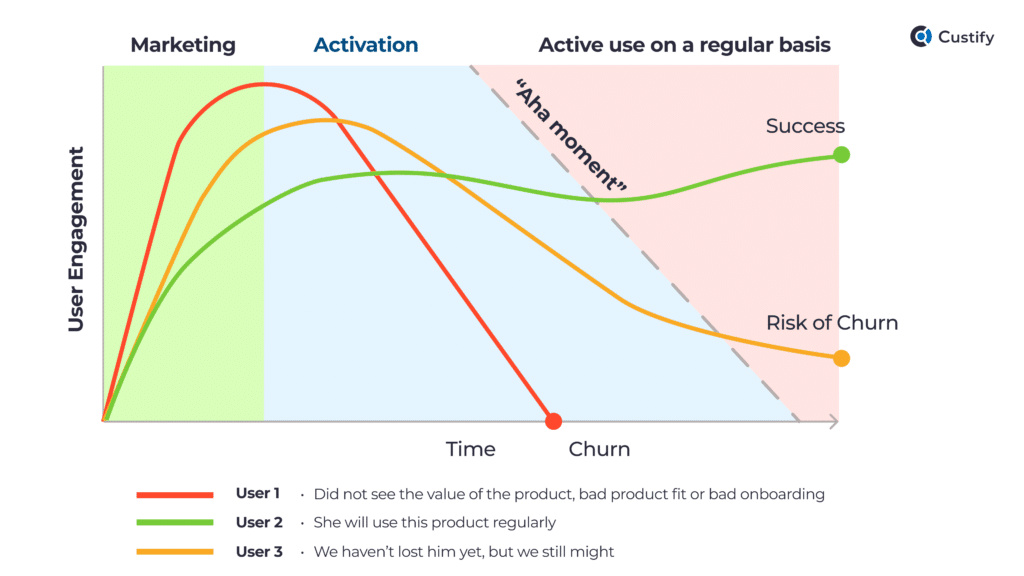 Source: Adapted from GoPractice.io
Time to Value FAQs
Q: Why is Time to Value so important in user onboarding?
The first value addition should happen before, during, or immediately after onboarding. If you cannot achieve such a short time to value, or at least some alternate form of immediate or basic value, your users won't see the point of sticking around and will end up churning. Therefore, it's best to focus on shortening the path between a user and their first win or Aha moment with your product or services.
Q: How can customer success teams shorten TTV?
The original mission of customer success, which still holds true to this day, was to reduce customer churn. Once customers see some value from your product or service, the danger of them churning drops significantly as they now understand how you're helping them. To help shorten TTV, customer success can use a variety of tactics and software, such as Custify, to effectively:
Find A-ha moments in the product and try to guide new users towards them as quickly as possible.
Learn and understand what the customers' desired outcomes are and work with the CS team to facilitate them.
Assist customers proactively on their way towards their goals, stepping in whenever you see alarming signs in your customer success dashboard.
Use automation flows to effectively do all of the above at scale for all of your user segments, freeing up your workday.
Q: How does Time to Value impact customer acquisition and lifetime value (CLTV)?
Typically, the lower the time to value, the more your free trial customer acquisition rate increases as users become aware of your product's value and choose to subscribe. Conversely, the higher your TTV, the more difficult it will be to increase your free trial conversion rate.
As for customer lifetime value, a short TTV will allow customers the opportunity to grow beyond the normal goals they have within the product. This helps your team successfully upsell them while increasing the value they obtain from your product. It's a win-win!
Time to Value Your SaaS
Now that you know the basics about Time to Value (TTV), you can move on to optimizing your product's onboarding phase to effectively lower TTV and secure your customers' loyalty.
For more tactics, strategies, and tools to lowering TTV, keep your eyes on the Custify blog!