This article is going to break down this abbreviation into a comprehensive guide on eNPS, aka employee Net Promoter Score.
What does this score signify for an employer, why bother, and how do you measure it? More significantly, what should you do next, once you've identified eNPS?
Let's sort it all out.
What's an Employee Net Promoter Score?
Employee Net Promoter Score is a metric that assesses employees' readiness and willingness to recommend their worksite to others.
For example, once you obtain eNPS of your customer success team, it will demonstrate whether they would endorse you as an employer and encourage others to join their CS team.
For roughly 20 years, brands have been tracking a similar metric for customer success: NPS or Net Promoter Score. It was first presented to the world by Fred Reichheld from Bain & Co. in his article for HBR.
During the past decade, business leaders and managers have started actively adopting eNPS, its spin-off.
As one of the key markers of employee experience, eNPS is a metric that assesses employees' readiness and willingness to recommend their worksite to others.
Why Does eNPS Matter?
The measurement of eNPS is an initial stage for improving your organizational culture. It gives you a rough understanding of your employees' job satisfaction level, their dedication to your company, and excitement to be a part of your team.
The result can help you specify whether employees' experiences with your company are positive enough for them to mention it to others. Employees with a highly positive work experience will actively spread word-of-mouth about your organization. In turn, it will help you improve your brand's reputation and attract new talents.
The employee Net Promoter Score can also signal that you might need to reconsider your collection of corporate values, standards, and expectations. Lacking a strong foundation is one of the common mistakes when building customer success teams.
Not to mention that with time, employees slowly lose enthusiasm and pride for working at their organizations. That's what Effectory discovered after surveying workers in the Netherlands. 86% of new employees (working less than a year) recommend their employers to acquaintances and friends. However, after five years of work, this number declines to 70%.
By calculating and then leveraging eNPS, you can drive work condition improvements, achieve an ideal in-office or remote working experience, and maintain this level consistently.
What should be your first move to calculate this metric? Keep reading.
How to Get Started with eNPS
Getting started with employee Net Promoter Score is as easy as 1-2-3. Literally. There are only three steps you should take to measure it.
Step 1. Conduct an eNPS survey
By analogy to the NPS survey, the eNPS survey consists of a single essential question. It may have a slightly different wording, but the interrogatory message remains as follows:
"On a scale from 0 to 10, how likely are you to recommend working at [Brand Name] to a friend?"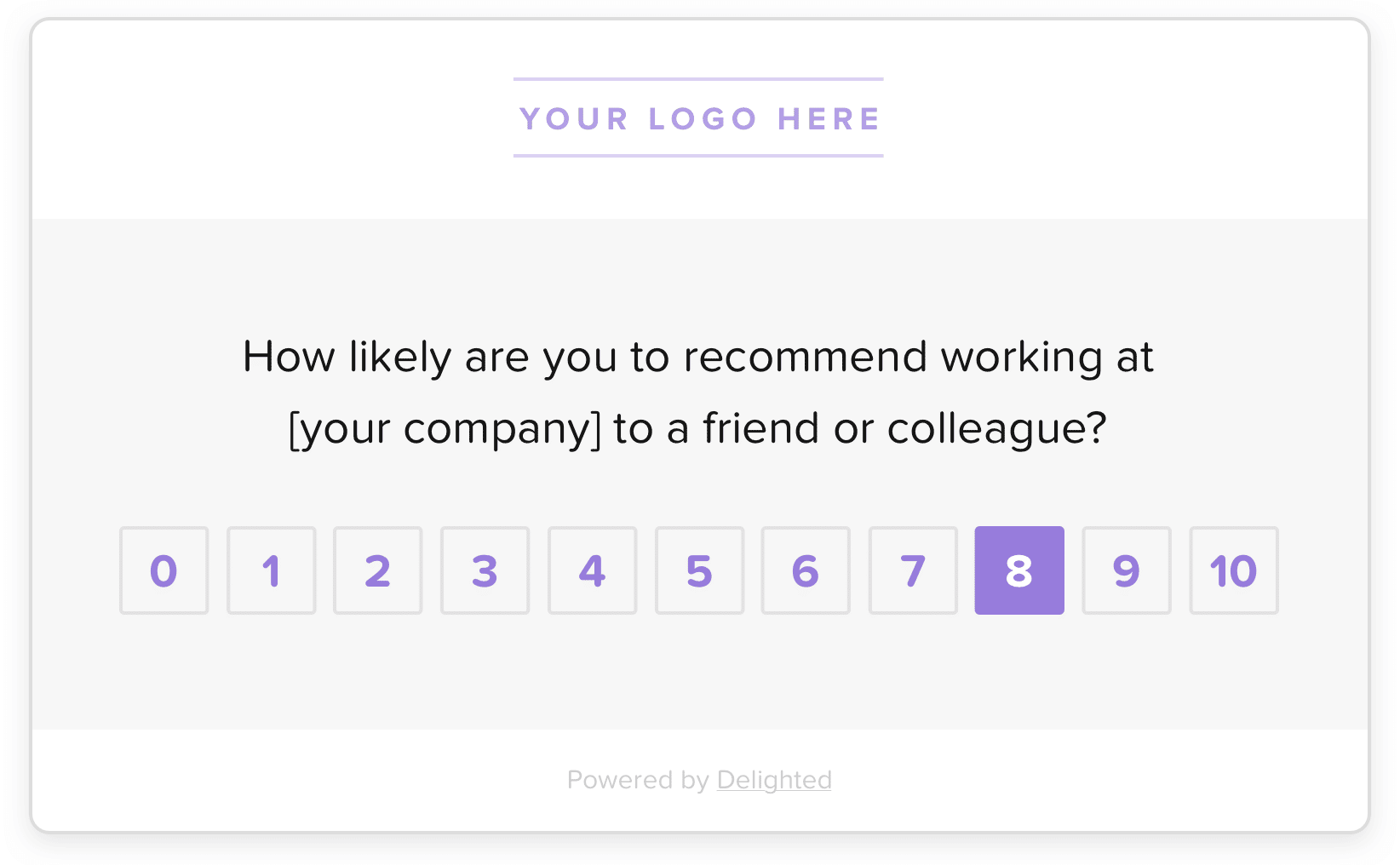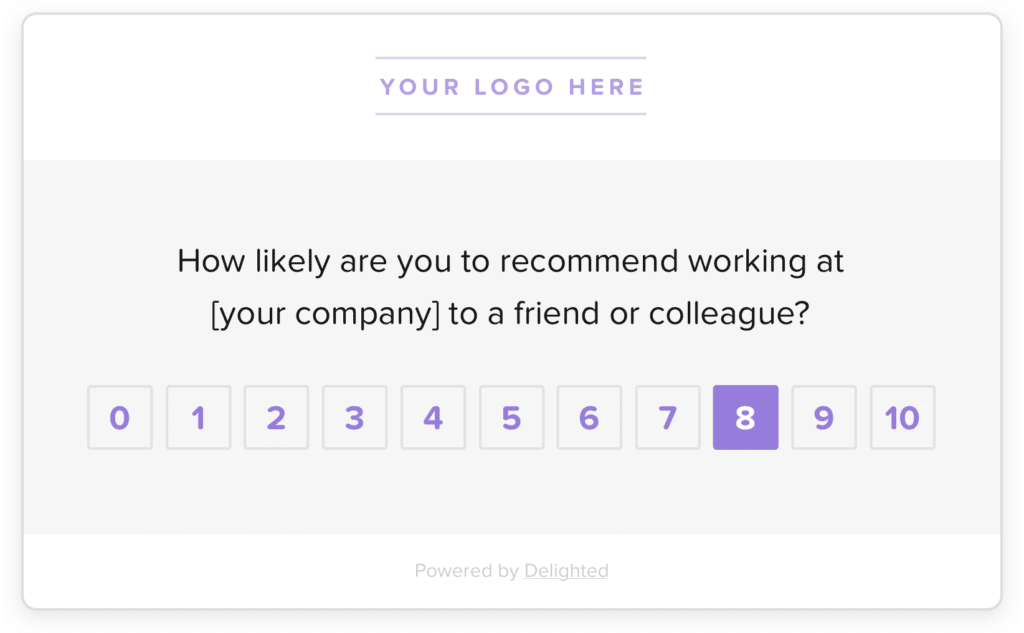 Step 2. Classify survey respondents
Now that you have collected responses, you need to classify employees into three groups. They are:
9s and 10s – promoters (they are the happiest and the most loyal employees who worship their company and wouldn't mind encouraging others to become their coworkers)
7s and 8s – neutrals or passives (they stick to neutrality: neither strong positive emotions, nor total dissatisfaction with your company)
From 0s to 6s – detractors (they are highly dissatisfied and are likely to talk negatively about you)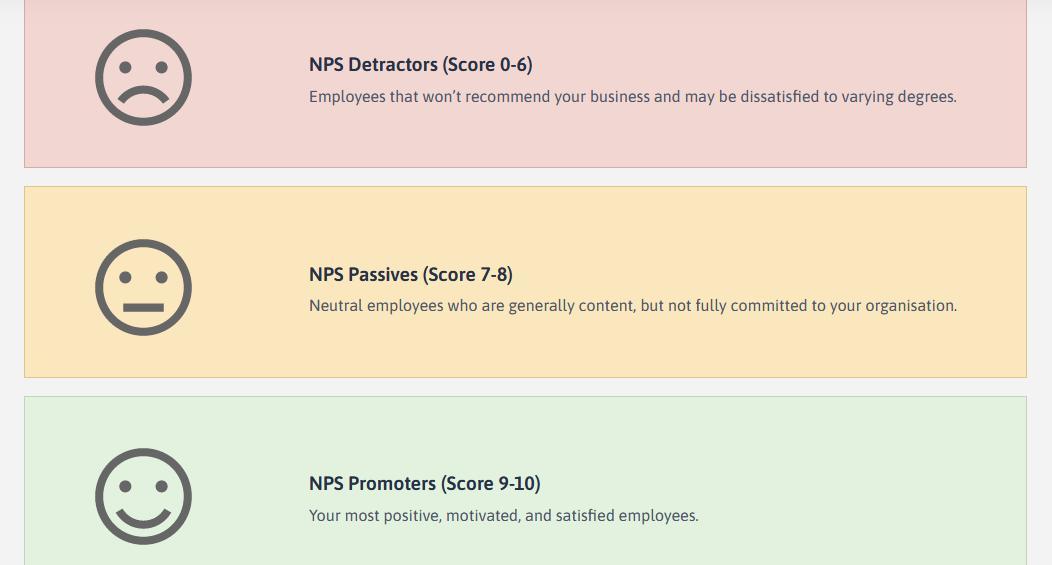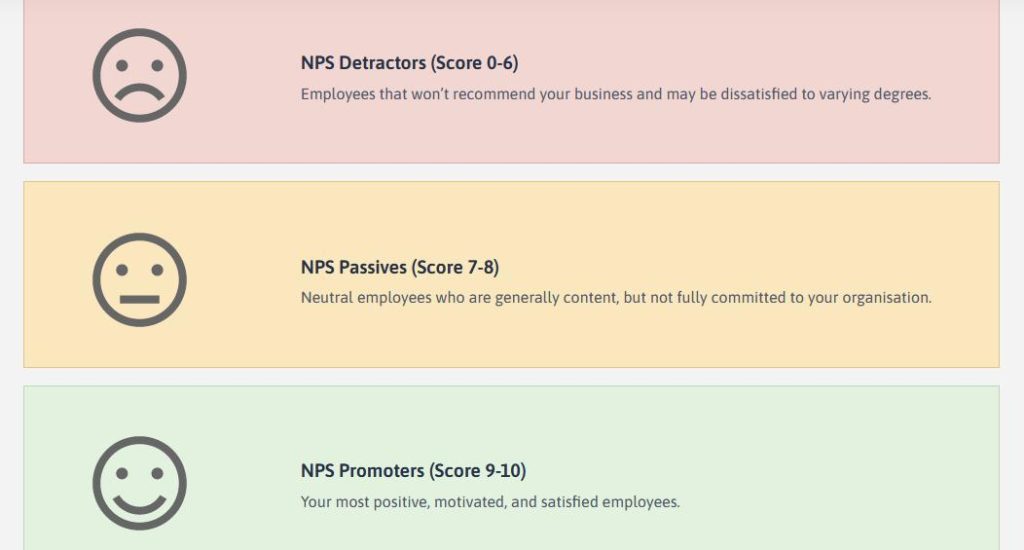 Get the percentage for each group and proceed to the next step.
Step 3. Use the eNPS calculation formula
Employee Net Promoter Score is calculated by applying the following formula:
% of Promoters – % of Detractors = eNPS

For example, if you have 55% of promoters and 15% of detractors, then your eNPS will be: 55% – 15% = 40.
What does this number mean? Is it good or bad?
See below.
The Complete eNPS Range Breakdown
What is the best and the worst eNPS?
Here's how to read employee Net Promoter Score results:
100: the best eNPS result
Above 50: your results are great but not the best
1–50: you've got more promoters than detractors but still have room for improvement
0: you have identical numbers of promoters and detractors
Below 0: you should be alarmed and concerned about problematic areas in the workplace
-100: the worst eNPS result
Generally, everything that is in the range 10–30 is considered a relatively acceptable score.
10 SaaS Companies With the Highest eNPS Scores
As of now, the eNPS scores of well-known SaaS providers are as follows:
HubSpot – 77
Adobe – 76
Asana – 69
SurveyMonkey – 67
Atlassian – 63
Slack – 52
MailChimp – 41
Microsoft – 38
Shopify – 27
Dropbox – 9
You can check the eNPS of a certain company at Comparably.
Let's take Google. Go to the company's profile. Select Culture in the menu below the brand's name. Find the Daily Life subcategory and click on eNPS.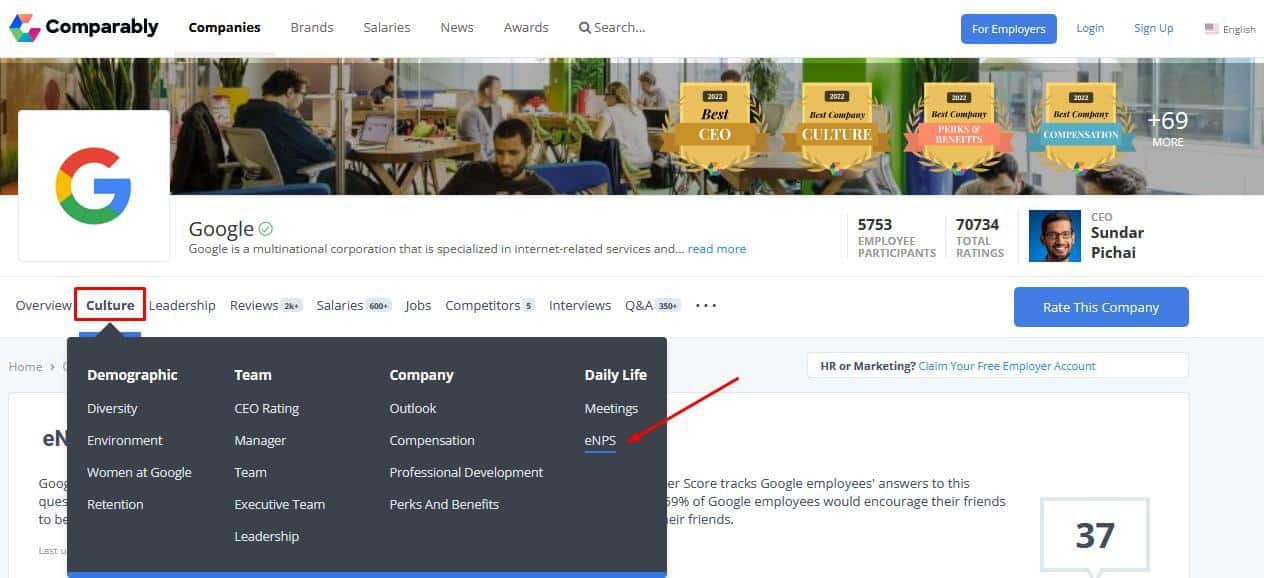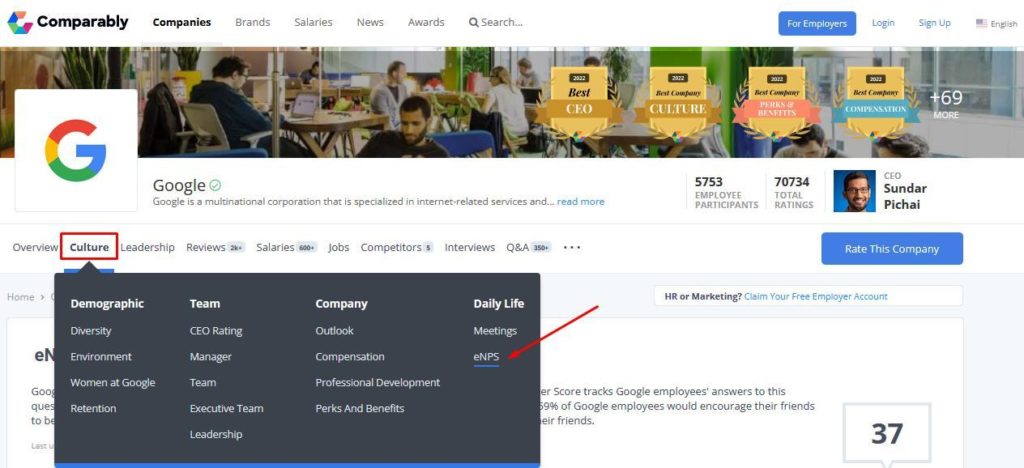 Helpful Tips on Measuring and Increasing the eNPS
Use the following best practices to properly organize the process of tracking eNPS and improve this score in the long run.
1. Send out eNPS surveys systematically
"Effective employee Net Promoter Score tracking can be achieved only via a systematic loop," believes Shawn Plummer, CEO at The Annuity Expert.
"Make it a habitual practice at your company. Some employers perform eNPS measurements annually, but I'd rather recommend doing it every three–four months, especially if you enforce new changes. For example, after expanding a list of customer services (like an annuity expert chat or free consultation booking, in our case), you would want to see how they influenced the overall perception of the workplace by the support team," Shawn highlights.
Besides, you might also need to remind your workers about the survey. In order to increase the participation rate, send corporate in-app or email notifications like: It's survey time! or Got a minute? We appreciate your opinion and feedback.
2. Let employees respond anonymously and avoid retaliation
Mark Pierce, CEO of Colorado LLC Attorney, explains why it's obligatory and how you should approach anonymity:
"HR departments typically find it challenging to get all employees to complete any kind of work-related questionnaires. The major obstacle is workers' mistrust of anonymity. Some of them even tend to answer dishonestly because they fear their response will be disclosed.

So, when you conduct an eNPS survey, don't collect any names or any other personal information and make it clear that a participant won't be identified. For that, provide a distinct indication: This questionnaire is completely anonymous."
Mark also says that, quite frequently, workers fall victims of employee survey retaliation. They may get a punishment, if they refuse to fill in a questionnaire. In other cases, workers receive reproaches for "unacceptable" survey results that don't meet employer's expectations. Employers should be aware that workplace retaliation is unlawful. It may result in civil and monetary penalties.
3. Set up eNPS automation
"The easiest path to get employee Net Promoter Score is to use one of the eNPS tools that automate questionnaire distribution, gather data, and calculate results automatically," says Stephan Baldwin, Founder of Assisted Living.
"We asked HRs at assisted living facilities whether they use any software for monitoring eNPS of caregivers and nurse practitioners and how helpful they are. The bulk of them prefer automatic solutions for eNPS because they eliminate paperwork and reduce time for analysis and calculations."
You can create and send employee Net Promoter Score surveys via such software as Trustmary, Align, or VRAMP, for instance.
4. Follow up with one more question
You should know why detractors are dissatisfied or why passives stay indifferent so that you could motivate and engage them more.
One of the following questions can help you understand what you can do to improve the score:
Why do you feel this way?
What could we do to create a better job experience for you?
What could we do to make you more satisfied with your place of work?
What do you feel is lacking in your work environment?
For example, your employees might want a hybrid working model. Actually, 84% of those who switched to a work-from-home mode because of the COVID-19 crisis hope to have a mix of remote and in-office work in the future.
There are many more concerns your employees might have about their job. The top three of them, based on the Inside Employees' Minds study by Mercer, run across all demographic audiences. They are: work-life balance, mental health, and physical health.
5. Share the results with employees
Sharing eNPS survey results doesn't have to be uncomfortable or awkward. As an employer, you should be transparent and honest with your staff. Explain why this score is significant, announce the result, and discuss your further plans for improving your company's workplace culture.
6. Monitor other metrics and act on improvements
You must be well familiar with customer engagement metrics. However, you should also trace how engaged your workers are.
Organizations with higher employee engagement have higher business outcomes. They see an 18% rise in sales productivity and 23% – in profits, among other benefits.
Engaging your workforce is particularly critical when you lead a remote team. The following numbers are proof for it: HowNow reported that 67% of UK employees who work from home feel disconnected from their colleagues, and 42% of them experience loneliness.
Executives think two out of three employees can leave the company because they don't feel connected. Workers say: disconnection from the team is actually the primary reason for them to quit.
That's why it's beneficial to track and increase some other scores and rates along with eNPS. Check the list of them below.
5 Alternative Metrics to eNPS
In isolation, eNPS doesn't give much of a value, because it measures only employee intent. You can have a broader picture of workplace happiness and engagement if you support it with other metrics:
Employee satisfaction (eSAT) – similar to CSAT (customer satisfaction score)
Employee productivity rate – assess the contribution generated by a worker over a given timeframe
New hire satisfaction rate – determine how satisfied your employees are during onboarding
360-degree feedback – analyze employee performance (includes all-inclusive feedback from managers, coworkers, and customers)
Employee well-being index – screen physical and mental health, notice burnouts, estimate the level of depression or stress, etc.
When leaders care about health and wellness and support well-being initiatives, 89% of their employees are more likely to recommend the workplace to others, according to APA's research.
Employee Net Promoter Score in a Nutshell
Employee Net Promoter Score is a north-star metric for employees' experiences that shows whether workers are ready to advocate their company as a superb worksite. It guides managers and leaders towards achieving employee success within their organizations.
You should remember, though, that eNPS is only a springboard. Supporting it with other metrics and taking action in accordance with the results and feedback, you can drive work condition improvements for long-term success.
Eventually, you can promote genuine employee advocacy and get internally motivated brand ambassadors who will help you positively convey the image of your organization.