Have you ever purchased a product because a friend recommended it to you? If your answer is yes — and it likely is — that means you've been influenced by social proof.
Because it influences people's buying decisions, social proof plays a pivotal role in marketing, especially for SaaS businesses. This singular element can increase brand visibility and inspire trust in customers — both of which help increase the number of product signups and satisfied customers.
What is Social Proof?
In his book, Influence: The Psychology of Persuasion, Dr. Robert Cialdini introduced the term social proof (or informational social influence) as "the tendency to see an action as more appropriate when others are doing it."
Case in point: You traveled to a country you've never visited before to attend a friend's wedding. While you're there, you want to grab a quick meal, so you ask your friend to recommend a good restaurant to you. Then, you look up the restaurant on Yelp and see that they have mainly positive reviews from former customers.
The positive reviews coupled with the fact that your close friend recommended the place convince you that the restaurant offers good meals and is worth your money.
In this scenario, your friend's recommendation and the Yelp reviews are social proof for the restaurant.
This is usually how it applies in marketing. Before people buy a product, they look for reviews from people who have used that product. That's why companies work so hard to get customer reviews.
Types of Social Proof
The reason social proof is so powerful is that consumers are constantly on the lookout for things that can convince them that something is worth their money and time.
B2B SaaS companies, in particular, use social proof to encourage customers to purchase their products on the spot. Here are some types of social proof SaaS companies use.
Expert recommendation
This refers to a well-known influencer or thought leader in your industry endorsing your product. This could happen when they post something positive about your product on social media, their blog, or when they mention using it on a podcast.
Expert recommendation increases the authority and credibility of a brand or a particular offering. This translates to increased trust and more sales.
Certifications
You get certifications when a credible, third-party entity or body guarantees that you are a trustworthy source of a service or product. It's a mark of approval from an authoritative body that signals to potential customers that your product and brand are exceptional in your industry.
Certifications can come in different forms, depending on your industry and culture. For example, companies like Glassdoor give certifications to businesses that have a great work culture. This makes it easier for potential candidates to make the decision to apply for a job there.
Customer testimonials
These are written or video endorsements from real customers who share their experience using a product or service. There's no better reason to purchase a product than hearing a recent customer talk about how pleased they were with said product.
That being said, video testimonials are more compelling than written testimonials. In a Wyzowl survey, 2 out of 3 people said they're more likely to make a purchase after watching a video testimonial showing how a product or service helped someone else in a similar situation as them.
This is because video testimonials show the emotion of the person sharing their experience with the product. They also appeal to today's customers who'd rather watch videos than read text.
Third-party reviews
According to Dixa's 2022 Customer Experience report, 93% of online customers read reviews before they make a purchase. This is enough reason for companies to actively be on the lookout for third-party reviews.
The reviews on third-party platforms like Glassdoor and TrustPilot are more trusted by consumers because they know that these reviews have not been altered, curated, or edited by the business in any way. These real reviews show consumers the quality of your product/service and the legitimacy of your business.
Sometimes, customers publish detailed reviews of products they've used in the past—like this in-depth WP Engine review. Prospects usually read these reviews before making buying decisions.
Case studies
A case study is an in-depth analysis of the problem a customer had and how your product or service helped them solve that problem. B2B SaaS companies use case studies to prove to prospects that they can back up the promises they make.
In addition to proving that your product or service is helpful, case studies also give prospects a glimpse into what it's like to work with you. This way, potential customers can determine if they can partner with you to work through similar problems they're dealing with.
Media mentions
If a company has a stellar product and has produced incredible results for companies, media outlets and publications may feature the company in their content. These features, also known as media mentions, help build brand awareness and convince people to try out the company's product or service. It can also help the company earn backlinks, which plays a huge role in the success of content marketing efforts.
The same goes for customers who talk about and tag brands on social media platforms like Facebook, Instagram, Twitter, and YouTube.
8 Real Examples of Social Proof
It's one thing to know what social proof is and another to know how to use it to drive business growth. Here are a few companies that use social proof to build trust and gain customers:
Order.co is another company that uses customer logos to its advantage.
Just after their value proposition and CTA, you'll find a band of logos of small and large companies that Order.co has partnered with to increase business growth. This shows credibility and increases the trust potential customers have in Order.co.


Further down the page, Order.co reinforces that trust with numbers. This data shows just how much money Order.co has helped generate for thousands of vendors worldwide.


Scroll a bit further, and you'll see all the positive things these companies have to say about working with the team at Order.co to fulfill their orders and streamline their monthly spending. This gives prospects an idea of the results they can get if they work with Order.co.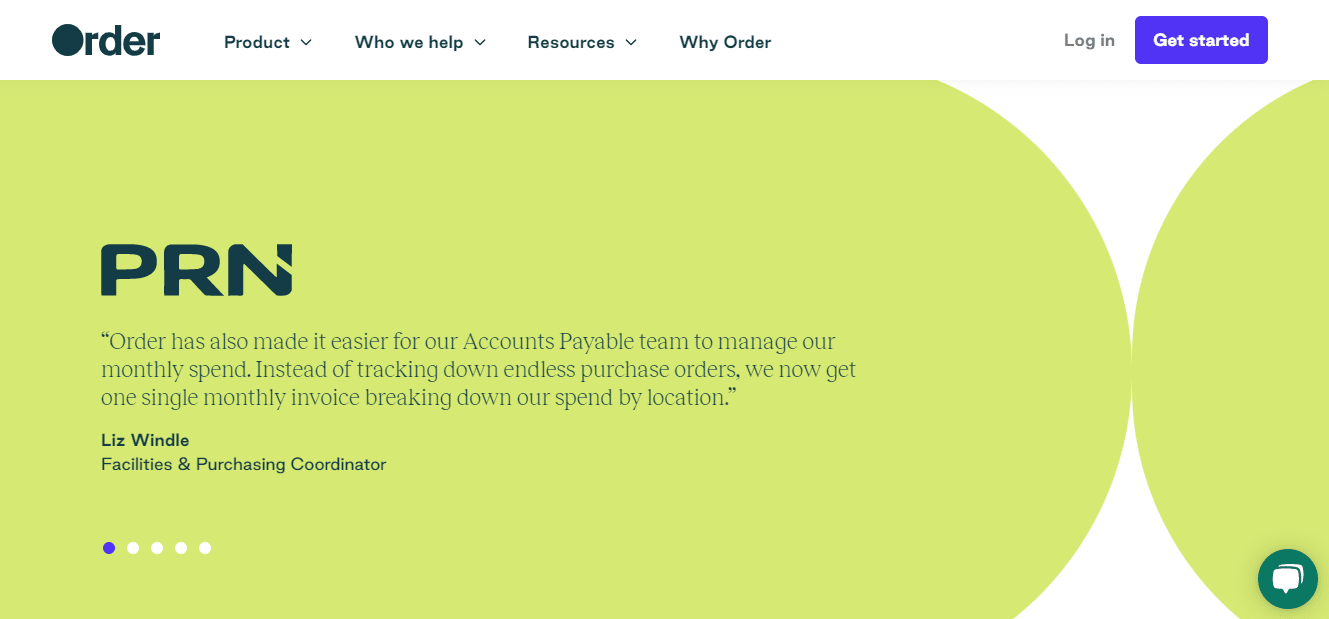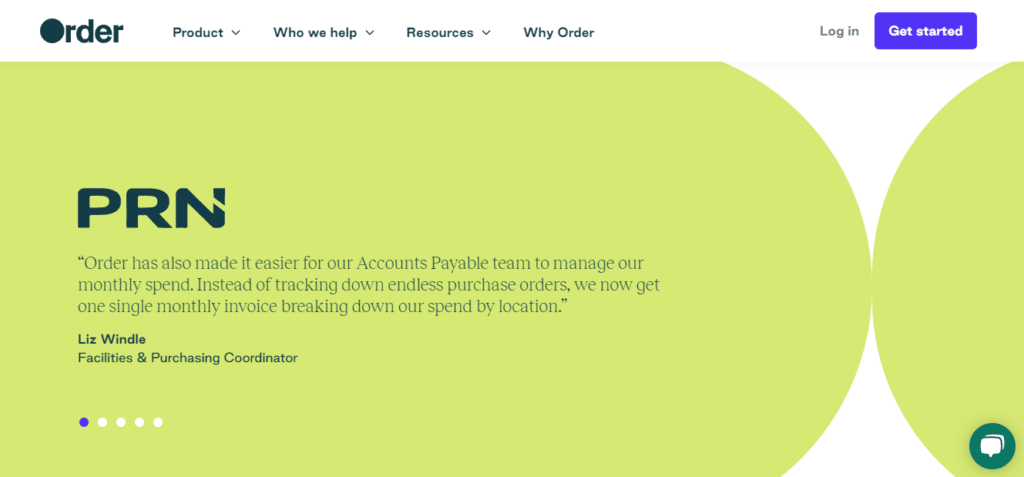 Near the bottom of the homepage, Order.co includes a link to its Case Studies page which consists of 10+ breakdowns of how it brought order and efficiency to companies of different sizes.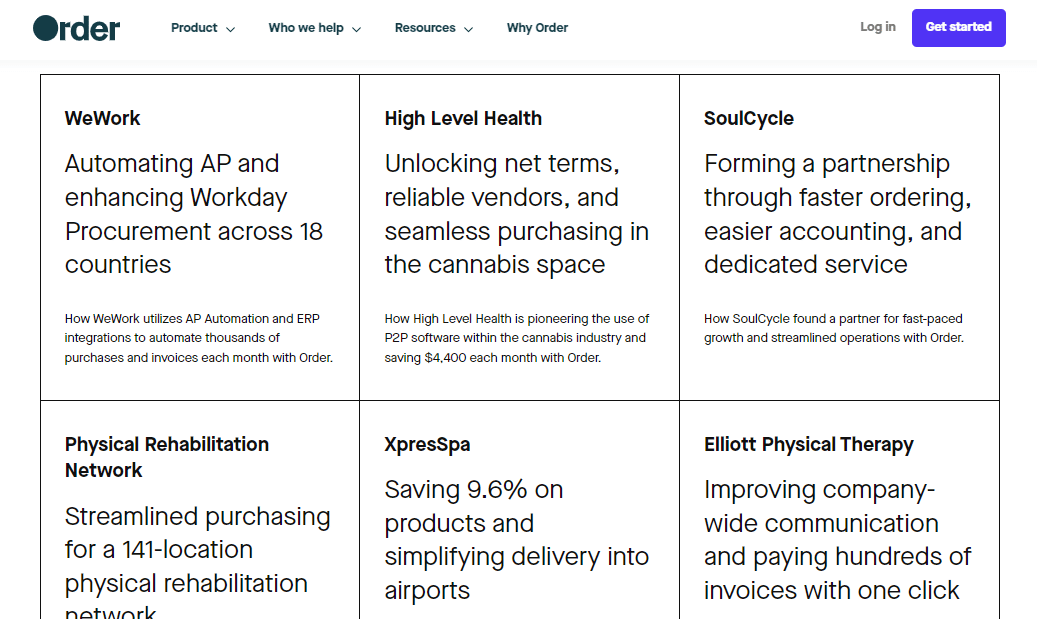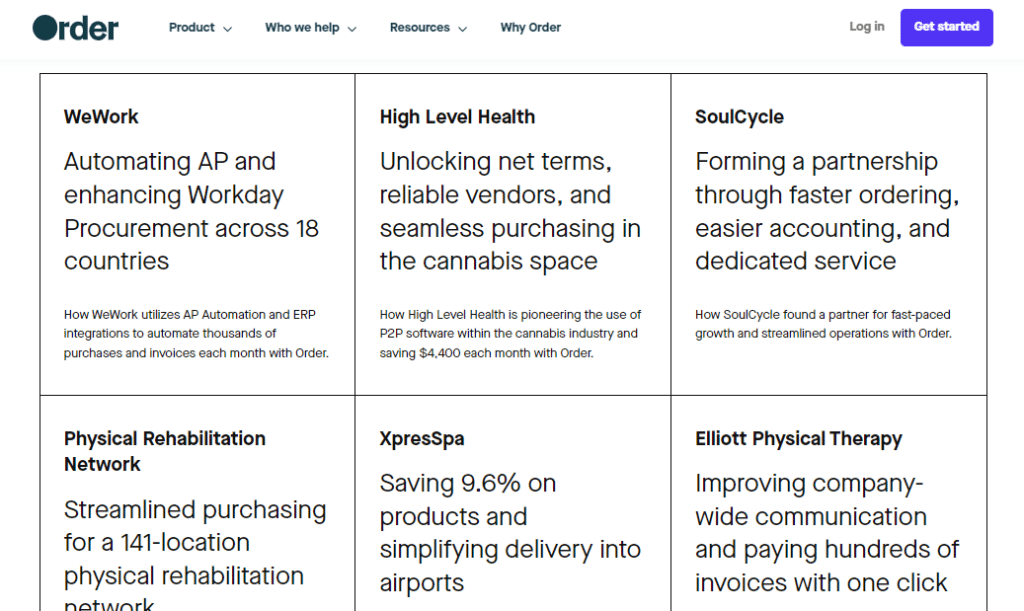 Just like the other companies on this list, Shipyard shows off the logos of companies that have trusted it to modernize their workflows. This shows that customer logos work as social proof for B2B SaaS brands.


A bit further down the page, you'll find testimonials from the heads of teams at companies like Equal Exchange, Joybird, and even a non-profit organization. They explain how Shipyard simplified its data processing systems in very little time.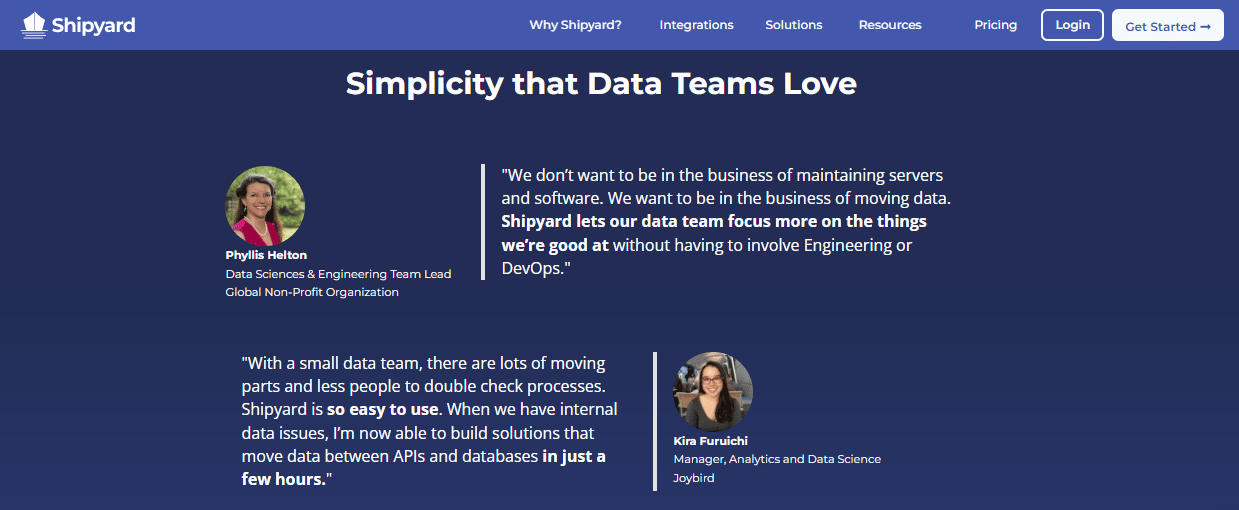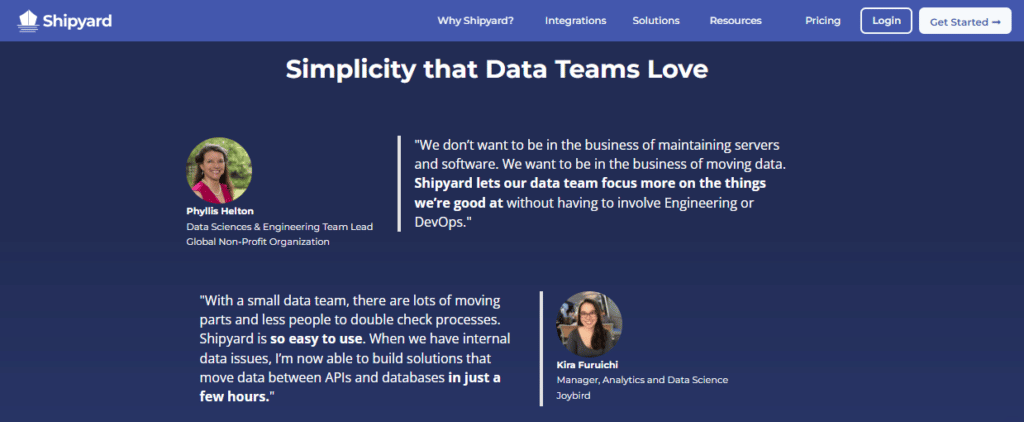 This company starts off their social proof with customer logos from companies like Staples and Framestore that have trusted them to build efficient teams.
Halfway down the page, you'll find a certification Recruitee got from ISO (International Organization for Standardization). This certification assures companies that work with Recruitee that their data is safe and secure.


Next, Recruitee uses numbers to double down on that trust and credibility. The homepage notes that the company has over 180K users already with 5,000+ companies across 90 countries. And they all have a 97.1% customer satisfaction rate.


But Recruitee goes on to say that you shouldn't just blindly take them at their word. You should trust the customers who left impressive ratings for them on third-party review sites like Capterra, G2, GetApp, and Software Advice.
And if that doesn't convince you, you can read a couple of case studies that show exactly why companies choose Recruitee to help build their teams. These case studies are complete breakdowns of the steps Recruitee's team used to streamline time spent on tasks and time-to-hire.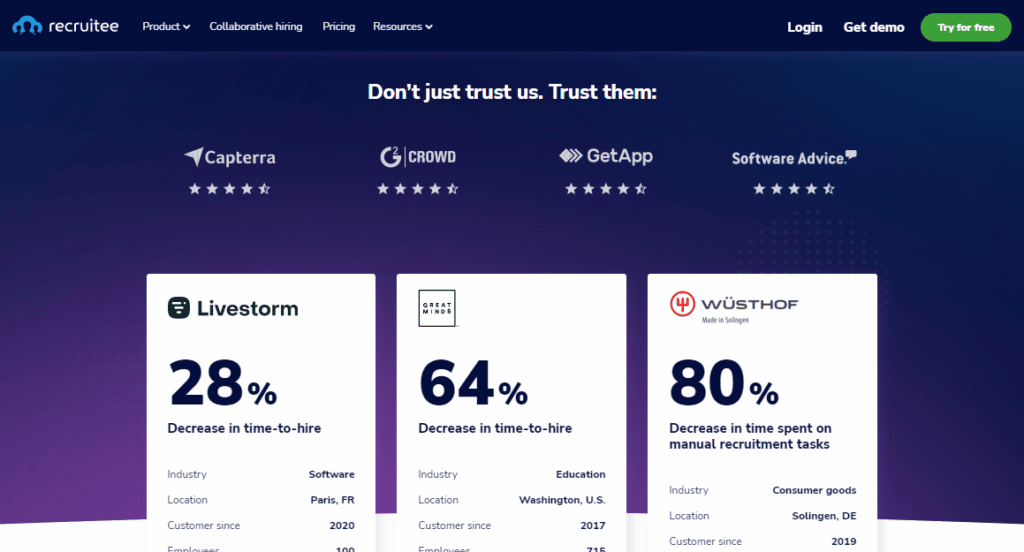 Recruitee closes things off by displaying some awards it received in 2022.


The social proof on Wishup's website starts with logos from previous clients.
Next, you'll find the number of satisfied customers and their average service rating. You'll also find the number of virtual assistants, social media assistants, accountants, and software testers that Wishup has hired and vetted for their clients.


The website also has written testimonials from customers emphasizing how Wishup has helped them organize their work and build their teams.
At the end of the homepage, you'll see the logos of media outlets that have mentioned Wishup, including Financial Investor, Mentors, and Website Planet. This shows prospects that if big publications can vouch for the company and the results they provide, then it must be good.


Following a similar approach to social proof, Kicksta starts off with the logos of well-known publications that have featured them, including HuffPost, Entrepreneur, and Forbes.


In their web copy, Kicksta mentions that they've helped over 100,000 brands and influencers gain millions of Instagram followers organically. This shows prospects that they're not alone and that their goals are achievable.
To prove this, Kicksta includes some written and video testimonials from customers and clients whose reach and followers they've helped increase. The video testimonial, in particular, gives people a sneak peek into Kicksta's processes.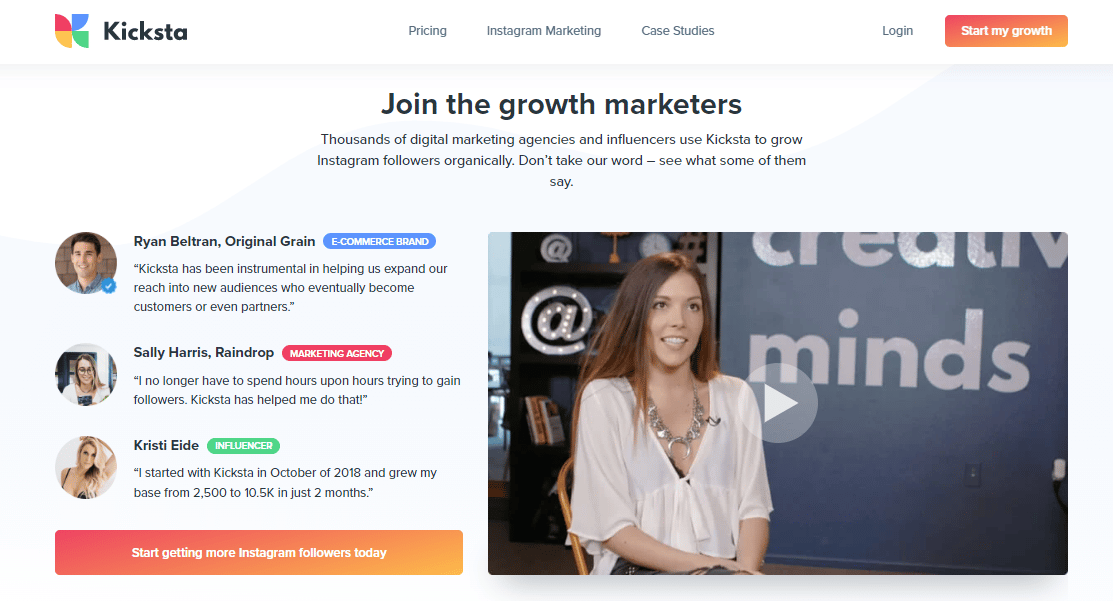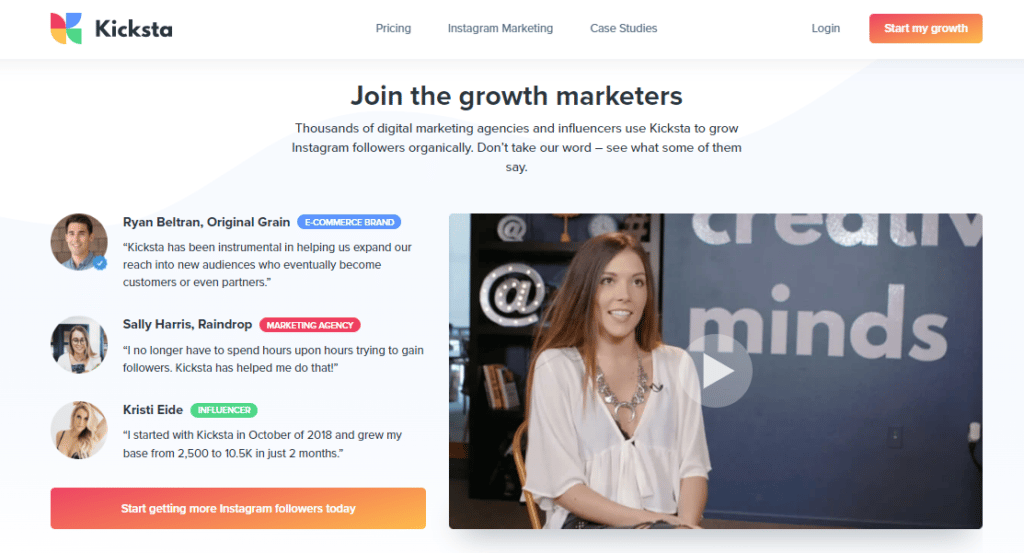 Finally, Kicksta includes testimonials that customers left on 3rd party sites like Google, Reddit, and YouTube.
Together, a mentorship platform, takes an interesting approach to social proof. They do what many of the other examples above do — customer logos, testimonial videos, case studies — but they also host customer panels where mentorship program managers share best practices.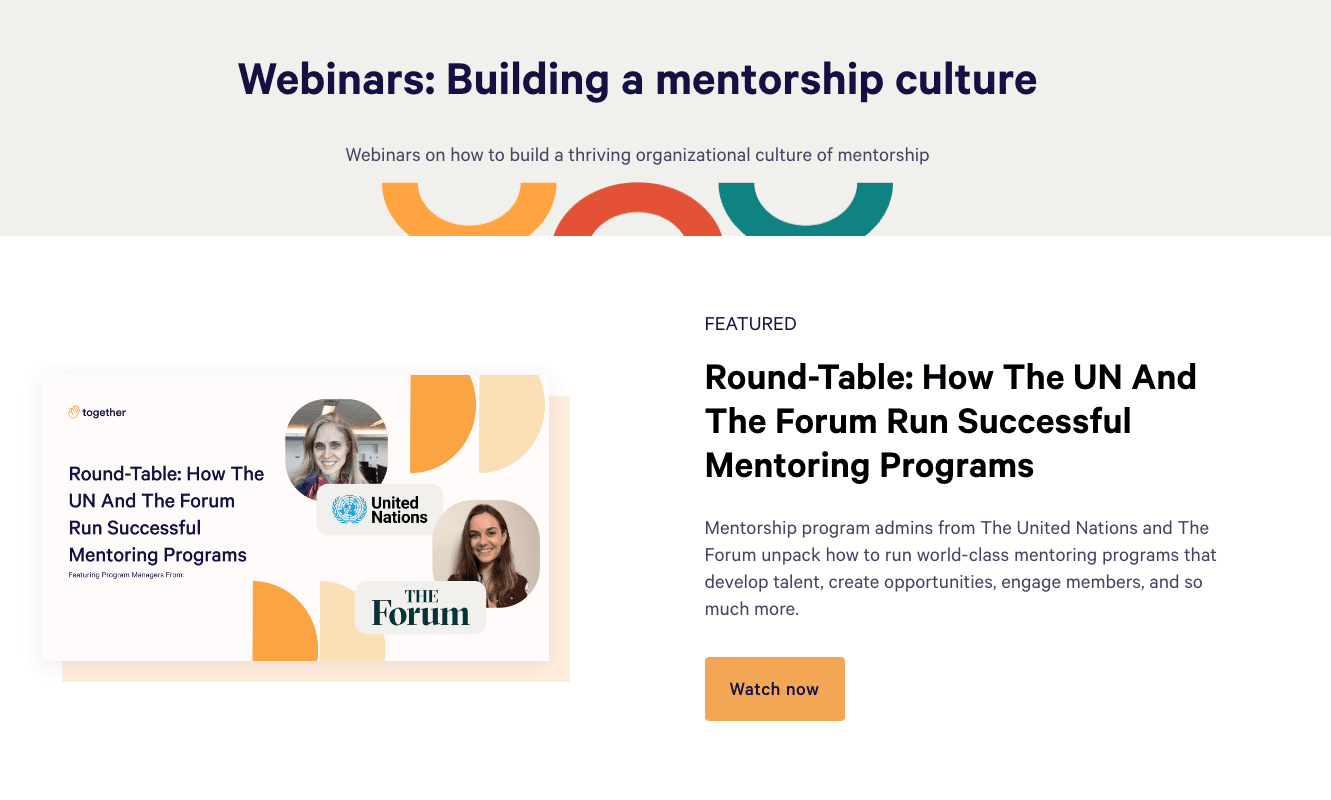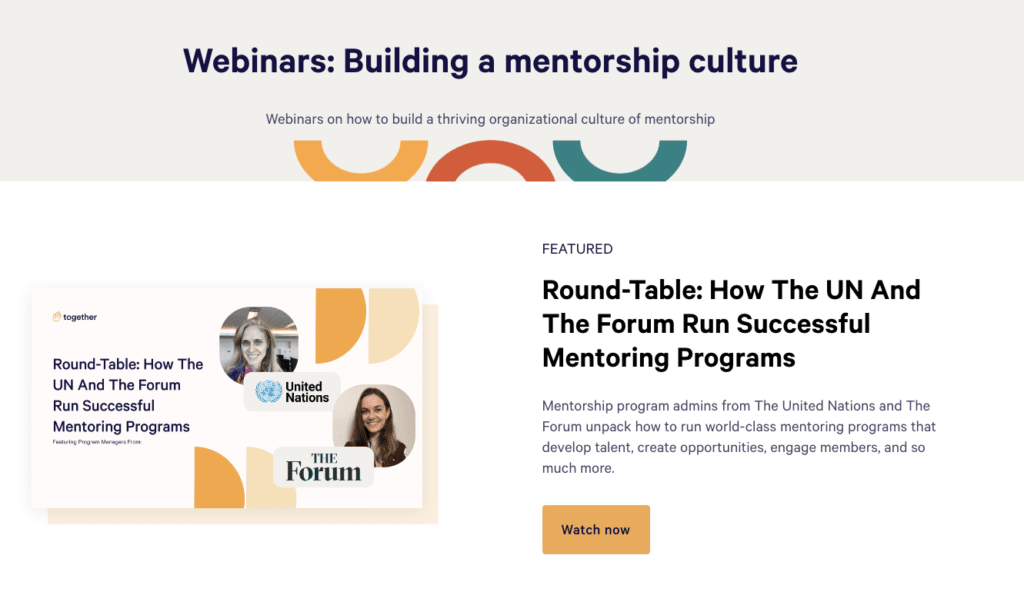 These panel discussions show program managers from the United Nations, First Horizon, and more sharing what they've learned from launching successful mentoring programs. Participants love these panels because they dig deep into the nuances of mentorship program best practices and directly answer their questions through Q&A forums.
For Together, it's a great way to highlight the successes of their customers. Many attribute their success to their platform, so it's a great way to promote themselves without being overly pushy.
Custify's homepage itself is a lesson on using social proof.
Just below the main Call-to-Action, Custify includes the 5-star customer ratings it has received on third-party sites like G2 and Capterra. These sites are known for being authentic and showing reviews and ratings just as customers leave them.
Seeing positive reviews there boosts people's trust in Custify.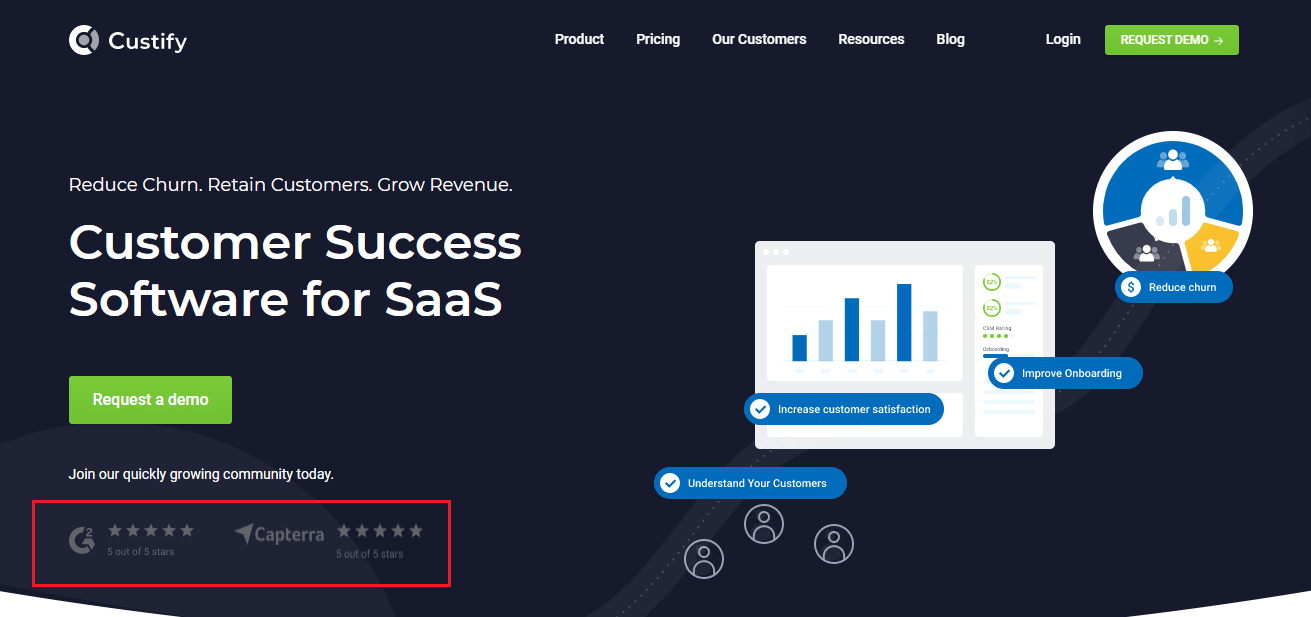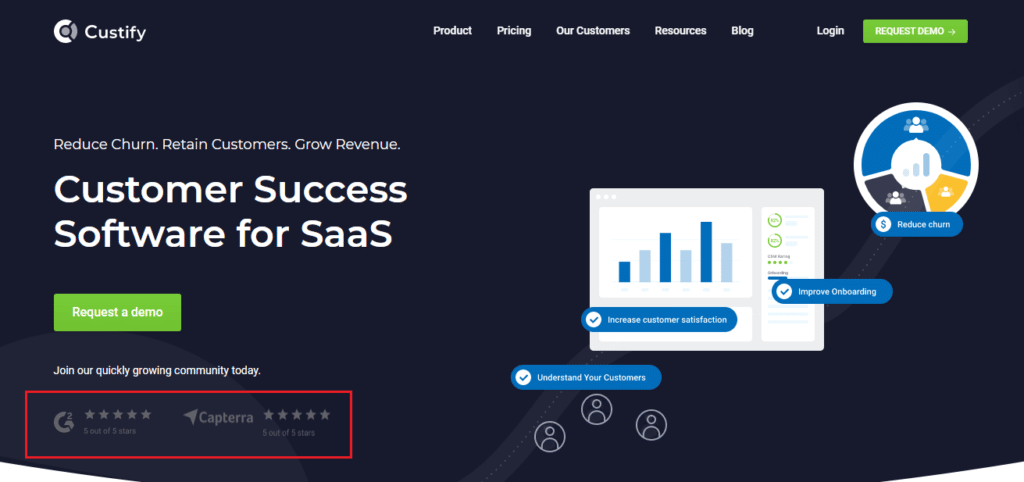 But Custify doesn't stop there. When you scroll further down the page, you'll find written customer testimonials from leaders at top SaaS brands like Userpilot, Monograph, and Growth Engine on how Custify was able to help them understand their customers despite how complex their SaaS products were.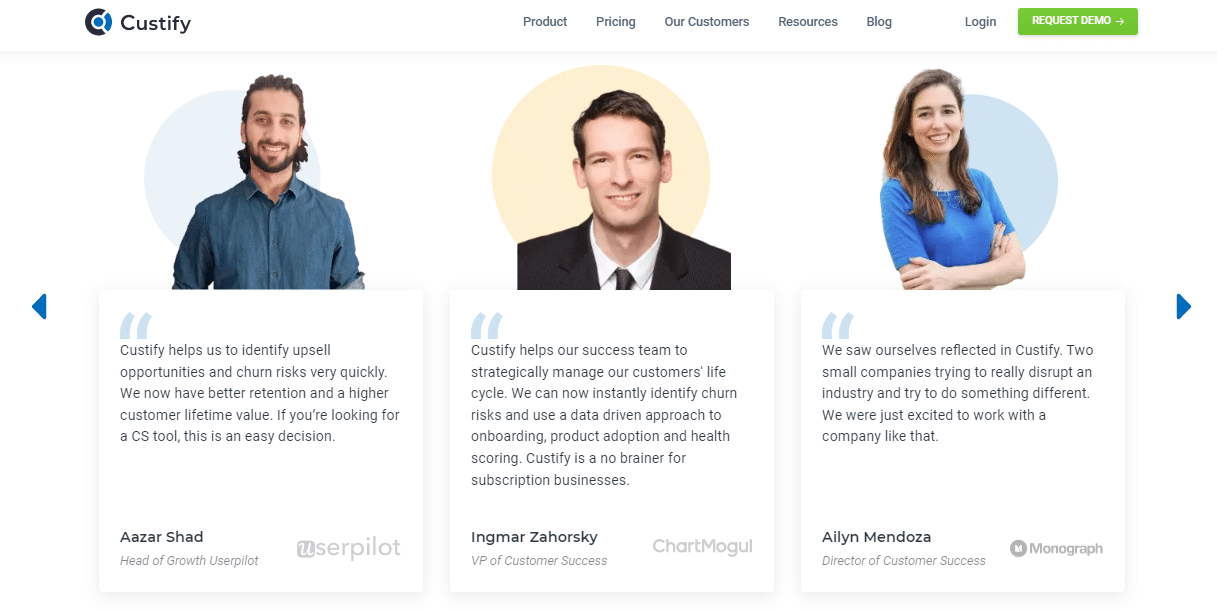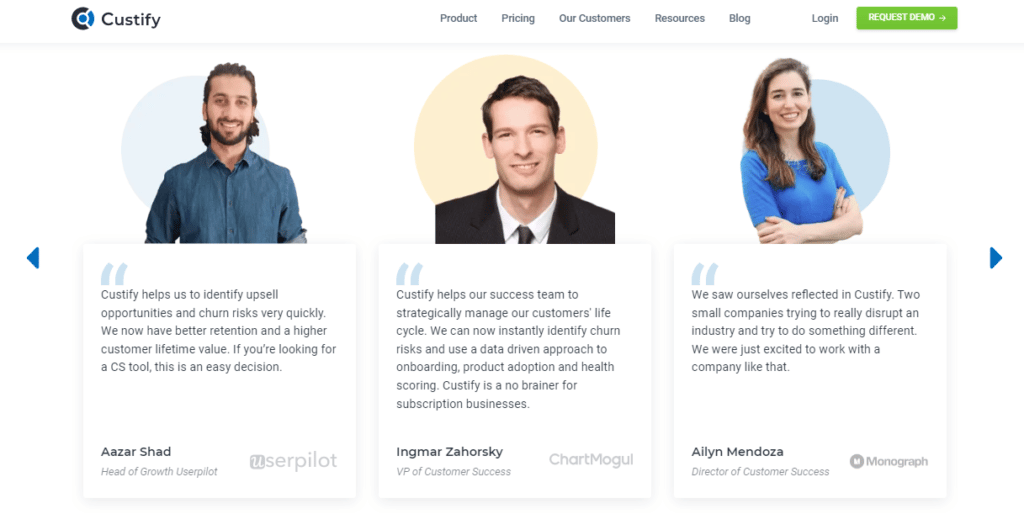 Near the bottom of the Resources page, Custify includes a strip of awards they received in 2022. These include Best Usability, Highest User Adoption, Momentum Leader, and Best Support. They show prospects that other customers have tried Custify and attest that the product is an excellent one to use for SaaS customer success.


And finally, Custify tops it off with its Our Customers page which includes video testimonials, case studies, and even more written testimonials from satisfied clients. This social proof gives you a glimpse into the real problems that Custify's customers had and a complete breakdown of what the team at Custify did to improve the situation.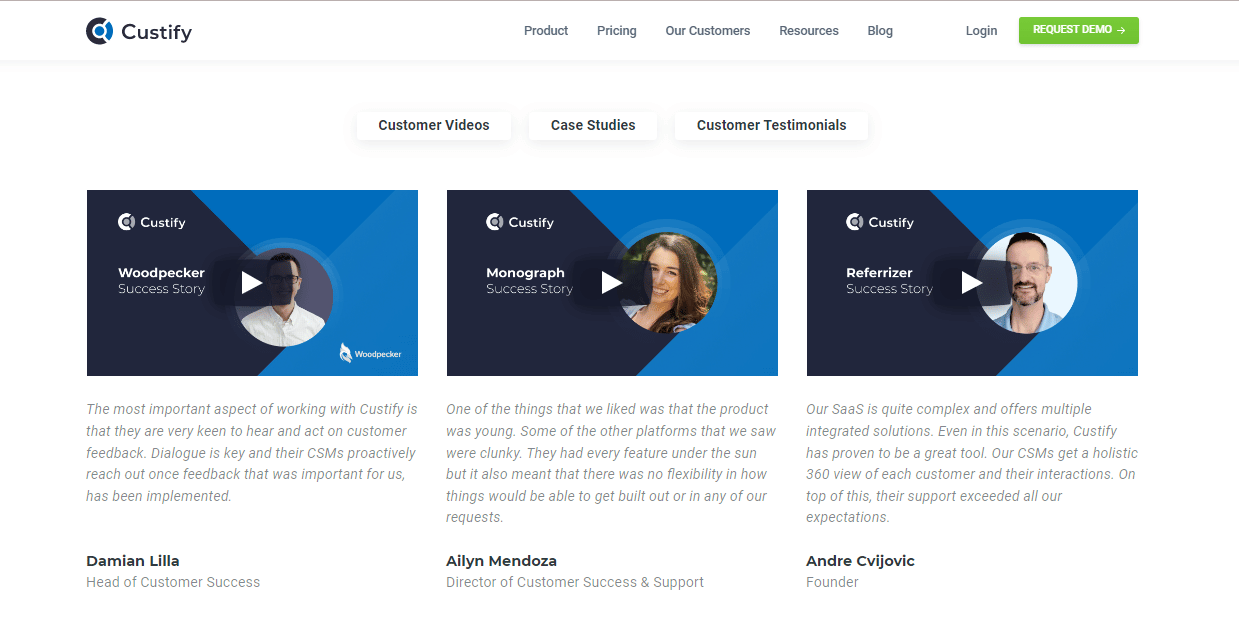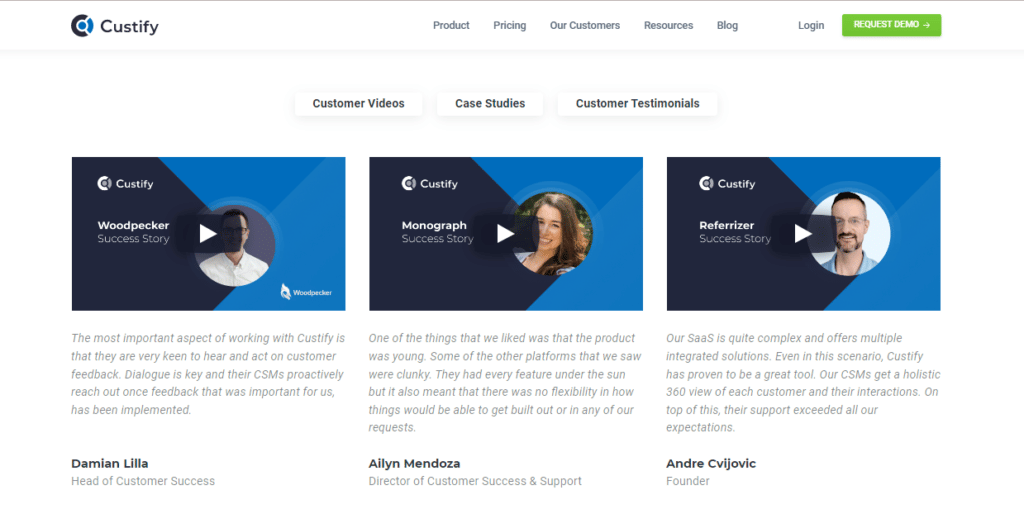 As a content marketing agency, Omniscient Digital has to convince prospects that it's the best agency to help them with content.
On their website, they list some popular companies that have trusted them with their content goals, including Hotjar, Jasper, and Wunderkind. This says to the prospect, "If we can help these companies, we can help you, too."


And Omniscient doesn't let up. Right after the customer logos, there are four case studies that show the incredible results that clients have gotten from working with them. In fact, they explicitly note that those numbers aren't typos because that's how impressive the results were.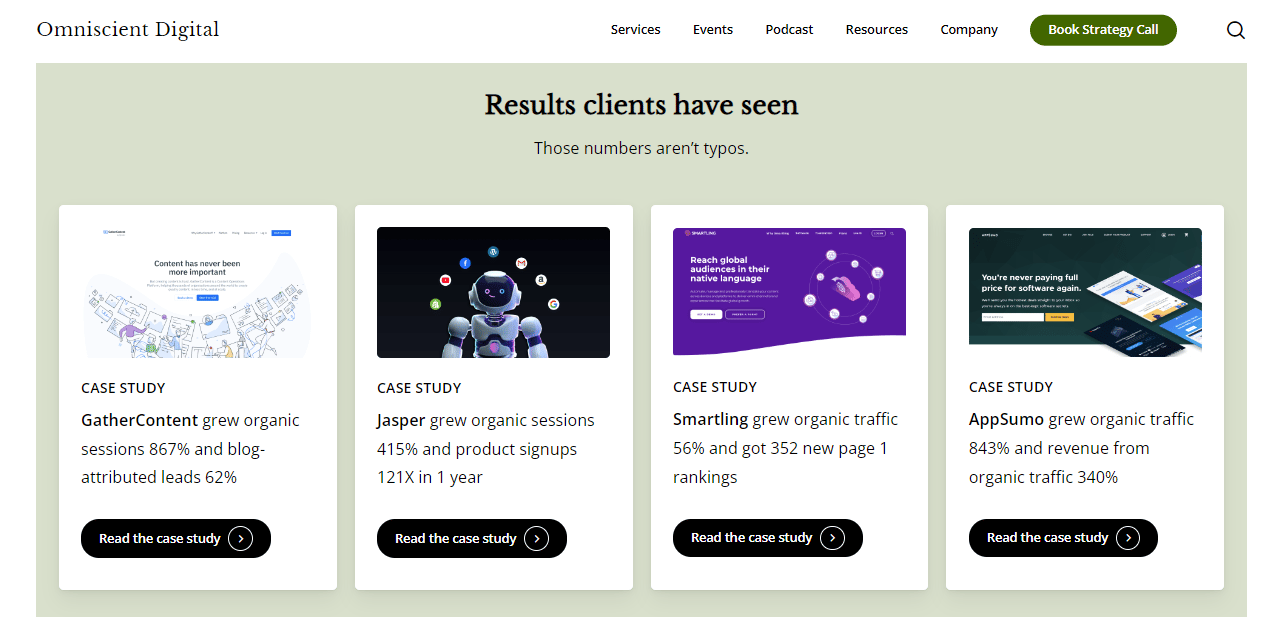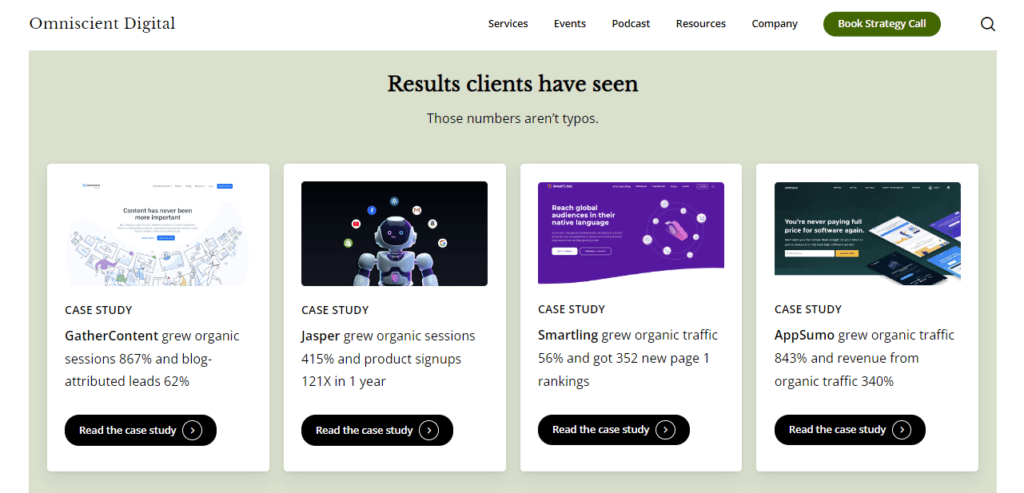 Omniscient also includes written and video testimonials from clients right under the case studies. These testimonials show how much trust these companies had in Omniscient and how the agency surpassed their content goals.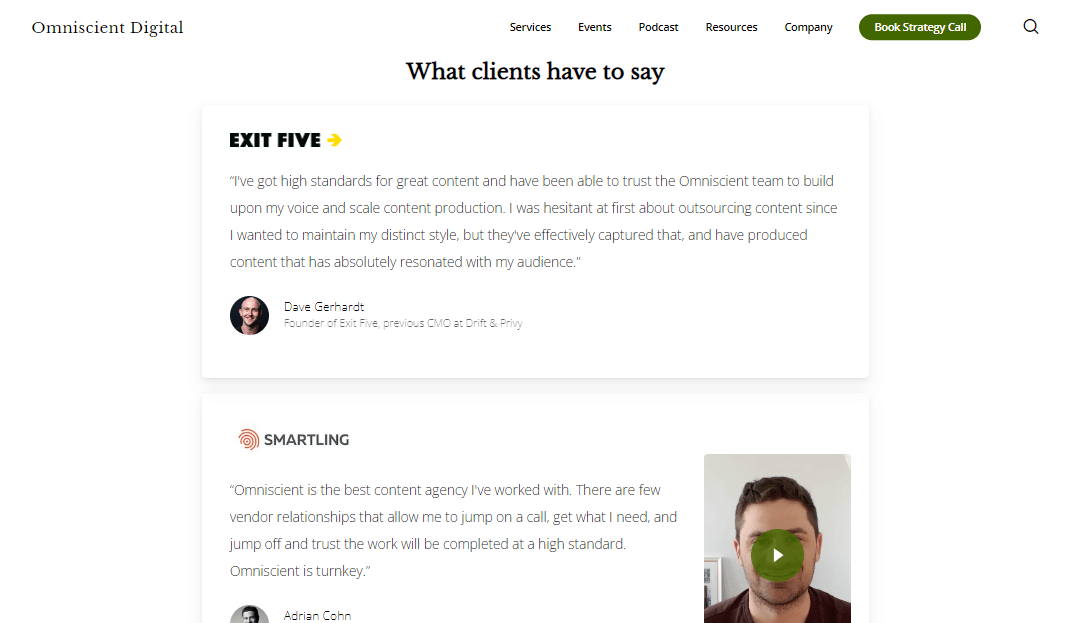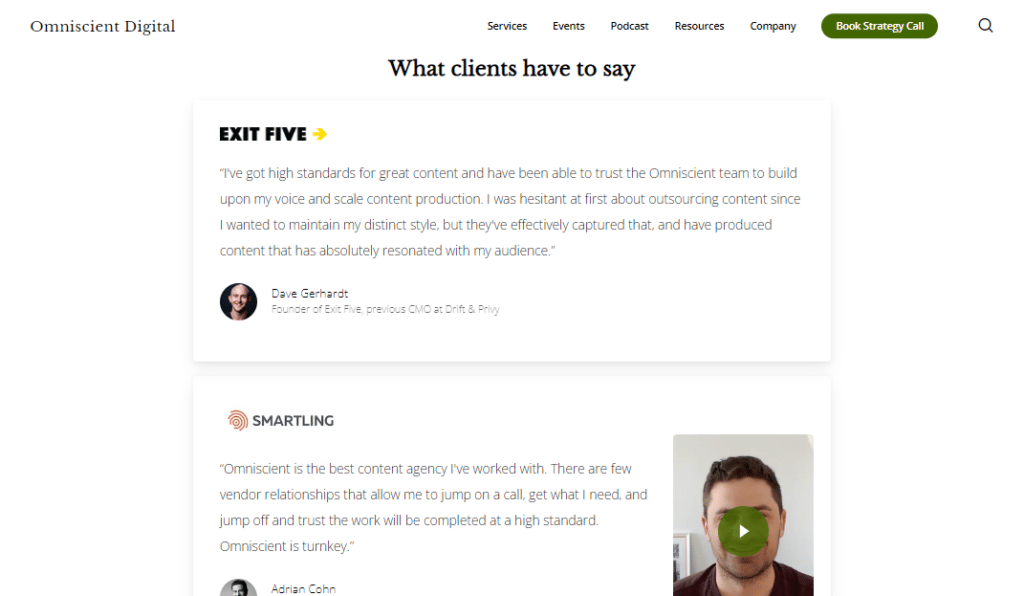 Benefits of Social Proof
Now that we've seen some examples of social proof, let's discuss some of the main benefits.
Inspire trust
BrightLocal's 2022 Local Consumer Review Survey showed that 84% of consumers trust reviews just as much as they trust a recommendation from family members and friends.
Here's why.
Unbiased opinions—whether they come from industry experts or satisfied customers—reassure prospects that your brand provides exceptional products and services. When prospects see that other people have had a pleasant experience with your brand, it reduces the ambivalence and makes it easier for people to choose whether to work with you or not.
That's why B2B SaaS companies often use testimonials, reviews, and expert approval on their websites—to build trust.
Establish credibility and build your reputation
Remember the Recruitee example we saw in the previous section? Who would think a company with nearly 200,000 customers wasn't credible? Not many.
Customers are an integral part of a company's credibility and reputation. So companies with a lot of customers are generally seen as more credible than those with very few customers. That's why B2B companies mention the number of customers they've had on their websites.
Give a competitive advantage
Picture this: You want to buy a new smartphone and you have two options.
Phone A, which has 150 reviews on Amazon and a 4.8-star rating
Phone B, which has no Amazon reviews or rating
Which are you going for? I bet it's Phone A. And the reason is simple: Phone A has reviews and a high star rating, proving that people have actually used the phone and are satisfied with it.
It's the same with B2B companies.
Prospects often choose between a company and its competitors based on how many reviews and testimonials they can find online for each option. Naturally, the company with the most convincing social proof wins the customer.
Increase site traffic
BrightLocal's report also showed that 50% of consumers visit a company's website immediately after reading a positive review of the company.
This shows that promoting your customer testimonials, media mentions, case studies, and other social proof on your website, social media, newsletter, and so on can help increase your site traffic and generate qualified leads.
Boost conversions
Without social proof, your website, emails, and social media ads may not convert well. comScore's case study shows just how powerfully social proof impacts conversions.
The company ran a few A/B tests to improve the conversion rate of a product landing page. They included existing clients' logos on Version A of the page and both testimonials on logos on Version B. After the experiment, they realized that Version A has a 43% increase in conversions, but Version B got an 84% increase in conversions because of the testimonials.
This clearly shows how strongly social proof impacts conversion rates and subsequently, the growth of the business.
Note: Including social proof in your business proposals also increases your chances of partnering with other prominent B2B SaaS businesses.
How to use social proof to impact customer experience
If you want to improve your customers' experience with your website, product, and company as a whole, here's how to use social proof to do it:
Invite and feature customers in case studies
As we saw in the examples above, you can benefit greatly from interviewing customers to know their perspective on working with you and how your company has helped them. It's even better than getting written testimonials because case studies don't just tell prospects that you helped your clients get results—they show how exactly you got those results.
Invite experts to take over your social media
Having industry experts post on your social media profiles is a great way to get access to their audience and generate leads. For instance, when an expert takes over your Twitter account to post informative content or host a Twitter Space, people who know them might like your brand, follow you, and eventually purchase your product or service.
Use social proof in your ad copy
To increase your chances of conversion, add social proof in your ad copy. You can do this by featuring an expert or influencer endorsing your product, mentioning the number of customers you have, or showing the ratings you have on different platforms.
Showcase different use cases of your product to encourage deeper exploration
One of the main goals of website copy is to encourage visitors to explore your product. So instead of just describing your product features, show people how your existing and/or past customers used each feature in their unique settings. This shows prospects that your features are flexible and they can adapt them to fit their own use case.
Convince your prospects with social proof
Social proof, when done right, can help you generate leads and acquire customers. Don't feel pressured to use all the forms of social proof listed above, though. Take your time to test out different tactics and see how well they work for you.