Today, you're going to learn how to boost your free trial conversion rate with some simple, foolproof tactics. You'll see how to make your free trials more appealing and the prize for converting seem a little sweeter.
Speaking of sweet - let's start with a simple analogy:
Imagine you're selling apples.
You know that you have the absolute best apples on the market. And you want to prove it to people. So you offer them a free bite of an apple before they decide whether they're going to buy.
And it works great! You prove to people that your apples are the best, and they often buy after a single bite.
But there are still some people who aren't convinced. They take a bite but don't buy. Which means you've wasted time and resources (in the form of your product).
What would you do?
You'd find a way to convince more people to buy apples after they've taken a bite. Because they're invested now. They know that your apples are the best. They just need a little push to complete the purchase.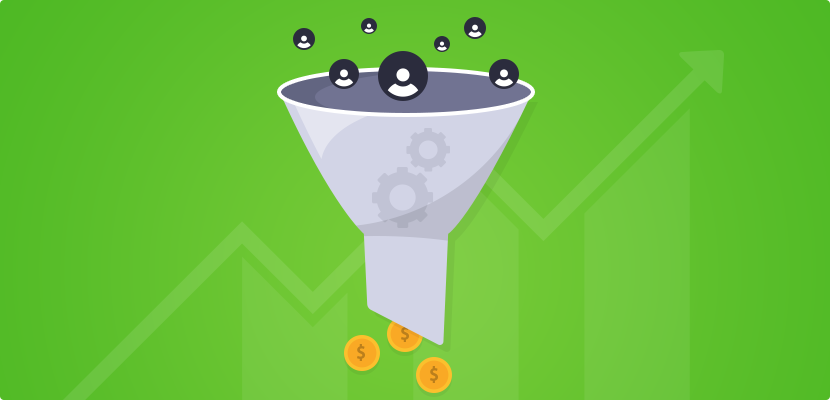 Selling software with a free trial is a lot like that. It gives you the chance to show people you're offering the absolute best product out there. But it's also risky. If someone doesn't complete a purchase, you've invested resources that you can't get back.
That's where increasing your free trial conversion rate comes in. So let's see how you can do that - here are seven proven tactics that will help:
They just need a little push to complete the purchase.
Selling software with a free trial is a lot like selling apples with a free bite. It gives you the chance to show people that you're offering the absolute best product out there.
But it also comes with some risk. If someone doesn't complete a purchase, you've invested resources (including time) that you can't get back.
So it's in your best interest to increase your free trial conversion rates. The more free trial users you convert into customers, the more money you'll make. It's that simple.
And because free trial users have already committed to your product enough to sign up, maybe give you their credit card information, and learn the app, they're a great target for your marketing.
How do you increase those free trial conversion rates? Here are seven proven tactics that will help:
1. Consider Not Asking for a Credit Card at Signup
This is a common question about SaaS trial conversion rates, so we'll address it right away.
There are two things to keep in mind about SaaS trials and credit cards:
1. Asking for a credit card will get you fewer free trial users, but those users will be higher-quality leads.
2. Not asking for a credit card will get you more trial users, but your lead quality (and conversion rates) will suffer.
Lincoln Murphy points out that reducing the number of leads you have on your website is bad—and there really isn't any way around that. The more people you bring in, the more chances you have to land a new customer.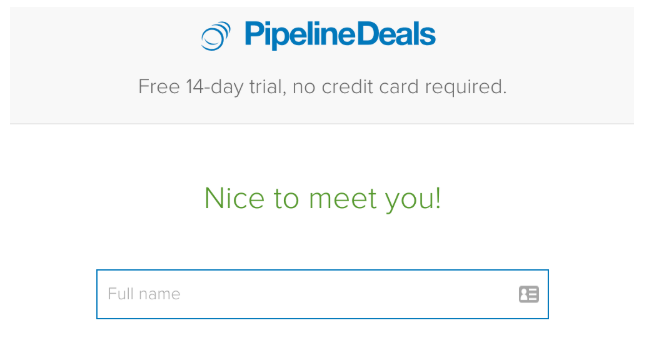 He also says that consumers are becoming less trusting—and that fact, combined with the growing number of completely free options, means they're less likely to give you their credit card information.
It's one more step between them and what they want.
That being said, there are some businesses that have had great success with requiring a credit card for a trial signup. And there are other ways to optimize your signup flow to increase conversions.
Your best bet is to experiment with your audience and see what happens. Just remember that there are other ways to increase your trial conversion rates—so getting more people in the door is going to give you more opportunities for conversion.
2. Offer a Shorter Free Trial
How long should a free trial be?
Lots of apps offer a 30-day free trial, and you might be tempted to do the same. Giving your prospective customer more time to fall in love with your product is good, right?
(Think of it as giving away two free bites of an apple instead of one.)
Steli Efti says that's a big mistake.
In fact, he says that 99% of B2B SaaS companies should be offering a 14-day trial.
Why? Because people don't really try things for a full month. In fact, they probably make their decision within a couple days of starting the free trial.
By putting the pressure on, people are more likely to feel like they have to make a decision. And that may get more people to sign (if they don't feel like they have to decide, they might just wait until they forget about it).
Some companies even go further and offer a seven-day trial, but that might put too much pressure on.
Or it might not.
Your best bet, again, is to test with your audience to see the best free trial length.
(Some companies even offer SaaS products without a free trial. While it's going to be difficult to pull this off, you may find success with it.)
3. Simplify Your Pricing
This goes beyond your free trial marketing strategy, but it's worth noting because it can have a huge effect.
How huge? Groove HQ increased their free trial signups by 358% and their revenue by 25% after changing their pricing model.
Hit the link above to see the full case study. Here's the short version: Groove HQ originally offered three different subscription levels, including a limited free option. The other two options conferred different levels of access to users.
When Groove HQ changed over to a $15/user/month model, their conversions and revenue went way up.
It was that simple.
If you can find a way to simplify your pricing and remove a decision that comes between potential customers and purchase, you'll see benefits.
4. Personalized Lifecycle Marketing
Once you've changed the structure of your free trial program, you can get into more intensive techniques.
Lifecycle marketing is the practice of getting the right messages to your customers based on where they are in the sales funnel.
Prospects have different needs than long-time customers—and lifecycle marketing reflects that.
Here are a few stages that you might address with lifecycle marketing:
Free trial signup
Activation
Onboarding
Re-engagement
Conversion
Account maintenance
Creating and delivering content specifically tailored for these stages of the lifecycle helps move customers toward your ultimate goal: conversion and retention.
For example, you might use a brief case study to convince a user that's signed up for a free trial but not yet set up their account to take action.
Or you could use an email that highlights lesser-known features to re-engage someone who completed the free trial and didn't convert.
Campaign Monitor has some great examples of lifecycle marketing emails to get you started.
Personalizing these outreach methods makes them even more effective.
Segment your users and identify their needs and interests. Then send them the content that will be the most appealing.
You can use your onboarding sequence to collect some data, but don't go overboard. You want the signup and activation processes to be as easy as possible.
CoSchedule asks for user information in exchange of the use of a free tool: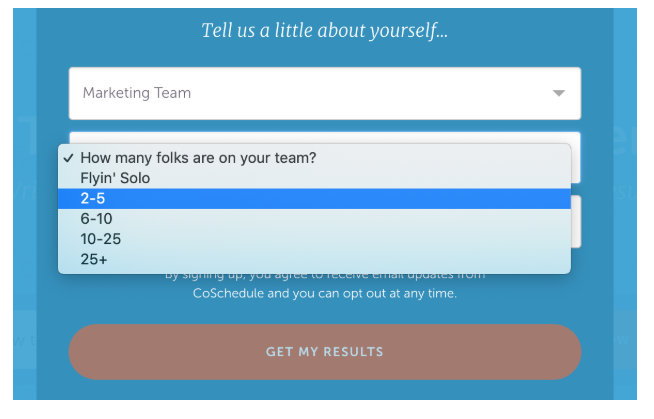 That's enough information to segment customers into different content groups, but not enough to dissuade someone from using the tool.
(If you're thinking that personalized lifecycle marketing sounds a lot like the proactive outreach of customer success, you're right—they're definitely related.)
5. Identify Common Conversion Activities
If you haven't heard of Lincoln Murphy's Common Conversation Activities (CCA) metric, you're missing out. Murphy defines CCA as "The things that all or most paying customers do during their trial."
It was a way to look at historical data and find patterns like "everyone who became a customer in the last 12 months did X, Y, and Z before they converted." Or where that historical data was not available—either for a pre-launch startup or if that level of granularity was simply not there—we could use our understanding of the customer to create a hypothesis that "every customer will likely need to do X, Y, and Z before they convert."
What sort of data are we talking about?
Here are the activities that Chargebee identified as CCAs in their own free trial conversion process:
Completing account setup
Spending considerable time in the app
Making API calls
Inviting other users
Trying out the test payment gateway configurations
Logging into the customer portal
Configuring an invoice
Configuring a hosted page
The CCAs in your own process will be different. But this gives you an idea of what you might look for. It could be something very specific, like configuring an invoice. Or it could be more general, like "responded to an outreach email."
Once you've identified the activities that trial users need to take before they convert, you can start tailoring your tactics to move them through those steps.
For example, Chargebee might have designed an email encouraging users to invite others so they can "check that box."
These activities become the priorities for your lifecycle marketing.
6. Ask Users Why They Didn't Convert
The easiest way to figure out why your users aren't converting is simple: ask them.
Set up an automated email to go out to any user who doesn't convert and ask them to take a quick survey. Just ask one or two questions about why they decided not to go for the paid version.
You might not get a great response rate, but you can look for patterns in the responses.
Customers might not see the benefits of your software over a free alternative, for example. Or they might think that you're charging too much. Maybe they just went with a competitor's product.
Whatever the case, you can use this information to boost your free trial conversions.
Address those objections in your marketing and outreach, and you'll be one step ahead of the game.
You can also do more personal outreach and send a personal email that's tailored to each customer. It takes more time, but you could get better information by asking real questions.
7. Test Everything
I've mentioned testing a couple times, but it's worth discussing again. Test every part of your free trial marketing strategy.
See whether asking for a credit card boosts the quality of your leads. Experiment with different trial times. Try a new pricing system. A/B test your marketing materials.
Consistent testing and monitoring will help you get a feel for what your users are looking for. Once you've found something that works significantly better than other tactics, build on it.
Optimizing your free trial process is a long-term process, so don't expect to see results overnight. (Though there certainly are cases where that's happened!)
And make sure that you're using a rigorous experimentation process. Don't abandon something because it doesn't work after a week. You'll need to invest time and resources into different tactics to really see if they work.
Then continue tweaking your tactics to find the best ways to get free trial users to convert.
Don't Overlook the Simple Things
Marketers oversee a lot of complicated processes. That includes free trials and conversion marketing.
But make sure not to skip the basics.
Are you providing the right service to the right people? Are your value propositions apparent throughout the lifecycle? Is it easy for people to sign up for the trial or open a subscription account?
Solving these simple issues is the first step toward optimizing your free trial conversions.
And once you've converted those customers, you can move onto using customer success to keep them!