Of all software your company uses, your customer relationship management (CRM) solution might be the most important one as it provides a system for all your customer interactions .
This is especially true for customer-success-focused companies.
To help your customers succeed, you need to store contact information and a lot of details about them and their needs. And your CS team needs to be able to find it quickly.
You can make your customer success program more effective by setting up your CRM in a way that works for your CS team. Every team has different needs, but the five things below are nearly universal.
So whether you're getting a new CRM or optimizing one that you already have, don't overlook these steps: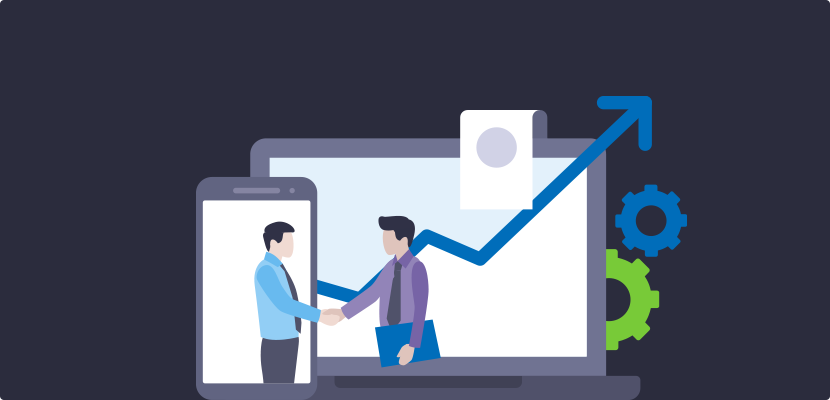 1. Segment Your Customers
Tailored communication will always get better results than generic templates.
And segmentation helps you tailor your outreach to better suit the needs of your customers.
You won't be sending the same messages to new clients and long-time customers. Or to customers in danger of churning and those who are ready for upselling.
CRM solutions are built to handle segmentation. In fact, they're the best tool for the job.
Most CRMs make it easy to create and manage segments, but you'll still need to do the work to get those segments set up and figure out what to do with them.
If you've been running a customer success program, you probably have segments set up already. In this case, it's just a matter of using your CRM to label the customers in each segment.
Most CRMs will even help you do this automatically. Just specify how you're sorting people into segments, and the software will take care of it. You may have to dig into the documentation to find out how to create complex segments, but it's worth taking the time up front.
If you haven't yet started your CS program, you have the chance to set up your CRM alongside your segmentation. That makes the process easier. When you decide on a method for segmenting your customers to improve communication, you can create that segment in the CRM right away.
Customer-success-focused CRMs and apps will make segmentation especially easy for you, as they take into accounts factors like recent usage of your product, likelihood of churn, and the phase of the customer journey your customers are in.
Not sure where to get started with segmentation?
Check out our guide to segmenting for customer success to get a few ideas.
Once you're done creating segments, you can move on to setting up different customer health scores based on those user segments.
2. Make Communication Easy
Your CRM should serve as the central place for your teams to communicate about your customers.
Marketing can communicate with sales to share assets. Sales can talk to your implementation team to pass along customer details. Customer support can get in touch with developers to solve problems quickly.
Customer success is no exception. Making it easy to get in touch with other teams in your company within your CRM strengthens your entire CS program.
There are different options for cross-team communication within your CRM.
Some integrate with apps like Slack or HipChat to make chatting about customers easy (we'll talk more about integrations in a moment). Others make it easy to comment on profiles and notes, much like a social network.
Set up your CRM so that the communication methods work for your team and how they communicate best.
3. Track Interactions and Information
Have you ever had to answer the same question two or three times while you're on the phone with customer support? It's infuriating, especially when you're waiting on an important fix.
Using a CRM that automatically tracks customer touchpoints can eliminate this problem.
And that creates a great customer experience.
Imagine that your CSM gets a call from the customer asking about a particular feature. The customer says that they talked it over with a sales rep and it sounded like a great idea—but they weren't ready to implement it. They're ready now, but they can't remember the details of how to get it set up.
Which of the following would you rather your CSM say?
1. "Do you remember anything more about this particular feature? Or who you talked to?"
2. "It looks like you talked to Jason about automated product tracking back when you were just getting started. I can help you set that up right now."
If your CSM can see which salesperson talked to the customer and the notes they left, they can get that process moving right away.
That's only one example of how tracking interactions creates a better customer experience.
There are plenty of others. Handoffs are a crucial part of the customer success lifecycle, and having this information makes them smoother. Customer support's job will be easier. Sales teams will save time. Even developers benefit.
Storing more information in your CRM about interactions is good for just about everyone.
Sales-focused CRMs are often very good at tracking specific interactions, but other CRMs can be set up to store that information, too.
Even if you have to require that reps add notes for each interaction instead of automatically tracking them, this practice is a good one.
Those notes can be useful in building relationships between reps and customers, too. Which is what customer success is all about.
4. Set Up Notifications
Much of the relationship-building that takes place in customer success is time-dependent.
Here are a few examples of actions that benefit from good timing:
Proactive outreach from CSMs on a regular schedule
Checking in after a problem was solved
Following up on previous interactions
Proper timing of up- and cross-selling
Information on new features or events
When your CSMs have a handful of customers that they're working with, any of these actions can slip through the cracks. A great CSM might have their own system for tracking the timing on these events, but why ask them to do that?
Why not have those notifications set up in your CRM?
Automation will be a big help here. For example, after a customer support ticket is closed, send an automated notification to the associated customer success rep a week later reminding them to follow up.
Or prioritize customers by potential revenue and remind CSMs to reach out to them on a regular basis.
You can set up all sorts of reminders that make sure none of your customers are forgotten. And having that integrated into your CRM, where your customer success managers can communicate via a variety of methods with your customers, makes everything easier.
Exactly which notifications you'll need depends on your customer success practices. But they're worth setting up right away.
5. Integrate With Other Software
You probably use many pieces of software to run your business. You might have an email automation solution, a project management app, a bug tracking system, a chat app, and maybe even a customer success platform.
All of those pieces of software can integrate with your CRM. And they should.
The more integrated your tech stack, the more you can automate. And that's a big help to just about every team in your company.
Not only that, but it makes your CSMs' jobs easier by letting them see all sorts of customer information in a single app (which is why many companies use the CRM as the central place to collect information from their other apps).
For example, a CSM might pull up a customer's profile in your CRM and see which sales rep they talked to, which marketing resources they've downloaded, their last customer support request, and notes on how they prefer to be contacted.
Wouldn't that make your CS team's lives easier?
Of course, not every CRM will integrate with every other app you have. You'll need to do some research.
Fortunately, you can use Zapier to connect thousands of different apps. If your CRM doesn't integrate with your email app, you might be able to connect them with Zapier.
And if you have developers on staff (or can afford to hire them), you might be able to take advantage of an API to connect your CRM to proprietary software, too.
When you're setting up your integrations, make sure to ask your CS team which pieces of information they'll find useful. You might think you have a handle on the information they'll need, but there's always a chance they'll find something else useful, too.
And don't forget that a customer success platform can help turn your CRM into a powerhouse CS tool. Having information about churn likelihood, product usage, lifecycle phases, and other KPIs can help take your CS program to the next level.
Ask CSMs What They Need to Do Their Jobs
Segmenting your customers, fostering communication, tracking interactions, setting up notifications, and integrating as much software as possible will help your customer success team get the most out of your CRM.
But in the end, your CS team knows more about what they need than anyone else. So be sure to talk to them while you're choosing, setting up, and maintaining your CRM.
Your CRM can be a great tool for improving your customer success program. Especially when you pair it with the right customer success platform.
Want to find out how Custify can work together with your CRM to make your customer success program more effective? Click "Get a Demo" at the top of this page!