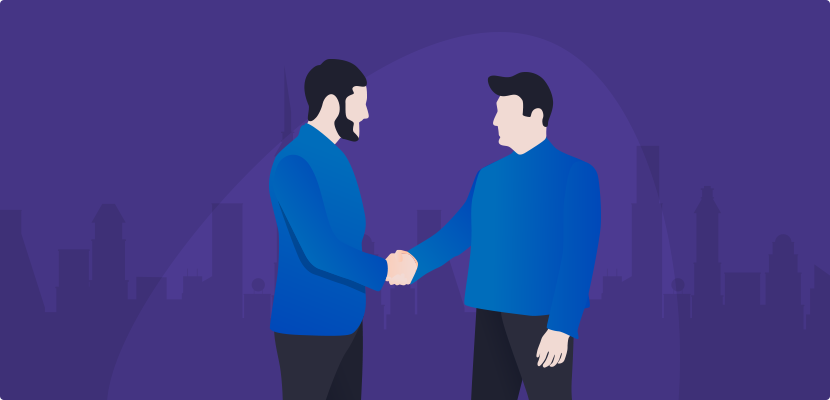 You know that customer success is crucial for your company. But now you need to figure out how to actually do it. And that can be difficult.
So we've put together this list of seven proven customer success tactics that will help you take practical action to improve your CS program.
You won't find things like "send your welcome emails once every three days" in this list. Because highly specific tactics like that depend on your customers and how they prefer to interact with you.
Instead, we'll give you tactics that you can adapt to your company and your customers. It might take a bit more thought to put these customer success tactics into action. But because you can easily customize them to your company, they'll work.
And they'll take your customer success to the next level.
Tactic #1: Build—and Use—Buyer Personas
Buyer personas are often thought of as a marketing tool. They help your marketing team figure out what potential customers are looking for. But that same information can be used as a customer success tactic. And it creates an improved experience throughout the entire customer journey.
Because when you know what your customers are going through, the problems they have, their communication preferences, and so on, you can tailor your interactions to suit them.
And that's what creates a great customer experience.
82% of marketers have been able to improve their value proposition by using buyer personas. And when your marketers are offering a better value proposition, your customer success team will be better able to deliver on it.
(We'll talk about that in more detail when we talk about prospect scoring.)
When your marketing team is developing buyer personas, make sure that a customer success manager (CSM) is involved. You don't need to change the persona creation process. But it's good to have someone familiar with customer success there to help.
Because marketing is focused on pre-purchase, and customer success is (mostly) focused on post-purchase, you might think that the information is relevant buyer personas would be different.
But if you take a look at HubSpot's 20 Questions to Ask When Creating Buyer Personas, you'll see that many of these questions are relevant to both. "How is your job measured?" "What are your biggest challenges?" "What does it mean to be successful in your role?"
These questions are all highly relevant to customer success.
Putting Personas to Use
It's easy to create buyer personas and then forget about them. Here are three ways you can put them to use:
1. Use them in training to help new CSMs better understand who your customers are.
2. Attach specific buyer personas to customers in your CRM or customer success software. CSMs can review the persona before interactions.
3. Pair them with customer journey maps to understand how your customers' needs change throughout the buying and life cycles.
(We'll discuss customer journey maps next. They're important too.)
No matter how you put your buyer personas to use, make sure that your CSMs have a detailed knowledge of each persona. Many companies make the mistake of never putting them to use.
Don't be one of them.
Tactic #2: Map Your Customer Journey
Okay, so you understand who your customers are. Now you need to learn how they interact with your company.
That's where customer success journey mapping comes in. We wrote a detailed guide to creating your own customer success journey map. So we won't go over all the details here.
But having this map is just as important as having buyer personas. It's easy to lose customers during handoffs between teams. And it's easy to lose track of which metrics you should be paying attention to. The journey map solves that problem.
Like buyer personas, it's easy to forget that you created a customer journey map. You need to make an effort to ensure that your CSMs actually put it to use.
One of the best ways you can do this is by identifying lifecycle and customer journey phases in your CRM or customer success software. You should always know where every customer is in the journey.
And that guides how you approach their success. Someone who's been using your product needs different kinds of support than someone who's in the middle of their first implementation.
To effectively provide solutions before your customer comes to you with their problems, you need to know exactly what they're dealing with.
Tactic #3: Proactive Outreach
Customer support has always been reactive. Customer success is proactive. To provide solutions before your customer runs into problems, you need to get them the information they need before they know to ask for it.
And that's where proactive outreach comes in. It's one of the most central tactics in customer success.
One of the best examples of proactive outreach is the welcome email series. You often get these when you sign up for a free trial. You'll usually get an email from a manager or an executive saying hello and welcoming you to the service.
You'll then get a series of emails over the following days or weeks that encourage you to use the tool or service to its maximum potential. It might contain tips on how to get the most out of the service. Or links to demo videos. If you've signed up but haven't really used the service, you'll get a reminder email.
But this is just the beginning.
You can let your customers know about important industry trends. Or changes in your product. You can use usage patterns to detect problems that they're having before they have a chance to reach out to you (you'd be amazed at how grateful they'll be when you fix problems they don't even know they had).
Many customer success platforms also give customers a "health" score—when the score is low, that customer is likely to churn. Because churn is one of the most (if not the most) important metrics for SaaS companies, using proactive outreach to help these customers get more out of your product is one of the best uses of your CSMs' time.
Proactive outreach looks different across industries and companies. But if you can figure out how to use it to best serve your customers, you'll be far ahead of your competition.
Tactic #4: Personalize Interactions
Personalization is a big marketing trend, but if you can integrate it into your customer success workflows, you'll see great results.
(That's one of the reasons that it's one of the biggest customer service trends of 2018.)
Including your customer's name in an email doesn't cut it for personalization anymore. Customers want information, resources, and interactions that are tailored to their situation and needs.
Fortunately, this is already built into the customer success process. Your CSMs know your customers and understand how they define success. It's part of the core of customer success.
But it's worth reiterating that every interaction should be tailored to the specific customer. No matter what that looks like in your company, it's a crucial tactic to adopt as soon as you can.
If you understand both your customers' buyer personas and their location in the customer journey, you'll be halfway to effective personalization. This information lets you personalize your outreach to be maximally relevant for the customer's current needs.
(You might be noticing that these tactics are closely related. That's why it's important to get started on CS sooner rather than later. You'll want to get several different systems set up and working together to make your CSMs as effective as possible.)
If you're not sure where to get started—or you're not totally convinced that personalization is the key to success—check out Campaign Monitor's guide to creating great customer experiences with customized content.
It's focused on content marketing, but you'll see that the tactics apply to customer success, as well.
Tactic #5: Score Your Prospects
You can make your customer success process more effective before your CS team even gets involved with a simple scoring system for your leads and prospects.
How does this help customer success?
Because it lets your marketing and sales teams focus on customers that have the best chance of success with your product or service. And that makes your CS team's job easier.
Of course, it's not just about making their job easier. It's about focusing on prospects that you can provide the most value to. But when your customers are well-suited to your company, your CS team will be much more effective.
ActiveCampaign has a seven-step process for creating a lead-scoring system. You can integrate this process into your marketing software or do it manually.
No matter how you do it, it's a simple step that will provide a big boost to both your sales and customer success teams.
(This is similar to the customer health scoring that I mentioned earlier. If you can score both prospects and customers, you'll always know exactly where to focus your efforts. It saves you a lot of time.)
Tactic #6: Collect and Act on Feedback
This is possibly the most important customer success tactic in this list. Because no matter how many best practices you follow and how many email series templates you use, if they don't connect with your customers, they're going to fall flat.
Your customers are a unique group, and what works for other companies might not work for you. You may need to create a unique combination of tactics, or try something completely new. You might even do the opposite of what's recommended for most companies.
It all depends on your customers.
For that reason, you need to make it easy for customers to give you feedback. Whenever your CSMs interact with customers, make sure that there's an option for feedback. It might be a quick phone survey, a web form, or a detailed face-to-face feedback session.
You might also create a customer advisory board ( CustomerAdvisoryBoard.org's strategy guide will give you an idea of what it takes to do that). If you can do this well, you'll get great feedback from highly engaged customers.
But remember: collecting feedback won't change the customer experience. Acting on that feedback is what creates positive change.
Hiver has a great article that details ways to collect feedback and how you can put it to use. From advancing your product to preventing churn to finding customer advocate, you can use that feedback to help your company.
Customer success managers will find this feedback especially helpful. You'll get clear feedback on whether your product or service is helping your customers. If it's not, it's time for proactive outreach to help them make the most of it.
It's important to have a workflow or system in place to manage the feedback you receive. You can use a system like Intercom or Zendesk to manage support requests alongside feedback, or you can create an entirely separate system.
No matter what you do, make sure that feedback gets passed to the right parties and that those parties are held accountable for taking action.
Tactic #7: Emphasize Doing Over Learning
Your onboarding process is a crucial step in the customer journey. In fact, it might be the most important. Appcues' Jackson Noel makes a very good argument that it's the most important step by a factor of a 2.6.
(That's sort of a weird way to phrase it . . . but read the article and you'll see why it makes sense to think of it that way.)
If it goes smoothly and your customers start using your product quickly, you're headed in the right direction.
Many companies don't have an efficient onboarding flow. This is especially true of early-stage startups. You might have a collection of PowerPoints, webinars, and training documents . . . somewhere.
Not having a well-documented, practiced onboarding process means your customers wait longer until they're getting value from your product. And that's bad.
Your top priority during onboarding and implementation should be to get your customers using the product as soon as possible. Conduct live trainings. Do one-on-one walkthroughs. Send someone out to show people how to use the product.
Whatever your onboarding process is, do what you can to get your product or service in the hands of your customers faster.
Build a Customer Success Program Out of Proven Tactics
When you're getting started with customer success, you might be overwhelmed by all of the "best practices" out there. It's important to remember that there's no one right way to do customer success. Every company needs to find their own tactics for their customers.
The tactics above are proven to work—but they're still flexible enough to make sure that you can adapt them to your customer base. Let's look at a quick recap:
1. Build—and Use—Buyer Personas
2. Map Your Customer Journey
3. Proactive Outreach
4. Personalize Interactions
5. Score Your Prospects
6. Collect and Act on Feedback
7. Emphasize Doing Over Learning
As we mentioned, many of these tactics are closely related, and when you start using them, you'll find yourself setting up an entire customer success strategy.
Still, it's important to start with one. Pick one of these tactics that you think you can implement soon, and run with it.