We put together a list of the best free live chat service providers. We only added live chat software with free versions you can use forever. Apps like Olark, Pure Chat, and Intercom did not make the list because they only offer a free trial for a limited time.
Is Live Chat Software Necessary?
Live chat is essential to any type of online business, but especially for SaaS and e-commerce websites. Not only does it improve the support experience for users, but it also helps with customer onboarding and customer acquisition. Interacting with a potential lead in real-time will increase the chances of conversion.
Building a relationship with customers via live chat will create satisfaction and push them to choose you over the competition. Moreover, a live chat website plugin will boost your customer service team's productivity and efficiency because agents can respond faster to customers' messages.
Best Features:
Unlimited Agents
Unlimited History
JavaScript API
Group Messaging
Detailed Reporting
Tawk is a 100% free live chat software that allows you to monitor and track your team's progress, review chat history, and check performance. You can easily install it by copying a JavaScript snippet to your website's HTML code. However, keep in mind it has limited integrations with external tools.
Recommended for: teams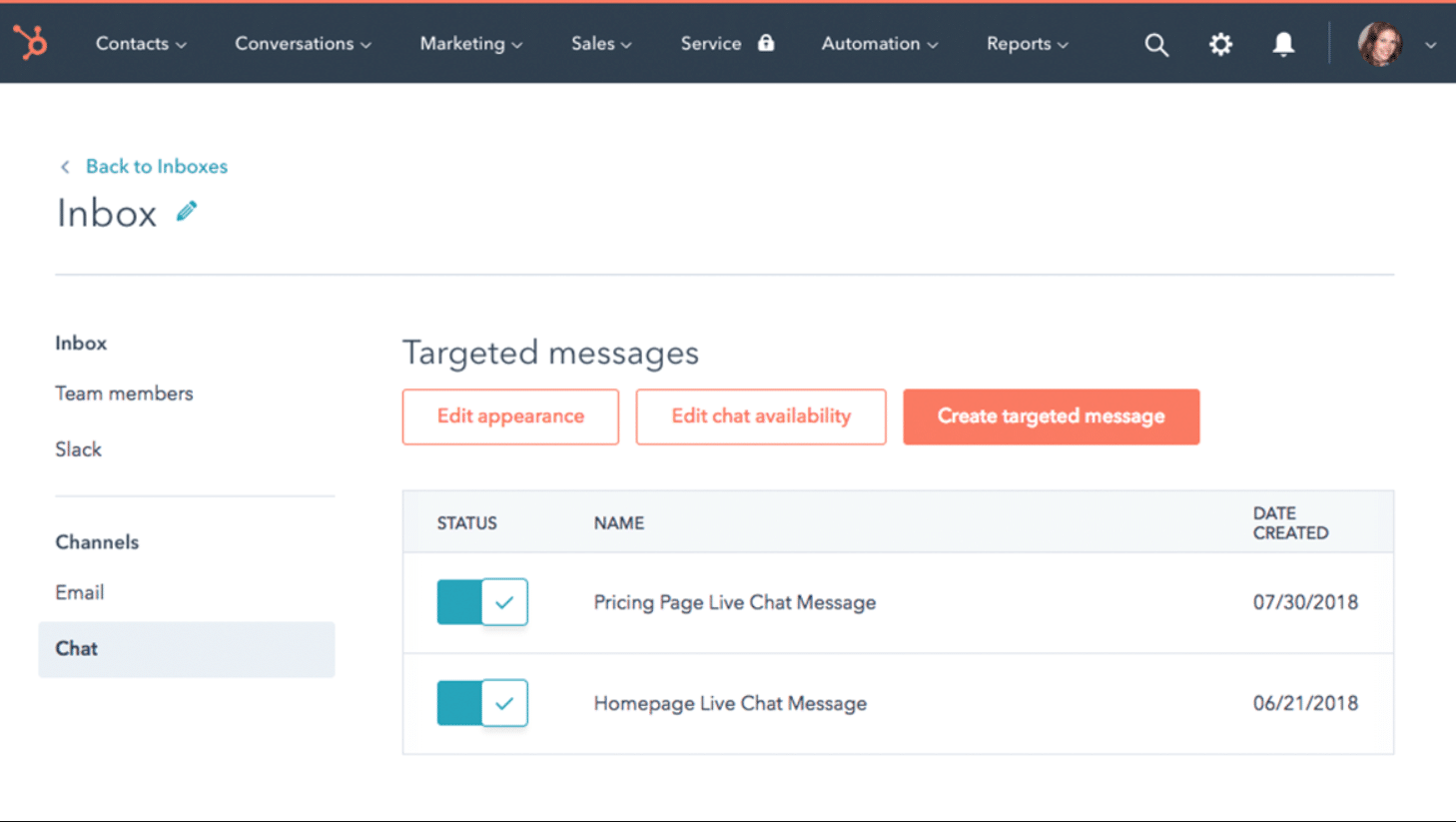 Best Features:
Easy to customize
Conversations get automatically saved
Fully integrated with a chatbot builder
Free Slack integration
The Hubspot Free Live Chat Software has seamless integration with the Hubspot CRM. It also offers an extensive API that allows you to create functional applications or integrations. You can easily create "chatflows," but you can also miss conversations if you don't assign them to a user/team's inbox at the end of the day.
Recommended for: Websites that use the Hubspot CRM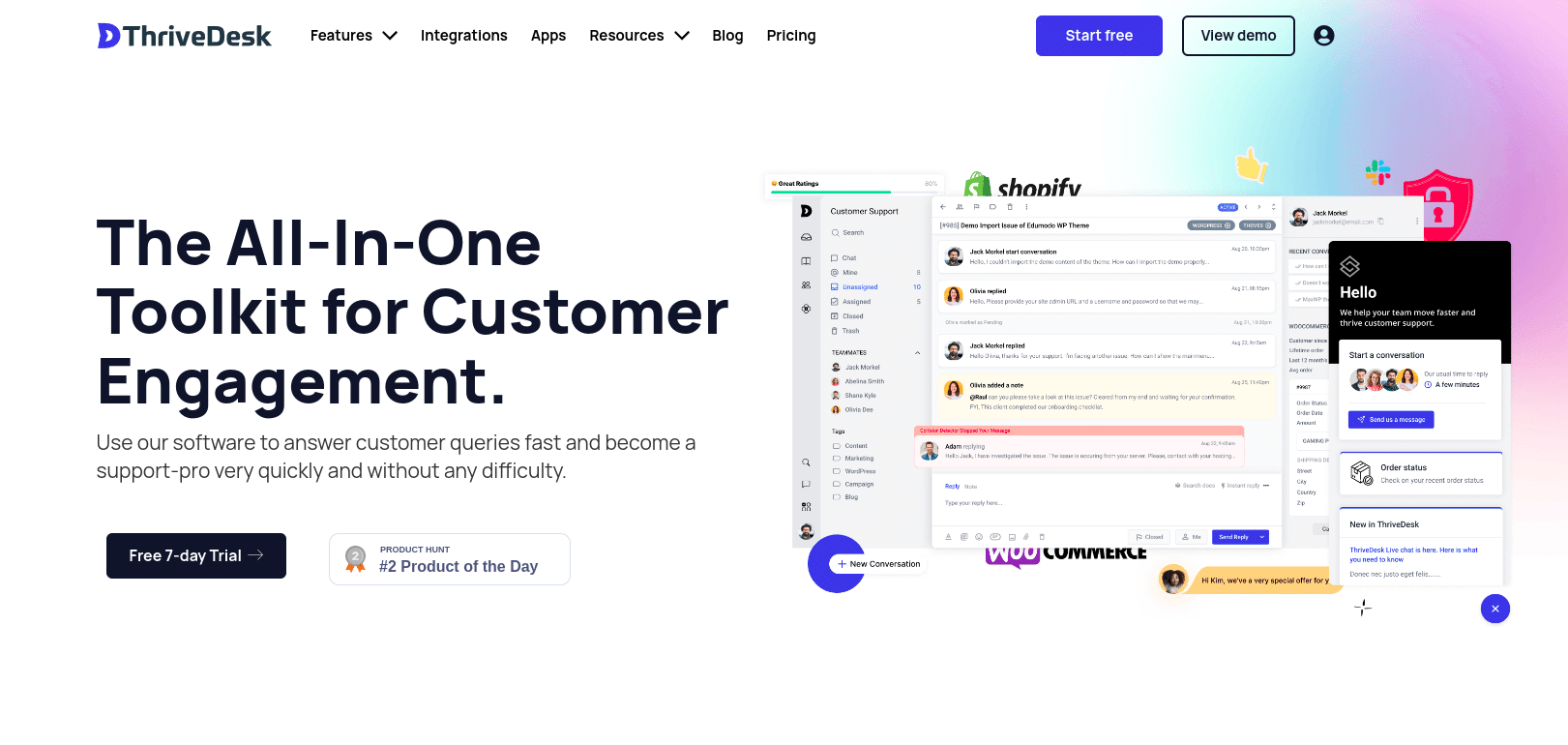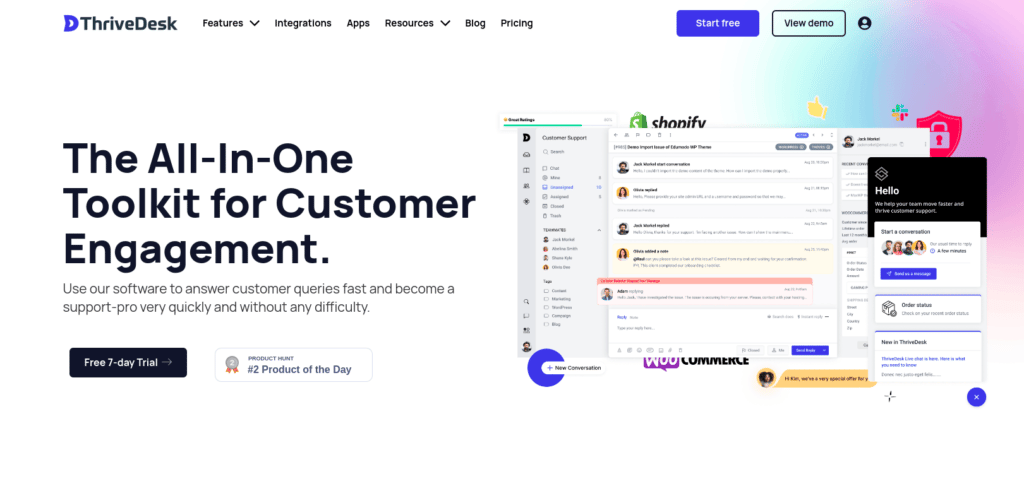 Best Features:
Shared Inbox
Live Chat & Chat Bot
Knowledge Base
Community
Email with unlimited addresses
Automated replies from the knowledge base
Proactive messaging
ThriveDesk is one of the best live chat software available in the market today. Its helpdesk solution is easy to use and is the quickest live chat assistant that never slows down your website. ThriveDesk can help your business increase efficiency with a simple installation process. You'll be able to tackle issues more efficiently with a wide range of integrations without spending too much time on individual cases.
Recommended for: Startups, SaaS, and Small Businesses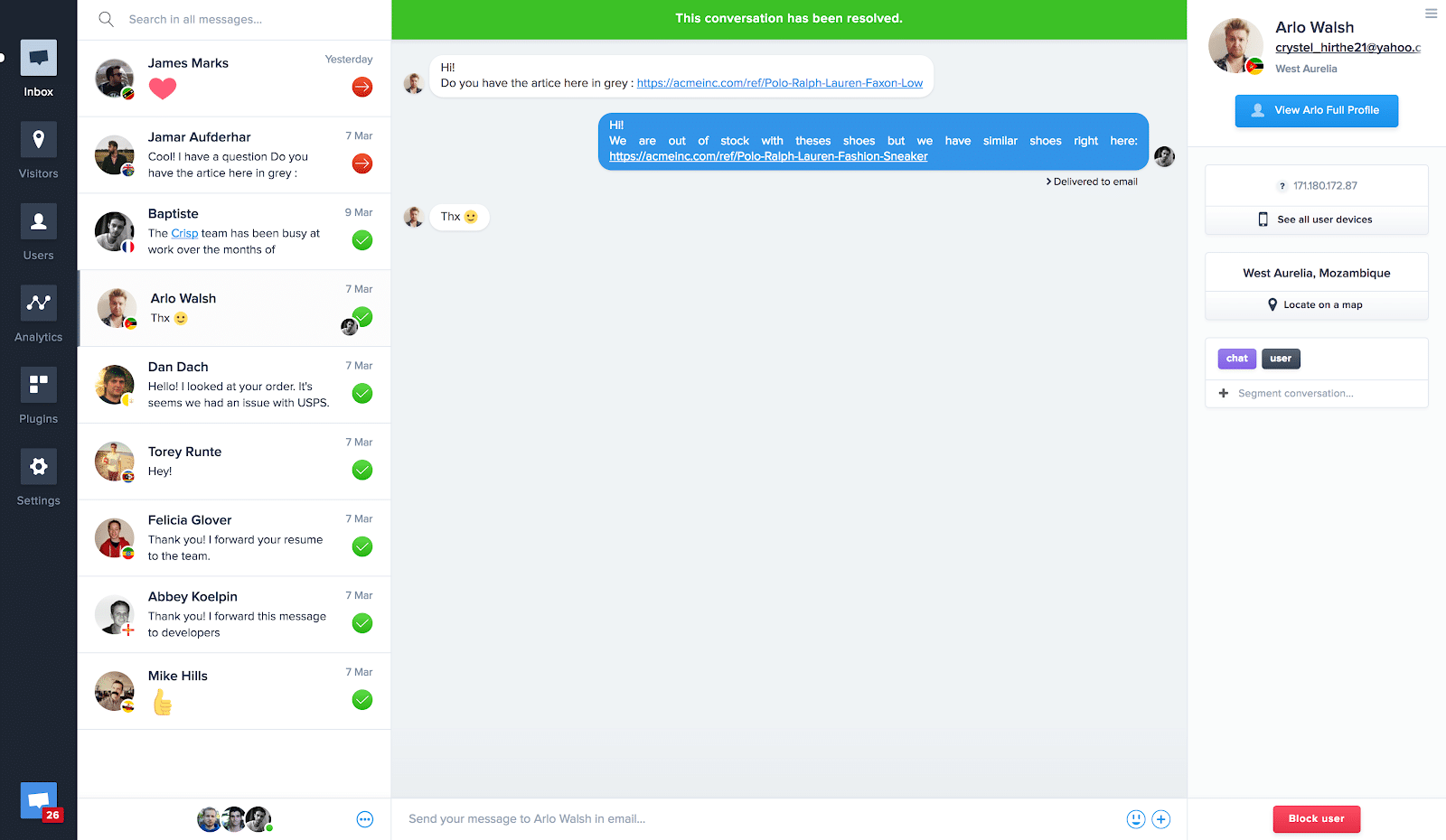 Best Features:
2 agent seats
Team inbox
JavaScript API
iOS & Android mobile apps
Mobile and desktop notifications
Crisp allows you to send targeted messages based on user behavior on your website. You can also build advanced chatbot scenarios and share files directly from the chat widget. Bear in mind that you only have two minutes to reply to a chat request. Crisp tried solving this issue with a video game.
Recommended for: Startups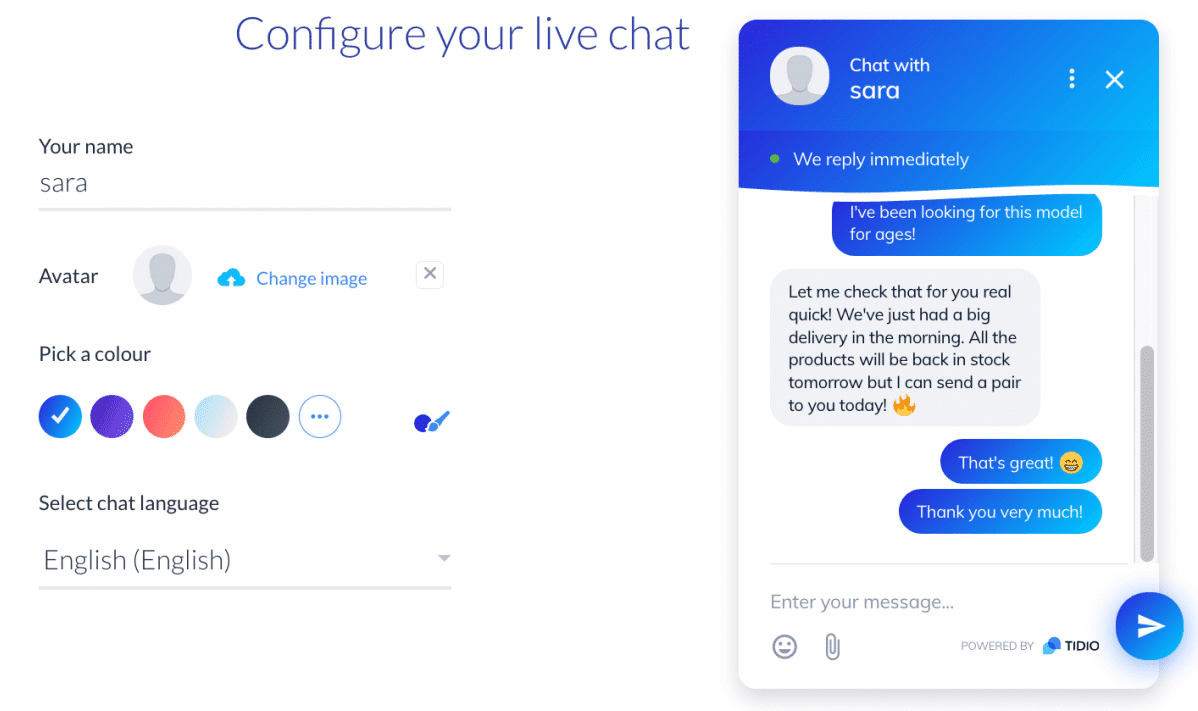 Best Features:
Up to 3 chat operators
Unlimited chats
Ticketing system
Desktop & mobile apps
3rd party apps integration
JavaScript API
Tidio is a fully customizable free live chat app that you can use on your website by installing a WordPress plugin or a Shopify Store app. Alternatively, you must paste a code snippet to your website's HTML. Most reviews state that they've had to contact Tidio's customer support several times, but they were very efficient in solving their issues. It also has a ticketing system that allows you to monitor, assign, and prioritize customer requests at the same time.
Recommended for: WordPress/Shopify eCommerce Startups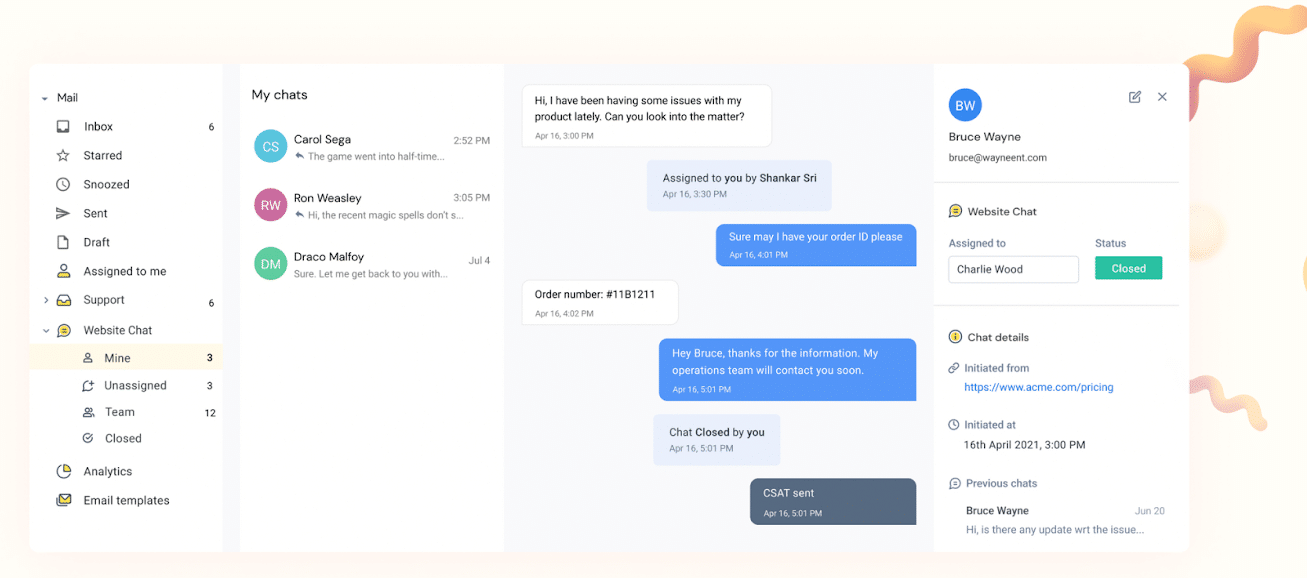 Best Features:
Works within Gmail;
Assign chat queries to your support reps with a single click;
Reply with custom-built chat templates for recurring queries;
Get alerted when agents don't reply to customer chats within a specified duration;
Access live chat via Hiver's mobile app.
If you're looking for an extremely easy-to-use solution to interact with your website visitors, Hiver would be a good choice. Using Hiver's live chat widget, support managers can assign incoming customer chats to frontline agents – from within Gmail. Agents can respond to chats with custom-built chat templates, share chat transcripts with other teams when they need help with certain queries, and collect customer feedback at the end of every conversation to gauge the quality of support.
Hiver's chat widget can also be customized to fit your website's design language. And the best part is that since Hiver works within Gmail, your support agents don't have to spend time learning new software. They can get started within minutes.
Recommended for: Businesses that use Google Workspace
7. JivoChat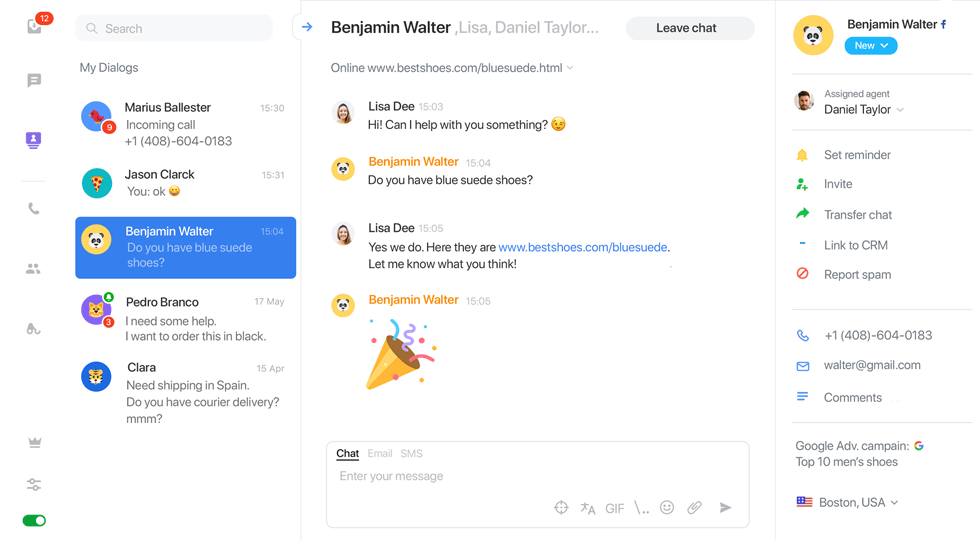 Best Features:
Unlimited chats and websites
Customizable chat widget in 25 languages
Chat widget mobile version
Pre-chat or in-chat contact info collection
One-click call
JivoChat offers an effective way to communicate with customers. You can monitor your user's journey on the website and engage with them via chat, phone calls, emails, Facebook Messenger, Viber, and others. However, according to some reviews, JivoChat pops up too many times, thus becoming frustrating for customers.
Recommended for: Teams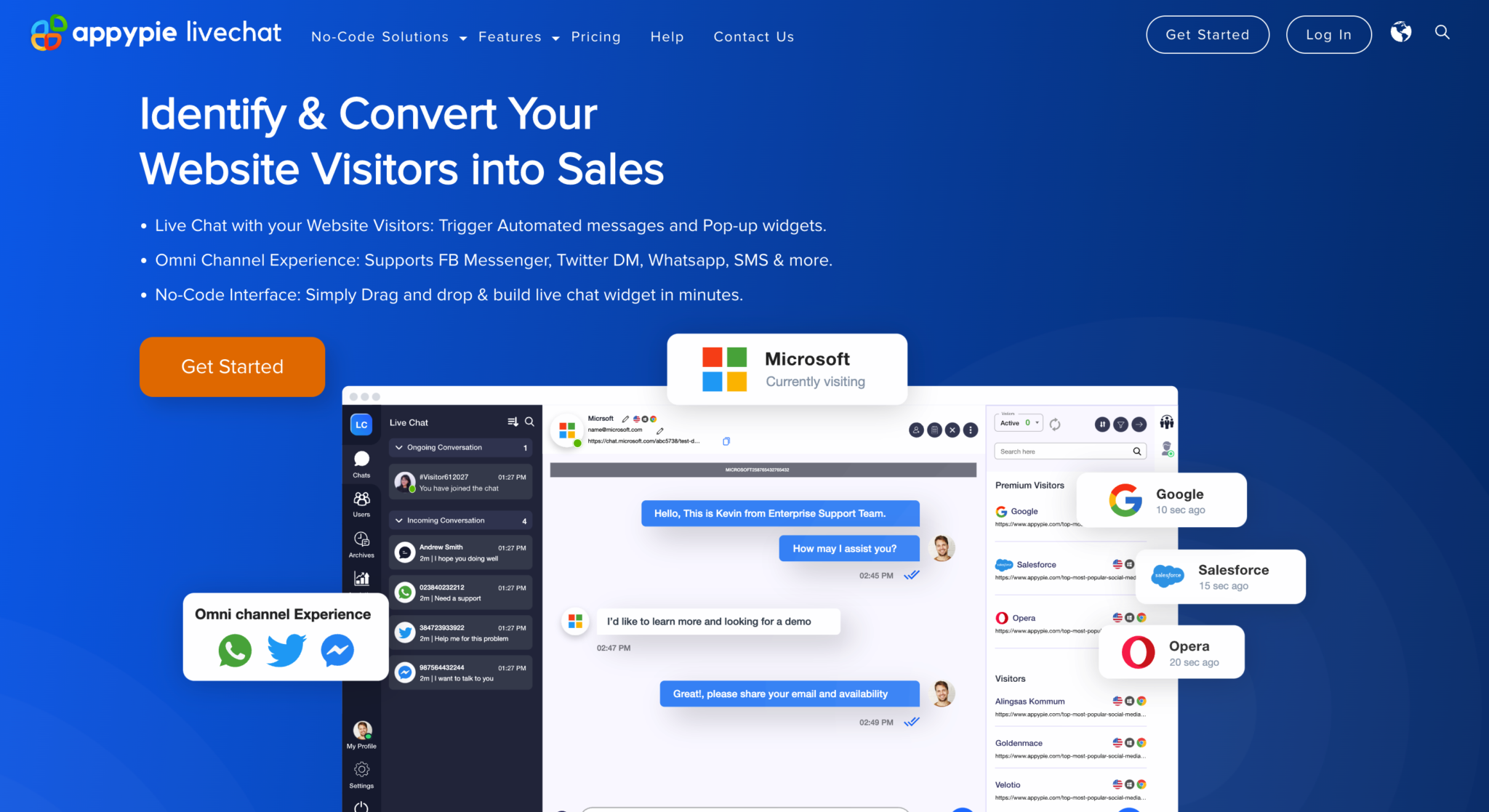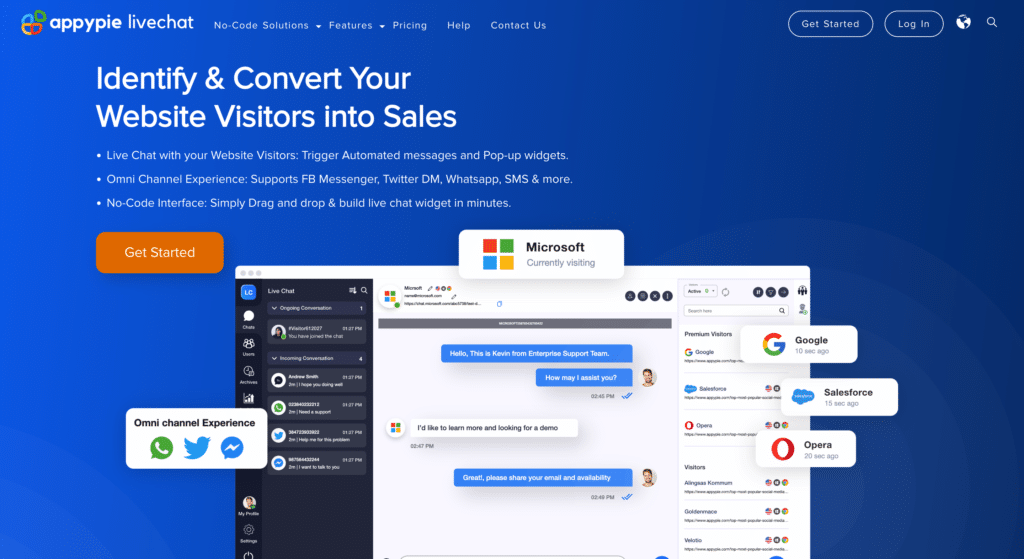 Best Features:
No code platform
Create live chat widget in minutes
Unlimited customization options
24/7 customer support
Built-in analytics
Appy Pie Livechat is a no-code live chat software that allows you to create your own live chat widget in just a few minutes without any coding or technical skills. You can make a live chat widget with Appy Pie, and add it immediately to your mobile app and website easily and efficiently.
Recommended for: Teams
9. Chatra
Best Features:
Online & offline chat widget
Browser dashboard
Windows & Mac desktop apps
iOS & Android mobile apps
Complete conversation history
With Chatra, you can chat with your website visitors in real-time and use chatbots to automate routine tasks. You can easily customize it to look like part of your website, and it has integrations with many tools, such as WordPress, Shopify, and WooCommerce. Unlike other live chat software on this list, Chatra only offers basic reporting.
Recommended for: Startups
10. Drift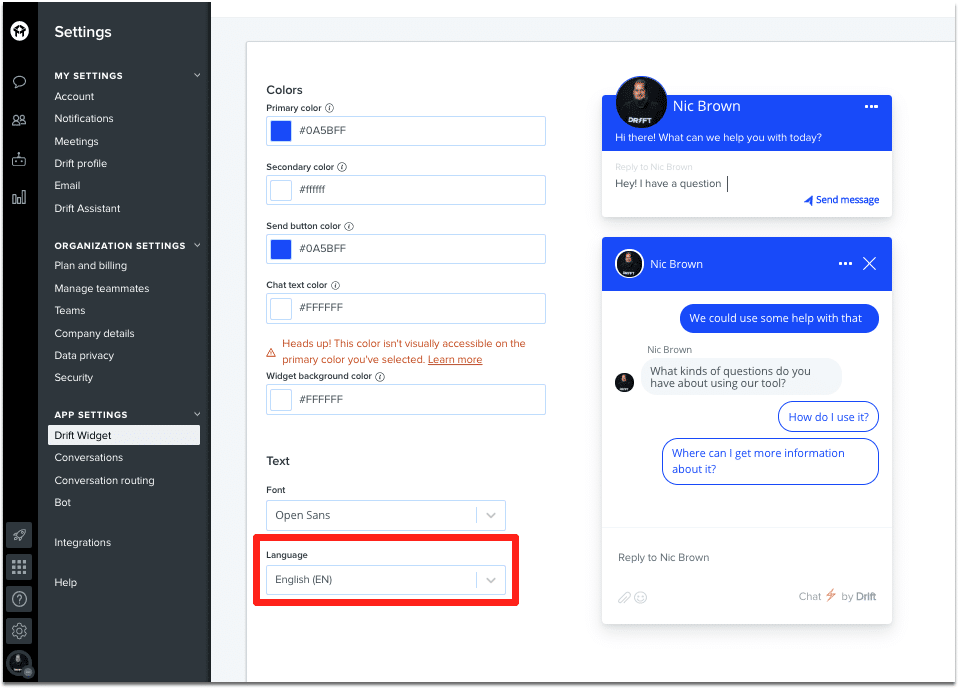 Best Features:
Unlimited Contacts
1 Agent Seat
1 Workspace
Mobile & Desktop App
Basic Reporting
Drift is a live chat that helps you save time by answering repetitive questions with the Saved Replies function. You can gain insights from chats by using Conversational Analysis. It also provides Integrations with Calendars, Slack, and Google Analytics. Some reviews state that a downside of using drift is its backend.
Recommended for: Startups
11. Respond.io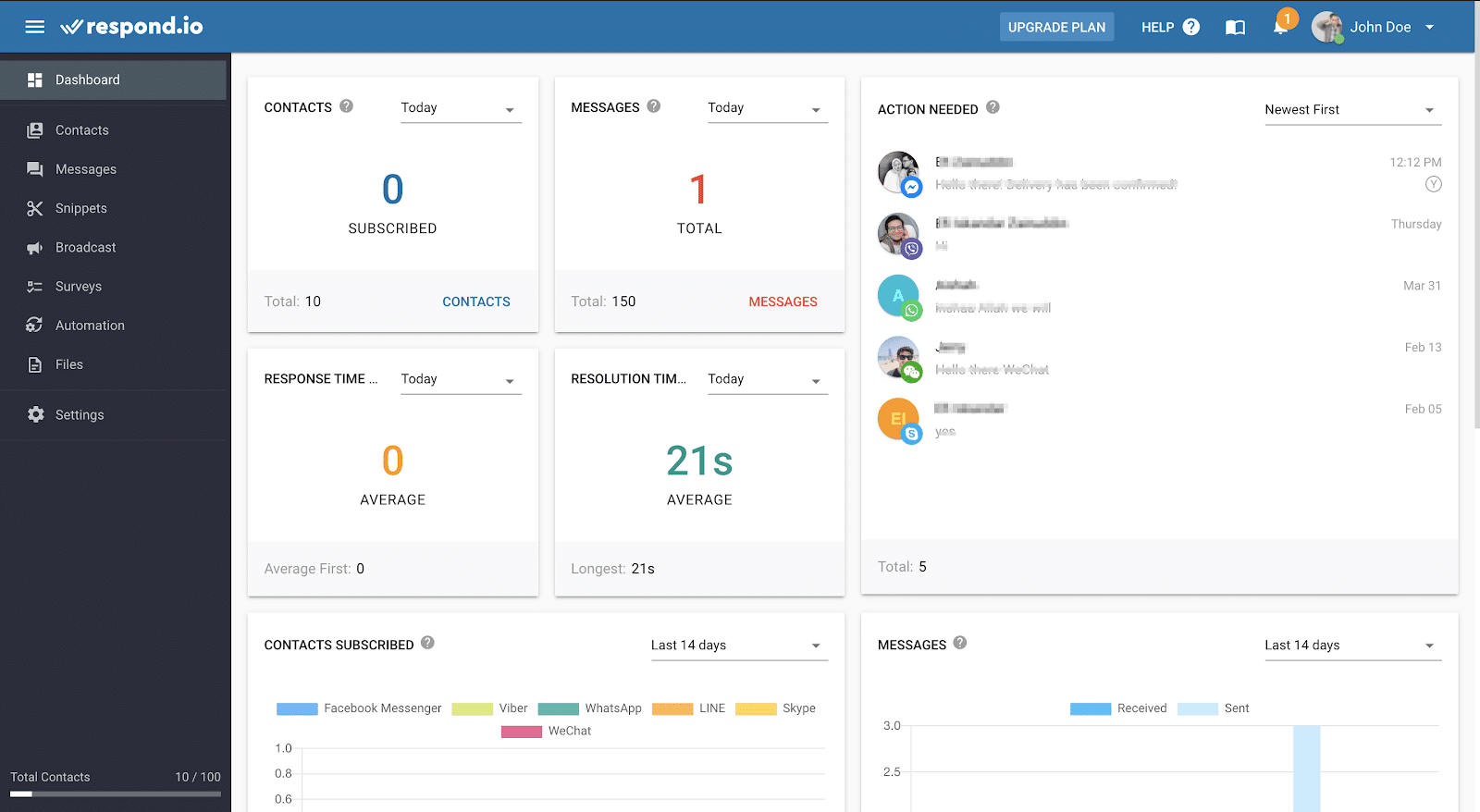 Best Features:
5 Team Members
Unlimited Messages
All Channels
Up to 100 Contacts
Respond.io allows customers to message you via any channel (Twitter, Whatsapp, Facebook Messenger, etc.). It has a shared inbox so you can collaborate with your teammates and respond to customer's messages as quickly and efficiently as possible. As with most live chats on this list, the free version has limited features.
Recommended for: Freelance, Startups, Agencies, Enterprises
12. Userlike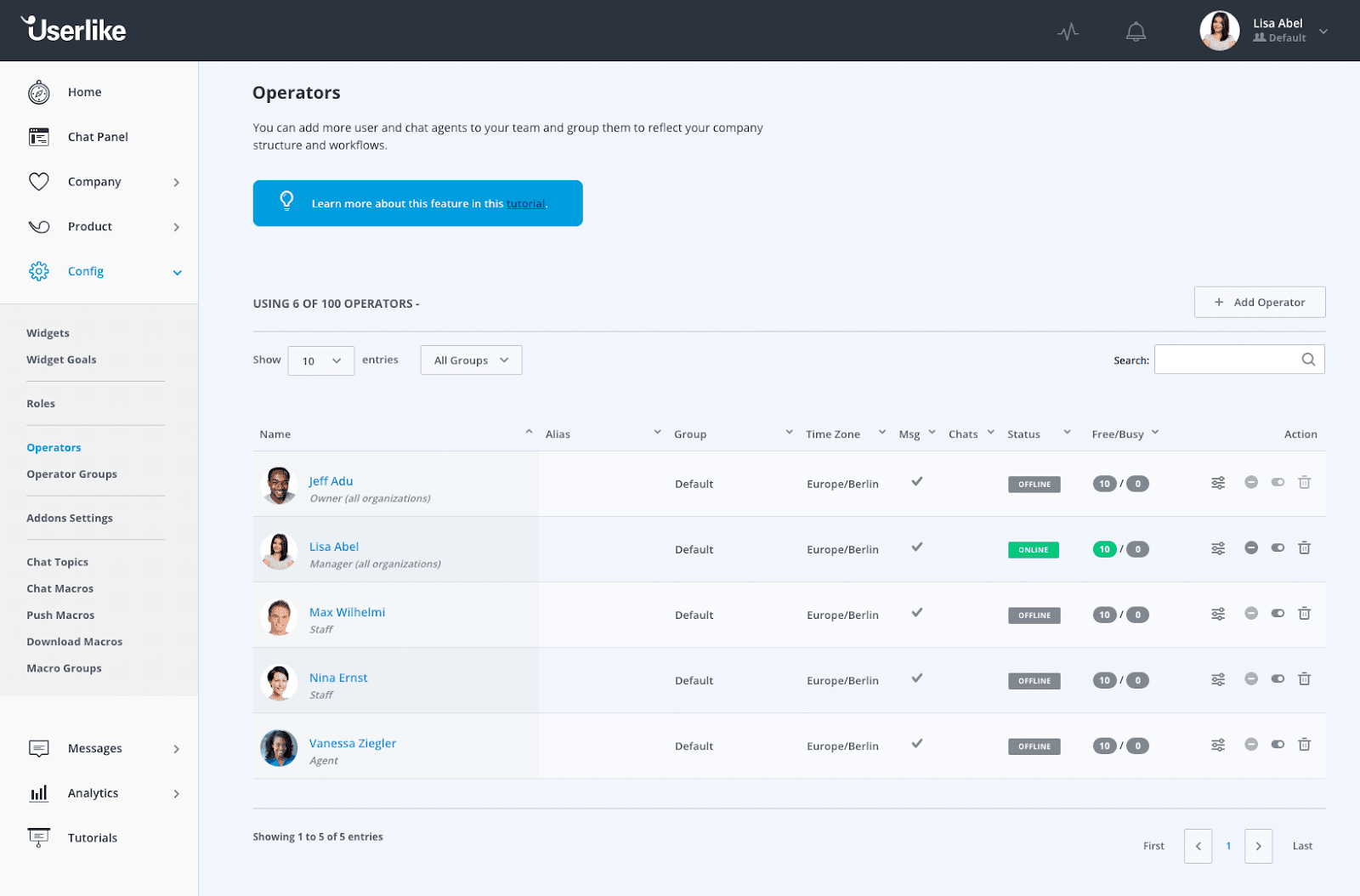 Best Features:
1 Agent Seat
1 Widget
Messenger customization
Unlimited website implementations
File Sharing
Registration form
With Userlike, you can chat with customers on desktop and mobile. It connects customers to the operator they've chatted with before to build strong relationships. Userlike also builds customer profiles based on their email addresses. This live chat makes it challenging to afford team support because the free plan offers one agent seat and the other plans are quite pricey.
Recommended for: Startups
13. Smartsupp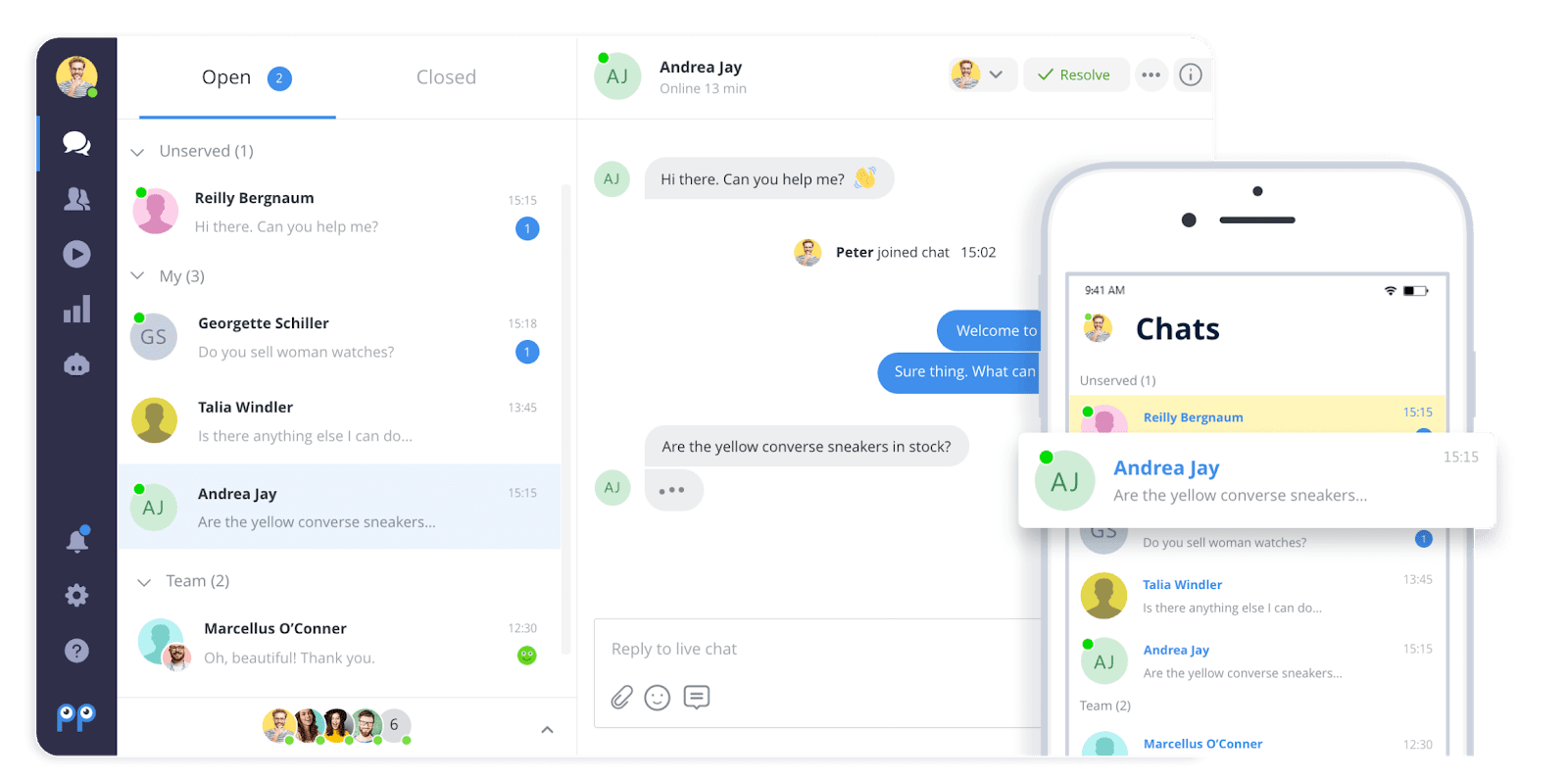 Best Features:
14-day conversation history
Live chat + email sending
3 chatbots
Facebook Messenger integration
Mobile apps for iOS and Android
Smartsupp comes with many out-of-the-box integrations for e-commerce platforms and website builders such as WooCommerce, Shoper, and Webnode. It also provides video recordings of each customer's journey on your website. Smartsupp makes it easy to create personalized automatic messages. Reviews state that chat conversations can be faulty at times.
Recommended for: Teams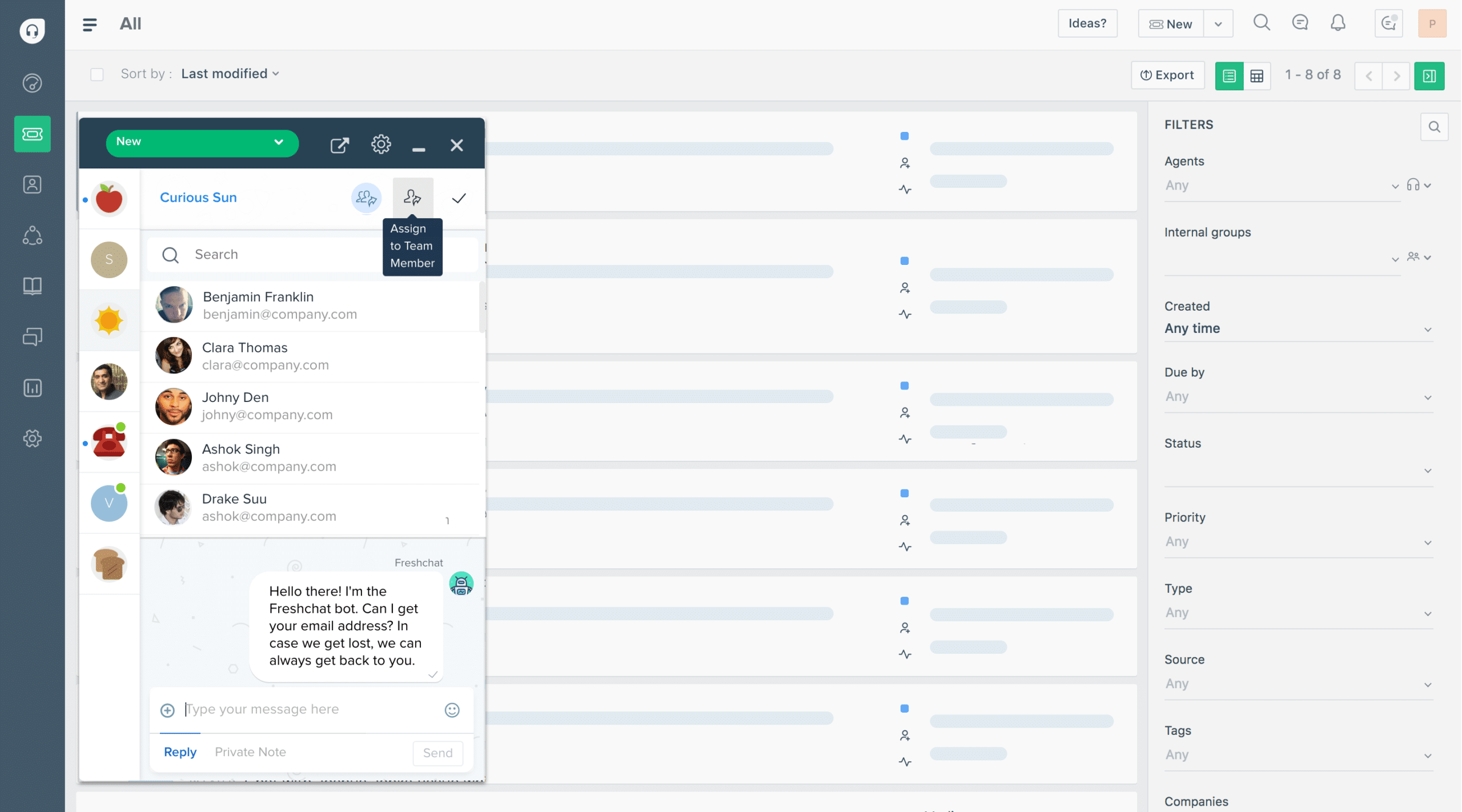 Best Features:
100 agent seats
Unlimited contacts
Conversation Labels
Bulk Actions
Desktop Notifications
Mobile Push Notifications
Freshchat is a live chat software that comes with Freshdesk integration. It is easy to install and use, and its design and UI are very intuitive. Freshchat works on desktop, as well as on Android and iOS. It offers integrations with many tools such as Slack, Mailchimp, WooCommerce, WordPress, and so on. The only downside is that the free version comes with a limited number of features.
Recommended for: enterprise teams
15. Chaport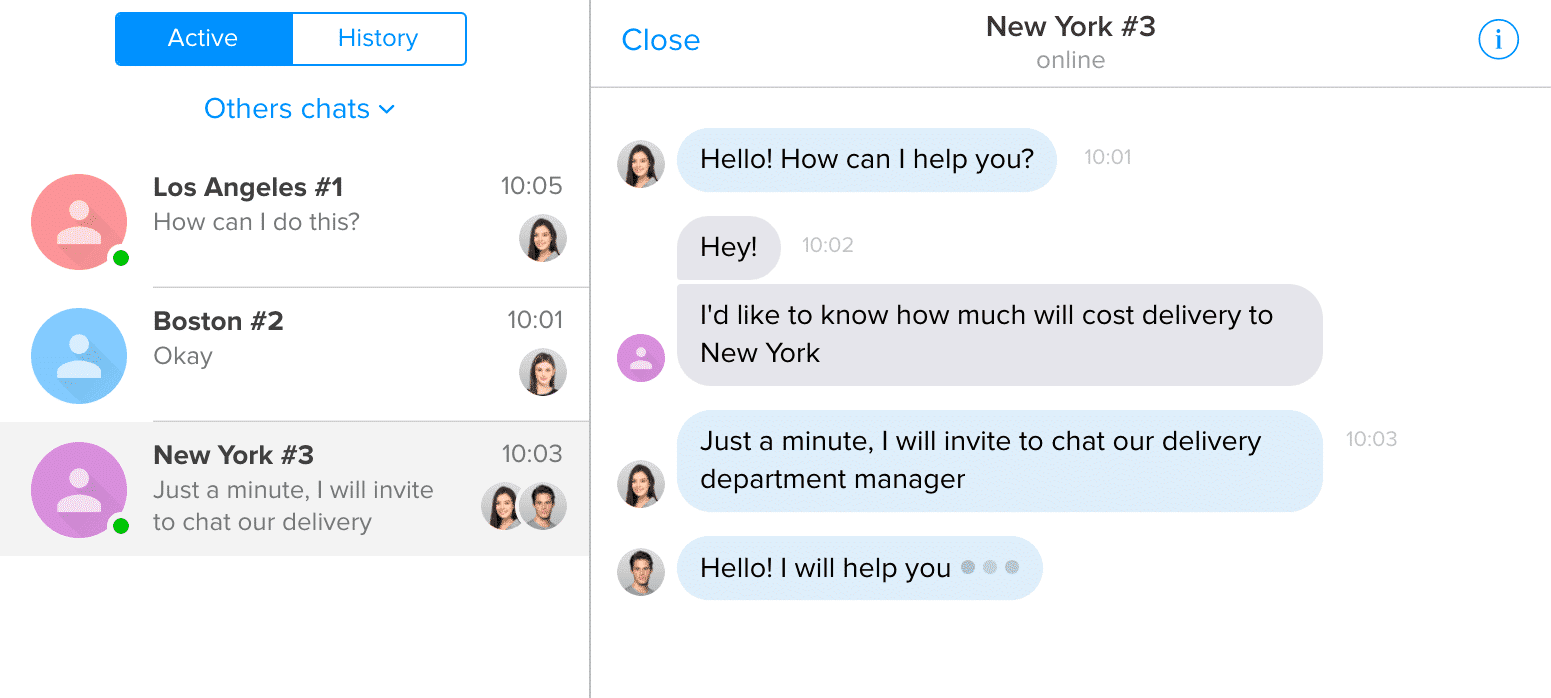 Best Features:
Unlimited chats & websites
30-day chat history
Basic widget customization
Web, desktop & mobile apps
You can reply directly from Chaport to customer messages received via live chat, Facebook, Telegram, or Viber. You can also connect it to other apps you use or integrate it with any app using the API. Chaport is available for iOS, Android, Web, Windows, macOS. A downside of this software is that downloading chats converts them to text files.
Recommended for: startups
16. Gist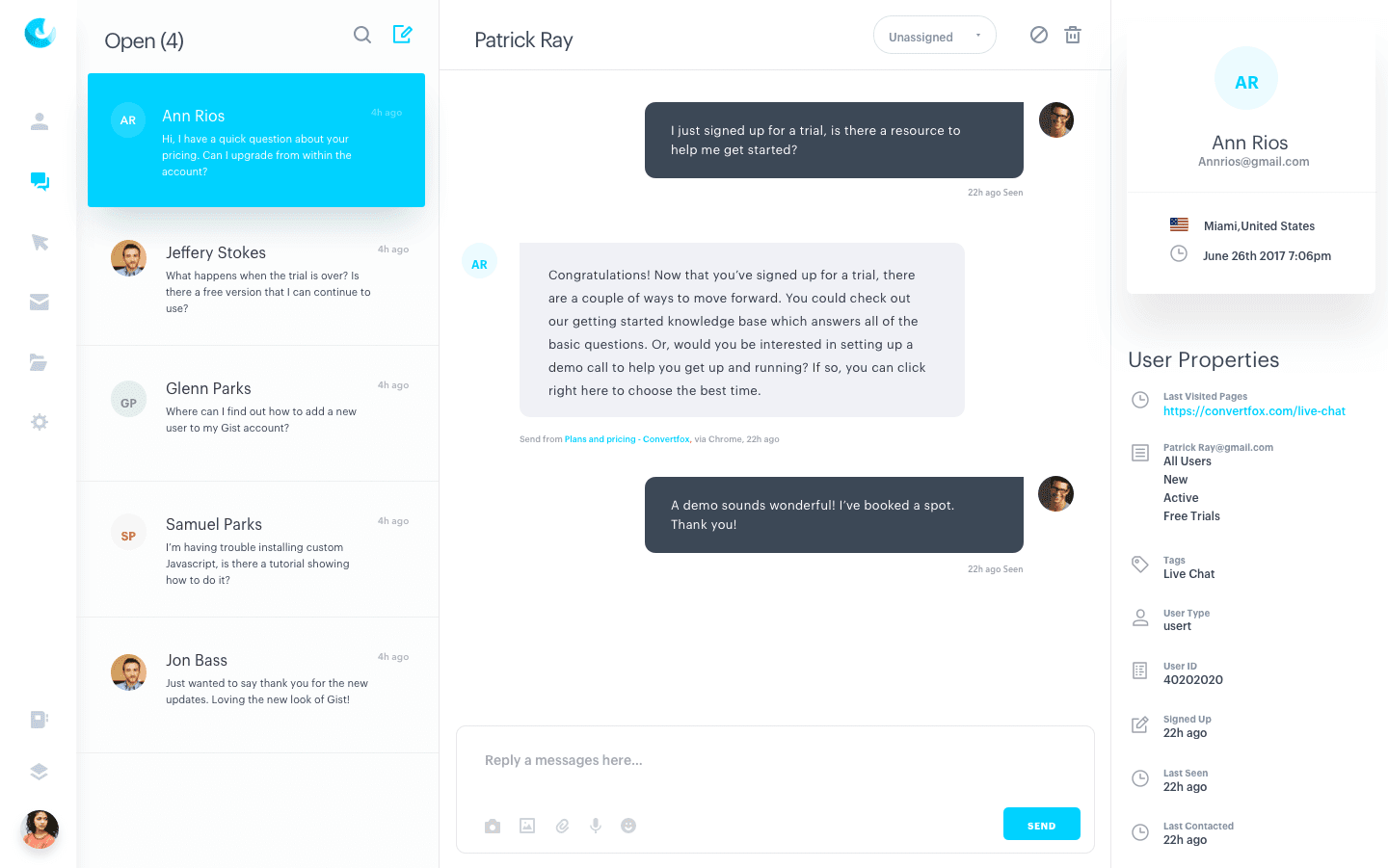 Best Features:
2 support seats
Team inbox
Unlimited conversation history
Web, email & push notifications
Saved replies
Mobile apps (iOS, Android)
Gist is a modern live chat app that uses typing indicators, read receipts, GIFs, and emojis. You can also customize it with the customer's language for a better user experience. Gist's features allow you to organize conversations, get help from a teammate or assign conversations among teammates. Gist's interface can be slow when looking at long lists of data.
Recommended for: Small businesses
17. Rocket.chat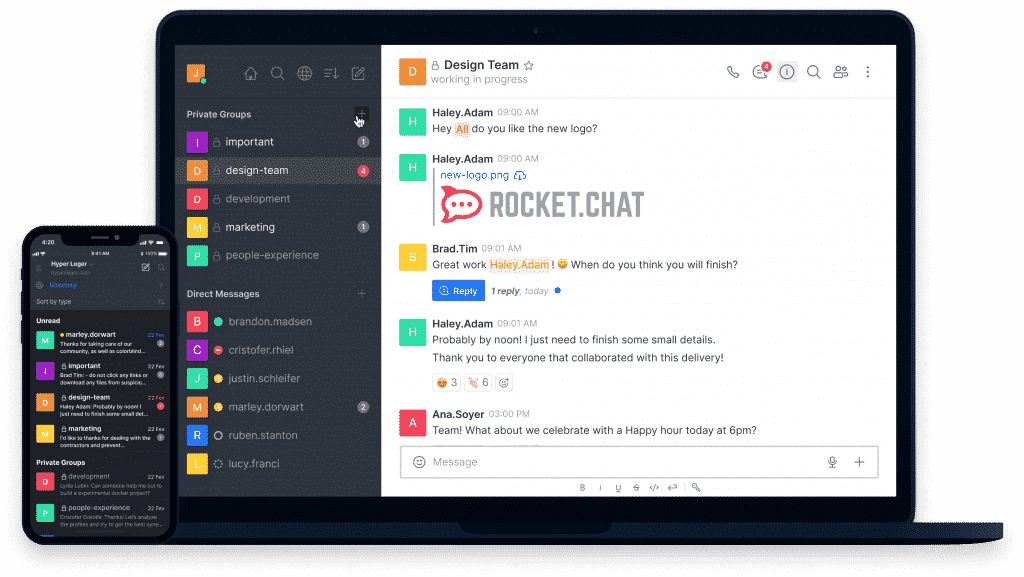 Best Features:
Recommended 1k Users
Unlimited Message History
10.000 Monthly Push Notifications
Customizable User Permission
Guest Users
Rocket.chat's interface can be modified to fit your website. This live chat software allows you to automate processes and integrate your tools with APIs and apps. Plus, you can work with end-to-end encryption and custom permissions to ensure safety. While the app has its occasional bugs, user reviews are mostly positive.
Recommended for: All
18. GoSquared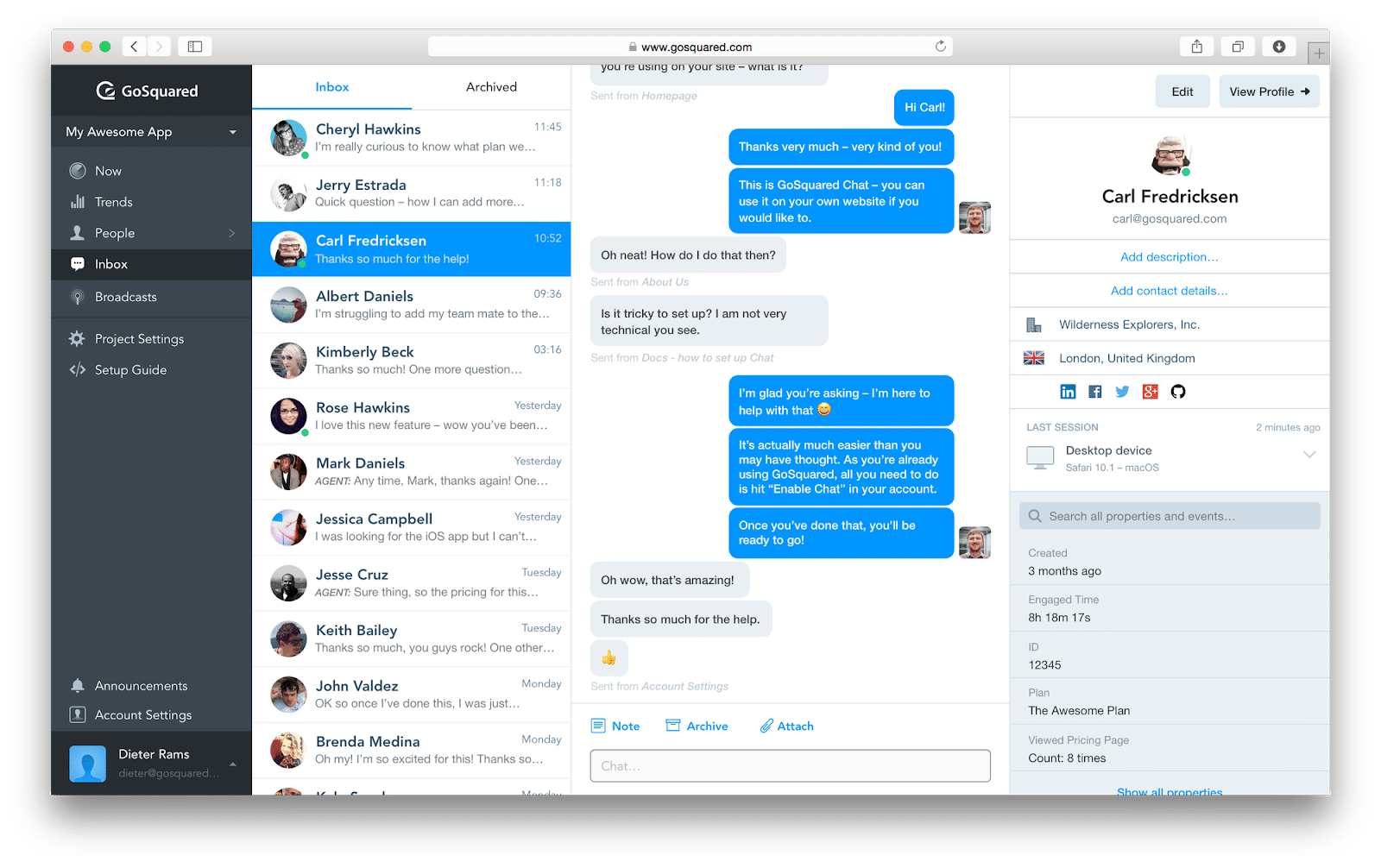 Best Features:
GoSquared Assistant
Team Inbox
Mobile Apps
You can use GoSquared live chat to generate leads and even customize your onboarding flow. Besides Live Chat, you also get Marketing Automation and Customer Data from GoSquared. Sadly, some of the advanced chat features, like canned responses, offline form, or website visitor tracking are not available on the free version.
Recommended for: All
19. User.com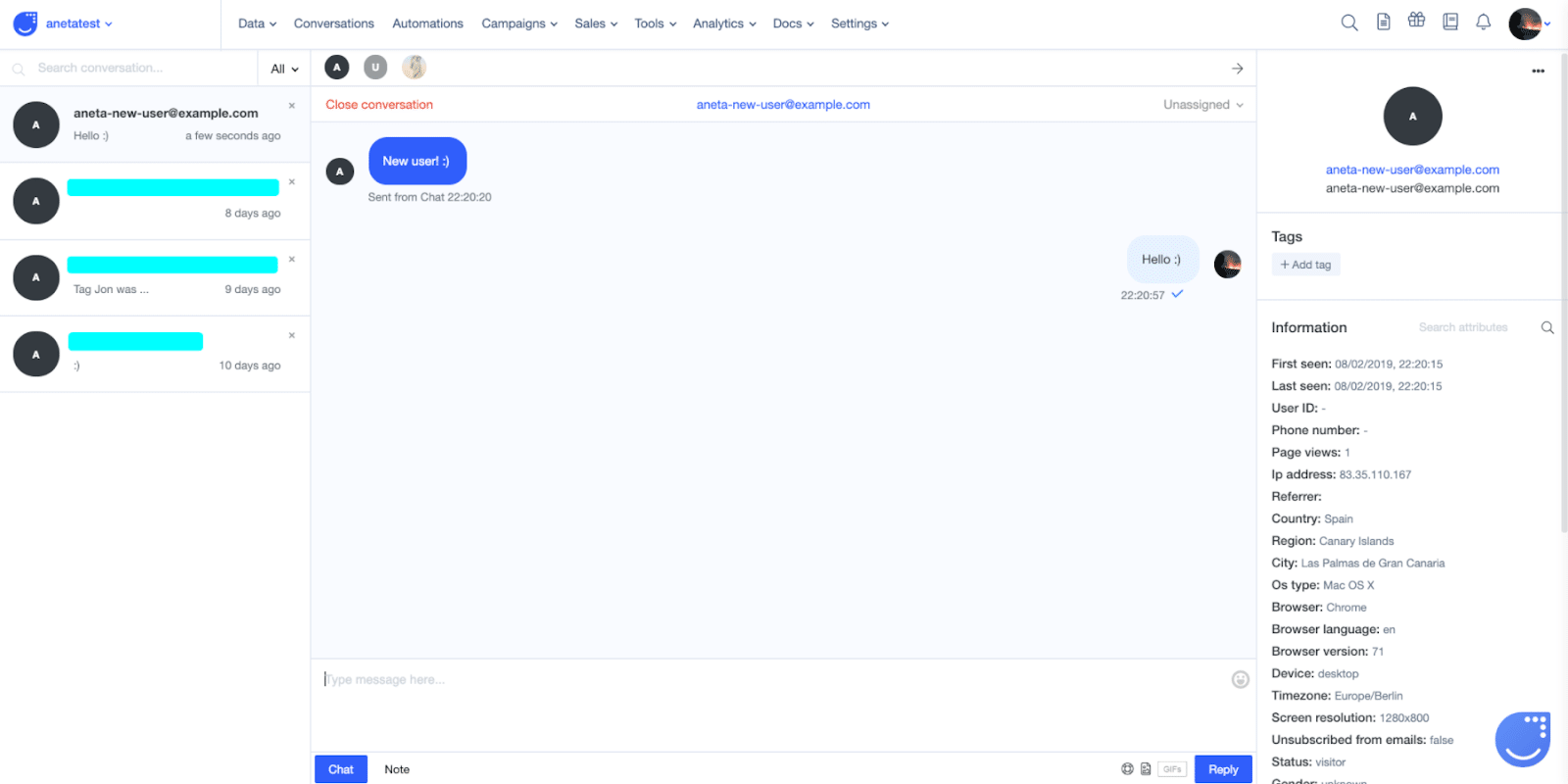 Best Features:
Unlimited agent seats
Style customization
"Before send" preview
Agent groups
Multilanguage
User.com's free live-chat is an easy-to-customize tool that will help you connect with your customers. Unfortunately, the free version does not include features like sending automated messages and allowing the integrated chatbot to take over simple tasks. Chat reaction based on users' activity is also available only on the premium version.
Recommended for: enterprise teams
Final Thoughts
We hope our list proves useful and you find the free live chat app that fits your website's needs. Chat tools like Tawk, Chatra, and Tidio can genuinely make a difference for your business at literally no cost.
Since all these options are free, you can try several before you stick with one. Keep in mind that most of these live chats come with other plans besides the free one in case you ever consider updating to have more advanced features.