Have you been charged with creating a customer success process at your company? Maybe you're the first customer success hire. Maybe you're an account manager or support supervisor tasked with exploring new tactics to improve customer outcomes.
Whatever the case, you have a big task ahead of you, and you need help. Whether you're familiar with customer success or you're never heard of it, this plan will make your job easier.
We're going to walk you through creating a customer success program from scratch with a week-by-week guide. You don't have to follow it to the letter. But it'll give you a good idea of the things you need to do, based on our experience in the field and industry best practices.
With that out of the way, let's get started with the first month. Here's how to build a new customer success program: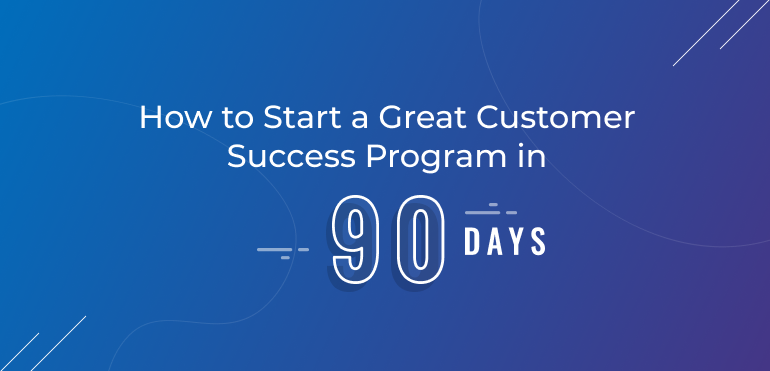 Month 1: Gather Data
Before launching an effective customer success process, you need a baseline. This month is about asking a lot of questions. You'll ask questions of your company, colleagues, customers, and more.
The first month can be overwhelming. That's okay. Take a lot of notes, do what you can to keep your information organized, and keep moving forward. It'll all start coming together.
Week 1: Learn About Your Product and Use Cases
Customer success is about helping people get the outcomes they want with your product. So you need to know your product inside and out.
Let's take the example of a piece of software (though this could be applied to any product). Here are some questions you'll need to answer:
What does the software do?
Who uses it?
Are there free alternatives?
What specific problems is your software meant to solve?
How does it differ from competitors' offerings?
Why do people choose it over other options?
Do people use your software for things other than what it's intended for?
What do customers dislike about it?
You'll also need to know how to use the software, from basic setup to advanced features.
Most of these ideas apply to non-software products and services, too. At the end of the week, you should be able to describe in detail what your company does, why people buy from it, and who it's competing against. Regardless of what you're selling.
Remember that you're laying the groundwork for customer success, so tackle all of these questions with a customer-centric view. The company mission statement is a good thing to know—but it's not as important as how your customers are actually using your product on the ground.
Week 2: Learn About Your Personas and Customers
You understand your product, and it's time to dig into who's using it. You spent some time last week learning about your company's customers, but you'll need more detailed information now.
A good place to start is with the buying personas from marketing and sales. They'll give you a good idea of who your company sells to. What are their job titles? What problems are they trying to solve? What pressures are they under?
These are the questions you'll use to start building your own customer success personas. These personas guide your customer success efforts, so it's good to start developing them early.
Where will you find this information?
The best place to start is by talking to the people in your company that work with customers on a daily basis. Sales and customer support are crucial partners; they quickly learn what customers are looking for in your product and what they struggle with.
Marketing is also helpful, though they tend to have less direct customer contact.
Speak to some customers to ask them directly what your company can do to help them succeed. Ask them how they define success, what they're looking for in a product like yours, and what good and bad experiences they've had with your product.
This is an ongoing process. Starting it early will help guide all of your future efforts in customer success.
Week 3: Look for Available Metrics
What information is already available to you? At the very least, find churn metrics to see how well your product is serving customers. Every industry has different metrics for churn, so you'll have to dig into some research to see if your churn is comparable to other companies in your industry.
The SaaS industry, for example, has a wide range of churn across companies, but if you're around the 10% annual churn mark, you're doing fine.
Keep in mind that you want multiple metrics for each piece of information you look at. For example, you might use three different measures of churn to get a good idea of what churn actually looks like at your company.
Here are some other metrics you might look at:
Net Promoter Score (NPS)
Annual revenue
Average lifetime value
Average subscription term
Customer retention cost
Customer satisfaction scores
At this stage, collect all the data you can. Organize it to see where your company is doing well and where it could use some work. You don't need to have a plan for fixing any problems that you find yet. This might also be the time to ask yourself if you need a customer success software. Just make sure you have as much data available to you as possible.
Week 4: Identify Gaps
At this point, you understand
who your customers are,
what they're looking for from your company,
how different teams are serving them, and
whether those strategies are working.
Now it's time to look for what's missing. Are there important pieces of information that aren't being collected? Are there too many customer touchpoints that annoy or confuse your customers? Are teams not communicating? Is there a disconnect between what your company provides and what customers are looking for?
You have the information to find the gaps. This week is about identifying those gaps and brainstorming how you might fill them. Take a lot of notes and don't dismiss any ideas out of hand.
You've collected a huge amount of information, and now it's time to put that information to work.
Month 2: Develop a Customer Success Strategy
This month you'll lay the groundwork for a great customer success program. Last month was about collecting information. This month is about sorting, cataloging, analyzing, and synthesizing that information.
You'll put in a lot of hard mental work this month. If you can, recruit others to help you. Get other success professionals, sales and marketing leaders, executives, and anyone else who has a useful perspective on your customers. Their insights are invaluable.
Week 1: Identify Key Performance Indicators (KPIs)
What do you want your customer success process to do? In the SaaS world, reducing churn is a primary goal. But you might have other goals, like increasing customer referrals, improving your ratings on marketplaces, or increasing customer lifetime value.
Choose a goal or two to focus on. Don't get carried away and choose a half-dozen. There's time for more goals later. For now, stick with a couple.
Once you have a goal in mind, you can identify the key performance indicators to support those goals.
There are two types of KPIs to think about here. Both are important.
First, you have lag indicators like churn and revenue churn. Lag indicators tell you if you've met your goal. In this case, they give you a good idea of how well your customer success program is working.
You'll probably look at lag indicators like
user churn,
revenue churn,
month-over-month growth,
number of customer referrals,
trial-to-paid conversions, or
average revenue per customer.
These are your ultimate goals, so it's important to measure them. But lag measures have a distinct disadvantage: they can take a long time to shift. Changing your program might not affect these indicators for months.
So you'll want a second set of more immediate KPIs to guide your CSMs.
These are lead indicators, and they tell you if you're on the right track to achieve your goal. If you're hitting your lead KPIs, you'll be more likely to hit your ultimate goals.
Here are some lead indicators you might use for customer success:
Number of proactive outreaches per day
Satisfaction ratings after contacts
Upsell and cross-sell attempts
CSM-identified customer health scores
Customer engagement measures
Identifying the right lead indicators is a challenge. Look at your lag measures and work backward. For example, if you want to increase trial-to-paid conversions, you might identify the number of success emails to trial customers as a lead indicator.
The connections between these two types of KPIs will become more clear at the end of this month. But you need a plan to guide your efforts through the next three weeks, so lay the groundwork now.
Week 2: Identify Key Customer Behaviors
You've identified the key indicators of customer success. Now it's time to figure out how to move those indicators. The data you collected last month will come in handy.
Let's take a look at a quick example. We'll say that you want to increase customer referrals. What behaviors precede those referrals? You might find that five factors influence how likely someone is to make a referral:
Leaving a review on your website or an app store
Adding more than 10 active users
Going through a free online training
Integrating outside apps
Frequent customer support tickets
With this information, you have a picture of which customers make referrals. Now you know which behaviors to target.
For example, you might focus on adding additional users during your onboarding process. Or create an automated email sequence that encourages users to integrate apps they already use.
You might also work with your marketing department to better market your free online training. Or ask developers to add more integrations.
Combine these behaviors with your KPIs to get a full picture of what your customer success process will do. This might require working up a complicated document, but it'll be worth the effort it takes. Over the next two weeks, you'll need to know exactly what you're trying to accomplish.
Week 3: Connect Tools and Actions to KPIs
Now it's time to figure out how to affect your KPIs. Prepare to brainstorm. Put all of your KPIs and key behaviors in a list and focus on one question: what tools do you have (or could you get) that will help you hit these KPIs?
For example, if you're expecting CSMs to send a lot of emails, you'll want an email automation tool for your customer success team. You'll probably need reminder scheduling. A ticketing system. Integrated feedback options in your app. Internal communication tools. Central data storage.
There's an infinite number of tools you could use, and this brainstorm will help you figure out which would provide the most benefit.
After the brainstorm, it's time to figure out which of those tools you have access to and which you can reasonably buy. For example, a customer success platform like Custify supports many of these KPIs. That makes it an efficient purchase for many companies.
Any business has tools and software necessary for day-to-day tasks. Ideally, you should find a way to integrate them with your customer success solution - either through native integrations or third party tools like Zapier.
The point of this exercise is to prepare you for next week's task, which is a big one.
Week 4: Plan Your Customer Success Process
It's time to finalize your customer success process. You know what you're offering and who's buying. You know how customers drive success for your company. You know what your reps need to do to make it happen.
The only thing left is to connect those pieces of information and start running your success machine.
Of course, you don't need to have everything figured out right now. You just need enough to get your CMSs started. That usually means things like
a documented workflow,
communication intervals for proactive outreach,
app integrations,
responsibilities for other teams, and
calling and email scripts.
You might be ready to use more than this. You might just have enough to get one person sending out a few emails. What's important is that you make a plan for getting started.
At this point, your plan should answer three questions:
1. Who's involved in customer success at your company?
2. What, exactly, should they be doing every day?
3. How will you know if they're successful?
If your plan addresses those three things, you're ready to start helping your customers succeed. Put that information into a customer success journey map and distribute it to the people who partake in the process.
Any more information you can provide is great. But these are the core issues. As long as you have them ironed out, you're set to go.
Month 3: Put Your Plan Into Action
You've spent two months collecting information and using it to create a detailed customer success plan. Now it's time to start doing customer success and reaping the rewards.
This will be a hectic month. You'll answer a lot of questions from every sector of your company, you'll put out a lot of small fires, and you probably won't see much feedback on whether what you're doing is working. But this is how it always starts. And it's always worth it.
Week 1: Connect Relevant Parties
Customer success requires a lot of communication. Much of it will be between your customer success reps and your customers, but different members of your company will also need to communicate.
In the first week of your program, you're bound to uncover communication gaps. Some people won't know who they should be talking to. Others won't have the right tools set up yet. Still others will just have forgotten because this is all new.
Those communication breakdowns are detrimental to your customer success program, so spend this week finding and fixing them. You might have to work with department heads, developers, and executives to make sure the right communication practices are being observed.
It's also a good idea to double-check your handoff documentation (especially if your success team is assisting with sales enablement).
When does a customer get handed off from sales to implementation? From implementation to customer success? From customer success to customer service? And how? How will the second party know that they're now supposed to be helping that customer?
All of this information should be documented in your journey map. If it's not, take the time to create and distribute one. If it is documented, find the communication gaps and fix them.
Week 2: Train CSMs (If Applicable)
Some customer success programs start small. You might be the only person in your department. But if you're growing your team, you'll need to spend time training them. This is a good week to start.
Some CS programs start small. You might be the only person in your department. But if you're growing your customer success team
Now that your teams are communicating more effectively, you can start inserting new people into those workflows. This better distributes the work and ensures every customer is taken care of.
Of course, you might not be bringing on more success team members. Or you might not be running customer success trainings. But you still have work to do this week.
Take this time to talk to other members of your company, like sales, marketing, and support, to make sure they understand your customer success priorities.
Get them on board by demonstrating how a great customer success process will benefit their departments and make their lives easier. Pass on the information that you've spent the past two months gathering and synthesizing.
Week 3: Start Automating
Modern automation tools make everyone's lives easier. Take this week to start automating what you can for your team. Here are a few things to consider automating:
Email sequences
Data gathering
Analytics reports
Handoff reminders and alerts
Customer health warnings
Workflow and task creation
What you can automate largely depends on the tools you're using. If you have robust customer success software, you should be able to automate all of this and more. If you're working with a less customer-success-focused tool, you may have more limited options.
If your company has developers on staff for these types of projects, be sure to take advantage of their expertise.
Week 4: Start to Scale
You're almost ready to switch from starting a customer success program to maintaining and growing one. This week will provide the basis of that transition.
In short, you have two tasks.
The first is to figure out what's working well. Which parts of your burgeoning customer success program are working? Has your proactive outreach proved to be very successful? Are your metrics and data collection helping target your priorities?
Once you've figured out what's going well, start to scale it. Find the reps who are doing the best work and help others learn from their success. Take the tracking you do in one part of your program and institute it in another. Tailor your scripts to suit the strengths of your team.
The second task is to look at what's not working well and start to fix it. Maybe you still have some communication breakdowns. Or your automation is finicky. It's possible that some reps just haven't had enough training yet.
Whatever you find, work on fixing it before you grow your team. The more of these issues you have ironed out before adding more team members, the better your expansion will be.
Congratulations! You Have a Customer Success Process
It's been a grueling three months. You've built a customer success program from scratch using a combination of best practices, seasoned advice, and hard work. The process certainly isn't done—but your customer success process has some legs now. And you're ready to make a big difference in the customer experience at your company.
Again, don't feel constrained by this document. Instead, use it as a rough guideline. This isn't how everyone starts their customer success program. But it should give you an idea of the types of things you should be thinking about. Tailor it to your needs.
And remember that customer success is still growing as a field. Things are changing fast. For example, GDPR legislation in 2018 made companies rethink how they work with customer data, which is crucial for customer success. Customer success trends come and go. New tools and ideas are showing up every day.
We hope you're ready for a lot of exciting times ahead. Welcome to the world of customer success.