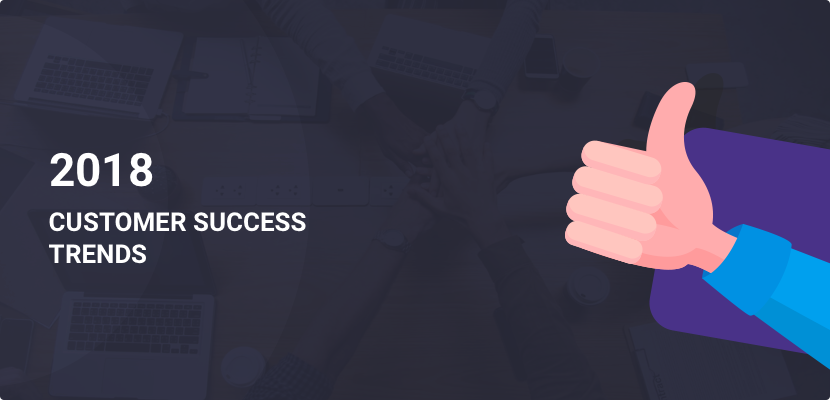 Customer success changes rapidly. Every year we see new technologies, best practices, and collaborations. It's hard to keep up.
2018 is no exception. Exciting new trends are shaking up a field that's starting to hit its stride. Some of those trends—like the idea of integrating customer success across an entire company—have been a long time coming.
Others have been driven by technological advances (like the use of AI and chatbots).
No matter how they came about, 2018's customer success trends are likely to shake up the industry. And if you don't take advantage of these trends, you're going to get left behind.
Keep reading to find out how you should be moving your CS team forward.
Whole-Company Customer Success
When customer success teams started popping up in SaaS companies, they were usually quite small. It wasn't uncommon to see a CS team of one or two people.
That's changing in 2018. Customer success teams are growing. And they're becoming more integrated in sales, marketing, and customer service processes.
Why? Because your entire company should be aligned around customer success.
It makes sense:
Your engineering and design teams create products that help your customers succeed. Your marketing tells people how your product helps them succeed. Sales does the same on a more personal level. Implementation and support get your product set up and ready to go.
(If you're not convinced, check out Lincoln Murphy's list of places in the customer journey that customer success is important.)
This year we're seeing more teams and departments get explicit about customer success. Metrics, analytics, best practices, and other elements are now taking on a more customer-service-oriented form.
Every team's goals and metrics can be tied back to customer success.
Actually making this happen, however, isn't always easy. How do you integrate customer success into every part of your company?
It starts with a culture shift. Everyone in your company needs to equate your customer's success with their own. Like they say at Oracle, "our customers' success is our success."
Which means everyone has to have a solid understanding of your customer's needs. Buyer personas need to be clear, and every team needs to know how that persona behaves in their part of the funnel.
This can be difficult in practice. A good place to start is to include a customer success manager in meetings that they might not have attended in the past. Encourage them to share their insights on the sales funnel and how other teams can better align around it.
You may also find it useful for members of other teams (especially marketing and sales) to attend customer success trainings. They'll get a much better idea of how they can integrate CS ideas into their own work.
Merging of CS and CX
Whether you think that customer success is a subset of customer experience or vice versa, you're likely to see more CS and CX teams working closely together. Even to the point where they merge.
Taking advantage of this trend (or not) is up to you. But at the very least, your CS and CX teams should be cooperating. They're aiming for the same goal, but they take slightly different views of the process.
Once they're working together, they'll be much more effective.
Data-Based Decision-Making
Every company wants to make their decisions based on great data. And many of them do . . . but many companies still struggle to adopt data-driven cultures. Customer success has long been a data-driven field, and it will continue to be so.
And as CS starts to integrate with other business domains, it will bring its analytics and data analysis expertise with it. That means more data, more analysis, and better decisions.
More advanced analytics are needed to support the emphasis on full-funnel customer success that comes with those integrations. It's no longer enough to track different metrics on different platforms with different reports.
HubSpot pointed out the need for integrated lifecycle tracking. Because an analytics platform with a wider view will give you better information. You can see how many of your clients have completed the onboarding process, how often they use the product, and how likely they are to churn.
Those are the kinds of metrics that will help customer success teams be proactive in their outreach and better support customers.
And because omnichannel marketing and customer journeys are becoming more common, those integrations are valuable. If your customer success program isn't following your prospects through every stage of the funnel—on every device, platform, and interaction they have—you're missing out.
Automation and Personalization
There's no denying the relationship between CS and marketing. Helping your customers succeed contributes to acquiring new customers and retaining current ones. So it makes sense that you'd see similar trends in the two fields.
Automation is now so big that it has its own trends for 2018—and you'll likely see them popping up in discussions of CS, too.
Many CS tactics, like sharing useful content, providing information on product updates, and checking in to see how things are going, can be completely automated.
The most familiar form of automation is probably the onboarding email series. When you sign up for a free product trial, you get an email thanking you for checking out the product and suggesting a few useful resources. The next email will recommend ways to further customize the experience. The final one might encourage you to upgrade to a paid plan.
But there are tons of other ways that automation can help your CS outreach. Provide onboarding or implementation tips. Keep people updated with relevant blog posts from your company based on their buyer persona. Catch people who signed up but haven't started using the product and get them back on track.
Great information can be delivered quickly and at scale. Which is good for customers.
It also means small CS teams can handle many of the required responsibilities for a large group of customers. Which is good for companies.
When those two things are aligned, you do great business.
How Personalization Fits In
Automating marketing outreach is often paired with personalization. Personalized product recommendations. Personal social media outreach. Buyer-persona-specific content feeds.
All of these things make your customer feel like an individual and that they matter. It's crucial in building a strong brand relationship.
But how does that apply to CS?
Personalization is at the core of customer success. Helping your customers means understanding their individual needs, problems, and potential solutions. You need to know how they're using your product and how they might use it better to meet their goals.
Great CSMs also understand individual customers' hesitations, roadblocks, questions, companies, and goals.
Which means personalization is already built into customer success. But now that CS is becoming more integrated with sales and marketing, you'll see that type of personalization moving out of the realm of CS and marketing and into other parts of the company.
Detailed knowledge of customer specifics makes everyone's job easier. Marketing and sales materials can be tailored for a specific client (as in account-based marketing, another marketing trend of 2018). Customer service agents will have all of a customer's information pulled up on the screen by the time they start a call. Upgrade offers can be tailored.
If you can do all that, you'll provide amazing service. And as customer experience becomes a more important differentiating factor, that will help set you apart.
Artificial Intelligence
The amount of data that companies collect is incredible. We get more data all the time. And it can be a struggle to deal with all of it. Which is why many large companies have started adopting machine learning and artificial intelligence to help them make sense of the data.
Customer success is no exception. We're getting a lot of data from a lot of sources, and dealing with it requires new tools.
Not sure when to send your proactive outreach emails? AI will tell you, based on the most effective times for other customers as well as the characteristics of the customer you're working with.
And one of the areas that you'll see an increased investment in machine learning is chatbots.
Chatbots for Customer Success
When customers have a question, they want the answer right now. They don't want to have to wait until business hours for a live chat. And they certainly don't want to call.
So many customer support teams are turning to chatbots that can help direct people to the resources they need.
There's little doubt that customer success programs will use this technology as well. The content that helps your customers succeed should be easy to find—but many customers don't want to take the time to find it. They want to be pointed in the right direction.
Chatbots can do that.
Most of the discussion you'll see about chatbots are from a marketing or customer service perspective. But that may change. CS teams will likely find them valuable for the same reasons (not to mention the fact that marketing, sales, and customer service will have a stronger focus on CS anyway).
As Salesforce's chief scientist Richard Socher says, "[W]hen a bot correctly answers questions or fills your requirements it does it very, very fast." And that's valuable to customers.
More Changes to Come
Customer success has quickly risen from a niche SaaS field to one that's driving innovation in all kinds of companies. There's no industry that can't use customer success principles to improve their level of service.
And with these four customer success trends—whole-company CS, data-based decision-making, automation and personalization, and AI—we're seeing the field grow before our eyes.
You may not be able to shift your company culture overnight. Or develop a new chatbot that knows your products better than your best salespeople. But these trends aren't likely to go away. So it's time to start benefiting from them.
If you're not sure where to start, begin by collecting more data. The more you know about your customers, the better you can align your goals with theirs. From there, you can apply automation, personalization, and AI to help them. And begin to integrate all of these principles into your entire company to truly become a customer-focused organization.