Proper organizational alignment is the key to success for any SaaS business. In fact, aligned organizations report a 58% faster revenue growth and a 72% higher profitability than those that are broken into organizational silos.
Revenue Operations (RevOps) is a discipline that was created precisely to address these alignment challenges. This article will cover everything you need to know about RevOps and why it is crucial for the success of your SaaS business.
What Is Revenue Operations?
Revenue Operations or RevOps is a framework that seeks to align your marketing, sales, customer success, and other teams around a common goal — driving sustainable revenue for your business.
RevOps was specifically designed to break down organizational silos, improve internal processes, and foster a customer-centric culture across your revenue-generating teams. It helps you reimagine the concept of revenue as a result of collaboration between your teams throughout the customer journey.
Revenue Operations vs. Sales Operations
Because of their similar goals, Revenue Operations and Sales Operations (Sales Ops) often get mistaken for one another. However, the two disciplines are quite different.
As its name suggests, Sales Ops' goal is to make your sales team more effective and efficient in driving revenue. In other words, it's a tactical framework that empowers your sales reps to do a better job closing deals.
And that's where the difference between the two frameworks lies — Sales Ops is more targeted and niche, while RevOps is more holistic and global in its scope. In a way, Sales Ops is just a part of the whole revenue process that Revenue Operations seeks to optimize.
So, Sales Ops is concerned with more granular things such as sales forecasting, territory planning, and lead management. Meanwhile, RevOps looks at your entire revenue funnel and how each one of your teams contributes to it, your go-to-market strategy, and your customer journey.
​​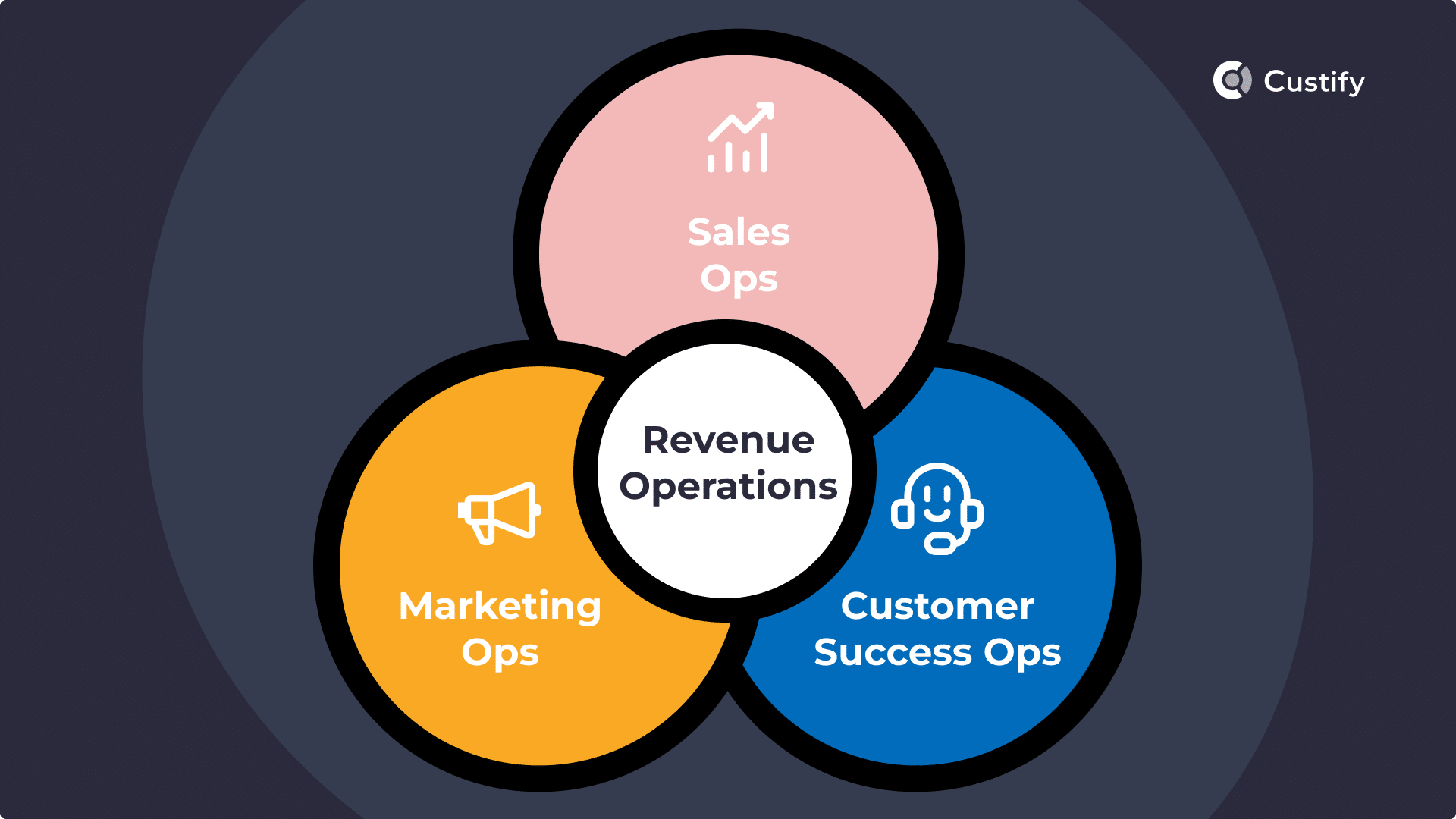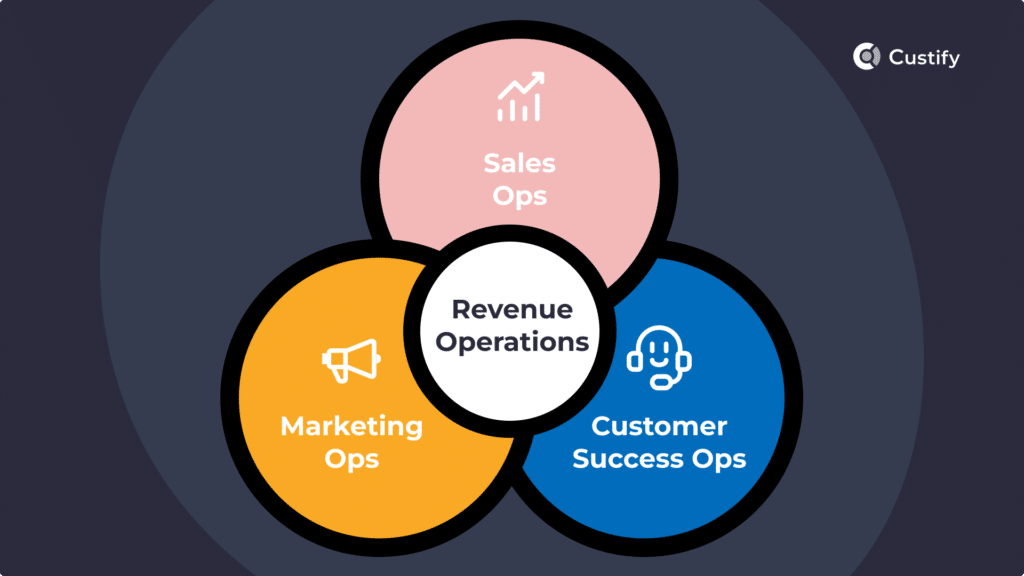 5 Key Benefits of Revenue Operations
The main and most obvious outcome of successfully implementing RevOps is, of course, a higher revenue. However, that's not the only way your organization can benefit from it. Here are a few more things that Revenue Operations brings to the table.
Better customer experience. RevOps brings together your main customer-facing teams: marketing, sales, customer success, and customer service. As a result, it empowers them to collectively own the customer experience and continuously improve it. With Revenue Operations, your organization can achieve a full alignment on your customers' needs and create a coordinated customer strategy.
More insightful and reliable customer data. Revenue Operations does not only align your teams' goals and processes, but also their data. Under this framework, all revenue-generating teams record and manage customer data with a single shared tool (typically, a CRM platform). And when data is stored in a single source of truth, it becomes more transparent, reliable, and easier to draw valuable insights from.
Predictable growth. With RevOps, you can have a comprehensive top-down overview of your entire revenue funnel and customer journey. Combined with all the customer data insights it unlocks, this enables your team to make informed predictions about your business' growth.
Improved efficiency. The organizational alignment that RevOps helps achieve is not only theoretical, but also practical. More specifically, it enables your organization to align around the same hands-on processes, workflows, and value-added activities. As a result, it helps boost your teams' efficiency, responsiveness, and productivity.
Stronger company culture. Finally, RevOps can also contribute to creating a stronger company culture within your organization — a direct outcome of the alignment it helps achieve. When your teams share the same goals and processes, it's easier for them to feel like parts of one united organization.
How to Implement RevOps in Your Organization
Now that we've covered the basics of RevOps and how it can benefit your organization, let's take a look at how you can implement it.
1. Perform a Complete Audit of Your Revenue Funnel
Before you can start implementing RevOps, you need to get a clear understanding of what your revenue funnel looks like from start to finish.
To do that, you need to perform a thorough audit of all your customer touchpoints, revenue drivers, and internal processes. The goal of this process is to establish if, where, and how your organization is suffering from poor alignment.
To successfully complete this stage, here are a few questions you can ask yourself:
What is the current tech stack of my revenue-generating teams?
Does it help them successfully track and manage leads?
Is there any overlap or redundancy between the tools?
What does my revenue pipeline look like?
Do my website and other digital channels align with it?
2. Establish Your RevOps Team
The next step is to lay the foundation for implementing RevOps in your organization. More specifically, this is the stage where you determine who will be responsible for managing your efforts.
Typically, there are two ways you can get started with Revenue Operations — and your choice will primarily depend on the size and maturity of your organization.
The first approach is dividing the RevOps responsibilities between your team members. In this model, your sales reps, CSMs, and managers will all wear multiple hats as you establish your framework. Because this approach is relatively cheap and quick to execute, it's best suited for smaller companies. However, the goal is for these responsibilities to evolve into dedicated roles as you grow.
The second approach is hiring a dedicated Revenue Operations specialist who will oversee the implementation. This person will oversee the entire implementation process and manually break down the silos you may have in place. Of course, this approach is more costly and time-consuming. That's why it's best suited for large organizations and teams of 100+ people. At the same time, it can be more beneficial for large organizations because they tend to suffer from entrenched silos more than smaller companies.
3. Set up Your RevOps Tool
As mentioned previously, you need a powerful tool that will become the single source of truth for your organization in order to successfully implement Revenue Operations. The best tool for the job would be a CRM software that has the following features and capabilities:
Software integrations: You want to be able to seamlessly feed all the important data into the CRM from your marketing and sales tools.
Workflow automation: By automating minute manual workflows, you will empower your teams to focus their efforts on value-rich activities and be more efficient.
Customer touchpoint management: The CRM tool of your choice should give you a full overview of your customers' journeys, allowing you to monitor every touchpoint from the moment they come in contact with you.
Revenue forecasting: A good CRM tool will analyze and forecast your revenue for you based on past performance and existing data. This will not only save you time but also reduce the chance of error and miscalculation.
Reports & analytics: Similarly, the most reliable and efficient way to create reports and analyze your data would be via your CRM tool. Additionally, the tool's analytical capabilities will help you extract valuable insights from your customer data.
4. Establish Your Workflows
Once the foundation of your Revenue Operations framework is set, you'll need to reoptimize your workflows accordingly or create new ones. Your goal here is to create seamless end-to-end revenue management processes that support your customer lifecycle.
Here are some of the processes and workflows that you'll need to optimize for RevOps and how you can do that:
GTM strategy: Design multiple GTM strategies for different customer segments based on company size, business model, industry etc.
Revenue process: Create a tailored process for each iteration of your GTM strategy and set up trackable milestones for each customer.
Handoff process: Create a unified workflow for handoffs between your SDRs, account managers, and CSMs.
Inbound follow-ups & outbound outreach: Craft valuable content for your prospects and create a cohesive experience with your brand from the first contact.
Reporting and metrics: Align on standardized metrics across your revenue process and set up a unified dashboard for key data elements.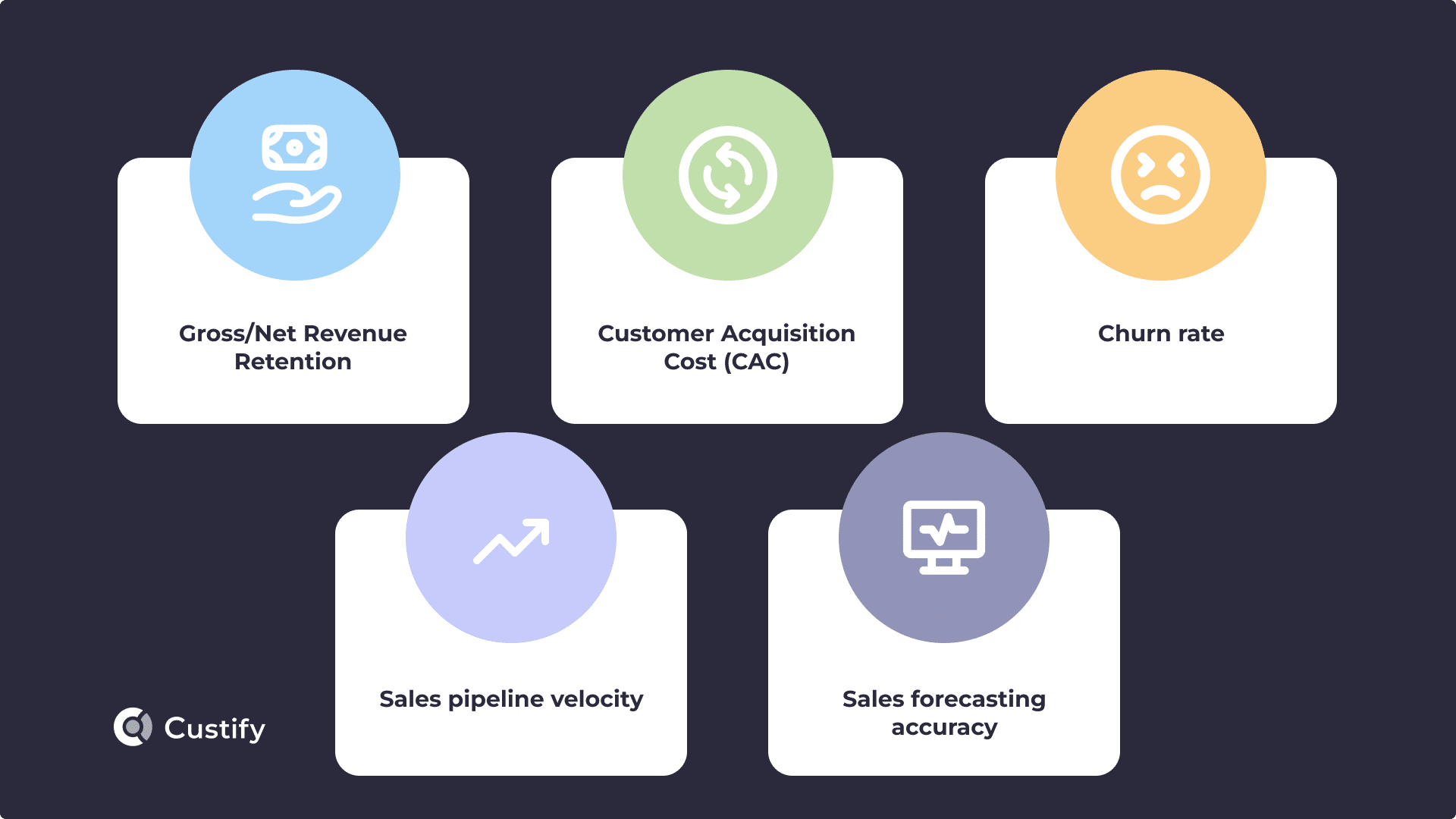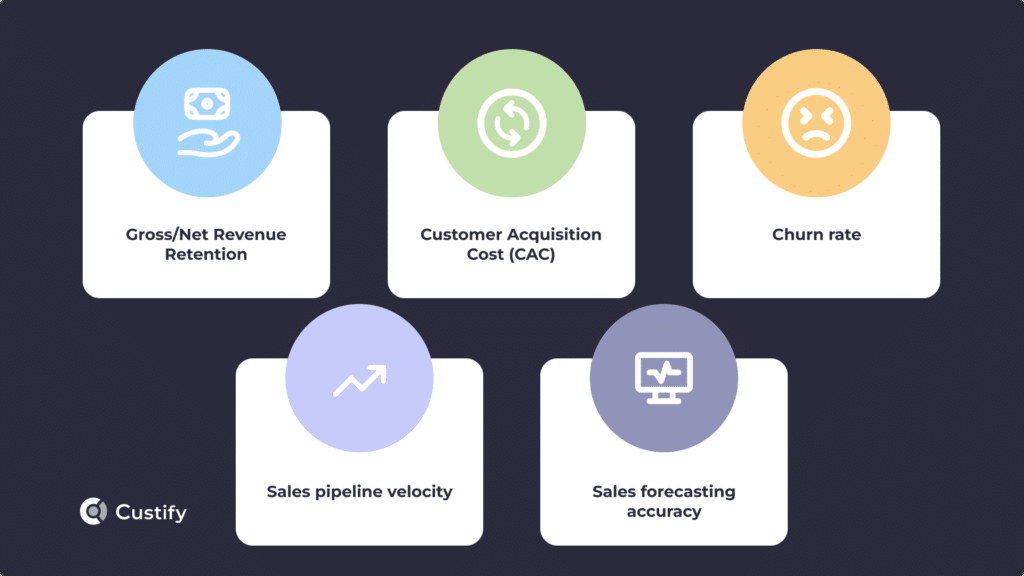 5 Top Revenue Operations Metrics You Should Track
If you think that the only metric you should really be tracking to measure the success of your RevOps efforts is revenue, you wouldn't be wrong. However, there's more to it than that.
Because Revenue Operations unites different functions in your organization, you also need to track metrics that correlate with each function. Here are the most important ones.
Gross/Net Revenue Retention. Retaining existing revenue is always more efficient than winning new customers. Tracking your Gross and Net Revenue Retention will help you better understand if you're targeting the right customers, whether your onboarding process is working well, and if you're successfully leveraging all the available cross-sell and upsell opportunities.
Customer Acquisition Cost (CAC). Even with a solid Revenue Operations strategy in place, gaining new customers costs money. To understand if your CAC is too high, see how it stacks up against your Customer Lifetime Value (CLV) and your acquisition payback period. You want your CAC should be lower than the CLV, with the shortest payback period possible.
Churn rate. Just like Revenue Retention, your churn rate will help you understand how well your entire revenue pipeline is working. Tracking the churn rate will also help you uncover bottlenecks and inefficiencies in your Revenue Operations framework. Follow the stages of the customer lifecycle where the churn rate is the highest to see what processes you need to improve.
Sales pipeline velocity. Because the sales pipeline velocity measures how quickly your leads convert into customers, tracking it will help you gauge the efficiency of your pipeline. A high velocity indicates a proper alignment between your marketing and sales team. Conversely, a low velocity will indicate that you need to make improvements to that portion of your RevOps model.
Sales forecasting accuracy. Forecasting is an important aspect of Revenue Operations. Naturally, you want your forecasts to be accurate. While it's not exactly a rigidly defined KPI, sales forecasting accuracy can help you set realistic goals and better understand how accurate your revenue data is.
Wrapping Up on Revenue Operations
Between its focus on organizational alignment and aim for efficiency, Revenue Operations should be your go-to framework if you're looking to grow your revenue sustainably.
However, there is one thing you have to keep in mind. RevOps is not a quick fix that will help you quickly catch up to lackluster quarterly goals. Instead, Revenue Operations is all about making structural changes in your organization, reshaping and aligning it around the goal of sustainable growth. That's how you set your SaaS business up for long-term success.