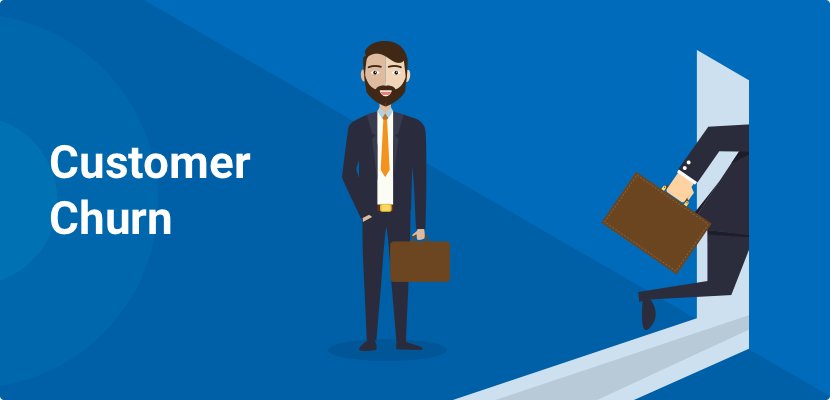 Customer churn seems complicated. There are different types of churn that you should monitor, various systems for calculating each of the metrics, and tactics you can use to reduce all of them.
But in the end, there are only two things you need to do to reduce churn. First, make sure your product works. And second, make sure it's easy to use.
Sounds pretty simple, doesn't it? In concept, it is. But actually putting these ideas into practice is more complex. So we thought we'd help out. Here are seven tips you can use to make sure your product is as effective and easy-to-use as possible.
With just these seven tips, you'll be able to reduce churn for your company. And you'll end up running a better business in the process.
What do you have to lose?
Make It Work
Customers buy your product for one reason: to solve their problems. Their problems could be anything from not having time to cook to not having analytical insights into employee performance.
No matter what that problem is, your product needs to solve it.
This is a pretty straightforward requirement. But there are a lot of teams, groups, and facets that you'll need to get working in concert.
Let's start with the most basic one.
Get the Right Product to the Right People
Making your product work starts at the very beginning. What problem are you trying to solve? Who are you trying to solve it for? If you don't have an immediate and clear answer for these questions, you have work to do.
Hopefully you answered these questions in detail during the product design phase. If you didn't, that's okay. You can always improve your understanding of your customer and your product.
Most companies think they have a good idea of what their customers want. But those ideas can be built on assumptions, which can lead you into creating the wrong product. Changing the focus of your product after it's been released is difficult (though not impossible), so it's better to understand your customers' vision of success before you start building.
If you have an already existing product and it doesn't have a great market fit, you have some work to do. You may need to market to a different target audience. Or change the product itself. These tasks aren't easy—but if you're not getting the right product to the right people, the effort will pay off in the long run.
It's also important to note that you may need to make these changes even if your product was a great fit at one point. Markets change and company priorities shift. Staying in close contact with your customers is the best way to recognize changing priorities before they become problematic.
You can then tweak your marketing positioning and your product to stay maximally relevant to your target audience.
When you start designing and modifying a product, it's easy to fall into the trap of trying to be too many things to too many different people. In general, choosing a niche and excelling in it is a better choice. You can expand into further functionality, but creating the absolute best product in a small space will serve you better as a launchpad to a larger market.
Learn what your customers want, then give it to them.
Solve the Problem Better Than Anyone Else
Once you've identified the customer's problem, make sure that your product is the best solution. Being second-best won't cut it. You need to bring something new to the table.
This is probably why you built your product in the first place. But the process doesn't stop on release day. This is an ongoing task, and you'll benefit from reviewing regularly whether you're still the best out there.
Other companies will release new features. Customers will face new issues that your product could help them with. And if your product is going to continue to solve the problem better than your competitors', it needs to adapt.
How do you know when it's time to adapt? Let your customers tells you. Constantly gathering feedback will give you a window into how customers are using your product, what they think of it, and how it is (or isn't) meeting their needs.
Make it easy for customers to send you their feedback. If it takes more than a few seconds, they're not going to do it.
Consistently Deliver a Working Product
There are few things more frustrating than coming to rely on a product and then seeing that it's not available when you need it. In the modern digital world, this is bound to happen on occasion. It's a fact of life that not everything will have 100% uptime.
But if your customers are starting to see downtime more often, they're not going to be happy. Your product has to work when your customers need it.
And that starts during implementation. If setup doesn't go smoothly, you're setting a bad tone for the rest of your relationship with the customer. Continued use, cross-selling, and upselling depend on having a product that works when it's needed.
From the beginning to the end of your relationship with your customer, your product needs to be available and it needs to work.
Make Sure Your Product Works Financially
Problems cost money. That's why someone invested in your product in the first place; so they can solve that problem and save (or earn more) money. Even if there's not a concrete monetary value associated with success, there's likely to be time savings, effort reduction, or some other effect that has a perceived value.
How does that perceived (or actual) value compare to what you charge for your product? In short, are your customers earning a good return on investment (ROI) with your product?
If they're not, they'll figure it out quickly and try another solution.
You need to have a very clear idea of how much money your customers are spending on this issue at the moment, and how much value they'll get out of your product. (In addition to reducing churn, knowing this information can be great for marketing.)
If at any point the ROI becomes small enough that customers aren't sure if it's worth investing in your product, make some changes. Add functionality, reduce cost, or otherwise find a way to increase the value of your offering so it works for your customers.
Make It Easy
When you're building, selling, and maintaining a product, the effectiveness of that product is one of the foremost things in your mind. "Our app works better than anyone else's out there," you think. And that very well may be true.
But if your product is hard to use, you're going to get crushed by the competition.
Why?
Because people want easy. They also want effective. But ease of use is one of the most important factors in the products that people decide to use. Because people are busy. They're overworked. They don't have time for extensive training just to get started.
Your product doesn't just have to work. It also has to be easy to use.
Onboarding Needs to Be Fast and Effective
Making it easy to succeed with your product might start with product design—but in many of your customers' eyes, it will start with onboarding.
If you've read about onboarding, you probably know about initial success. This is the first thing that your customer really accomplishes with your product. Lincoln Murphy says it's "the point where becoming a paying customer is the next most logical step." In many cases, it's when your customer is using a free trial of your product and sees that it will solve their problem.
That's not the end of onboarding, but it's one of the most important phases.
The easier it is for a customer to get to their initial success, the more customers you'll convert to paying subscriptions. It's that simple.
Many companies put lots of obstacles in the way of initial success. They require payment information, throw complicated tutorials at their customers, ask lots of questions for setup, and so on.
Even if all of this information is necessary, do you need to collect it immediately after your customer signs up for a free trial? Probably not.
When you're designing and updating your onboarding process, strive to make it as easy as possible. Freshbooks is a great example of a SaaS application helping customers get up and running super fast. There are lots of tooltips that customers can easily click through to get to what they want.
There are no complicated trainings or long forms to fill out. The setup wizards are friendly and fast. All of this creates an onboarding experience that's easy, fast, and lets users get to their initial success as quickly as possible.
Which may be why they're one of the most successful online accounting apps.
Make It Easy to Add Skills with Continual Training
Okay, so your customer has learned the basics of your product during the onboarding process. But how do you convince them to use the more advanced features, the ones that will generate loyalty and increase their ROI?
Continued training is an important part of customer success—by providing workshops, webinars, training videos, and other materials, you can teach customers how to take full advantage of your product's power.
But if it's not easy to take advantage of those trainings and materials, your customers aren't likely to do it. And because those trainings are an important part of customer success, you need to make sure that your customers are actually going through with them.
Again, all you need to do is make it easy. Don't require that customers fill out a long form detailing their learning objectives before entering a webinar. Offer multiple options for dates and times. Make the trainings as concise and valuable as possible.
Having a variety of materials for different learners also makes the customer's life easier. If they don't want to take part in a live training, offer them the training manual and a video summary that will teach them the main points in a few minutes.
Make tutorials available on YouTube. Publish how-tos on your website. Your goal here is to teach your customers as quickly as possible how to get the most value out of your product. If you keep that at the front of your mind when planning your ongoing training programs, you'll serve customers well.
Provide Fast, Effective Support and Service
While customer success and customer support are different concepts, they're related in some ways. And when we're talking about making things easy and reducing churn, support is a big concern.
Are your support specialists easily available? Can customers get in touch via live chat, phone, or email? How long do they have to wait to get answers? Do your support techs answer questions quickly and effectively?
The answers to all of these questions reflect on the ease with which customers can get support.
There are few things more frustrating to a customer than having to wait for customer support to get back to them while they can't use your product. Don't let it happen to your customers. Hire dependable, knowledge support techs that can answer questions quickly and clearly.
Put workflows in place that route requests to the right people automatically, instead of waiting to be forwarded to the inbox of someone who's probably too busy to deal with it anyway.
And make sure that you provide great customer service while you're dealing with support requests. More than half of Americans have cancelled a purchase or transaction because of bad customer service.
Training in even the most basic customer service principles can benefit everyone in your company (even those who don't regularly speak with your customers). Many successful companies require that their employees work in customer service before continuing on to their more permanent jobs, or to shadow other employees to see how they provide great customer service.
Sometimes It's Out of Your Control
Unfortunately, there are some customers who are going to churn no matter what you do. Maybe their business took a downturn and they can't afford your product anymore. Or they're reconfiguring their business model. They might even be changing fields.
And sometimes your product just isn't a good fit. Maybe your sales team didn't qualify the lead correctly. Or the customer thought they needed the service but later changed their mind.
The point is that there's some churn that you can't do anything about. No company is going to have a churn rate of 0% over any reasonable period of time. And that's okay.
Keep striving to minimize your churn, but don't beat yourself up when your customers leave. Treat each lost customer as a new learning opportunity. This mindset will help keep you positive and grow your company at the same time.